Sasha Zhoya celebrates his world U20 110m hurdles record in Nairobi (© Dan Vernon)
Straight off the track on which he had just blazed to a world U20 110m hurdles record of 12.93, Sasha Zhoya reaffirmed his intent.
"I'm targeting to be one of the greats," he said.
Becoming a world record-holder is not a bad place to start.
With a PB of 13.02 set in June, as well as a wind-assisted 12.98 to his name, Zhoya is one of the headline acts of this week's World U20 Championships in Nairobi, and he started his campaign in sensational style.
Opening with a smooth 13.12 to win his heat on Friday (20) morning, the European U20 champion returned to the Kasarani Stadium track five and a half hours later, on the cusp of making history.
Lining up in lane 6, Zhoya blasted out of the blocks and flew over the first few barriers. Despite losing his rhythm over the final four hurdles, knocking down three of them, he still managed to achieve the wind legal sub-13, plus the world record, he had been hunting.
His time of 12.93 (-0.4m/s) takes 0.06 off the world U20 record which had been set by his fellow Frenchman Wilhem Belocian in 2014 and equalled by Jamaica's Damion Thomas in 2018.
A time of 12.93 in an imperfect race with a global final still to come means all eyes will be on Zhoya when he returns to race for gold at 4.15pm local time on Saturday.


READ: With a background in ballet and music, Zhoya is ready to put on his own show
Sasha Zhoya is different. Watch the 19-year-old racing his peers in France or Australia, the way he explodes from the blocks, blazes down the track, clearing barriers at frightening speed, and that becomes obvious very quickly.
Listen to his life story – the background in ballet, his musician parents, the blend of nationalities on three different continents that form a rich and complex identity – and it's also clear.
Zhoya is different, but in a good way.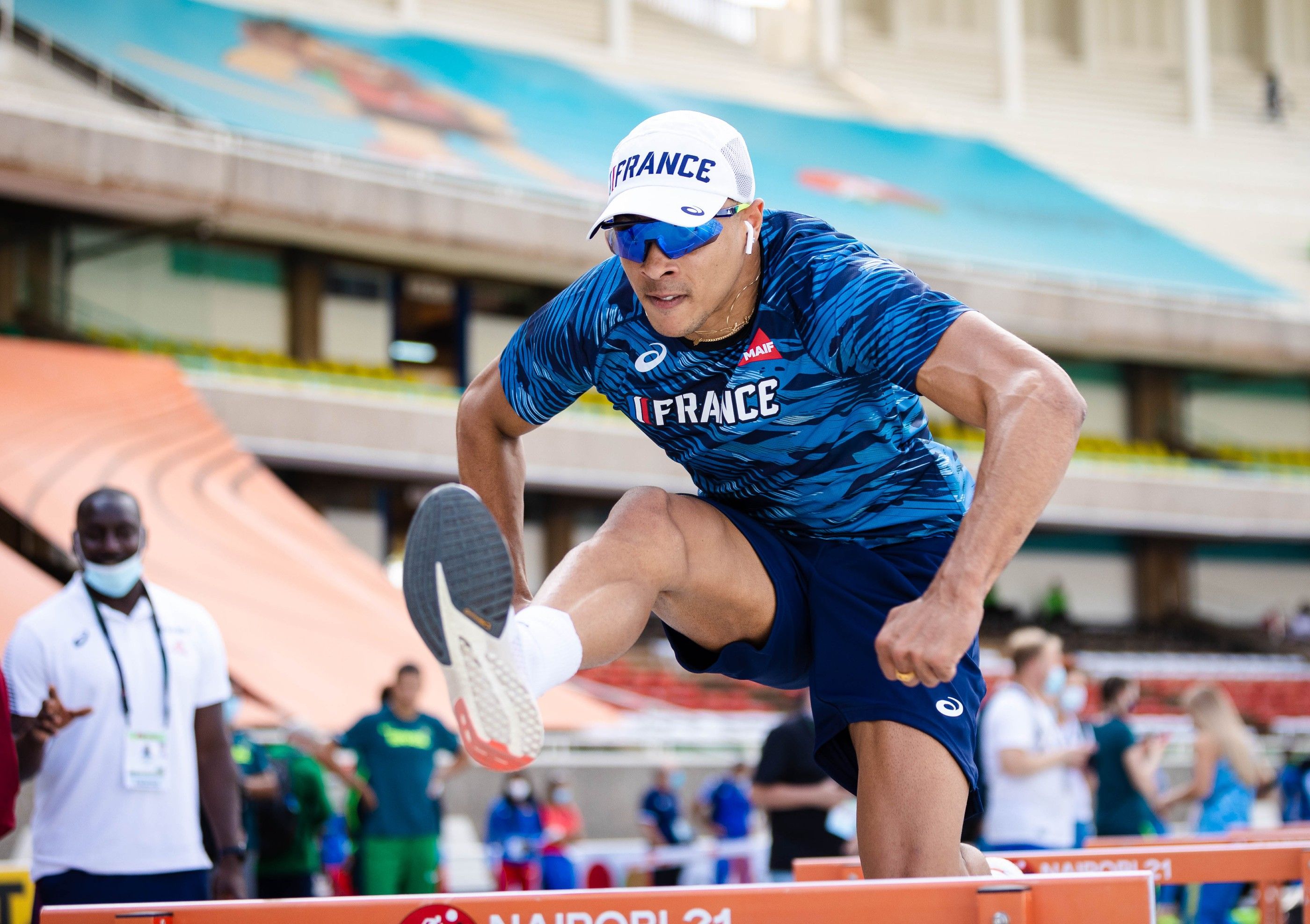 "You go into a competition hoping to break your own record," said Zhoya, who was born in Australia to a French mother and Zimbabwean father and has decided to represent France in competition.
"My record was 13.02, the aim was to break that record which was close to the world record. I did that today and hopefully I can attack it again tomorrow. There were a lot of mistakes in the race, so there are corrections to be made. Hopefully tomorrow I can make those corrections and get a quicker time."
Zhoya had not originally been expecting to race twice on the same day, with the competition programme initially featuring the heats, semifinals and final on consecutive days.
"I'm not a morning person at all so this morning was very hard for me!" laughed the teenager, who paid tribute to his mother straight after the race by holding up his bib, on the back of which he had written 'Mumma's love'. Writing it on the back, he explained, was so his message would remain close to his heart.
"But I still managed to get a decent time (in the heats) even though I was sleeping on the bus and it took me a bit of time to wake up. As an athlete you have to learn to adapt."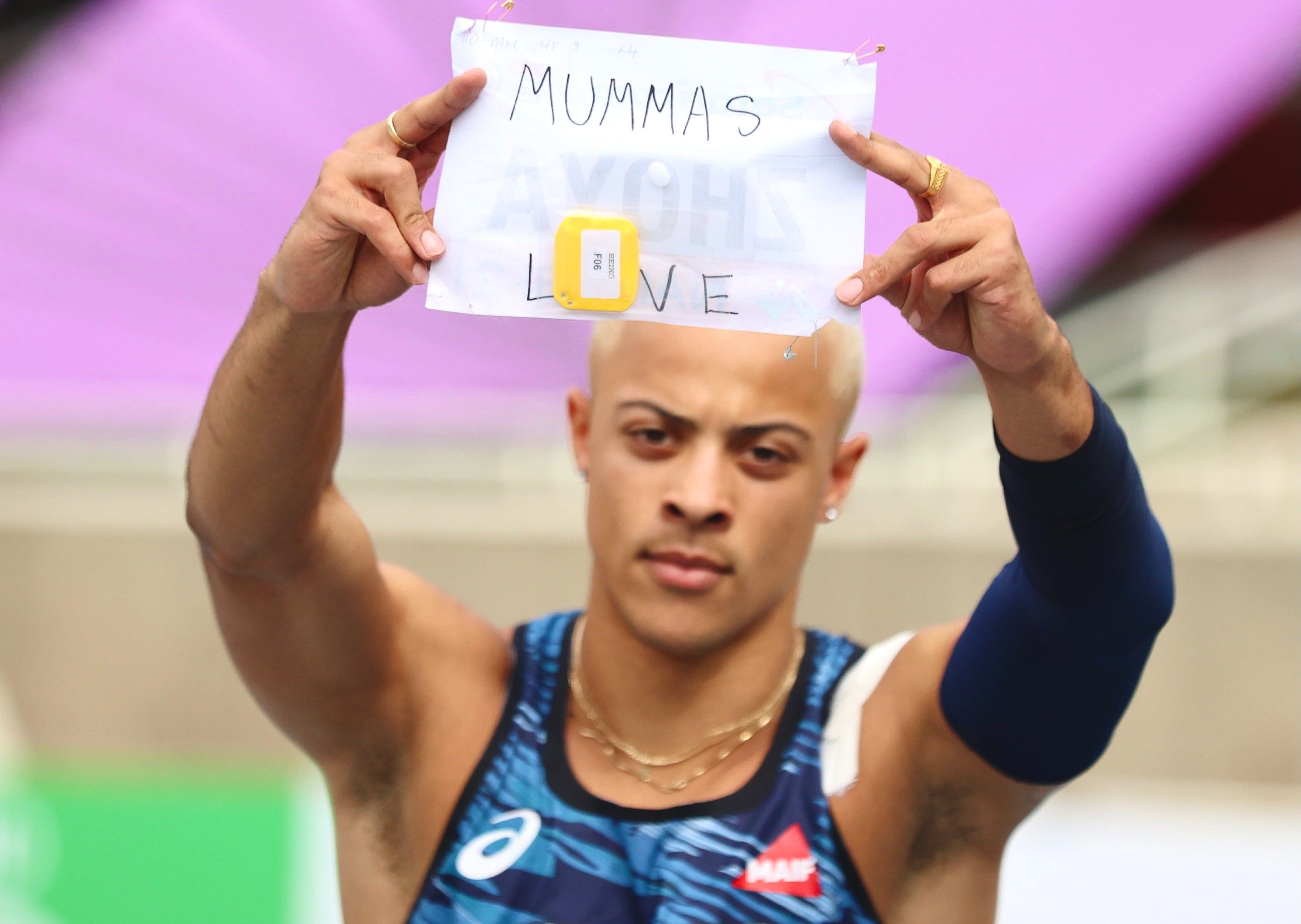 He also had to overcome a tight hip and sore shoulder.
"I had a bit of a niggle in my hip, so I'll rest up and see the physios and the treatment team. I'm feeling a little bit tight," he explained. "My last four hurdles were not great, my coach is going to have a stern word about those hurdles! But it just means that I can lower that time for sure if I just clean it up."
Joining him in the final will be Colombia's John Paredes, who finished second behind Zhoya and was inspired to a PB of 13.46, plus Hong Kong's Siu Hang Cheung, who ran a national U20 record of 13.57 in third. The first semifinal was won by Jamaica's Vashaun Vascianna (13.35) from Poland's Jakub Szymanski (13.50), Erwann Cinna of France (13.51), Qatar's Saeed Othman Alabsi with a national U20 record of 13.52 and Czech Republic's Stepan Schubert (13.63).
The women's 100m hurdles final is another which looks set to be a thriller, with Jamaica's Ackera Nugent and Switzerland's Ditaji Kambundji both clocking 13.02 in their respective semifinals. Also racing for medals will be Poland's Weronika Barcz (13.36 PB), Jamaica's Oneka Wilson (13.39), Estonia's Anna Maria Millend who ran a national U20 record of 13.44, Hungary's Anna Toth (13.46), Finland's Sonja Stang (13.59) and Viktoria Forster of Slovak Republic (13.59).
There were also some fast times in the 200m semifinals. The day after winning 100m silver, Namibia's Olympic sixth-placer Beatrice Masilingi led the qualifiers for the women's 200m final with a championship record of 22.19. Her compatriot Christine Mboma, the Olympic silver medallist, and Nigeria's Favour Ofili won their heats in 22.41 and 22.37 respectively, their times so quick they would have been championship records had Masilingi not just improved the mark.
In the men's semifinals, Nigeria's Udodi Chudi Onwuzurike led with a wind-assisted 20.13 (2.3m/s), while Botswana's recently-crowned 100m champion Letsile Tebogo ran a PB of 20.31. Tarsis Orogot set a Ugandan U20 record of 20.37 and Blessing Akawasi Afrifah became Israel's first world U20 sprint finalist since 2008, clocking 20.49.
Ethiopia's Ayal Dagnachew went quickest in the women's 800m semifinals, clocking 2:04.26 ahead of Ukraine's Svitlana Zhulzhyk (2:06.28) and Elli Eftychia Deligianni of Greece (2:06.41). Spain's Marina Martinez won the second heat in 2:07.22 from Switzerland's Valentina Rosamilia (2:07.23) and Slovenia's Veronika Sadek (2:07.41).
Kenya's Amos Serem and Simon Kiprop Koech won the two men's 3000m steeplechase heats, clocking 8:29.98 and 8:52.43 respectively. Among those joining them in the final will be Ethiopia's Tadese Takele (8:30.47), Uganda's Leonard Chemutai (8:42.71) and Abel Yemane of Eritrea (8:51.28).
Jess Whittington for World Athletics