The Nigerian mixed 4x400m team celebrates their win at the World Athletics U20 Championships in Nairobi (© Dan Vernon)
It was a good day in the office for the host continent of the World Athletics U20 Championships in Nairobi on Wednesday (18) as on an atmospheric afternoon all three finals were won by Africans.
Nigeria's quartet of Johnson Nnamani, Imaobong Nse Uko, Opeyemi Oke and Bamidele Ajayi combined to clock 3:19.70 in the mixed 4x400m relay, their second championship record in as many races, having run 3:21.66 earlier in the day. The West African nation made history by becoming the first ever champions in the event which was making its debut at a World U20 Championships. The medal is also Nigeria's first world U20 gold since 2008 when Folashade Abugan won the women's 400m title in Bydgoszcz.
Only one substitution was made from the Nigerian team that ran the semifinals as Ella Onojuvwevwo was replaced with Uko in the final, and what a game-changer she turned out to be, moving from third place while running a brilliant second leg and handing the baton to Oke in first position. Anchor leg Ajayi was briefly overshadowed by Poland's Patryk Grzegorzewicz but he switched gears on the home straight, going past his rival to cement the gold position for Nigeria.
Poland made two substitutions, with Michal Wrobel, Kornelia Lesiewicz and Alicja Kaczmarek teaming up with Grzegorzewicz as the team improved on their season's best from the morning, taking silver in 3:19.80, while India proved a formidable force, with the team of Barath Sridhar, Priya Habbathanahalli Mohan, Summy and Kapil storming to bronze ahead of Jamaica in a season's best of 3:20.60. Jamaica had started out with much promise as Antoine Matthys Nortje took the lead in the first leg, but the team then faded, finishing in fourth.
Uko, who is hoping to also clinch a medal in the women's 400m, said: "It was not easy but it feels great, something to write home about. We trained hard for this because we believe everything is possible when we put our team together."



The second final on the track was the men's 3000m where Ethiopia proved too strong for the rest of the field. World Cross Country Championships U20 silver medallist Tadese Worku began to separate himself from the rest of the pack after the first lap with teammate Ali Abdilmana just on his tail, eventually leaving almost a 100m gap between the pair and rest of their competitors up to the very end. It was the first time this event had been held for men at the World U20 Championships and Worku clocked 7:42.09 for gold.
Abdilmana settled for silver with a personal best of 7:44.55, while Eritrea's Habtom Samuel took the bronze in 7:52.69, also a personal best. Speaking after his race, an excited Worku said: "I'm feeling good, I'm feeling very happy because I got the gold. Congratulations to my country."



South Africa's Mire Reinstorf emerged the surprise winner of the women's pole vault final as she soared to an African U20 record of 4.15m, stunning pre-championship favourite and silver medallist from last month's European U20 Championships in Tallinn, Emma Brentel of France.
The 19-year-old Reinstorf rose to the occasion and proved to be the most consistent jumper on the day as she was the only one to clear 4.15m at the first time of asking. She had earlier cleared 3.80m, 3.95m and 4.05m before failing her three attempts at 4.20m. Silver medallist Elise Russis of France also cleared the winning height of 4.15m but on her second attempt, giving the South African the advantage on countback. Canadian Heather Abadie took the bronze medal with 4.05m.
Feeling quite overwhelmed with her performance, Reinstorf, a two-time South African champion, said: "I'm so happy and grateful for this. It's my first international competition and I'm so grateful it turned out this way. I honestly didn't think that I was going to get a medal. It has been a really amazing experience."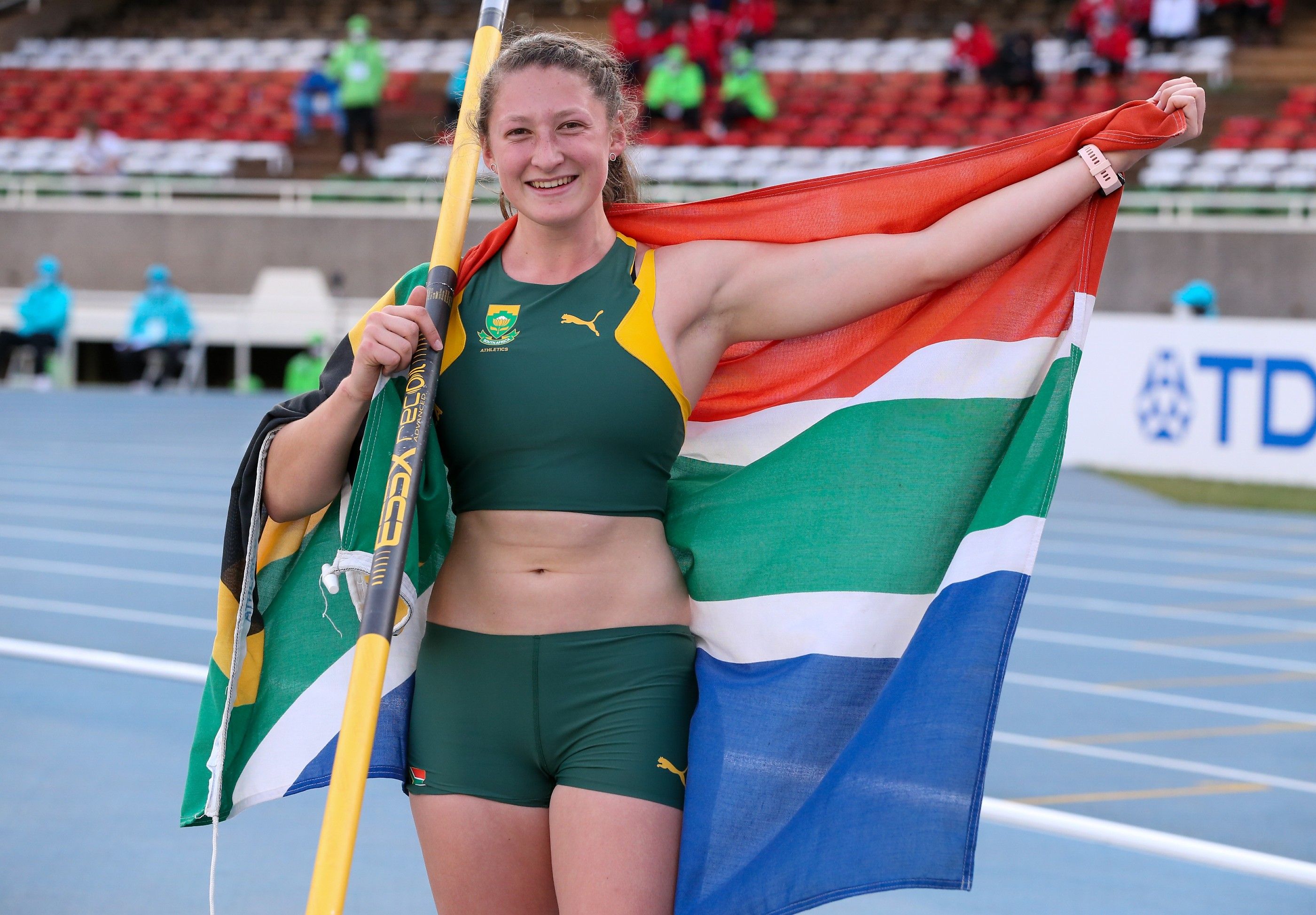 The men's and women's 100m semis lived up to their billing as Botswana's Letsile Tebogo clocked the overall fastest time across all three heats, racing to a national record of 10.11, his second personal best of the day. Poland's Oliwer Wdowik was also inspired to a personal best of 10.37 in second place.
Heat two was dominated by Oman's Ali Anwar Ali Al Balushi who sped to a national U20 record of 10.27, taking along with him to the final the next three finishers: Italy's Matteo Melluzo (10.29), Benjamin Richardson of South Africa (10.30) and Nazzio John who clocked a personal best of 10.32. Nigeria's Godson Brume was the man to beat in heat three as he returned a time of 10.22 while Shainer Rengifo Montoya of Cuba posted a lifetime best of 10.29 to finish second.
In the women's event, Jamaica's Tina Clayton won the first semifinal with 11.34 which was the fastest time overall. Serbian Ivana Ilic was second in 11.50, although she did not race to a national record like she did in the heats, while Namibia's Beatrice Masilingi won her heat in 11.35, finishing ahead of Switzerland's Melissa Gutschmidt.
Nigeria's Praise Ofoku came from behind to dip on the line first in 11.57 in the third heat as Eva Kubickova followed with a season's best of 11.64. Viktoria Forster, who is Slovakia's 200m champion, secured one of the non automatic qualifying spots with a national U20 record of 11.54 while the final spot went to Jamaica's Kerrica Hill.
Having already led the pack in the high jump and 100m hurdles, Finnish heptathlete and European U20 champion Saga Vanninen still tops the rankings after extending her dominance to the shot put where she threw 13.30m, before racing to a lifetime best of 24.83 in the 200m to finish second behind Estonia's Pippi Lotta Enok.
Nigeria's Chinecherem Nnamdi threw a national U20 record to top the standings in the men's javelin throw qualification, with the javelin landing at a mark of 78.02m in Group A. Slovenia's Filip Dominkovic was second with a lifetime best of 73.82m, with Eryk Kolodziejczak (71.73m) and Indian Kunwer Ajai Raj Singh Rana (71.05m) following.
Group B was headed by Ukrainian Artur Felener with 77.15m to secure his place in the final. Finland's Janne Laspa (77.10m), Indian Jay Kumar (70.34m) and South Africa's Zander Van Der Merwe (68.56m) were some of the other athletes that made it to the javelin final.
Yemi Olus for World Athletics