Ewa Swoboda beats Elaine Thompson-Herah in the 60m in Torun (© Marta Gorczyńska)
A thrilling head-to-head between home 60m star Ewa Swoboda and Jamaica's five-time Olympic gold medallist Elaine Thompson-Herah, plus world-leading performances by Gudaf Tsegay and Filip Mihaljevic, were the highlights of the ORLEN Copernicus Cup in Torun on Tuesday (22).
Swoboda went into the World Athletics Indoor Tour Gold meeting as the world leader following her 7.00 national record at the Orlen Cup in Lodz. She was also unbeaten this year, having won in Dusseldorf in 7.10 on Sunday. Thompson-Herah, meanwhile, was looking to test herself again after running 7.08 to win in Birmingham on Saturday, with sub-seven seconds the aim.
They got incredibly close. In front of a passionate home crowd, Swoboda blasted out of the blocks with another trademark blistering start and soon began to leave her rivals behind. But as expected, Thompson-Herah soon closed the gap. As the treble Tokyo Olympic champion gave chase, she narrowly ran out of track and so success was Swoboda's, by just 0.01.
Poland's 2019 European indoor 60m champion ran a meeting record of 7.03 to Thompson-Herah's 7.04, while Poland's Pia Skrzyszowska was third in a PB of 7.14.



"I'm so very happy," said Swoboda, who won her heat in 7.06. "I still can't believe that I raced against Elaine Thompson-Herah and that I won against her. It was a pleasure to compete with her. Wow."
Swoboda now heads to the World Indoor Championships Belgrade 22 as a strong medal favourite, but is not allowing herself to get carried away.
"What will be, will be," she added, with Thompson-Herah still undecided as to whether she will head to the global event in Serbia. "Belgrade is going to be good, for sure," said Swoboda. "I think we can fight for a great result there."
Thompson-Herah's hope for the indoor season had been to improve her start and on lining up alongside Swoboda, she said: "It most definitely helped me, because I still tried to hold my drive phase.
"It was wonderful to compete with her, she is doing great indoors. I am grateful to have raced with her today and I am really happy with my performance."
While Swoboda had to fight for her win, Tsegay's only competition came from the clock. The Olympic 5000m bronze medallist had suffered a fall while targeting the world mile record in Lievin five days earlier, but she bounced back to run the second fastest ever women's indoor 1500m behind her own world record of 3:53.09 set in Lievin last year.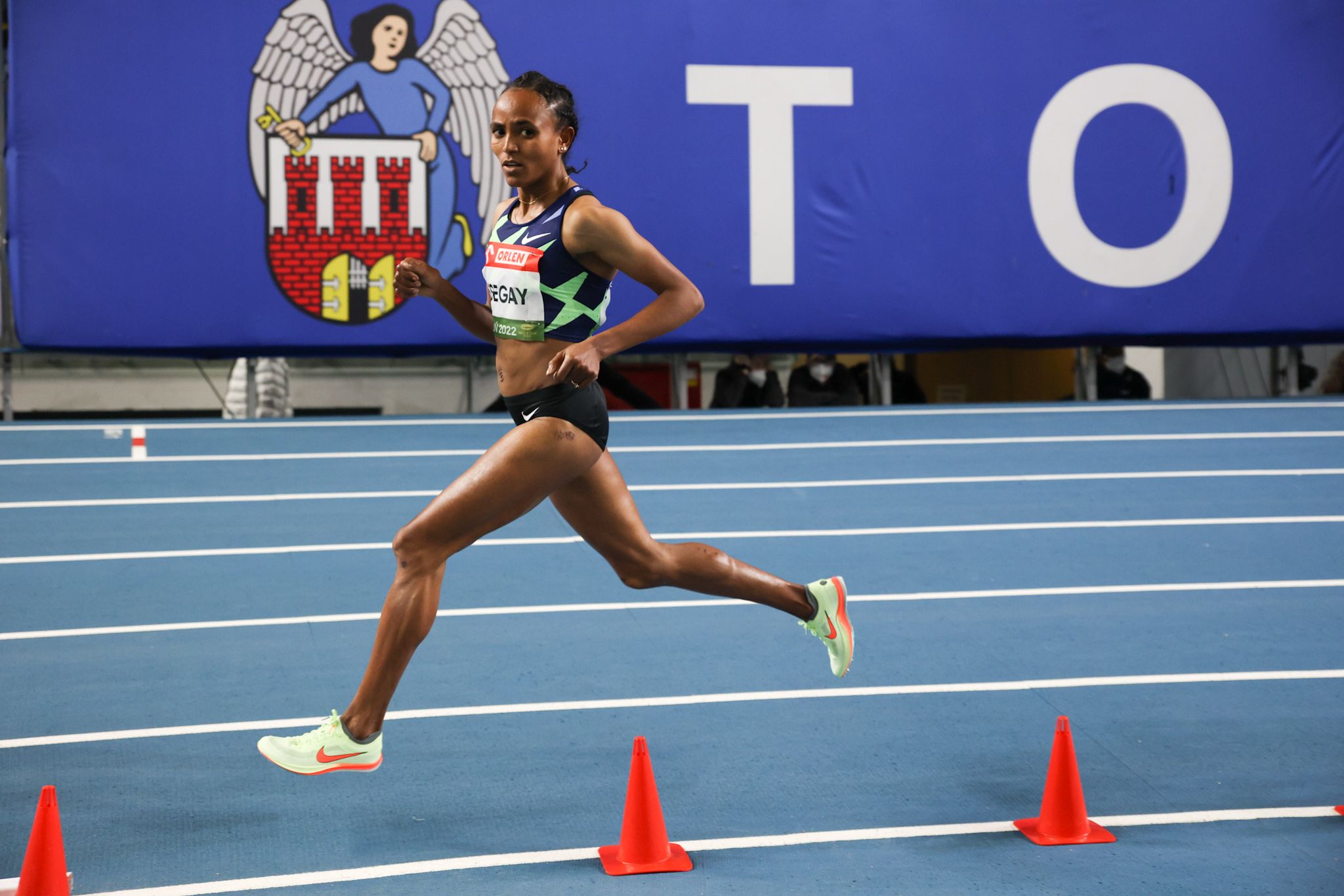 Gudaf Tsegay on her way to a 3:54.77 1500m (© Marta Gorczyńska)

"My target had been the one-mile record in Lievin, but today I am happy," said Tsegay, who broke the meeting record with her world-leading 3:54.77. "I am sure that I am in shape to break the world mile record, but that day was not a good day for me. I feel good today."
The race had started off well inside world record pace, with the pacemaker passing 200m in a lightening 28.04, 400m in 59.13 and 600m in 1:31.31. Tsegay then took the lead and the tempo dropped slightly, with the clock showing 2:04.07 for 800m, but she powered on alone. She sped up again in the closing stages and solo ran her way to a dominant victory, finishing more than seven seconds ahead of Lemlem Hailu (4:02.25) and Olympic 1500m fourth-place finisher Freweyni Hailu (4:02.50) as part of an Ethiopian top five, with Habitam Alemu running 4:02.52 and Hirut Meshesha 4:03.22.
There was further Ethiopian success in the men's 3000m, which was an action replay of the clash in Lievin five days earlier. Like in Lievin, the pacemakers were instructed to go out on world record pace, and also as was the case at the Meeting Hauts-de-France Pas-de-Calais, Ethiopia's Lamecha Girma, Selemon Barega and Getnet Wale focused on racing each other rather than the clock.
With a late burst, Olympic and world 3000m steeplechase silver medallist Girma overtook Olympic 10,000m champion Barega with his final strides to gain another win, this time in 7:31.09 to Barega's 7:31.39.
Kenya's Jacob Krop ran a 7:31.90 PB for third in his debut indoor season, while Getnet Wale, who just missed Daniel Komen's long-standing world indoor record of 7:24.90 with 7:24.98 last year in Lievin, finished fourth this time in 7:32.50.
Another fierce battle unfolded in the throwing circle. Croatia's 2014 world indoor bronze medallist Mihaljevic denied Polish indoor record-holder Konrad Bukowiecki a shot put victory on home soil by just a single centimetre, as they achieved the two furthest throws in the world so far this year.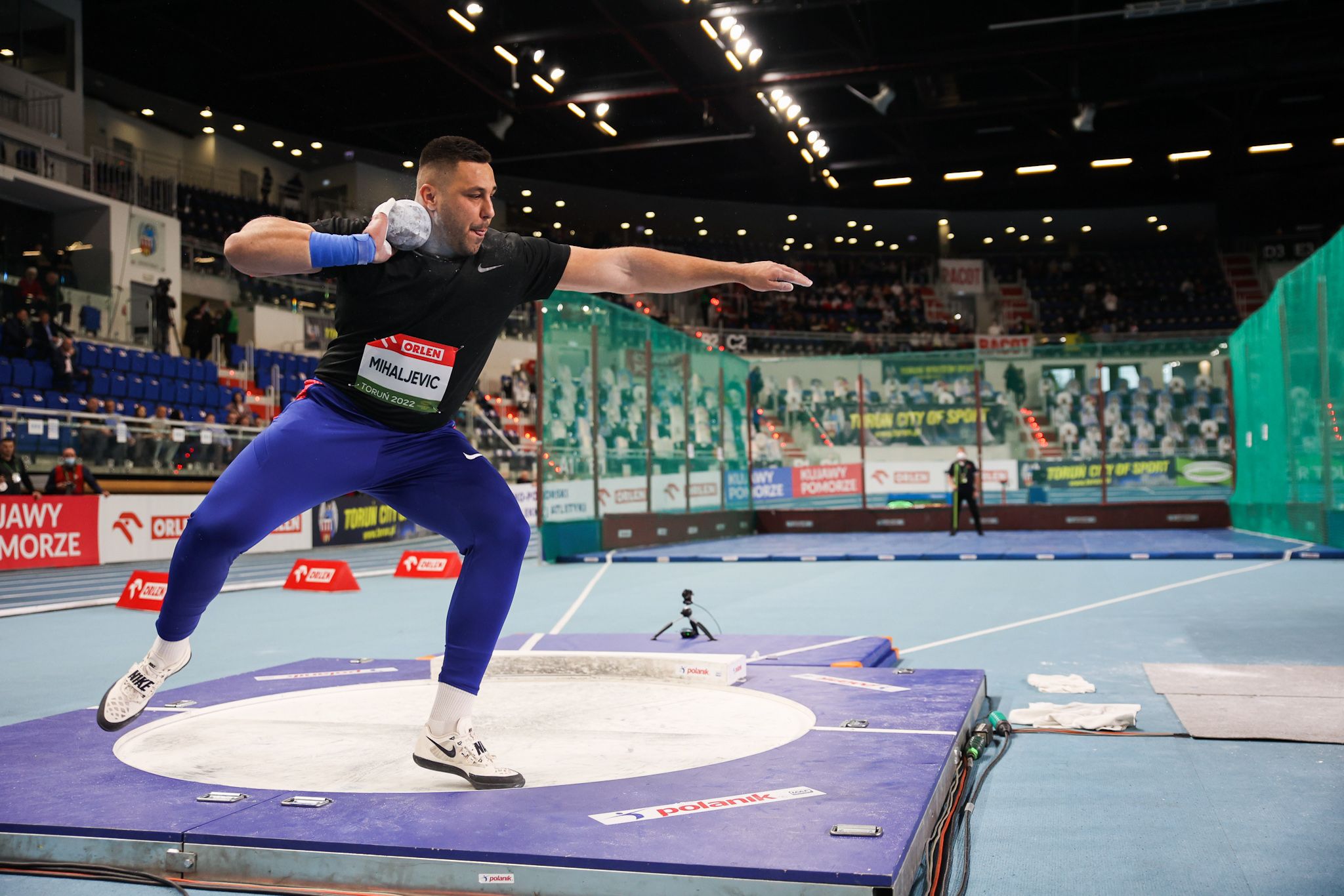 Filip Mihaljevic in the shot put (© Marta Gorczyńska)

With a roar, 2017 European indoor champion Bukowiecki launched the implement 21.83m in the third round, but Mihaljevic responded two rounds later with 21.84m to win the stadium where he claimed European indoor bronze last year. Mihaljevic had four other throws over 21 metres, including 21.66m in the third round, while Bukowiecki backed up his best with a 21.20m put. Italy's Nick Ponzio threw an indoor PB of 21.53m to finish third.
Olympic 400m hurdles bronze medallist Femke Bol also had great memories of Torun, having clocked a 50.63 Dutch indoor record to win the European indoor title in the city last year. She showed great consistency at the Arena Torun, missing that mark by 0.01 with a world-leading and meeting record performance, which saw her win clear ahead of Poland's Olympic mixed 4x400m champion Natalia Kaczmarek (51.15).
"I think it's an amazing track. I really like lane six here," said Bol. "It was a good race and I'm happy I could run 50.64 here. I can't wait to go to Belgrade."
Back in the stadium where he ran 1:43.63 to become the second-fastest indoor 800m runner of all time last year, Britain's Elliot Giles rebounded after his narrow defeat in Birmingham to secure top spot again. Following the pacemaker through 400m in 50.68 and 600m in 1:18.38, he was never troubled and won in 1:45.42, beating Swedish record-holder Andreas Kramer with 1:45.71 and Birmingham winner Collins Kipruto of Kenya with 1:45.94. In sixth, European U20 silver medallist Kacper Lewalski ran a Polish U20 record of 1:46.89.
On a night of exciting close contests, Oceanian record-holder Catriona Bisset pipped Uganda's world champion Halimah Nakaayi and Ethiopia's Tigist Girma by three hundredths of a second in the women's 800m. Bisset, who set an Australian indoor record of 1:59.46 to finish second on her indoor racing debut in Birmingham on Saturday, dipped over the line in 2:00.16 as both Nakaayi and Girma recorded 2:00.19.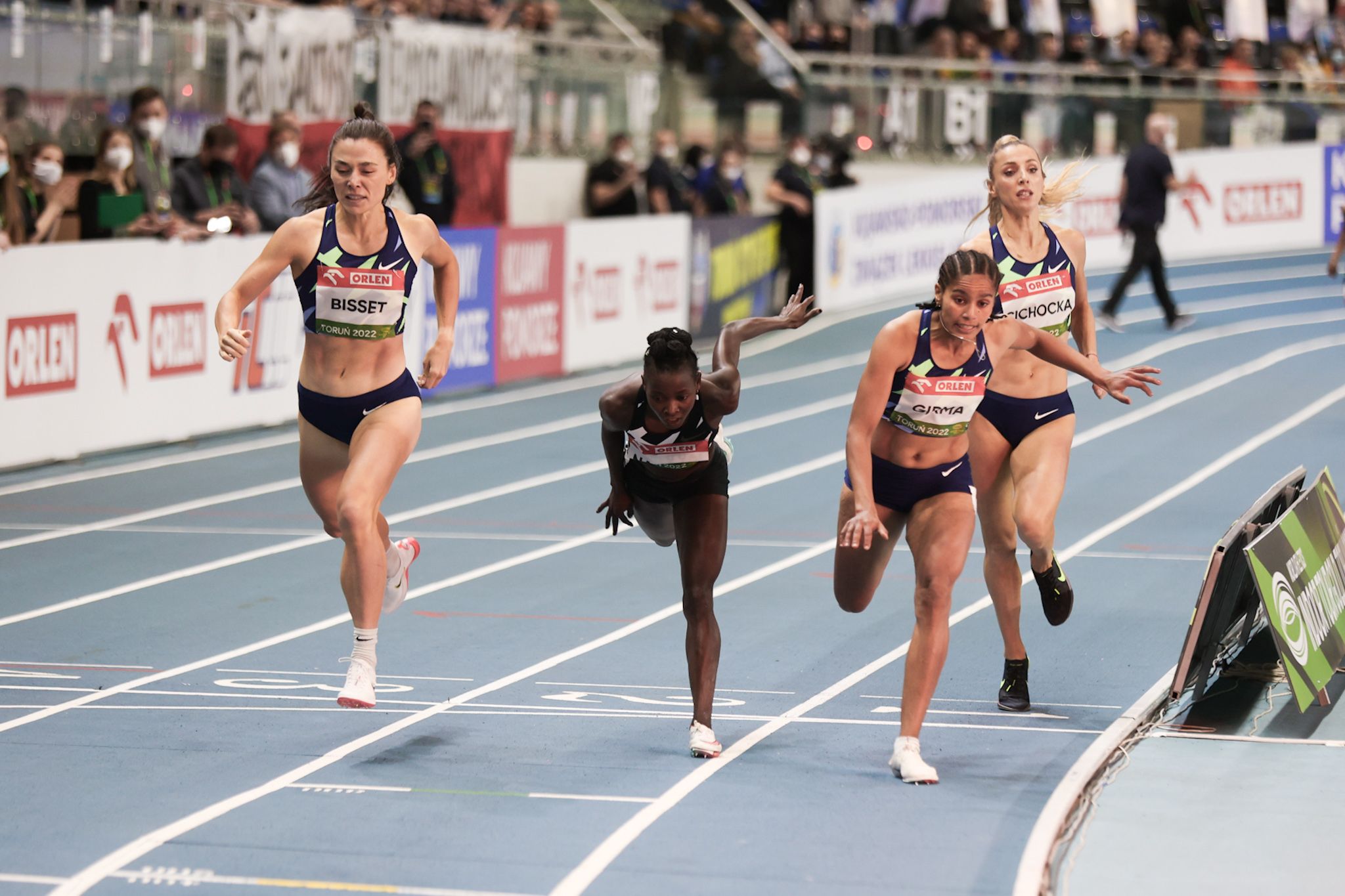 Catriona Bisset wins the 800m (© Marta Gorczyńska)

Nakaayi, who has improved her national record three times this season to the 1:58.58 she ran in Lievin, held the lead coming into the home straight but Bisset and Girma were ready to pounce and passed Nakaayi on either side as she dived for the line. Poland's 2014 world indoor silver medallist Angelika Cichocka finished fourth in 2:00.53
Cichocka's teammate Damian Czykier delighted the home fans with his 60m hurdles performance, running the race of his life to win in a Polish record of 7.48. After a strong start, he carried his momentum all the way to the line, dipping for a clear win ahead of his compatriot Jakub Szymański in 7.63. France's European indoor champion in Torun, Wilhem Belocian, was third and Spain's 2016 Olympic silver medallist Orlando Ortega fourth.
The win in the women's 60m hurdles was claimed by Devynne Charlton of The Bahamas in 7.90 ahead of Finland's Reetta Hurske and Hungary's Luca Kozak as the top three all dipped under eight seconds. Elijah Hall led a US top two in the men's 60m, winning in 6.53 ahead of Mike Rodgers with 6.55.
Sweden's European indoor long jump bronze medallist Khaddi Sagnia matched her winning mark from Birmingham to also triumph in Torun, leaping 6.70m as Serbia's 2017 European U20 champion Milica Gardasevic was second and Britain's European and Commonwealth medallist Jazmin Sawyers third.
Sagnia, who went furthest in the second round, also leapt 6.57m and 6.50m. For Gardasevic, her 6.66m was an outright PB, while Sawyers jumped 6.46m.
The spotlight was on the men's pole vault at the end of the meeting and Asian record-holder Ernest John Obiena of the Philippines was the star of the show. Clearing 5.81m on his third attempt, he achieved his joint second-best ever indoor performance to win ahead of Belgium's Ben Broeders, Brazil's 2016 Olympic champion Thiago Braz and Dutch record-holder Menno Vloon, who all cleared 5.71m.
Jess Whittington for World Athletics