Jakob Ingebrigtsen breaks the world indoor 1500m record in Lievin (© AFP / Getty Images)
He had won numerous continental titles while still a teenager. He won Olympic gold in a European record time at the age of 20. And now, at the age of 21, Jakob Ingebrigtsen can call himself a world record-holder.
The Norwegian middle-distance runner, opening his 2022 campaign at the Meeting Hauts-de-France Pas-de-Calais on Thursday (17), took almost half a second off the world indoor 1500m record*, winning at the World Athletics Indoor Tour Gold meeting in Lievin in 3:30.60.
Paced by Julien Ranc, and then Erik Sowinski, Ingebrigtsen passed through 600m in 1:24.66 and 800m in 1:52.86. He reached 1000m in 2:20.98, bang on target, and then started to pick up the pace for the final two laps. By the time he reached the bell in 3:03.04, he had opened up a significant gap on his one remaining opponent: the previous world indoor record-holder and 2018 world indoor champion Samuel Tefera.
Ingebrigtsen covered the final lap in 27.57 seconds, reaching the finish line in 3:30.60 to take 0.44 off Tefera's world indoor record. Tefera finished second in 3:33.70 and Spain's Ignacio Fontes was a distant third in 3:37.39.


He called it, and he did it ✅

Jakob Ingebrigtsen 🇳🇴 sets a world indoor 1500m record with 3:30.60 at #WorldIndoorTour Gold's @Meeting_Lievin!

Insane 🤯 pic.twitter.com/odQszEV97y

— World Athletics (@WorldAthletics) February 17, 2022

"This is always a fast race and it's a really nice arena," said Ingebrigtsen, who won in Lievin last year in a European indoor record of 3:31.80. "I like to finish strong; I think it's nice for the crowd but it's also nice for me to speed up going into the finish."
Aside from Ingebrigtsen's world indoor record, five other world-leading marks were set on an outstanding night of indoor action.
World leads for Seyaum and Holloway
Four years since her last victory in an indoor race, Dawit Seyaum impressed in the 3000m, sprinting away from her rivals on the last lap to win in 8:23.24, the fourth-fastest time in history.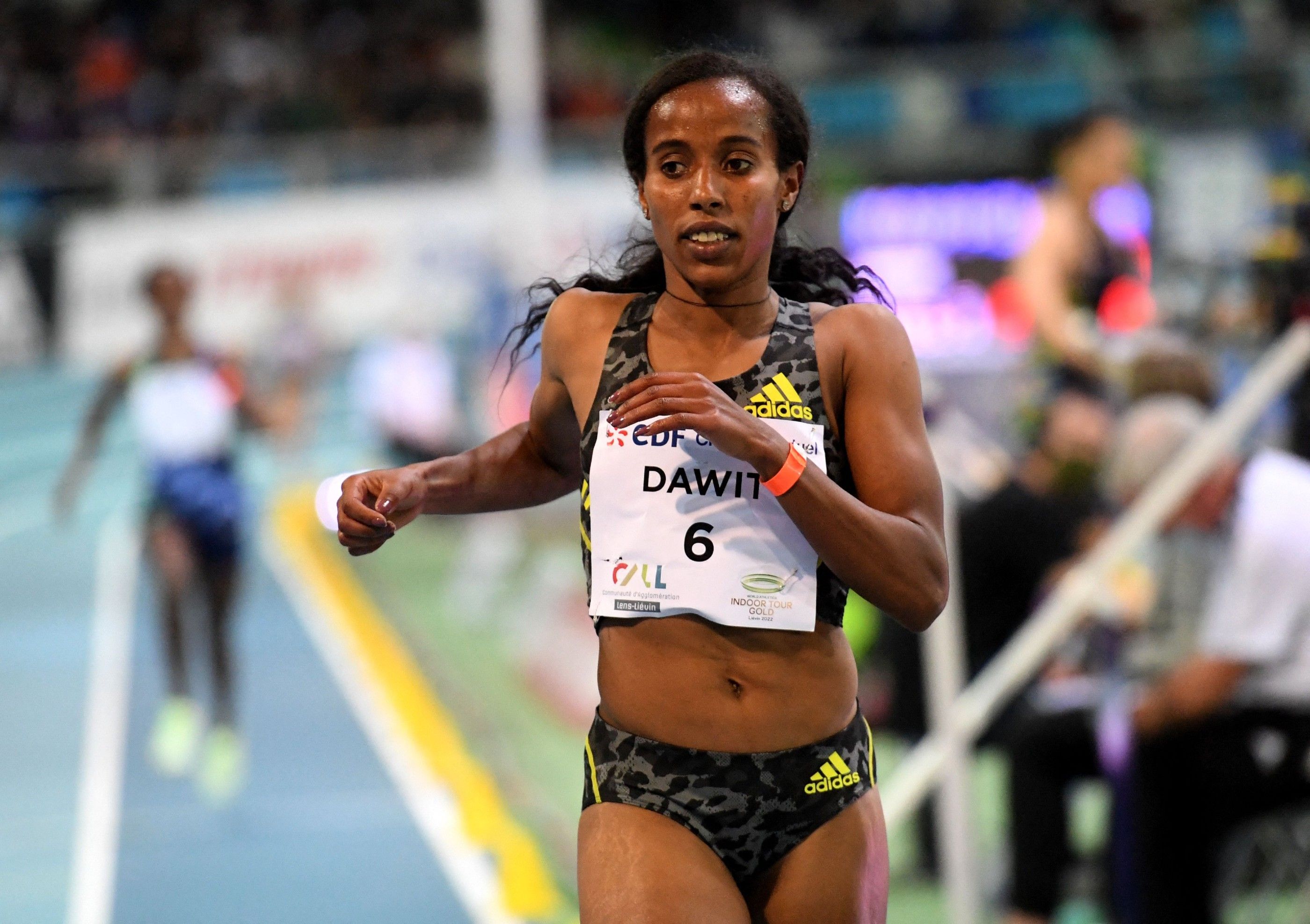 Dawit Seyaum wins the 3000m in 8:23.24 (© AFP / Getty Images)

The pacemaker covered the first 1000m in 2:47.14, then Workua Getachew took a turn at the front of the pack, passing through half way in 4:09.57 and 2000m in 5:34.32 with fellow Ethiopians Seyaum and Ejgayehu Taye tucked behind. Taye, who broke the world 5km record at the end of December, led for a few more laps, but Dawit struck as she approached the final lap.
With a sub-30-second final circuit, Seyaum went on to win by three-and-a-half seconds in 8:23.24, a French indoor all-comers' record. Taye finished second in a PB of 8:26.77 and Fantu Worku made it an Ethiopian 1-2-3, clocking 8:38.15 for third place.
World 110m hurdles champion Grant Holloway returned to Lievin looking to extend a 60m hurdles winning streak that began in 2014. The world indoor record-holder achieved his goal, winning the final in 7.35 after breezing to a 7.40 run in the heats.
Although he is still only 24 years of age, Holloway now has more sub-7.40 performances than any other sprint hurdler in history.
Pascal Martinot-Lagarde finished second in a season's best of 7.46 and world indoor silver medallist Jarret Eaton was third in 7.51.
In an 800m clash between the only two women to have broken two minutes for the discipline this year, Jamaica's Natoya Goule got the better of world champion Halimah Nakaayi with a world-leading 1:58.46.
The pacemaker went through the first 400m in 57.56, then Goule maintained the swift tempo, breezing through 600m in 1:27.64. The world and Olympic finalist didn't let up and held off a strong final challenge from Nakaayi to win in a Jamaican record of 1:58.46, the fastest ever indoor performance by someone from a Caribbean nation. Nakaayi was rewarded with a Ugandan indoor record of 1:58.58, while Kenya's Eglay Nalyanya was third in a PB of 2:00.26.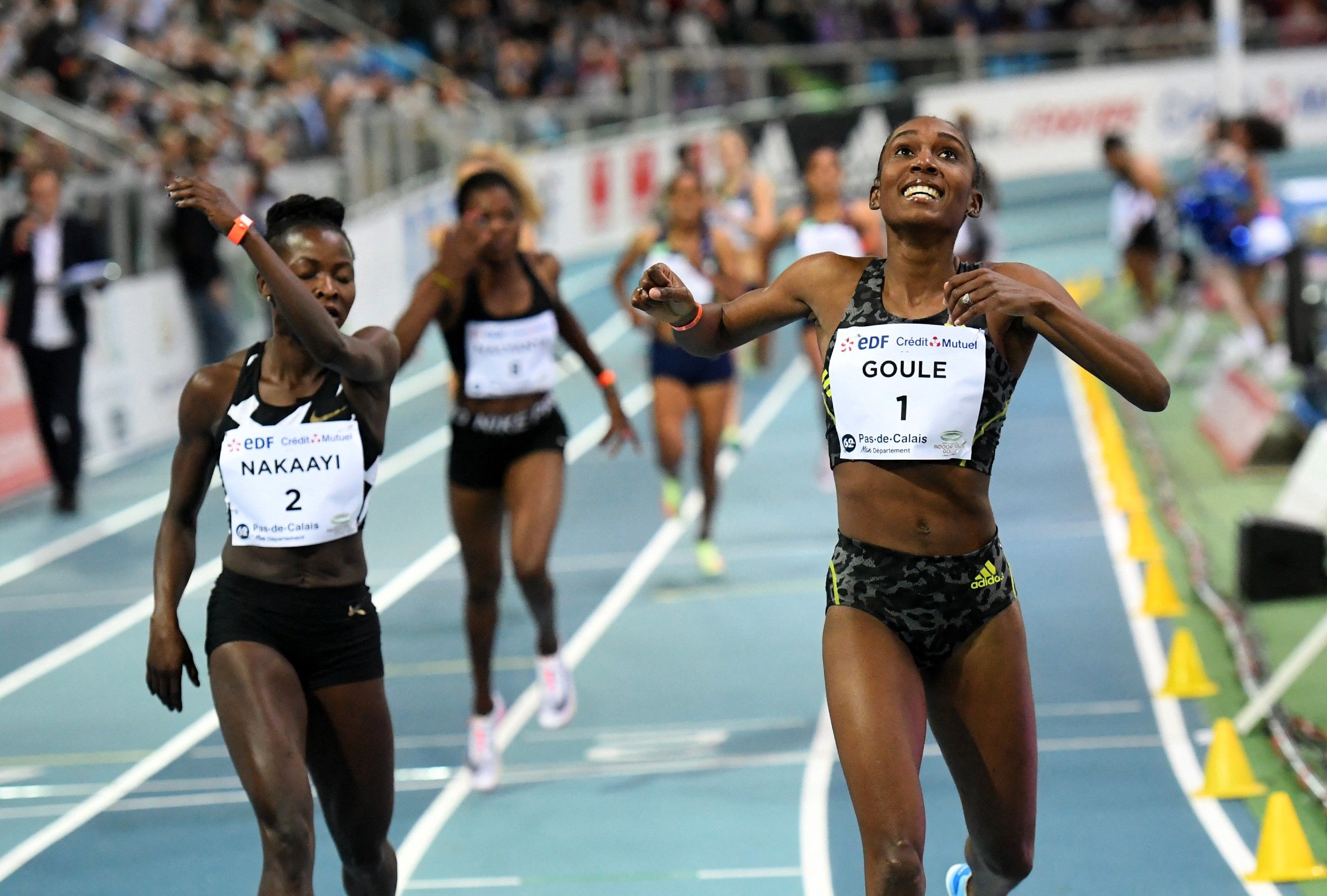 Natoya Goule wins the 800m (© AFP / Getty Images)

In a battle of the two global outdoor pole vault champions, Anzhelika Sidorova came out on top with a world-leading 4.85m. Olympic champion Katie Nageotte, competing off a short approach, scaled a season's best of 4.80m to place third on countback behind Iryna Zhuk. The Belarusian also cleared 4.80m, breaking her own national record.
Zhuk and Sidorova were tied through to 4.80m, both clearing it on their second attempts. Sidorova then got over 4.85m on her first try while Zhuk and Nageotte bowed out of the competition.
Despite never having competed indoor before, Cuba's Lazaro Martinez sailed out to a world-leading 16.97m with his opening leap in the men's triple jump. The two-time world U20 champion improved to 17.21m in the next round, the third-best jump of his career and his farthest mark outside of Cuba.
After a 16.82m jump in round three, and with no one else threatening the 17-metre barrier, Martinez passed his final two attempts and held on to his victory. Germany's Max Hess was second with 16.76m.
Girma beats Barega, Jacobs maintains winning streak
It was a night of mixed fortunes for Selemon Barega and Marcell Jacobs, the Olympic gold medallists at either end of the track distance spectrum.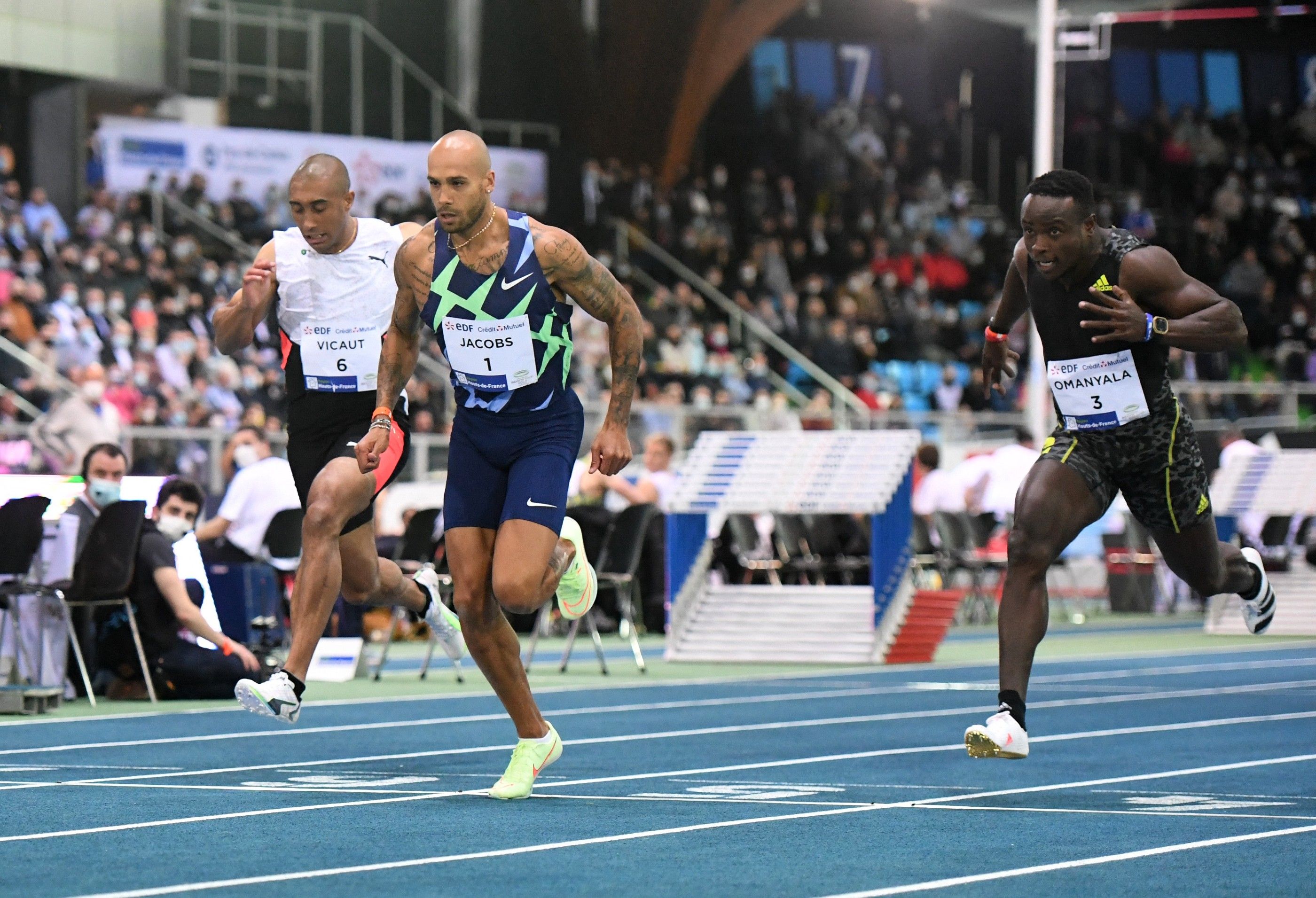 Marcell Jacobs on his way to 60m victory (© AFP / Getty Images)

Jacobs, taking on his toughest field of the year so far, won the men's 60m in 6.50. In a relatively close finish, the top five men finished inside 6.60 with USA's Cravont Charleston taking second place in 6.52, Elijah Hall finishing third in 6.57 and Ferdinand Omanyala setting a Kenyan record of 6.57.
There had been talk of a potential world record in the men's 3000m, as the three men who came close to the mark last year – Barega, Getnet Wale and Lamecha Girma – were back in Lievin. But sometimes a genuine race can be more exciting than a world record attempt, and that's what the capacity crowd were treated to this time.
When the pacemaker reached half way in 3:43.48, almost two seconds ahead of the rest of the field, it became clear that the world record would live to see another day. Wale, Girma and Barega were all still in contention, though, while Spain's Mohamed Katir navigated his way through the field and briefly led at 2000m, reached in 5:02.28.
Barega then hit the front and led for much of the final kilometre, but he hadn't shaken off his fellow Ethiopian challengers. Girma kicked hard off the final bend and caught Barega just before the line, clocking 7:30.54. Barega was second in 7:30.66 and Wale third in 7:30.88.
Behind them, Bahrain's Birhanu Balew set an Asian record of 7:31.77 and Andreas Almgren set an outright Swedish record of 7:34.31.


Lamecha Girma celebrates his 3000m win (© AFP / Getty Images)

There was a similarly thrilling finish in the men's 2000m, where Samuel Zeleke came from behind to catch long-time leader Abel Kipsang, winning in 4:57.00 – just shy of the world-leading mark of 4:56.87 set by Berihu Aregawi on his way to his world-leading 3000m run in Karlsruhe. Kipsang was second in 4:57.21, just 0.01 ahead of France's Azeddine Habz.
Gudaf Tsegay returned to Lievin looking to recapture the magic that carried her to a world indoor 1500m record last year. This time the world and Olympic bronze medallist was contesting the mile and had Genzebe Dibaba's world indoor record of 4:13.31 in her sights.
Or at least she did - until she tripped and fell on the first lap. She got back up soon enough and by the second lap she was in second place behind the pacemaker. But she clearly looking uncomfortable and was never on pace to threaten the world indoor record.
Nevertheless, she shook off a mid-race challenge from compatriot Axumawit Embaye and went on to win in 4:21.72, breaking a meeting record that had stood for 20 years. Embaye finished second in 4:25.30.
Olympic silver medallist Chris Nilsen won a high-quality men's pole vault contest with 5.91m. Up to and including that bar, the US vaulter cleared all of his heights on the first attempt. His only failures came when he attempted to break his own North American indoor record with 6.03m.
Brazil's 2016 Olympic champion Thiago Braz was second with 5.81m, his best indoor vault since 2018. Menno Vloon of the Netherlands matched that height to take third.
World and Olympic triple champion Yulimar Rojas switched things up and contested the long jump in Lievin. The Venezuelan took the lead in round two with a national indoor record of 6.77m, then improved it to 6.81m in round four. Spain's Fatima Diame was second with 6.64m.
Two years and two days since Elliot Giles' last loss in an indoor 800m, Spain's world leader Mariano Garcia ended the Briton's winning streak by taking the men's four-lap race.
Kenyan teenager Noah Kibet, the world U20 bronze medallist, followed the pacemaker for the first two laps. Following some congestion as the pacemaker stepped aside, Garcia emerged as the leader of the pack with about 300 metres left to run. Making use of that advantage, he kicked hard and held off a strong challenge from Giles to win in 1:46.29. Giles was second in a season's best of 1:46.50.
Elsewhere, Laetitia Bapte emerged the surprising winner of the women's 60m hurdles in 8.00.
Jon Mulkeen for World Athletics
* Subject to the usual ratification procedure