Ollie Hoare wins the mile at the Millrose Games (© Kirby Lee)
At a meeting renowned for great middle-distance duels, a captivating pair of Wanamaker mile races closed out a memorable 114th edition of the Millrose Games on Saturday (29), a World Athletics Indoor Tour Gold meeting.
The men's race saw Australia's Ollie Hoare sprint to victory in an Oceanian indoor record of 3:50.83, with Olympic bronze medallist Josh Kerr of Britain second in 3:52.27 and Colby Alexander of USA third in 3:52.84.
Kerr seized command on the final lap but Hoare – who celebrated his 25th birthday on the day – had something in reserve, surging to the front around the final turn and pulling clear for a huge victory.
"Going into the race I was extremely confident I could run fast," said Hoare. "I wanted to get on the pace and be relaxed; I've been killing it in training so I wanted to bring that back in Millrose. When Josh passed me I was pretty surprised but I was confident I could go again. For me it was a great race. It was a nice birthday present."
The women's race saw Elle Purrier St Pierre retain the title she won in 2020, burning her rivals off one by one with a relentless pace through the closing four laps. With a lap to run she had one close pursuer, Josette Norris, but in the end Purrier St Pierre came home in splendid isolation in 4:19.30, with fellow US athlete Norris second in 4:20.81 and Germany's Konstanze Klosterhalfen third in 4:22.59.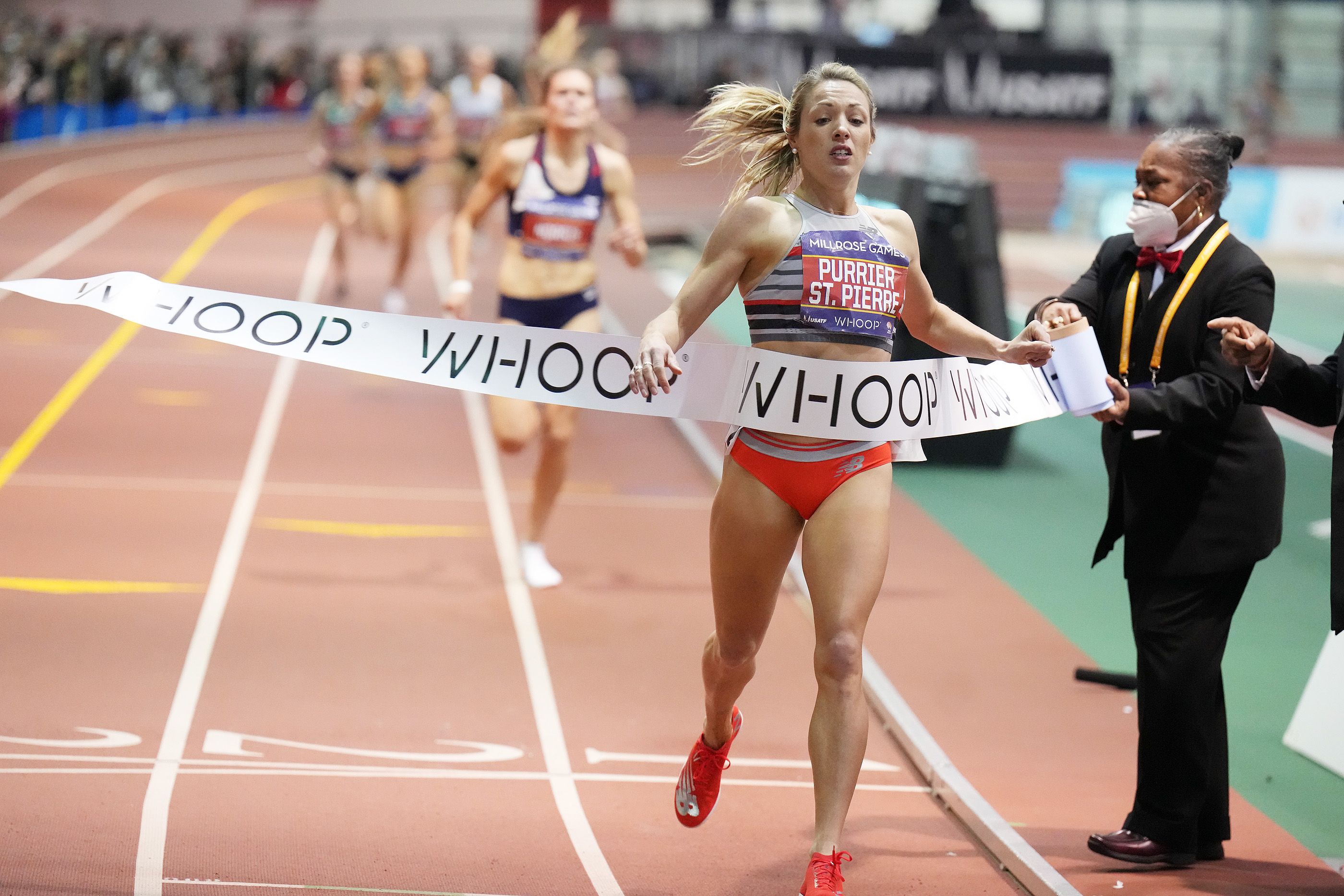 Elle Purrier St Pierre wins the mile at the Millrose Games (© Kirby Lee)
"The last time I raced here I set the bar pretty high so it was going to be tough to top that, but I went in with confidence, believed in the training I've done," said the US 1500m champion. "The pace felt fast from the start so I didn't feel all that good but I tried to stay consistent. It's my first race since Tokyo so I didn't come into it with much expectation, although my workouts have been going great."
Olympic 800m champion Athing Mu ran with the main pack for the majority of the race but stepped off the track with a lap to run while still on course to run a time in the region of 4:25.
The men's 3000m produced a thrilling clash, one that was edged by Geordie Beamish in a New Zealand indoor record of 7:39.50. Beamish produced a display that was equal parts cunning and courageous, taking the brave man's route up the inside on the home straight to snatch victory in the three-way tussle, with Cooper Teare clocking 7:39.61 and Cole Hocker 7:39.83.
"Right from when I made a move with 180 to go, I saw those two guys battle, I had a feeling they'd go wide to try fight each other off," said Beamish, who will now target the World Athletics Indoor Championships Belgrade 22. "I had a feeling if I stuck to the inside it'd pay off. I knew the record was on the cards if the race went to plan."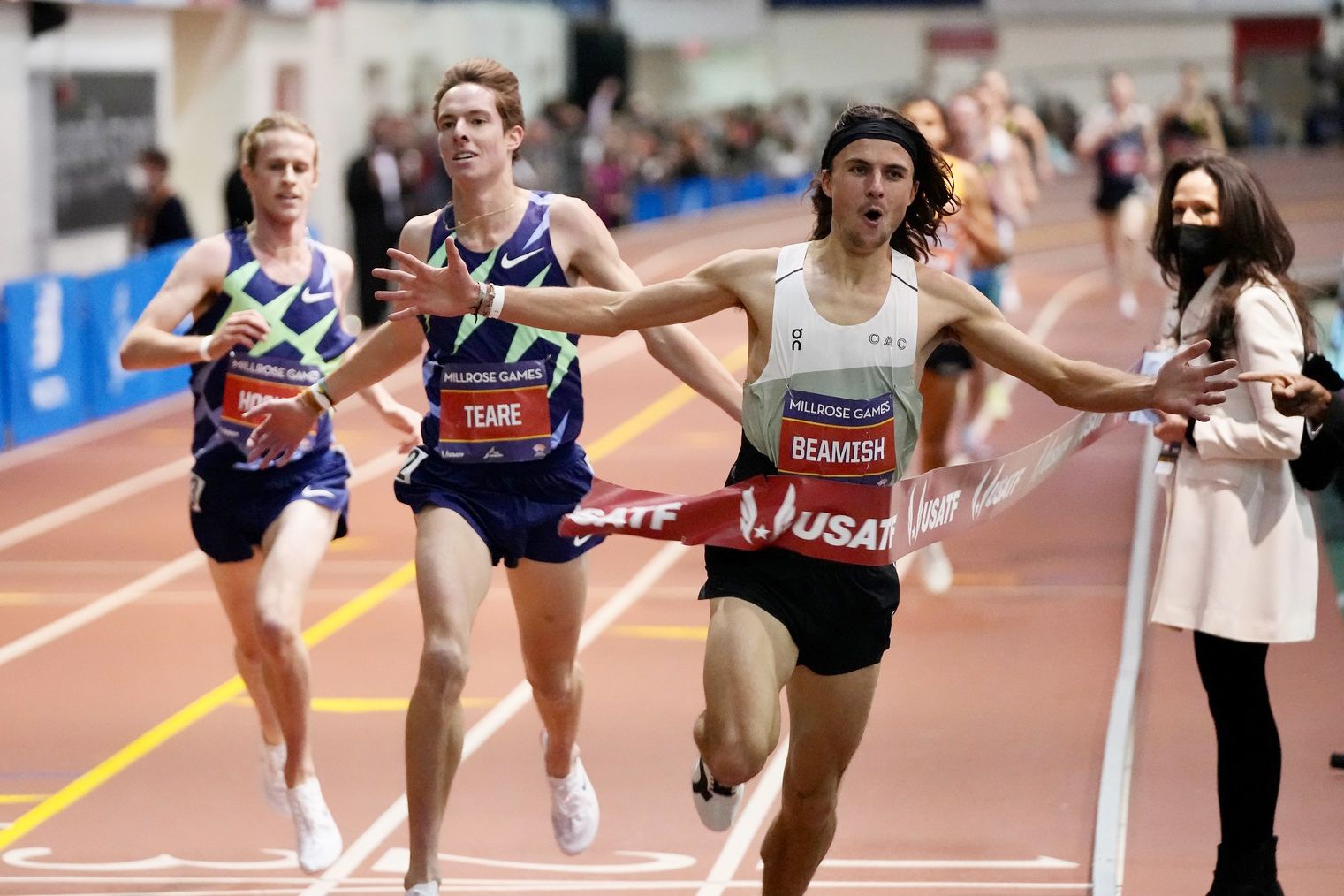 Geordie Beamish (above) and Alicia Monson (below) - winners of the 3000m at the Millrose Games (© Kirby Lee)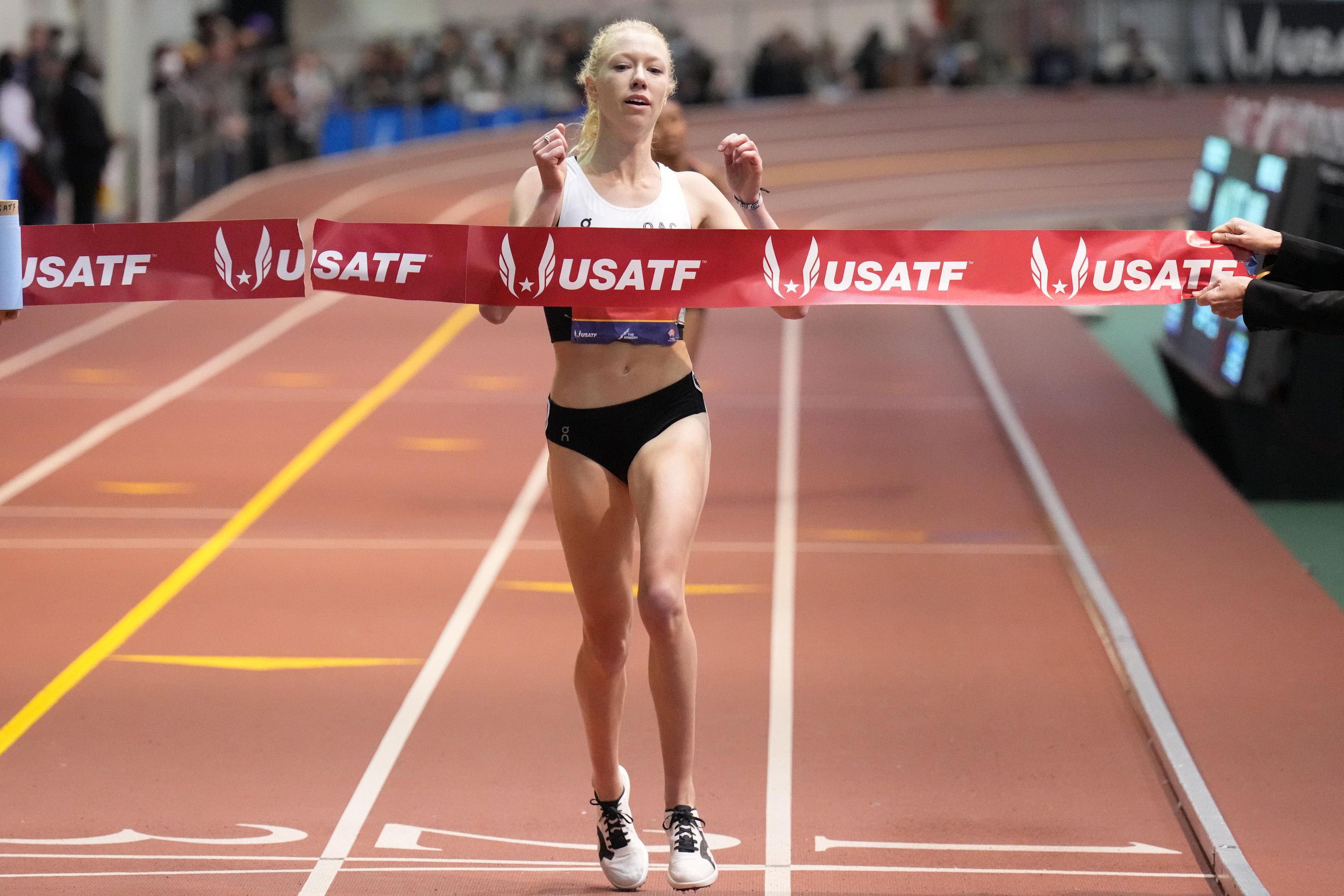 The women's 3000m produced an equally captivating contest, with Alicia Monson and Weini Kelati going head to head again three weeks after they went 1-2 at the US Cross Country Championships. The result was the same again here, with Monson pulling away from Kelati to win in a meeting record and world-leading 8:31.62, with Kelati second in 8:33.72.
"It played out as well as I could have expected," said Monson. "We've only touched on speed the last few weeks so I was pretty nervous about going out at 8:30 pace, but I trusted my training."
In the field events, there was elation followed by confusion in the men's shot put where Ryan Crouser unleashed a big throw in the second round which was initially recorded as 23.38m. However, a later examination revealed an issue that led to all the results being voided, with meeting director Ray Flynn stating that an "equipment malfunction caused a false reading."
Sandi Morris cleared a world-leading 4.75m to take the women's pole vault, which she went over at the second attempt. That was more than good enough for victory, with fellow US vaulter Emily Grove second with 4.45m and Olympic champion Katie Nageotte third with 4.35m.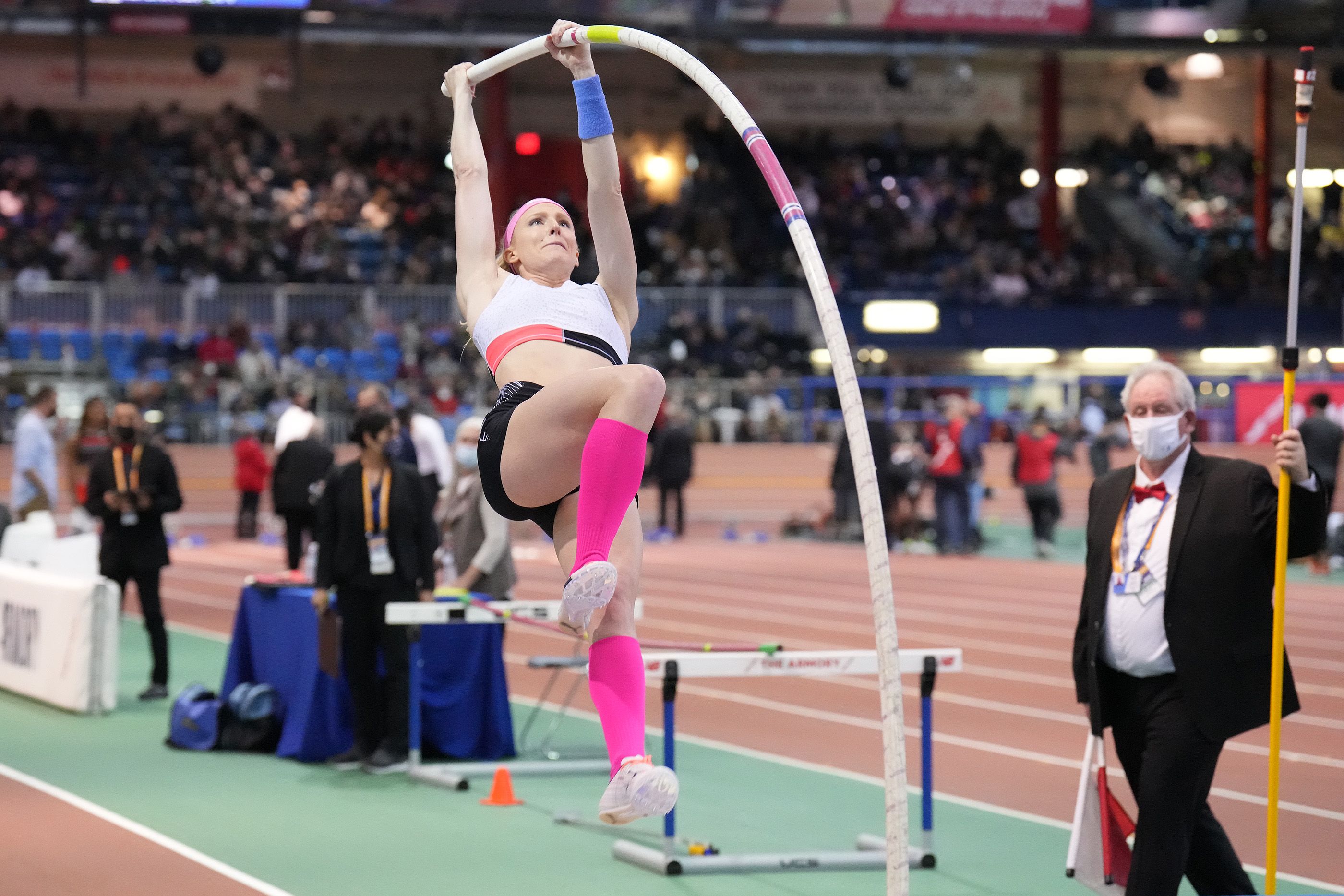 Pole vault winner Sandi Morris in action at the Millrose Games (© Kirby Lee)
"I'm super happy with that, my season opener from a full approach," said Morris. "I shook off some demons from last season, I'm back healthy, and it's onwards and upwards from here."
Tara Davis took victory in the women's long jump with her first-round effort of 6.59m, with Quanesha Burks next best with 6.54m, the same distance jumped by third-place finisher Keturah Orji.
Devon Allen came through strongly off the last barrier to claim victory in the men's 60m hurdles, overtaking US rival Daniel Roberts to win in 7.51 to Roberts' 7.53, with Shane Brathwaithe of Barbados third in 7.67.
"I've been in a lot of these races and you can't panic, especially with a great athlete like Daniel who is one of the best starters," said Allen, who will now target the US Championships. "That's my fastest opener and I've only been hurdling for a few weeks. I feel good, I feel fast."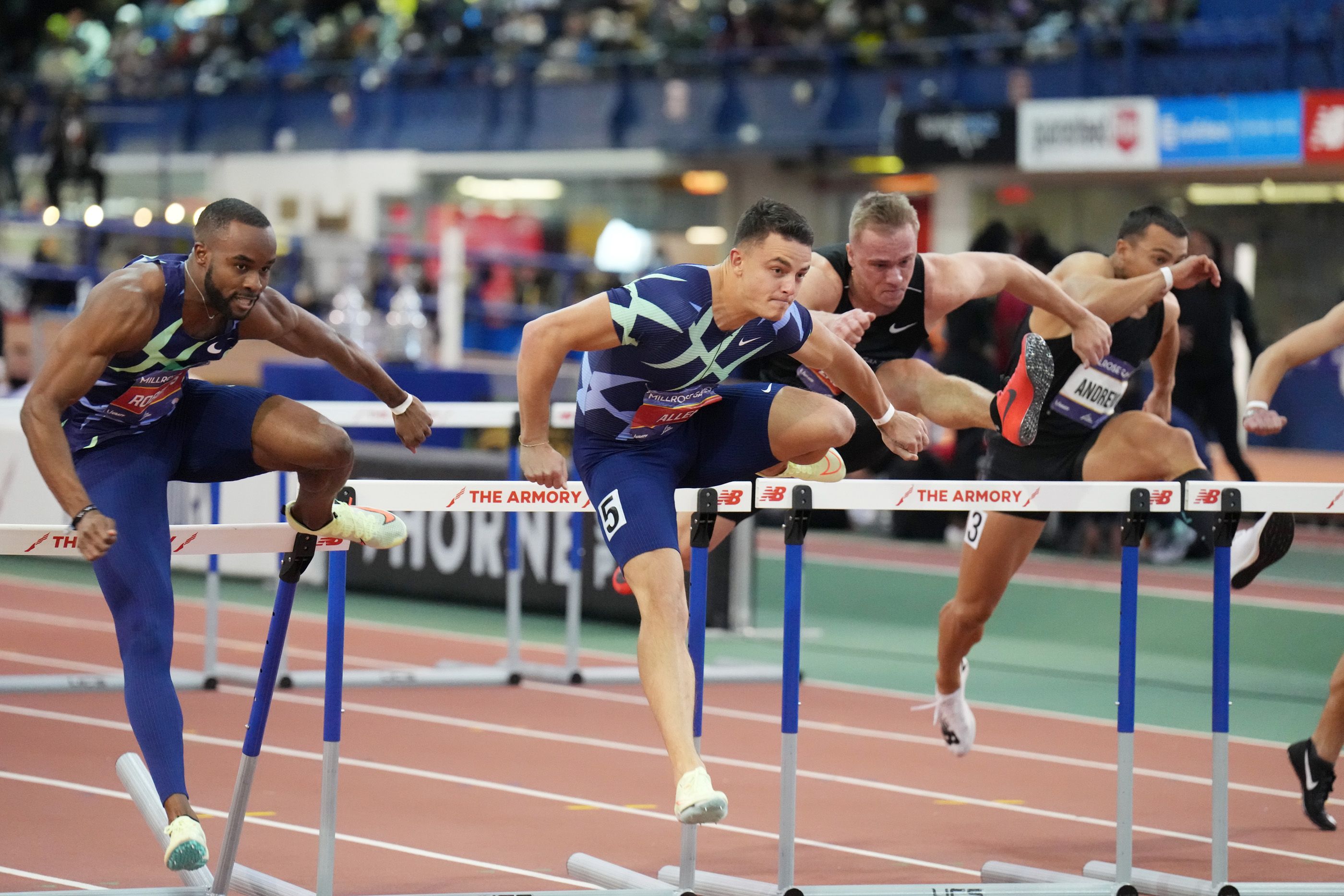 Devon Allen wins the 60m hurdles at the Millrose Games (© Kirby Lee)
Britany Anderson of Jamaica was quickest in the women's 60m hurdles, clocking a PB of 7.91 to edge Bahamian Devynne Charlton (7.95) and USA's Tonea Marshall (7.99). Keni Harrison was just behind in fourth with 8.00.
Christian Coleman returned to the event he has made his own in recent years with a narrow win in the men's 60m, the world record holder and reigning world indoor champion edging to victory in 6.49 ahead of Trayvon Bromell (6.50) and Ronnie Baker (6.54).
There was more home success in the women's 60m where Aleia Hobbs claimed victory in 7.11 ahead of Mikiah Brisco (7.15) and Shawnti Jackson, the 16-year-old daughter of former US star Bershawn Jackson, who clocked the fastest time in history by an U18 woman: 7.18.
"I've been working hard all year for this," said Jackson, who said she has no plans to follow in her father's footsteps and move to the hurdles. "That was a 10-out-of-10 race, I did everything I was supposed to and executed well."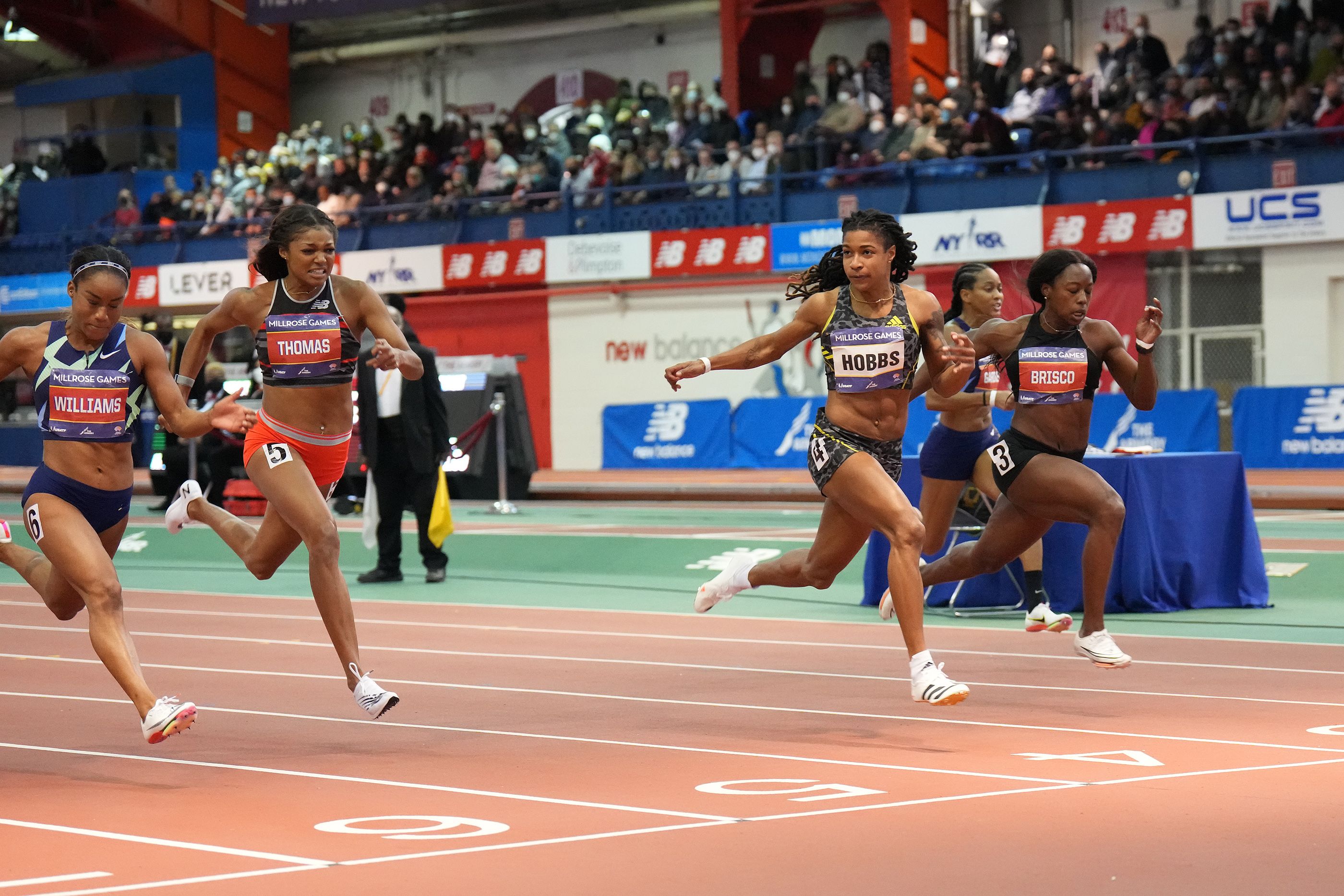 Aleia Hobbs takes the win in the 60m at the Millrose Games (© Kirby Lee)
In the women's 400m Wadeline Jonathas took victory in 52.51 over fellow US athlete Jessica Beard (52.95).
"I knew I had to go in with no fear, but running blind I had no idea where anybody was until 150 metres in but I was prepared for it," said Jonathas. "Today was a great day mentally, physically. I'm fearless right now."
Christopher Taylor of Jamaica held on to win the men's 400m in 46.38 ahead of US athletes Vernon Norwood (46.45) and world 800m champion Donavan Brazier (46.55), the latter mounting a strong challenge against the sprint specialists on the second lap before fading in the home straight.
Bryce Hoppel was a comfortable winner of the men's 800m, the US Olympian kicking clear down the home straight to win in 1:46.32 ahead of Kenya's Michael Saruni (1:46.32) and Isaiah Harris (1:46.49). Hoppel said he now plans to target the World Indoor Championships.
"Any time there's an opportunity to run for Team USA I always go for that so I'm looking forward to doing that when the time comes," he said. "I learned a lot of things from the Olympics and I'm trying to come back stronger and do bigger things."
Ajee' Wilson turned in another commanding performance to deny longtime rival Natoya Goule of Jamaica in the women's 800m, Wilson controlling the race from the front in her customary fashion to win in 2:01.38 to Goule's 2:02.14.
"It's always a little nervous running your first race of the year without knowing where you are but I've been training well," said Wilson, who was slightly below her best last year which she attributed to off-track issues.
"I'm pretty much back to normal this year," she said. "The take-away from last year was how tough I am and how much I love what I do, and that's what got me to the Olympic team – being able to do those things under the circumstances."
Cathal Dennehy for World Athletics