Lythe Pillay competes at the World Athletics Relays Silesia21 (© Getty Images)
Almost 1000 athletes representing 119 teams will be in action when the World Athletics U20 Championships Nairobi 21 takes place in Kenya from 17-22 August.
The opening ceremony will take place on 17 August ahead of the first day of competition on 18 August.
Here we take a look ahead to the combined events and relays.
Heptathlon
Saga Vanninen could land her second major title in as many months when she lines up for the heptathlon in Nairobi.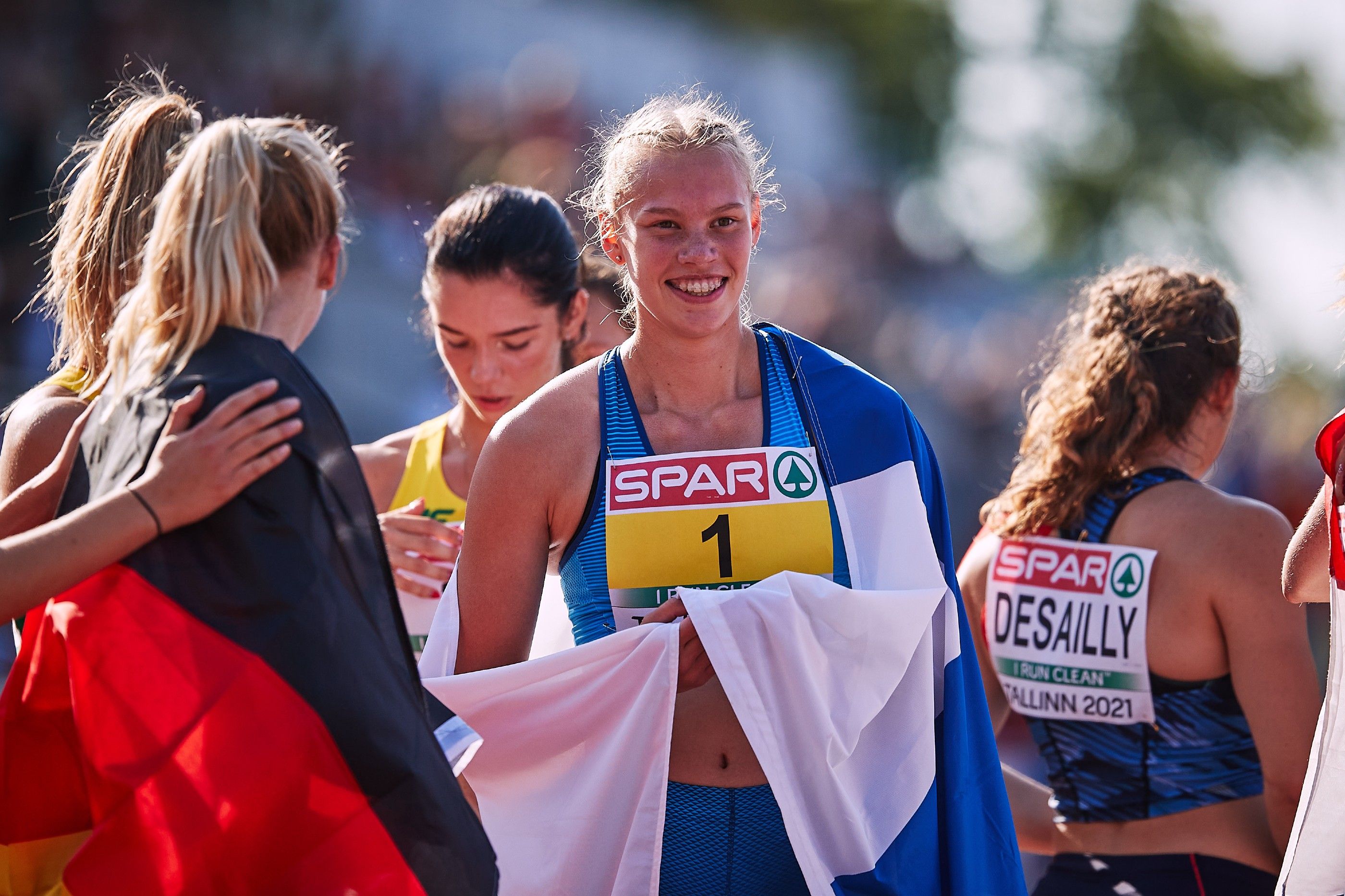 Saga Vanninen (© Getty Images)

The 18-year-old from Finland produced the series of her life to dominate the competition at the European U20 Championships in Tallin last month, setting a national U20 record of 6271. She now sits at ninth on the world U20 all-time list, one place above world champion Katarina Johnson-Thompson.
Vanninen, who will still be an U20 next year, was at or close to her best in all seven disciplines in Tallinn, but Nairobi will be another opportunity for the all-round talent to excel.
Three Finnish heptathletes have reached the podium at previous editions of the World U20 Championships, but none have yet won gold.
Estonia's Pippi Lotta Enok and Vanninen's teammate Neea Kayhko, who finished fifth and sixth respectively in Tallinn, should also be in medal contention in Nairobi.
Croatian 16-year-old Klara Koscak will be one of the youngest in the field, but after competing in the 60m hurdles at this year's European Indoor Championships in Torun, she won't be overawed by competing at an U20 level championship.
Austria's Sophie Kreiner will relish the opportunity for redemption after being disqualified in the opening heptathlon discipline at the European U20 Championships.
Decathlon
Like heptathlon contender Saga Vanninen, Jente Hauttekeete heads to Nairobi as the newly crowned European U20 champion.
The Belgian made a significant breakthrough earlier this year when setting a world U20 indoor heptathlon record of 6062. More recently, he produced a lifetime best of 8150 at the European U20 Championships in Tallinn, putting him fourth on the world U20 all-time list behind the likes of world champion Niklas Kaul and Olympic bronze medallist Ashley Moloney.
Should he make it on to the podium in Nairobi, Hauttekeete would become the first Belgian man to win a decathlon medal at the World U20 Championships.
Frantisek Doubek of the Czech Republic would have been a medal contender in Tallinn, were it not for the fact he was disqualified from the decathlon 400m. If he is able to reproduce his 7821 shape from the Czech U20 Championships, Doubek could contend for a podium place in Nairobi.
Finland's Ville Toivonen and Italy's Alessandro Sion, who placed fifth and eighth respectively in Tallinn, should also be in medal contention.
Women's 4x100m
If this was based on pure speed, Jamaica would start as favourites. But relays, of course, are much more than that.
The likes of Serena Cole, Kerrica Hill and identical twins Tina and Tia Clayton will be hoping for some watertight baton-passing as they aim to secure Jamaica's first victory in this event since 2002.
It's been even longer since Nigeria last made it on to the women's 4x100m podium at the World U20 Championships, but they have the strength and depth this year to contend for a medal in Nairobi.
Namibia may not have the same depth as other teams, but Olympic 200m silver medallist Christine Mboma and Olympic 200m finalist Beatrice Masilingi will guarantee top speed on two of the four legs.
Poland took bronze in this event at the recent European U20 Championships so their quartet will be keen to at least match that finish in Nairobi. The Czech Republic and Italy could also feature.
Men's 4x100m
The last time a Nigerian quartet made it on to the men's 4x100m podium at the World U20 Championships was back in 1992 when they took bronze.
But Godson Oke Oghenebrume, Favour Oghenetejiri Ashe, Udodi Chudi Onwuzurike and Adekalu Nicholas Fakorede are among the fastest Nairobi-bound sprinters in individual events, so will give Nigeria a great chance of becoming the first African nation to win a relay title at the World U20 Championships.
Jamaica narrowly missed out on gold in this event three years ago, so they will be fired up to go one better in Nairobi.



Jamaica's 2018 silver medal-winning men's 4x100m team (© Getty Images)

Italy claimed bronze in this event at the recent European U20 Championships, clocking a season's best of 39.81 in the heats. And Italy's success in this event at the Olympic Games will provide plenty of inspiration for their young squad in Nairobi.
Colombia, Poland, Brazil and South Africa should also be a factor in this event – provided, of course, they get the baton around safely.
Women's 4x400m
USA's winning streak in this event, which spans nine editions between 2002 and 2018, will end in Nairobi as the sprints powerhouse won't be sending a team to this year's event.
In their absence, Jamaica – a regular medallist in this event at senior and U20 level – will start as slight favourites ahead of Nigeria.
Led by national U18 champion Dejanea Oakley, Jamaica have three sub-53-second runners on their squad, but Nigeria will be tough to beat with the likes of Favour Ofili – a 22.30 200m performer – and Imeobong Nse Uko on their team.
Italy claimed bronze at the European U20 Championships and could once again make their way on to the podium in the Kenyan capital.
South Africa has never previously won a medal in the women's 4x400m at the World U20 Championships, but they could be in contention in Nairobi. So too could India, Canada and the Czech Republic.
Men's 4x400m
Three years after their memorable victory in the men's 4x400m at the last World U20 Championships, Italy will be hoping for a repeat win in Nairobi.
Their quartet claimed silver at the recent European U20 Championships. And while their time in Tallinn was a few seconds shy of the European U20 record they produced to win in Tampere in 2018, they will be buoyed by Italy's incredible success at the Tokyo Olympic Games.
They will need to be at their best, though, if they are to compete with the likes of South Africa, Jamaica and Nigeria.
Lythe Pillay, who competed in the 4x400m at this year's World Relays and Olympic Games, leads a strong South African squad. But Jamaica has impressive depth too with four sub-47-second runners.
Nigeria's team is similarly strong, while hosts Kenya should also be in the medal hunt.
Mixed 4x400m
Having proven a popular addition to U18 and senior championships in recent years, the mixed 4x400m will make its World U20 Championships debut in Nairobi.
The heats will be held on day one and the final will be held on the evening of day two, but the heats of the individual men's 400m will be held on the morning of day two, so some teams may be hesitant to draft their best male runners into the relay team.
Nevertheless, the likes of Jamaica, Nigeria, Kenya, South Africa and Poland should have enough depth to field competitive teams for all relays as well as the individual 400m events.
Jamaica and South Africa took silver and bronze respectively at the 2017 World U18 Championships, also held in Nairobi. Poland, meanwhile, won the inaugural mixed relay at the recent Olympic Games, which could provide inspiration for the younger counterparts. Kenya has also often performed above expectation in mixed relay events in recent years.
Jon Mulkeen for World Athletics