Faith Kipyegon celebrates her world 1500m record in Florence (© Christel Saneh / Diamond League AG)
Women's world 1500m record
3:49.11 Faith Kipyegon (KEN) Florence 2 June 2023
Women's world 5000m record
14:05.20 Faith Kipyegon (KEN) Paris 9 June 2023
Men's world 3000m steeplechase record
7:52.11 Lamecha Girma (ETH) Paris 9 June 2023
Women's world 35km race walk record
2:37:15 Maria Perez (ESP) Podebrady 21 May 2023

World records set this season by Faith Kipyegon, Lamecha Girma and Maria Perez have been ratified.
Kenya's Kipyegon has achieved three world records since June and two of those marks – in the women's 1500m and 5000m – are now officially in the record books. Her women's mile record set in Monaco on 21 July is pending ratification.
The first of Kipyegon's world records was set at the Golden Gala, a Wanda Diamond League meeting, in Florence on 2 June. On that occasion, the two-time world and Olympic champion ran 3:49.11 to break the women's world 1500m record of 3:50.07 that had been set by Ethiopia's Genzebe Dibaba in Monaco on 17 July 2015.
"There's still more to come," said Kipyegon after taking down the eight-year-old record. "I'm still working on running faster than that, faster than 3:49. I'm really thankful today that I managed to run 3:49 and I'm still heading towards beautiful races in the rest of the season."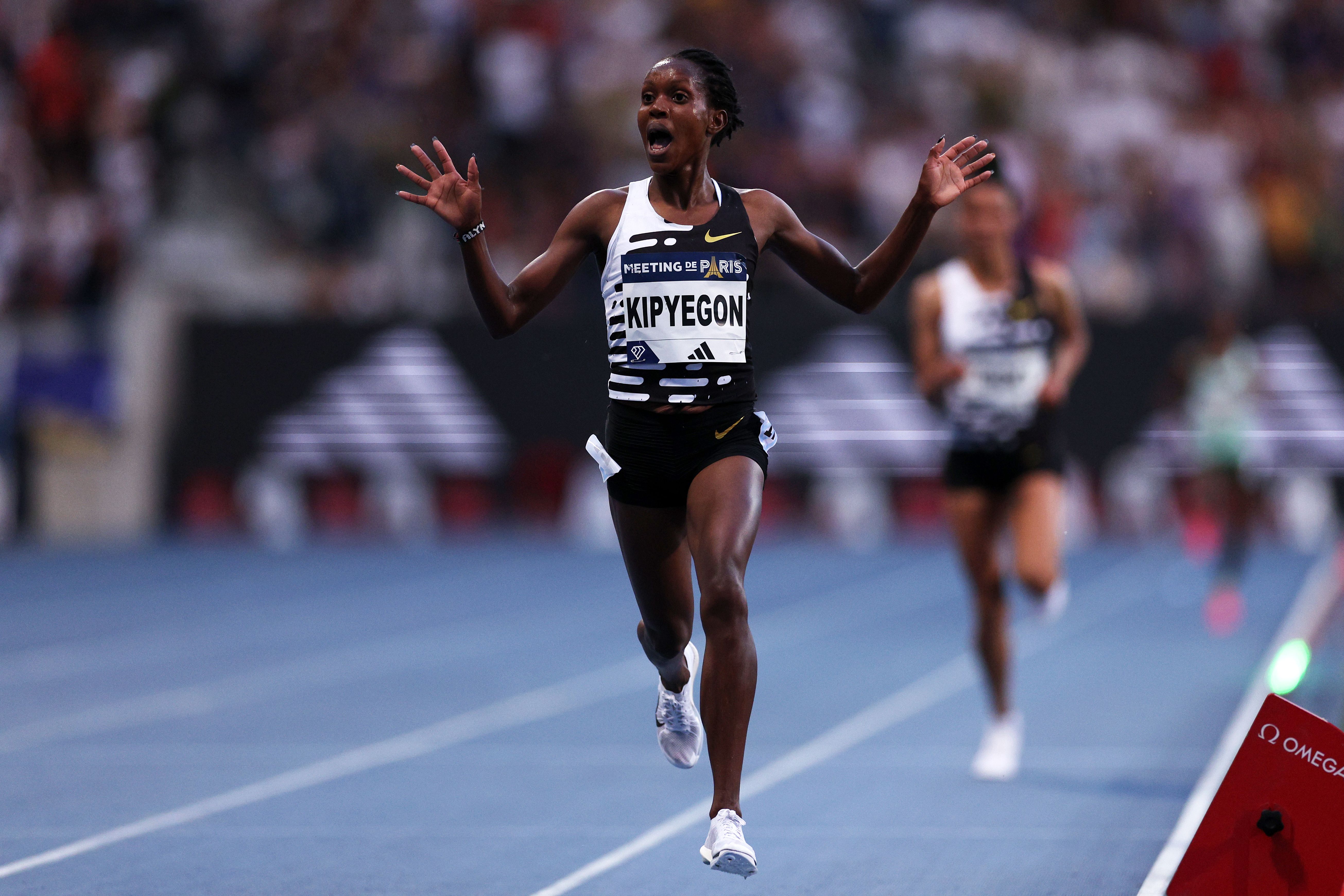 Faith Kipyegon breaks the world 5000m record in Paris (© Getty Images)
She was right. Just one week later she raced at the Meeting de Paris, also a Wanda Diamond League event, on 9 June and stepped up to the 5000m. While her original aim might not have been the world record of 14:06.62 set by Ethiopia's Letesenbet Gidey in Valencia on 7 October 2020, Kipyegon still broke it, running 14:05.20 in just her third ever race at the distance.
Speeding up with every stride, she hit the bell in 13:04.1 and covered the final lap in 61.1 seconds for a 1.42-second improvement on Gidey's mark.
"I didn't think about the world record, I don't know how I made it," said a surprised Kipyegon. "I just wanted to improve on my PB, the world record was not my plan. I just ran after Gidey – she is an amazing lady."
That wasn't the only world record achieved in Paris. On one of the greatest nights in athletics, Ethiopia's Girma set his sights on the men's world 3000m steeplechase record of 7:53.63 set by Qatar's Saif Saaeed Shaheen on 3 September 2004. An ambitious pace was requested ­ – one that would result in a finishing time of around 7:52 – and that's exactly what Girma managed as he crossed the finish line in 7:52.11 to take 1.52 seconds off the mark set 19 years prior.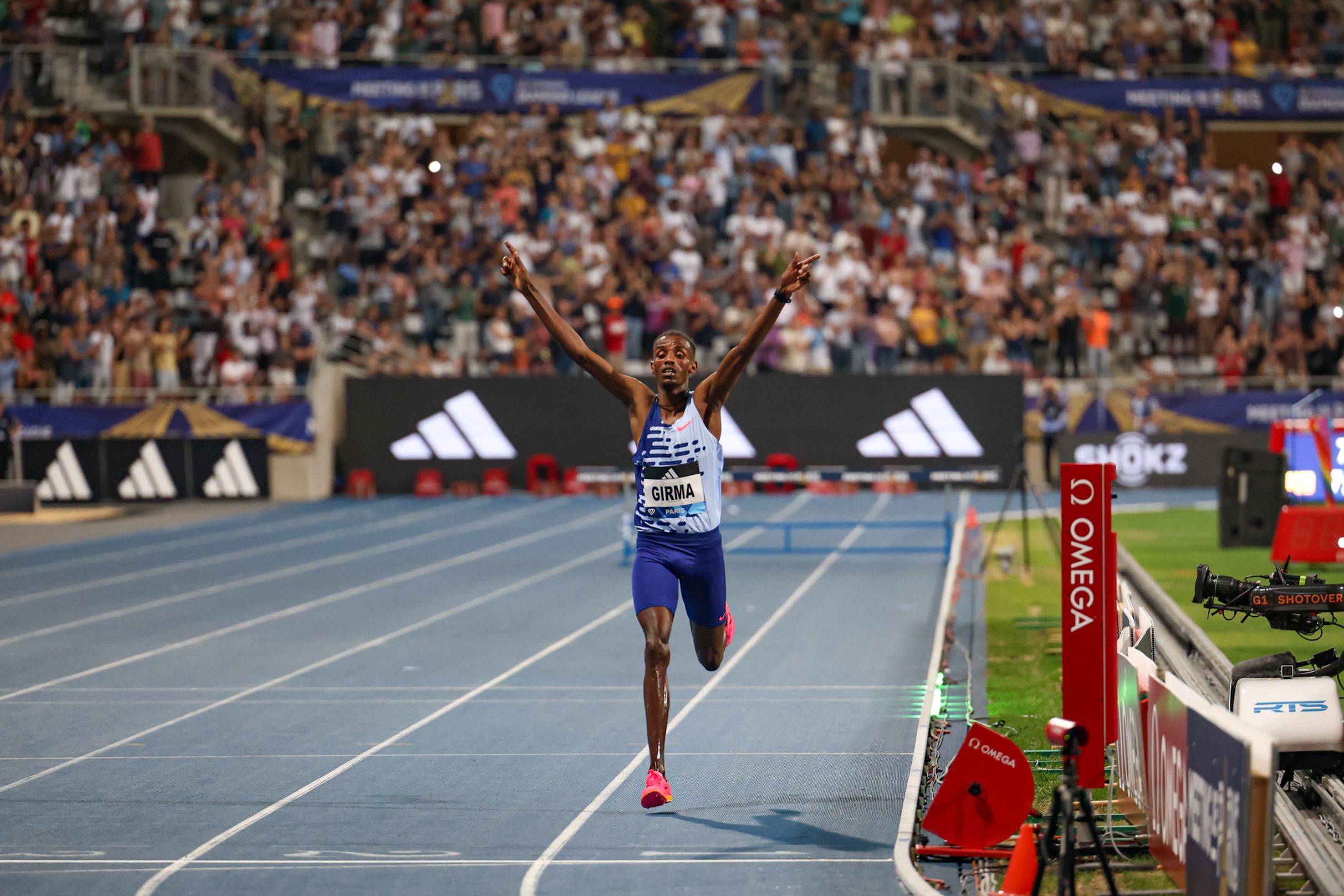 Lamecha Girma breaks the world 3000m steeplechase record in Paris (© Marta Gorczynska)
"I feel so happy," said Girma, who started his year with a world indoor record over 3000m. "I'm happy and very proud. I felt so fast during the race, so confident. The world record is not a surprise; it was my plan to beat it tonight in Paris. It's the result of my full determination."
Perez achieved her world record in Podebrady on 21 May, clocking 2:37:15 to improve the women's 35km race walk mark by 29 seconds.
The Spanish athlete was a dominant winner at the European Race Walking Team Championships, a World Athletics Race Walking Tour Gold event, where she eclipsed the world record of 2:37:44 that had been set by Peru's double world champion Kimberly Garcia in Dudince on 25 March.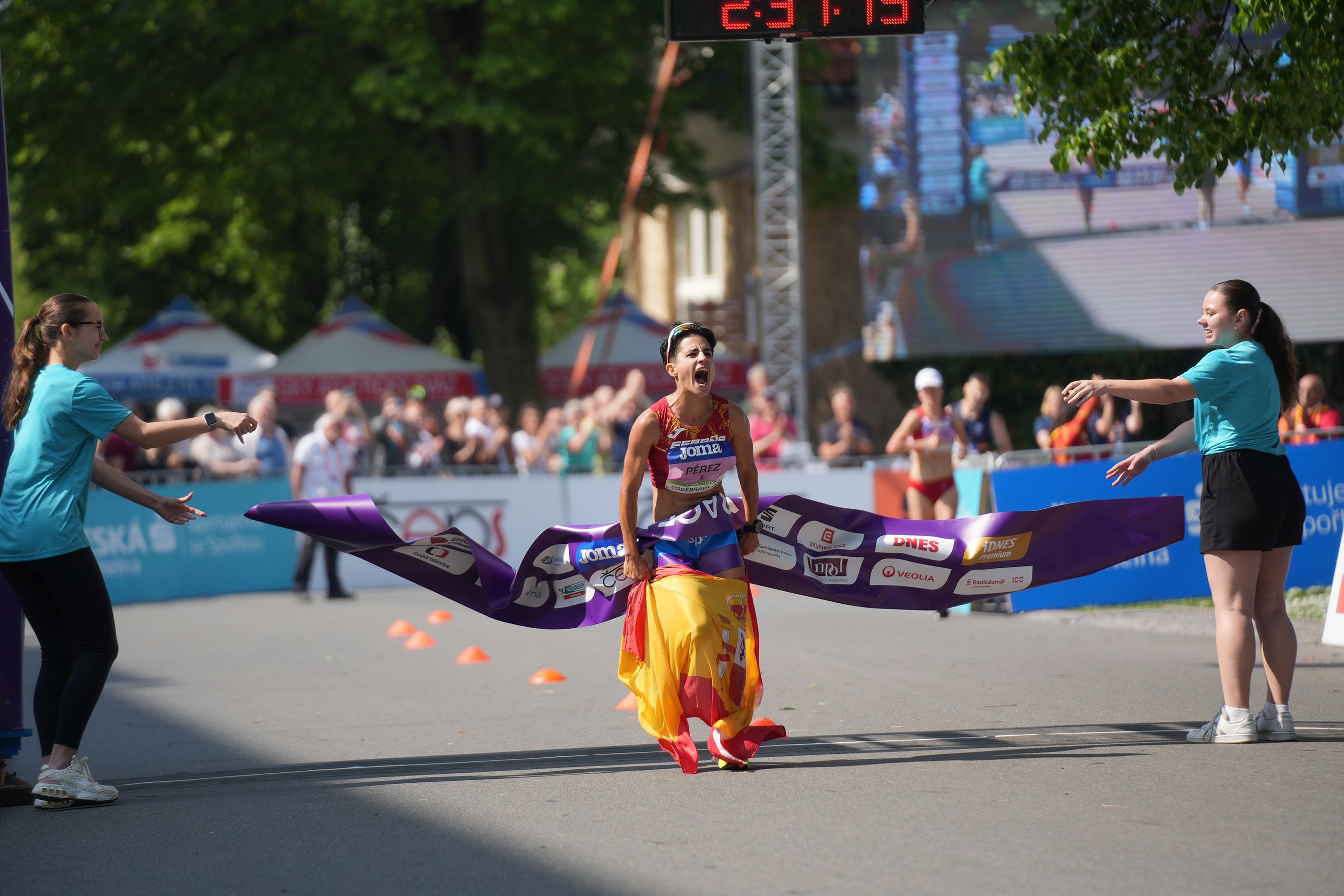 Maria Perez celebrates her 35km race walk world record in Podebrady (© Podebrady 2023 LOC / European Athletics)
"It is a nice feeling to finish the race and the time is a big reward," said Perez. "I did not think of any time or any special target before the start, I just wanted to finish the best I could. So, the record time was definitely not my goal today. I am happy to do my best and I am glad to see that race walk can be attractive and can attract such great crowds like in Podebrady."
World Athletics