Maria Perez celebrates her 35km race walk world record in Podebrady (© Podebrady 2023 LOC / European Athletics)
Maria Perez broke the women's 35km race walk world record* by an impressive 29 seconds to win at the European Race Walking Team Championships, a World Athletics Race Walking Tour Gold event, in Podebrady, Czechia, on Sunday (21).
The Spaniard eclipsed the record set by Peru's double world champion Kimberly Garcia in Dudince in March to break the tape in 2:37:15.
She becomes the first Spanish athlete to set an athletics world record since Francisco Fernandez broke the 10,000m race walk record in 2008.
"It is a nice feeling to finish the race and the time is a big reward," said Perez. "I did not think of any time or any special target before the start, I just wanted to finish the best I could. So, the record time was definitely not my goal today. I am happy to do my best and I am glad to see that race walk can be attractive and can attract such great crowds like in Podebrady."
Perez's gold medal was never in doubt from the first 200m of the race and she strolled home to eclipse second place by more than eight minutes around the 1km park course. After a 9:35 split through 2km, she was leading many of the men following a combined race start. By 4km, Perez was lapping some of the back markers in the women's field.
Chasing the Spaniard – if you can call it that – were her teammates Raquel Gonzalez and Cristina Montesinos, plus Italy's Federica Curiazzi, who by 6km were 47 seconds down. A lap later it was 59 seconds and growing to widen just about every one of the remaining 28 laps. Everyone else was more than two minutes in arrears.
Perez reached 10km in 46:17 – 1:31 ahead of her two compatriots – with Curiazzi dropping off the back by seven seconds. Further back, the pain of a race gone wrong was etched on the face of a tearful Lidia Barcella when the Italian was forced to drop out before 13km. The 2021 bronze medallist was clearly out of sorts as Perez forged on.
By 19km, the leader had lapped fourth-placed Curiazzi. She then went through 20km in 1:30:59 – a time that would have placed her sixth in the women's 20km event in Podebrady – and another kilometre later she had lapped the entire field.
"I had difficult seasons behind me and I focused on this competition very seriously," added Perez. "We worked on technique and I wanted to show that I am well prepared. The technique was still not the best but I am working on it. It will be even better (in future)."
Meanwhile, in the race for second, Gonzalez had opened up an 11-second lead over Montesinos; the latter's face resigned to third at best.
But Montesinos gave it one spirited last go over the final lap, and closed the gap to finish second in 2:45:58 to Gonzalez's 2:45:42. For Montesinos, the performance was a PB of more than four minutes.
Curiazzi also set a PB, finishing fourth in 2:49:39, while her fellow Italian Nicole Colombi was fifth in 2:52:13 - yet a another re-write of a personal best.
The men's 35km winner was no surprise, either. Completing a Spanish double, Alvaro Martin was head and shoulders above the rest and led from gun to tape.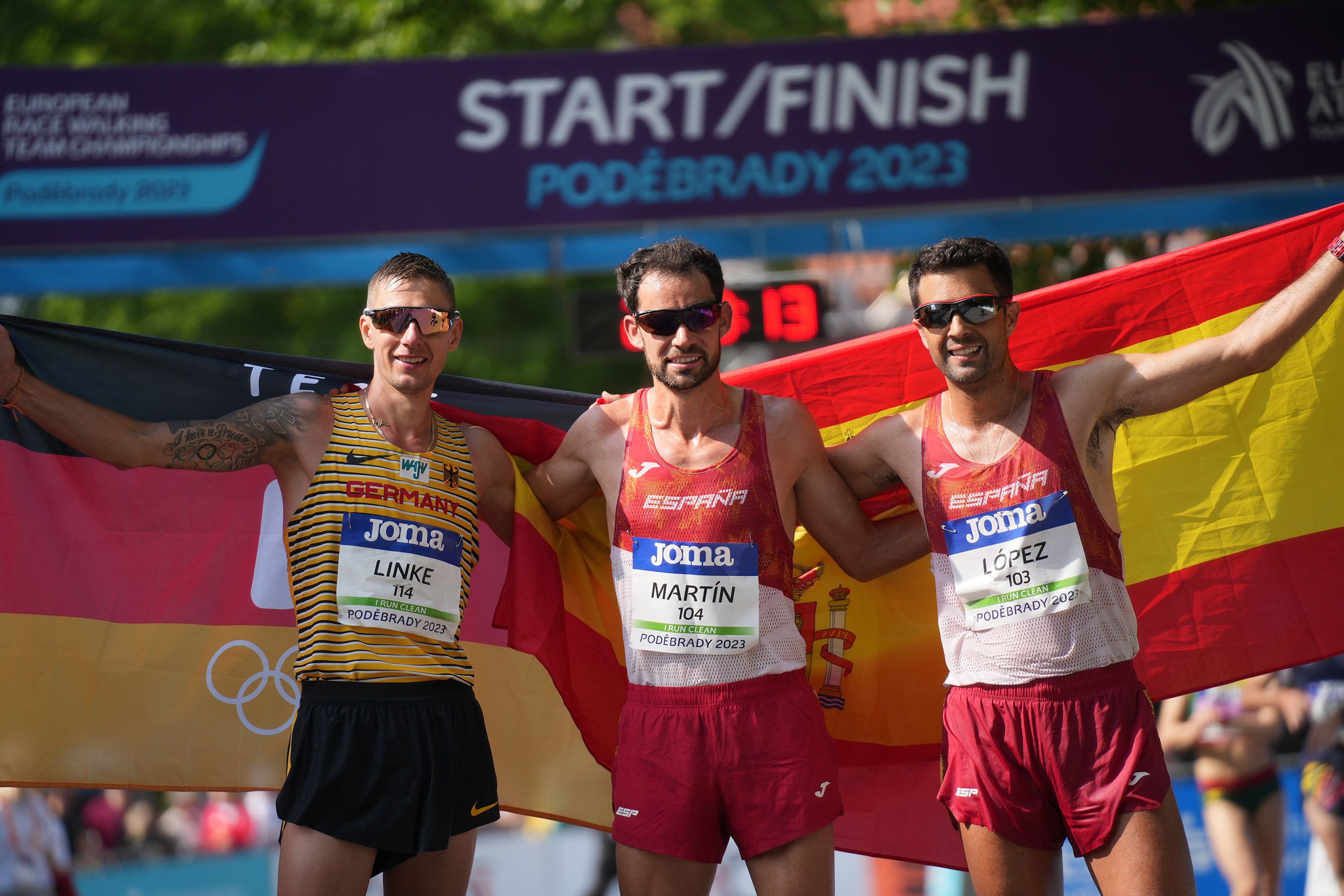 The men's 35km race walk podium at the European Race Walking Team Championships (© Podebrady 2023 LOC / European Athletics)
Smooth, imperious, and inscrutable behind his sunglasses, Martin set a Spanish record of 2:25:58 to eclipse the mark of the man who finished third, Miguel Angel Lopez.
In between the two red vests, Podebrady favourite Christopher Linke claimed silver and a German record of 2:27:05. Lopez's time in third was 2:27:33. Aurelien Quinion, who spent a lot of the race in second place, was forced to settle for fourth having spent time in the penalty area that killed his medal chances with a wave of a judge's hand.
Martin started like he finished, by ticking off laps in a metronomic 4:10 or thereabouts in a pleasant 14 degrees that was to rise to 21 by the finish. The Spaniard had a lead of 20 metres after just one lap from Quinion, Lopez and Linke, with a string of athletes further back and the entire field strung out over 200m.
The lead was a steady 18 seconds by 7km but had already grown by two seconds on the previous circuit.
There was a nice touch between Martin and Maria Perez as they exchanged a joke when he lapped his teammate halfway through his ninth lap. Maybe they already knew they would be smiling a lot more by the end.
Martin passed 10km in 41:27, with the lead having grown another seven seconds. Behind the chasing three, a group of eight athletes headed by a second German – Carl Dohmann – were battling for places.
Just before 12km, Quinion gave it a go to close the advantage, and forged a nine-second gap back to Lopez and Linke. He improved it over the next 2km to also cut the deficit slightly on Martin.
Even so, the leader went through 20km in a world-class 1:22:56, with Quinion 18 seconds back, and the next two a further 36 seconds down. The French athlete was eating into Martin's lead, so by 25km it was down to 12 seconds.
But it was all to unravel a few minutes later when the judges sent Quinion to the penalty area for the regulation 3:30 that effectively ended his quest for the podium.
Meanwhile, a new battle for second place was taking shape.
Linke creviced a five-second gap over the 2022 European champion and improved again slightly to make sure of a second place to add to his gold from 2017 at 20km, also in Podebrady.
Ntrismpioti and Fortunato take 20km titles
A fascinating race finally fell the way of 39-year-old Antigoni Ntrismpioti.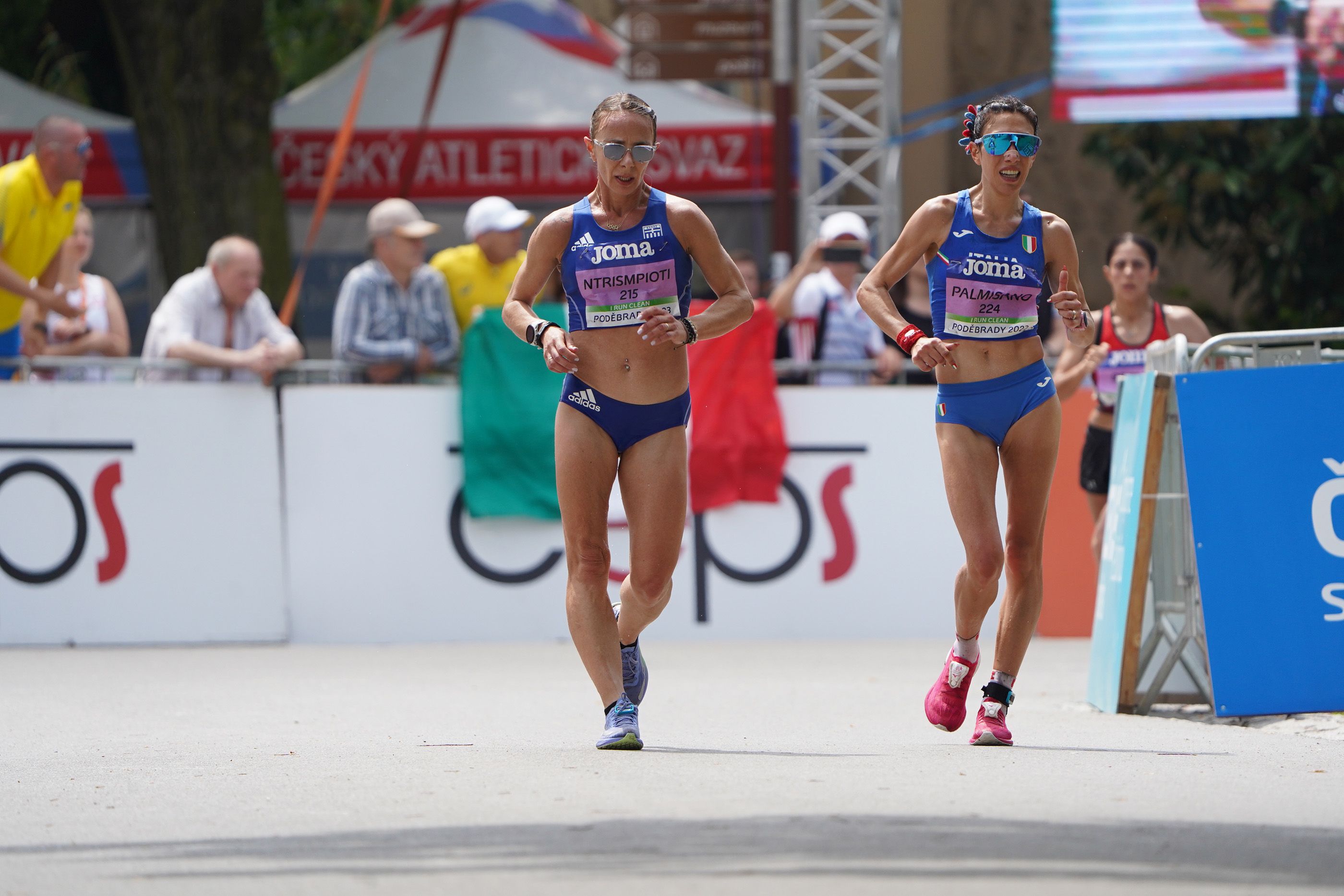 Antigoni Ntrismpioti and Antonella Palmisano in the 20km race walk at the European Race Walking Team Championships (© Podebrady 2023 LOC / European Athletics)
The double European champion proved that age is no barrier when she made a winning move with a lap to go. In doing so, the Greek athlete got the better of Olympic champion Antonella Palmisano, who herself defied expectations to take silver.
In fact, the Italian's last-minute charge still allowed her to grab a national flag and finish just two seconds down, albeit as a result of Ntrismpioti joyously waving to all around her.
Finally, Portugal's Ana Cabecinha was able to celebrate a major medal with bronze and a second 2023 sub-1:30:00 in what has become an Indian summer for another 39-year-old.
Two Ukrainians, Lyudmila Olyanovska and Olena Sobchuk, were rewarded for their willingness to take on the pace and finished in fourth and fifth, while another early leader – Clemence Beretta from France – finished sixth.
The heat had risen to 22 degrees by the time 43 athletes – many wearing caps – took to the start line. A round dozen including Olyanovska, Sobchuk, Saskia Feige, Ntrismpioti, Katarzyna Zdzieblo, Palmisano, Cabecinha and Beretta led the way.
After a reasonable 4:31 first kilometre, the pace increased to four seconds quicker two laps later. The major shock was that world and European silver medallist Zdzieblo was clearly struggling five seconds in arrears and was already going backwards.
Ntrismpioti wisely joined the majority by donning a cap during lap four, and the dozen was down to eight, with Meryem Bekmez from Turkiye and Italy's Valentina Trapletti joining the phalanx at the front.
The leaders went through 5km in 22:26 to underline another increase in pace: an injection that proved a gear too many for Bekmez, who quickly became uncoupled from the leaders. Olyanovska and Sobchuk pushed on during lap nine and reduced the pack to seven with Trapletti literally feeling the heat.
Halfway was 44:47, with Ntrismpioti composed enough to have a quick word to those around her. There was only four seconds of difference a circuit later, though all but the Ukrainians were walking single file.
The next four-plus minutes saw a momentary splintering of the lead group. Olyanovska, Sobchuk and Ntrismpioti led the way, with Palmisano, Cabecinha and Feige trying to hang on to their coattails. Beretta surprised many with her brave challenge, but she too was done when it came to hopes of a medal. However, two groups of three became six again barely three minutes later.
For the first time, Palmisano showed in the centre of the group and she was a single second ahead at 14km. After all, she had endured an injury ravaged 2022 with a solitary 10km last month her only race since glorious gold at the Tokyo Olympics.
Feige was next to detach, while Sobchuk was staring through sunglasses at a group of four moving away, that soon became three when Cabecinha began to struggle.
Zdzieblo could only look on as the leaders lapped her with 3km to go. Slowly Ntrismpioti turned the screw with only the Olympic champion for company as Olyanovska finally had to let go.
Palmisano was gulping air halfway through the penultimate lap, and the Greek athlete's sideways glance showed she knew it as she moved away for victory.
Over in the men's 20km race, the winner's name might translate as lucky, but there was nothing fortuitous about the best win in Francesco Fortunato's career. The Italian grafted from first to last and thoroughly deserved his gold medal.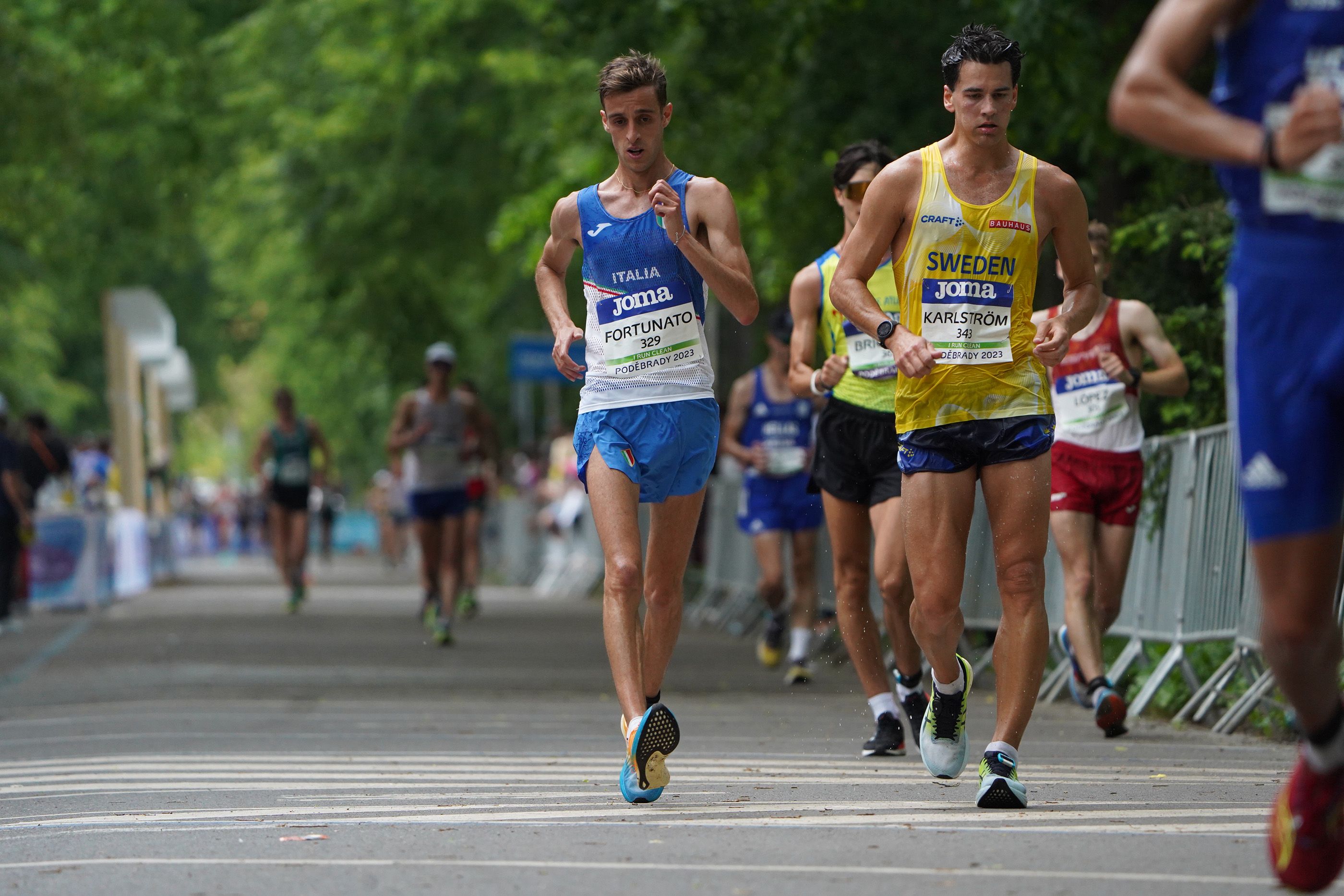 Francesco Fortunato and Perseus Karlstrom in 20km race walk action in Podebrady (© Podebrady 2023 LOC / European Athletics)
The 28-year-old was fifth in last year's European Championships, and fifth last time in Podebrady two years ago. That was a PB 1:19:43 at the time, but it was a 38:56 victory against a world-class field at 10km in Madrid just three weeks ago that filled his cup full of confidence.
Fortunato had to bide his time to pass the early leader and then go again to pass Perseus Karlstrom, bidding for a hattrick of wins. The Italian's eventual 1:18:59 – a massive improvement – even allowed him to half stop and gather an Italian flag in the last 50m.
Earlier, the hottest time of the day greeted 48 athletes, but with trademark cap on backwards, sunglasses and nasal strip in place, Olympic and world champion Massimo Stano set off like he planned to end this early as a competition. He stopped the clock for the first kilometre at 3:54, with Fortunato a heartbeat behind.
Gabriel Bordier from France, Karlstrom and nine others were already surging ahead of a strung-out field. It was 7:47 next time around and Stano was three seconds ahead of his Italian teammate. Already a stellar cast of athletes were eight seconds in arrears - hardly surprising given the 1:17:30 pace.
The clock showed 11:42 for 3km and there was no let-up in the charge, with the gap to third and Karlstrom extended to 12 seconds after four laps.
After a quarter of the race, Stano passed the clock at 19:34 and Fortunato was holding steady three seconds back, but Karlstrom had gone out to a deficit of 17 seconds. By now, the leaders were already lapping back markers. Karlstrom was clear in third, and what remained of the group from a lightning start were another 10 seconds further back.
The pace slowed fractionally at 8km, no thanks to a relatively slow 3:59 for the leader. The chasing Swede could clearly see both leaders, and slowly started to close the gap to a more manageable 13 seconds.
At half the distance (39:27), Fortunato had defiantly drawn abreast of Stano, and the gap to Karlstrom was now only seven seconds. Twenty seconds further back, Bordier, Alberto Amezcua and Paul McGrath were all inside 40 minutes.
Third place had no choice but to go wide to pass the lapped athletes but he was still gaining. In fact, by 12km it was a trio contesting which medal they might win, not least because Karlstrom had just reeled off a 3:53 lap.
Mentally and physically, it did it for Stano. He fell off the back almost instantly and by 13km he was eight seconds behind the duelling duo. And duel they did as Fortunato pushed on with a 3:56 lap to forge a six-second lead by 15km (59:09).
That was all that was needed to decide the podium, because as much as Stano was suffering, he hung on for third place and a time of 1:20:07, which in other circumstances would have been a success.
Amezcua was fourth, and his Spanish teammate McGrath came home fifth in 1:21:15, a PB and a European U23 leading time.
After a 16-year career, Veli-Matti Partanen showed that persistence pays off with a PB of 1:21:26 for sixth place.
Meanwhile, two-time world medallist Joao Vieira deserves special mention for 10th place and a time of 1:22:08, barely two minutes shy of a PB he set 19 years ago. At the age of 47, he showed he has plenty yet to offer.
Paul Warburton for World Athletics
*Subject to the usual ratification procedure