US discus thrower Valarie Allman (© Getty Images)
Valarie Allman has thrown the discus farther than any other woman in the past 30 years, but she is still taking her new fame out for a spin.
"When I come to a meet and there's people that want to take pictures and I hear on the public address system, 'Olympic champion,' then it really hits me," Allman said. "Being an introvert, it's definitely a bit of a shock, but I feel like I'm slowly starting to get the hang of it and figure it out."
The 27-year-old USA thrower added: "I think it's always going to feel like new territory."
Allman has been covering new ground in her sport since turning pro in 2019, a year that she said was "kind of exploratory — faking it until you make it."
After placing seventh at the 2019 World Championships in Doha, Allman set her first US record in August 2020 with a throw of 70.15m. She has since extended it twice, while also becoming the area record-holder and Tokyo Olympic gold medallist. Allman has posted 12 of the top 13 marks in US history in the past two years.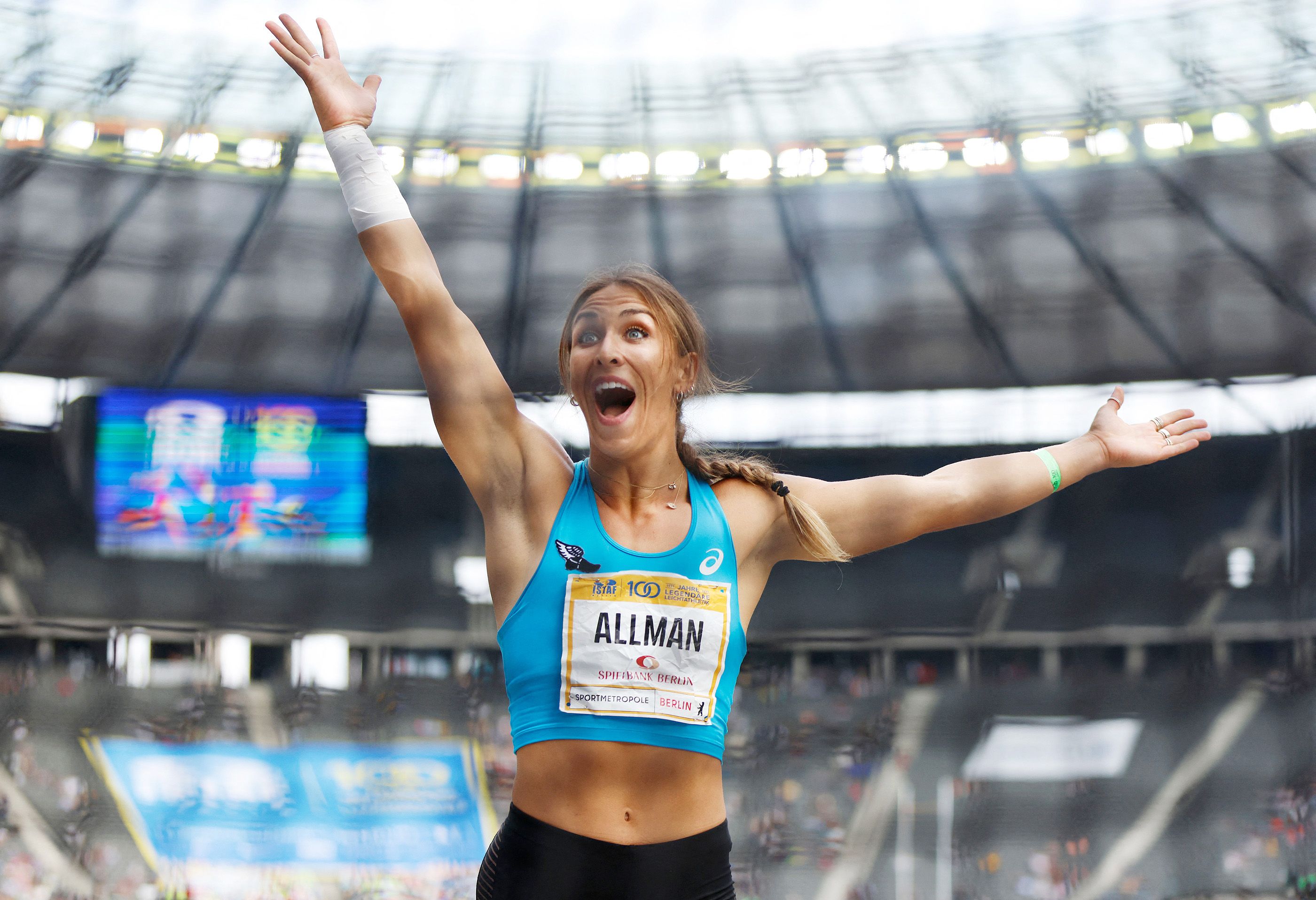 Valarie Allman celebrates her winning throw at the ISTAF Meeting in Berlin (© AFP / Getty Images)
In early April, the three-time national champion unleashed a toss of 71.46m, an improvement of 30cm over her personal best from last September. Allman has now thrown 5cm farther than two-time Olympic gold medallist Sandra Perkovic of Croatia did in 2017 and is the No.15 performer on the all-time list.
"I think for a long time I kind of viewed myself as the workhorse, that when it came to training it was all about, 'How do I get the most out of it?" Allman said. "Now it's about being more like a racehorse. 'When I'm in the ring, how do I execute at the best of my ability?'"
A former dancer who was lured into trying the discus by the promise of a spaghetti dinner at her Colorado high school, Allman is not shy about expressing her joy in her performances. She smiles, claps and jumps up and down after good throws.
Undefeated this season, Allman followed up her record throw eight days later by winning the USATF Golden Games at Mt SAC in California, a World Athletics Continental Tour Gold meeting. She had a stellar series, with her best toss of 69.46m on her fourth attempt, but didn't quite adjust to the wind. Allman went back to work knowing "there's a lot more in the tank."
"We know it's really close to something amazing," said her coach, Zebulon Sion, who was encouraged by her progress in April.
At the Wanda Diamond League meeting in Birmingham on Saturday (21), Allman trailed Perkovic after the first throw. She then spun a 67.85m toss on her second attempt to pull ahead, although the Croatian came close with 67.26m on her final try.
"In my trajectory over the past 10 years, I've really looked up to Sandra Perkovic," Allman said. "She was the one that held that accolade for a long time of really resetting boundaries that hadn't been seen in decades. And to be in her company, someone that I've looked to as a strong, competent, dominant female, it's quite special."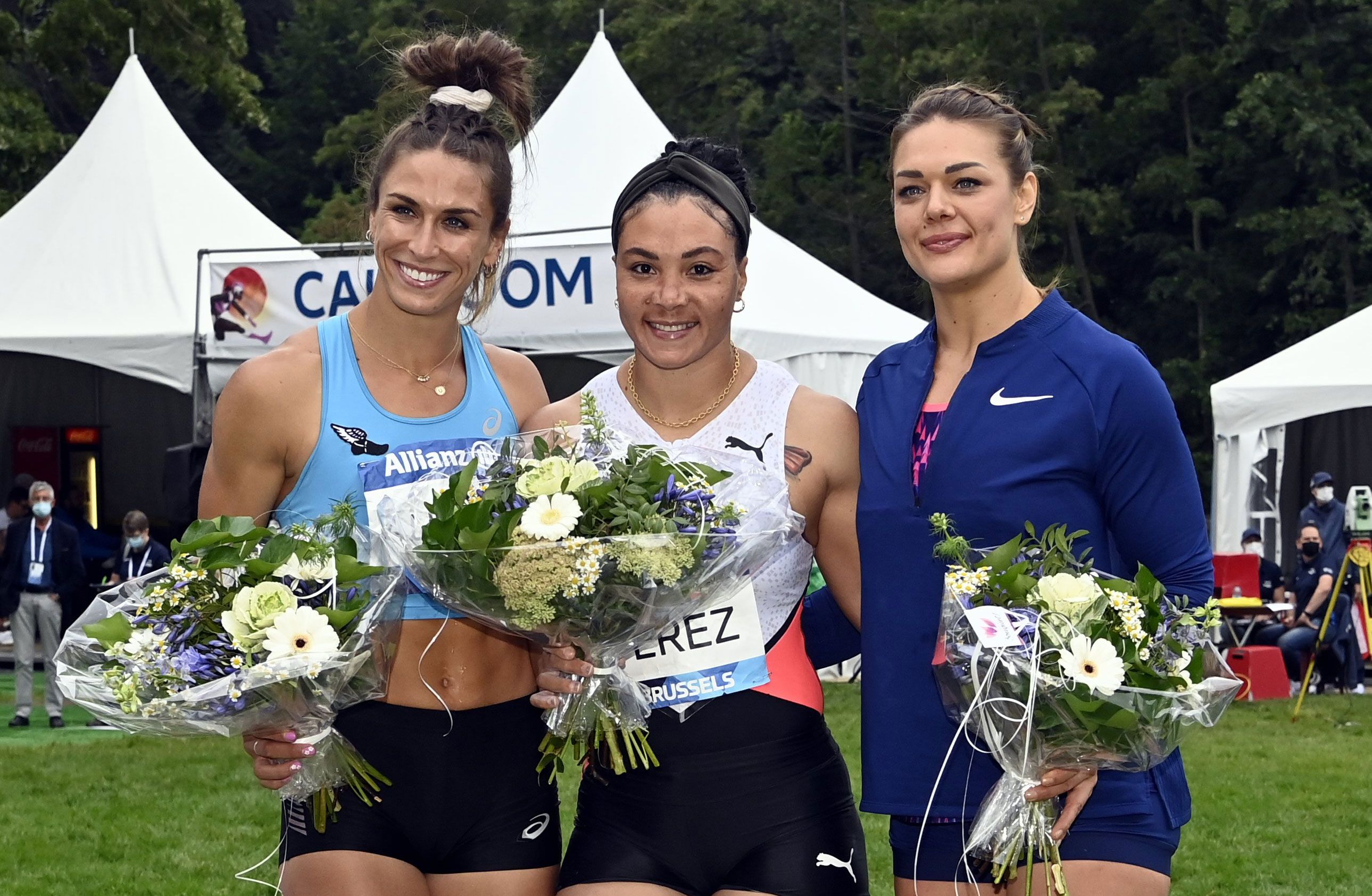 Valarie Allman, Yaime Perez and Sandra Perkovic at the 2021 Diamond League meeting in Brussels (© AFP / Getty Images)
They will face off again at the Prefontaine Classic this Saturday (28) in Eugene, Oregon, the site of the World Athletics Championships Oregon22 in July. Allman has two Diamond League meetings scheduled for June — Oslo and Paris — plus the US Championships, the qualifying meeting for the World Championships.
"My biggest goal for this season is just really making Team USA proud at the World Championships when they're here in the United States," Allman said. "That would be a crowning achievement if I could bring home the gold, especially in front of my family on home soil."
But she won't stop there. Allman said the date marking 800 days to the 2024 Paris Games "gave me goosebumps thinking that another Olympics is that close."
Just three years ago, imagining herself in this position — a medal favourite who is slightly disappointed whenever she doesn't top 70m — would have been "crazy," Allman said.
"Even seeing pictures of myself from my first year as pro in 2019, it's hard to recognise the same person that I see now and then," she said. "I think it's a combination of all the adversity, the accolades, the hardships and the bond I've built with Zebulon has really led to being able to step into a version of myself that I carry with a lot of pride."
Sion, who trains Allman in Austin, Texas, said the Stanford graduate is now an "absolutely strong, fierce competitive, powerful woman" compared to one who was "a little more unsure in her skin and where she stacked up relative to those more dominant people at the time."
Their strategy was to normalise her rivals by facing them as often as possible. Allman gradually gained the same composure and poise she saw in them.
In 2021, Allman went into the Olympic Games with the second-best mark in the world of 70.01m behind Jorinde van Klinken of the Netherlands.
In Tokyo, Allman produced a prodigious opening throw of 68.98m, executing a strategy of dialling into her technique early that she and Sion had spent "years in the making." That mark held up in the rain-marred competition for the victory.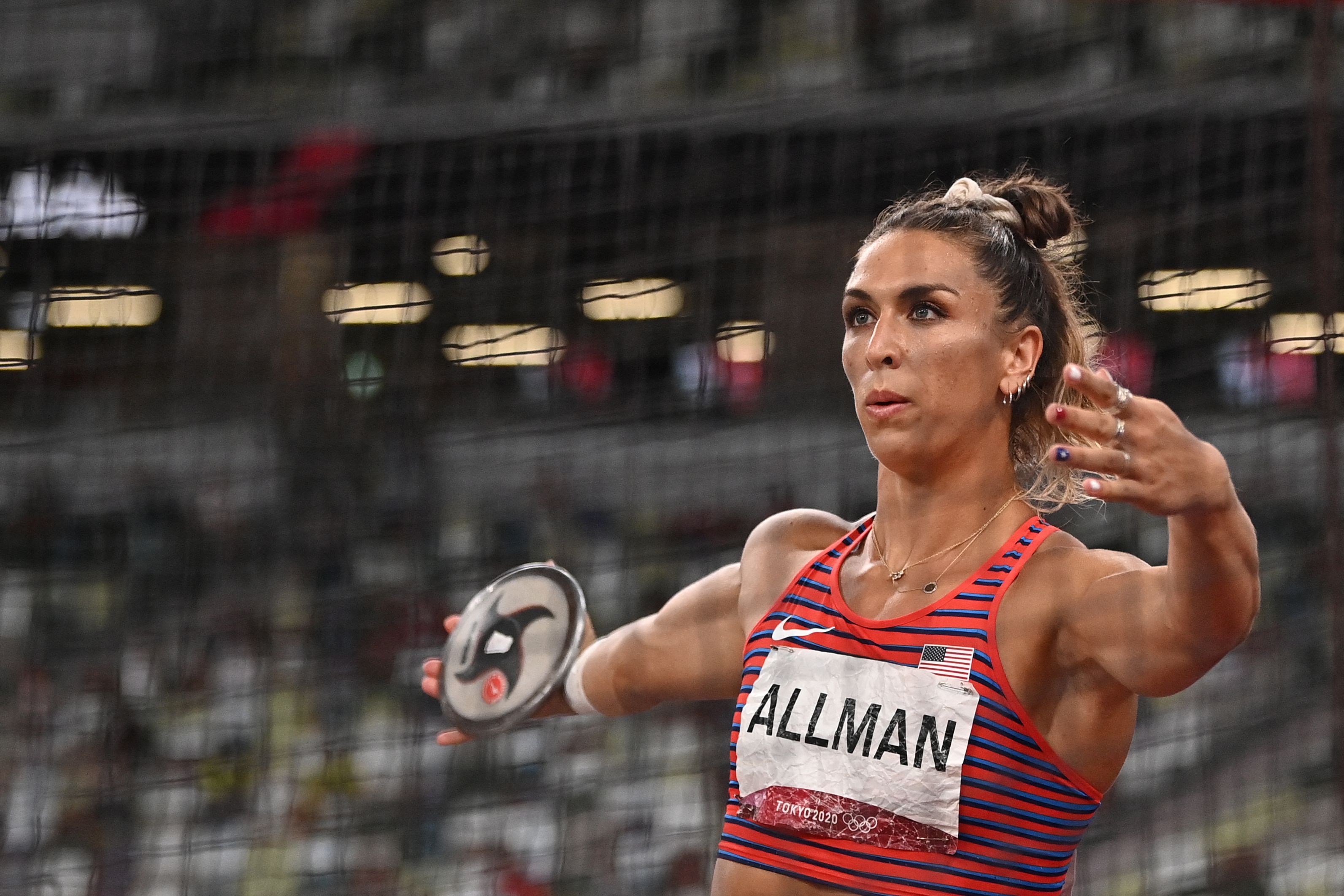 Discus winner Valarie Allman at the Tokyo Olympic Games (© AFP / Getty Images)
While the Olympic gold medal obviously gave her confidence, Sion said Allman truly began to trust in herself and their training on the post-Olympic circuit, where she clinched the Diamond League title.
Knowing she thrived on routine when it came to nutrition, sleep and training, Allman felt anxious going into the European tour. "To be able to produce some of my best throws that late in the season when the variables weren't quite as controlled definitely gave me a tonne of confidence about being able to head into new opportunities," Allman said, "and knowing when adversity strikes that I have the tools to be able to handle it and perform well."
And yet even with so many accomplishments, Allman said one of her greatest strengths as an athlete is continuing to view herself as a novice. "I definitely don't feel like the Olympic champion when we're out training," Allman said. "I'm always chasing improvement."
"We by no means as a team feel like we have everything figured out," Sion added.
They're both chasing something else, too. "That big one," Allman said.
The world record of 76.80m was set by Gabriele Reinsch of East Germany in 1988. The top 54 throws in history are from the 1980s, a time now viewed with suspicion because of revelations about systematic doping in East Germany.
"Any female that has thrown the discus over 70 metres, regardless of time period, takes intense focus and discipline and execution to be able to do it," Allman said. "I would never want to discredit anyone and assume that they were not a clean athlete, but based off the data that we know and the time period and the stories that we've heard, I think we are doing something that's really special.
"I'm going to keep trying to just get better and throw as far as I can so there never is a debate about clean and dirty. It's just one record that people really do respect at the end of the day."
However, to move up the world list Allman knows she needs a perfect throw.
"That's the throw that everything has to come together on the right day and in the right environment to be able to make happen," she said.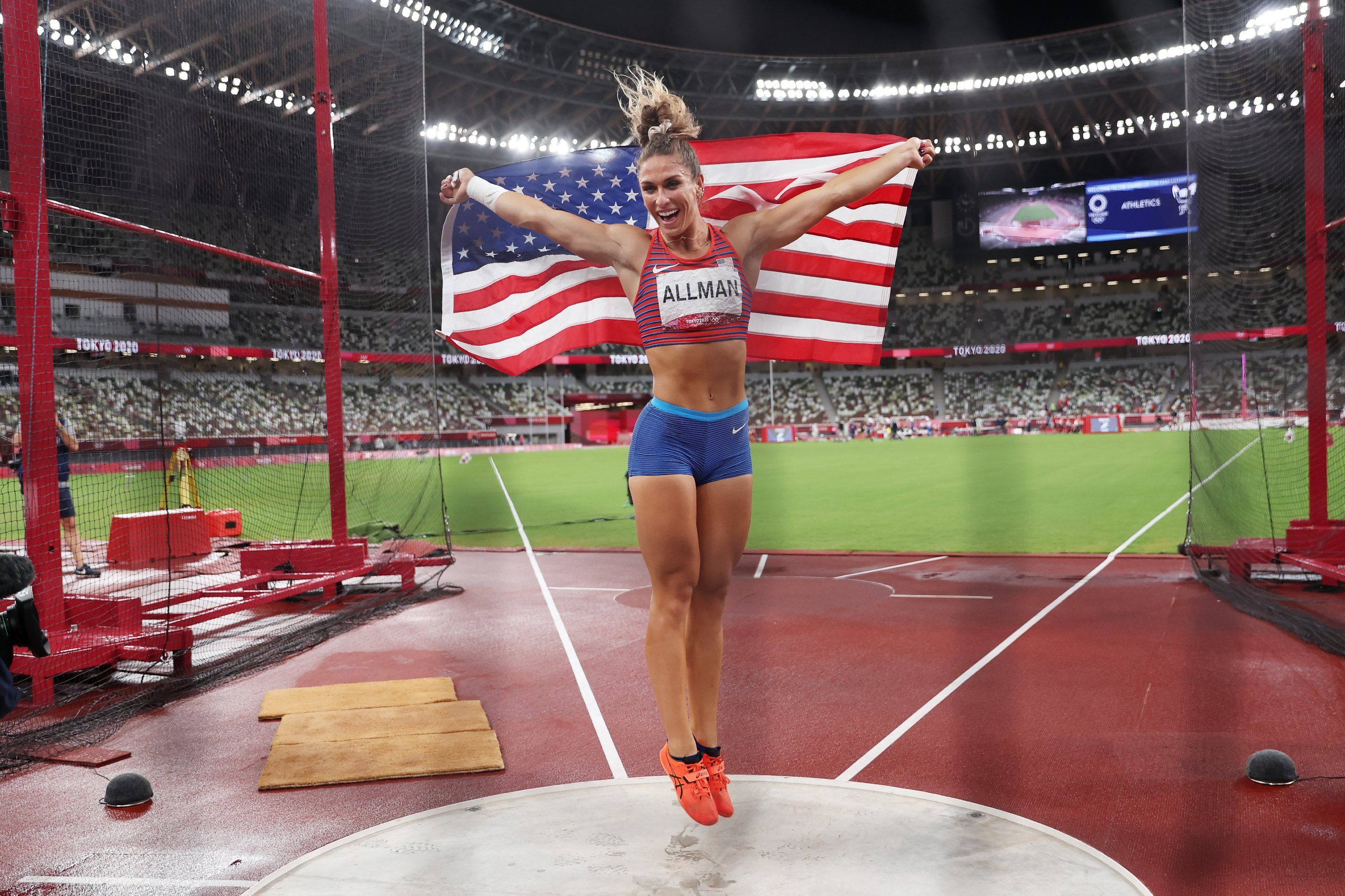 Valarie Allman celebrates her discus win at the Tokyo 2020 Olympic Games (© Getty Images)
To this point, Allman and Sion haven't tried to focus on meetings known for windy conditions to enhance their chances. They've opted for competitions where Allman can be pushed instead by great athletes.
"I feel like honestly we're just getting started with the things that we think can continue to rewire the modern discus throw and the distance that yields," Allman said. "We really focus on power and speed and technique. To really work on continuing to climb up those record books, it's having all three of those things come together. You can't rely on one more than the other. It's having all three be at peak. It's definitely motivating."
Allman is also keen on rewiring the stereotype of women in her event and being a good role model.
"When I was in high school and I joined the track team and first tried throwing, my friends couldn't help but make teasing remarks," she said. "As a female, it's tough to be pegged as doing something very masculine, especially when you are in a more adolescent phase. And there haven't been that many women who have really embraced their femininity in the sport on a big stage.
"I fully support however anyone wants to come across and express their sexuality, express their confidence, express however they see themselves fit, but I think for me as a discus thrower there's something really elegant and graceful that I'm hoping people can see in my technique — that you don't have to be that stereotype of bigger or heavyset to be able to have success. There are a lot of different body styles and technical models that can yield really great results."


View this post on Instagram

And Allman continues working on not getting thrown for a loop by fame. She's still incredulous about an incident from last summer. After winning the Olympic gold medal, Allman was able to chat with her family on camera through an NBC television connection. Her mother held up Allman's miniature Australian shepherd — named Oly, naturally — and using the dog's nickname said, "Sugarbutt misses you."
When Allman arrived home from Tokyo, her family and Oly were waiting at the airport. "Someone walked by and they go, 'Oh my gosh, is that Sugarbutt?'" Allman said. "Someone recognised my dog and that took the cake."
A world title this year in Oregon, though, would be the icing.
Karen Rosen for World Athletics