US sprinter Marybeth Sant-Price (© Getty Images)
There was perhaps no better indication of Marybeth Sant-Price's inexperience on the global stage than when she took to the podium at the World Athletics Indoor Championships Belgrade 22.
The US sprinter's name was announced, but she hesitated before stepping on to the platform, looking around for some sort of confirmation that that's what she was supposed to do. After a brief nod and smile from her fellow medallists, Sant-Price took her place on the podium and received her bronze medal.
Those hesitant and uncertain few steps on to the podium were somewhat symbolic of the journey she had been on to reach that point.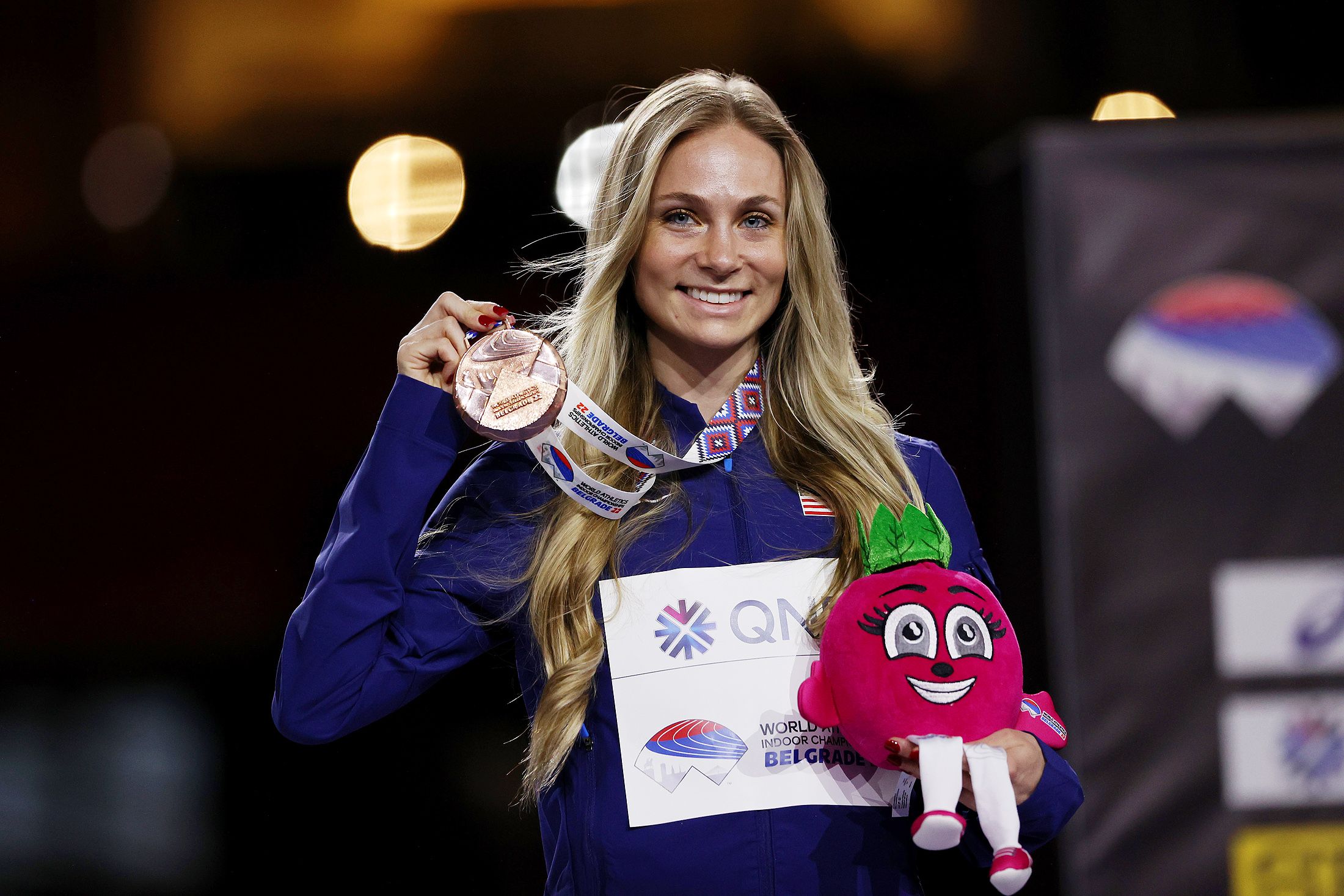 Sant-Price's speed was initially discovered on the soccer pitch when she was 10 years old. Raised in the town of Parker, Colorado, she attended Valor Christian High School where she made a name for herself on the school's athletics team.
Before turning 18, and while in her final year of high school, Sant-Price reached the 60m final at the 2013 senior US Indoor Championships in Albuquerque, clocking a PB of 7.36. Outdoors, she went on to clock a 100m PB of 11.25 – the fastest time in the world by an U20 athlete that year.
She also earned an invitation to compete in the high school girls' race at the Diamond League meeting in New York, where she placed second, just 0.03 behind Ky Westbrook, who went on to win the world U18 title that year. In a highly competitive field, Sant-Price beat several athletes who went on to achieve great things in the years that followed, including 2021 Olympic 4x100m silver medallist Javianne Oliver, 2014 world U20 200m champion Kaylin Whitney, 2017 world 4x100m champion Aaliyah Brown, and world indoor 60m silver medallist Mikiah Brisco.
But instead of thriving after that season like her fellow competitors, Sant-Price started to struggle.
She was recruited by the University of Oregon at the end of 2013 and she competed on the collegiate circuit throughout 2014. She became the university's lead leg runner in the 4x100m, teaming up with Phyllis Francis, Jenna Prandini and Jasmine Todd. But towards the end of that season, Sant-Price was diagnosed with a stress fracture in her right foot.
The 2015 season played out in similar fashion. Oregon reached the 4x100m final at the NCAA Championships on home soil in Eugene, and Sant-Price ran a strong lead leg for the hosts, but a botched second exchange ended in a disqualification for the team.
Further disappointment came when Sant-Price was diagnosed with another stress fracture, this time in her left shin. A follow-up bone density scan confirmed she had osteopenia (weak bones).
"That's when the doctor said to me, 'for your health further down the road, I think you should consider medically retiring'," recalls Sant-Price. "So I did; I listened, and I took two years off."
She was put on a 'medical' break, which allowed her to retain her scholarship while continuing to receive treatment for her injuries.
During her time away from competition, she called Karim Abdel Wahab, the sprints coach at Colorado State University (CSU), who had shown interest in Sant-Price when she was a high school athlete. Her sisters, Kristen and Emily, had also studied at CSU, so Sant-Price was familiar with the institution. But Brian Bedard, the head coach at CSU, was somewhat reluctant because of Sant-Price's unproven collegiate seasons to date.
Bedard asked Sant-Price to do a time trial in the summer of 2017 and told her that if she broke 12 seconds then she could join the squad. After Sant-Price clocked just 12.4, Wahab asked Bedard to reconsider and Sant-Price was eventually welcomed on to the team.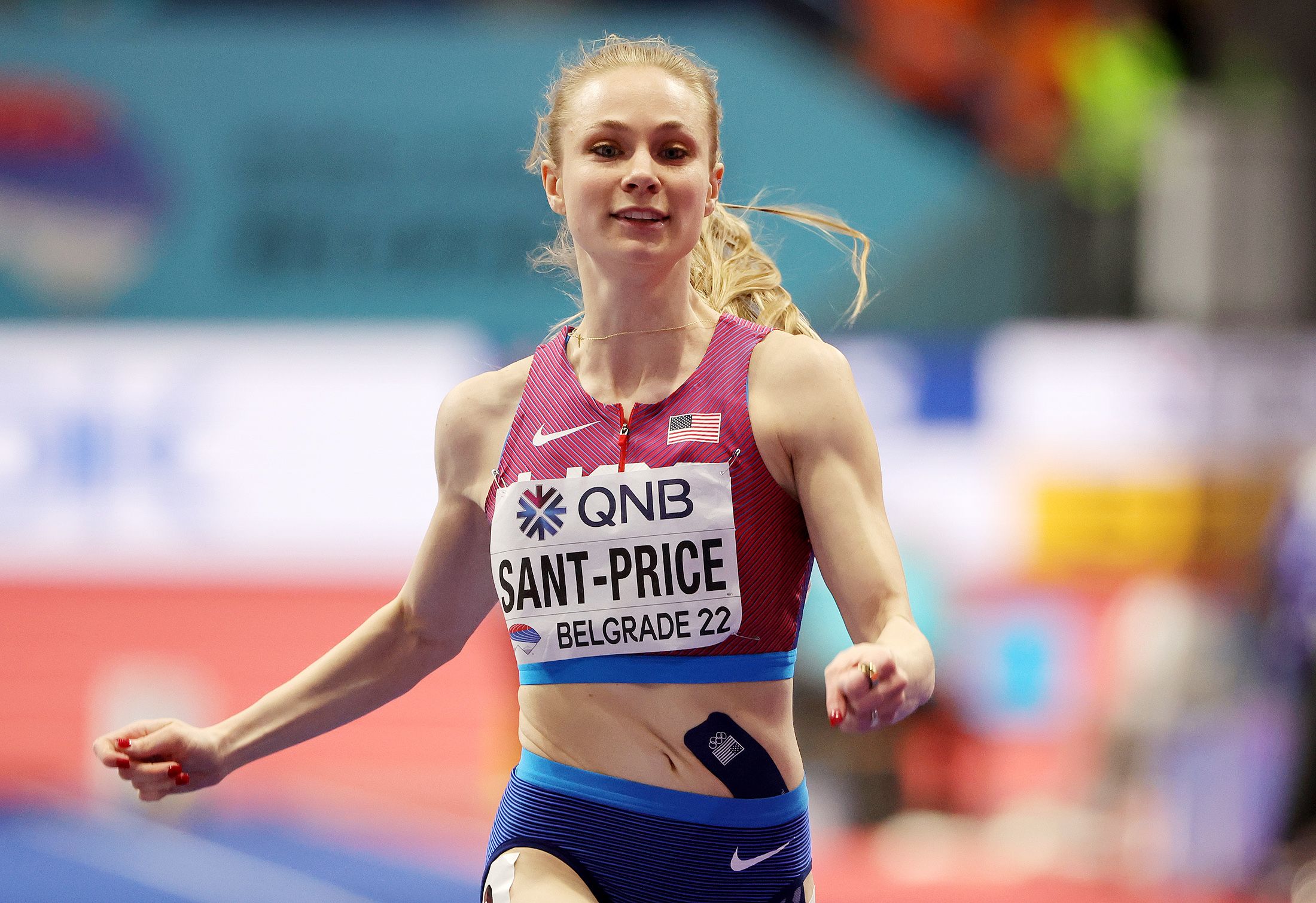 "My time at Oregon was a really tough period of my life," says Sant-Price. "There was definitely a point in time where I thought I'd never be where I am now. In about 2016, when I was told to medically retire, I thought that I was done. And once I thought I was done, I thought I was never going to reach my goals and dreams and the things I knew I was capable of.
"Once I started at Colorado State University and decided to return to track, I feel like that's where my comeback started."
A bone density scan in late 2017 showed clear progress and Sant-Price was given the all-clear to resume training and competing. Although she didn't set any PBs in 2018, her first full season at CSU, she was simply pleased and relieved to be back competing, doing what she loves most.
"I'd say 2019 was the turning point for me and things started moving in a positive direction," says Sant-Price, who is married to Hunter Price, a decathlete with a PB of 8035 and a fourth-place finish at the 2017 NCAA Indoor Championships.
When Wahab got a coaching job at South Carolina and left CSU, Sant-Price started training with Ryan Baily, the combined events coach at CSU (not to be confused with the former international sprinter with a similar name), and they clicked almost immediately.
Sant-Price set 60m PBs in her early season races, reducing her best to 7.31, then 7.26 and 7.18. For the first time in her career, she earned an individual spot at the NCAA Indoor Championships, where she competed in the 60m.
Her collegiate career concluded at the outdoor NCAA Championships later that year, where she competed in the 4x100m. CSU may not have reached the finals, but their relay team safely got the baton around in their heat, which went some way towards banishing the demons of Sant-Price's NCAAs experience from four years prior.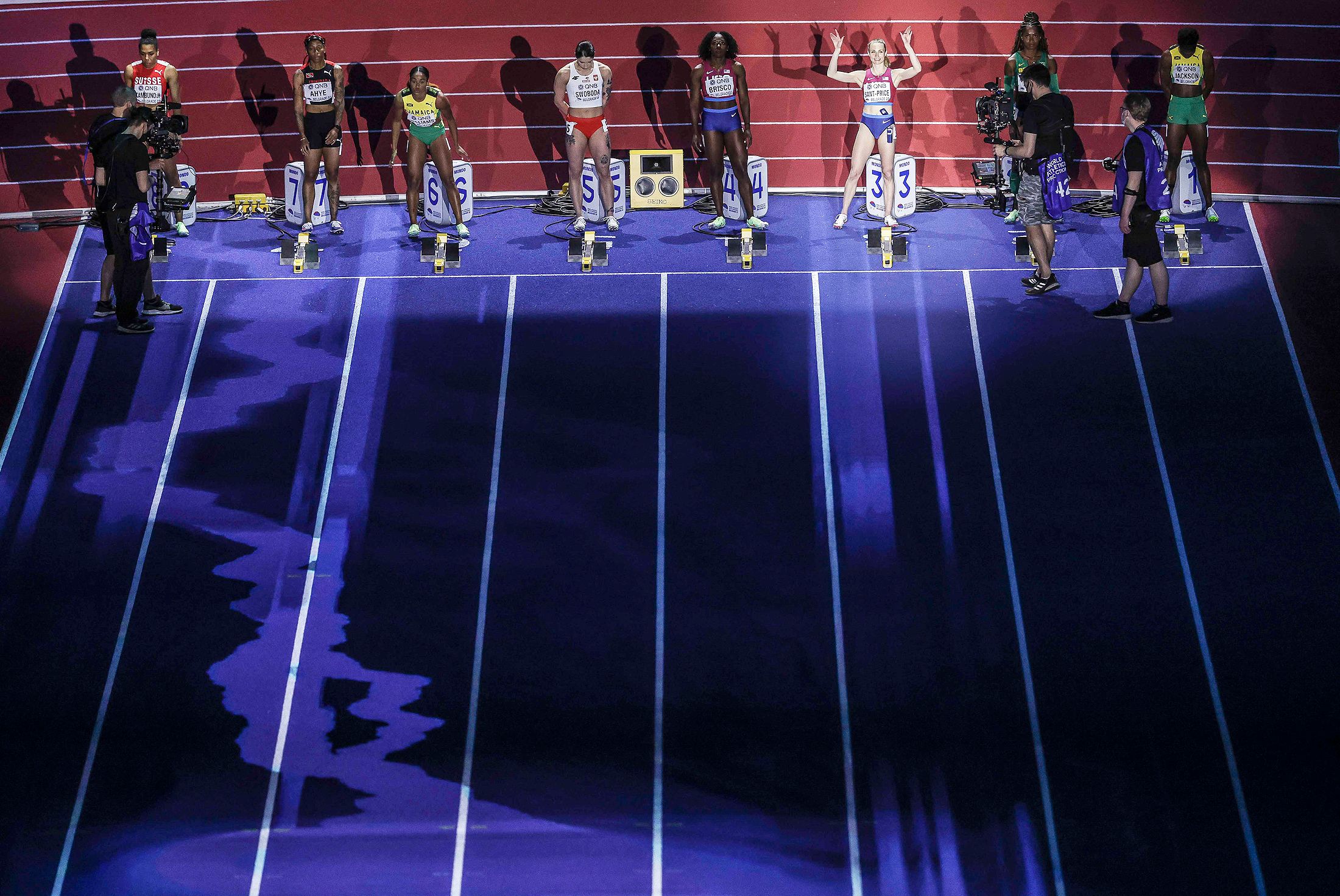 World stage
With her collegiate career – and her injuries – finally behind her, Sant-Price embarked on a professional career in 2020.
She competed outside the US for the first time, earning top-five finishes at races in Karlsruhe, Paris and Dusseldorf, and then finished sixth at the US Indoor Championships in Albuquerque – her highest placing at a national championships.
The Covid-19 pandemic effectively put an end to her 2020 competitive campaign, but she re-emerged in 2021, gradually chipping away at her times before clocking a 100m PB of 11.09. It was an ideal launch pad for the 2022 season.
Sant-Price's early season outings were encouraging to say the least. In mid-December last year, she set 60m PBs of 7.15 and 7.12. In January she set world-leading times of 7.11 and 7.08, then went even quicker in Fayetteville in February, running 7.06 and 7.04 to move into the top 30 on the world indoor all-time list.
Because she was still something of an unknown name internationally, she wasn't invited to compete on the international circuit, so all of her races were at collegiate invitational meetings. But Sant-Price was undeterred.
"The race in Arkansas really showed me and taught me more about where I'm at, the confidence I have in myself, and how fun this whole journey has been," she said at the time.


View this post on Instagram

She finished second at the US Indoor Championships in 7.08, earning a spot on the US team for the World Athletics Indoor Championships Belgrade 22. And her good form continued in the Serbian capital, winning her heat (7.07), placing second in her semifinal (7.05) and finishing third in a highly competitive and high quality final in an equal PB of 7.04, just behind Mujinga Kambundji and Mikiah Brisco.
In an extremely close finish, four women clocked 7.04 and had to be separated by a photofinish. Sant-Price was two thousandths of a second ahead of pre-event favourite Ewa Swoboda. She also beat the likes of Olympic 100m bronze medallist Shericka Jackson and double world U20 champion Briana Williams.
All the pent-up determination and frustration from her years on the sidelines could well have been what gave Sant-Price the edge over her competitors in that close finish.
"It has taken a lot of determination and confidence to mentally and physically get back to the point where I'm at now," she says. "I'm really proud of myself and how I went out and competed. It's my first senior team and my first World Championships, so I'm happy to be on the podium.
"I feel very proud of myself for how I handled the whole situation. We had three rounds and it was a long day, but I came out and competed really well – even though, physically, my hip didn't feel 100%. I still showed up and performed and that really gave me a lot of confidence.
"I feel so vindicated and excited for outdoors and ready for what is next," she added. "And I know there's more, so that's even more exciting."
Surprise package
Usually when Sant-Price tells people she does athletics, they assume she competes in middle or long distances.
Standing at just 1.55m tall (5ft 1in), Sant-Price doesn't look like a typical sprinter. But she enjoys challenging people's perceptions of what a power-based athlete should be.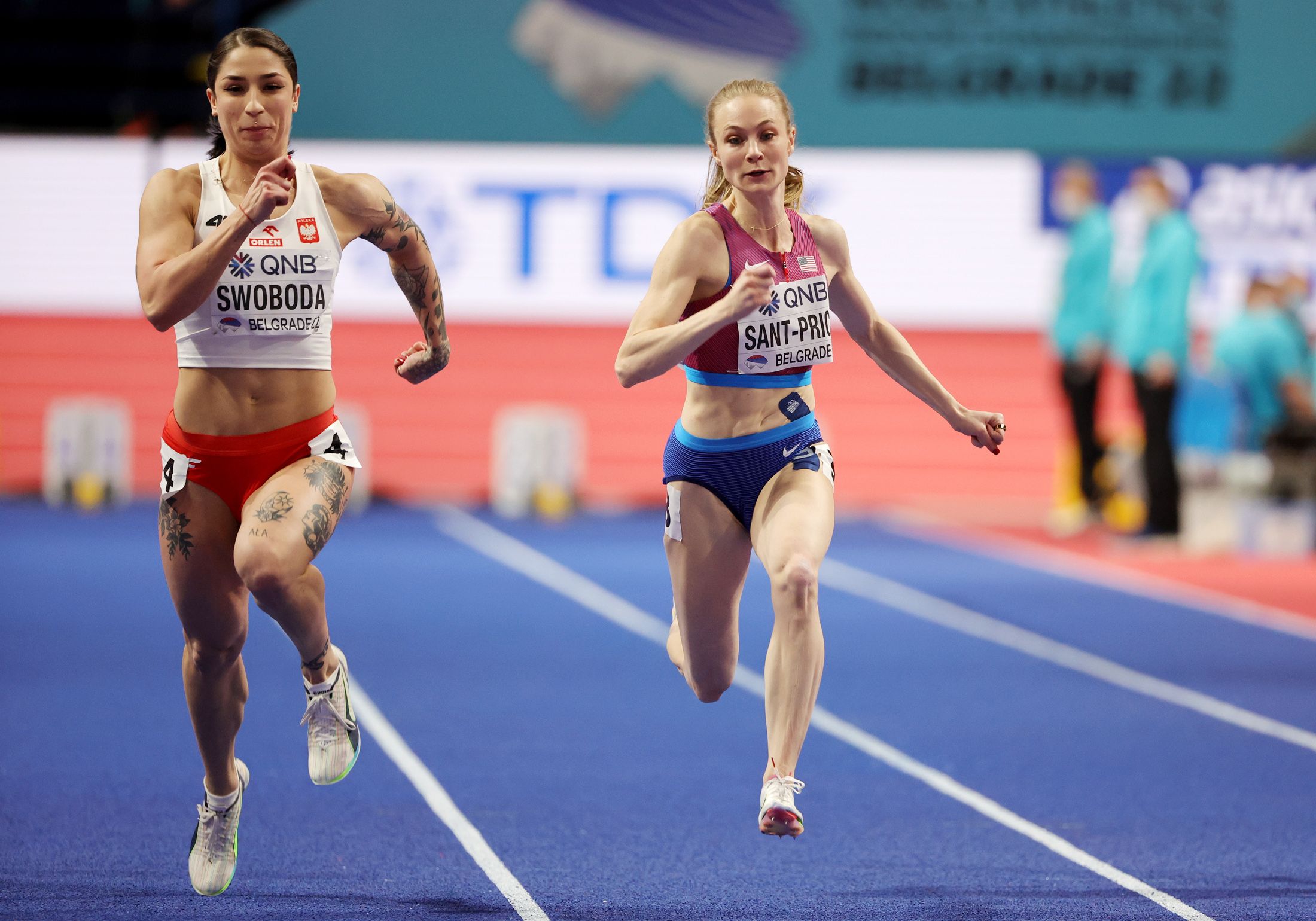 "I just don't look the part for a sprinter, but that drives me and makes me excited," she says. "I like to go out and prove to people that you don't have to look a certain way; if you have a talent, you have a talent. I'm tiny, but I like to go out there and compete and use my talent."
But with a global medal now in her possession, it won't be long before the wider athletics world starts to take note of the deceptively strong and speedy Sant-Price.
The World Athletics Championships Oregon22 is a huge goal for her. Not just because it's a global event on home soil; but because it is also where, back in 2015, her career as a promising collegiate sprinter started to unravel. To say Sant-Price has unfinished business at Hayward Field is an understatement.
"Never let anyone define your path," says Sant-Price, who is still unsponsored but currently exploring her options. "I feel like I'm just touching my potential, and I could have been done a long time ago.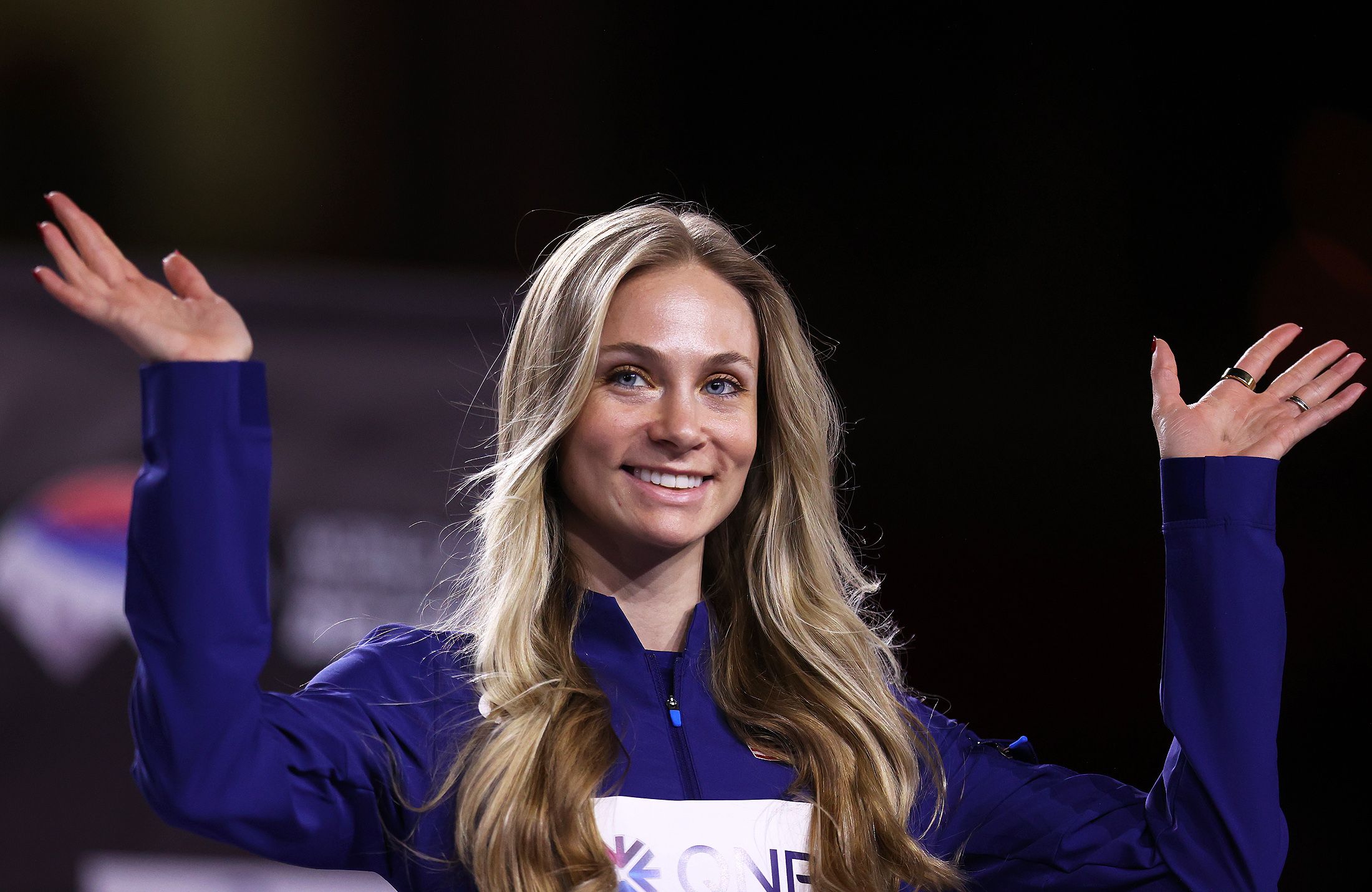 "The possibilities are endless and I'm just going to take it meet by meet. I think my form from the indoor season is going to translate really well. I feel like I'm running confidently now, I'm running healthy now, and I'm really excited to see what I can do outdoors.
"I feel vindicated now, but I want to feel vindicated in Oregon this year. I want to go back and be on US soil, especially in Eugene where I originally started, and prove to myself and to everybody else that I belong, I'm ready and I'm here."
Jon Mulkeen for World Athletics