Olympic 1500m bronze medallist Josh Kerr (© Getty Images)
Josh Kerr knows the history, that long line of British middle-distance greats who all but monopolised the men's 1500m back in the 1980s. Those names – Coe, Cram, Ovett, Elliott – conjure up memories of grainy footage, the kind Kerr has watched countless times on YouTube.
Now that he's run faster than them all – his PB of 3:29.05 is behind only Mo Farah on the British all-time list – Kerr feels part of that lineage, especially after winning an Olympic bronze medal last year.
But as much as he appreciates the achievements of past generations, the 24-year-old Scot is keen to kickstart a new golden era.
"Myself and (Jake) Wightman, we've run faster than all those guys but they're not known for how fast they ran, they're known for what medals they won and what colours they are," says Kerr. "We hadn't won an Olympic medal in 33 years and hopefully we're moving back into an era people will remember as the Kerr-Wightman era. I want to leave a stamp on the 1500 and grab that British record as an extra.
"But," he adds, "it's mostly about medals."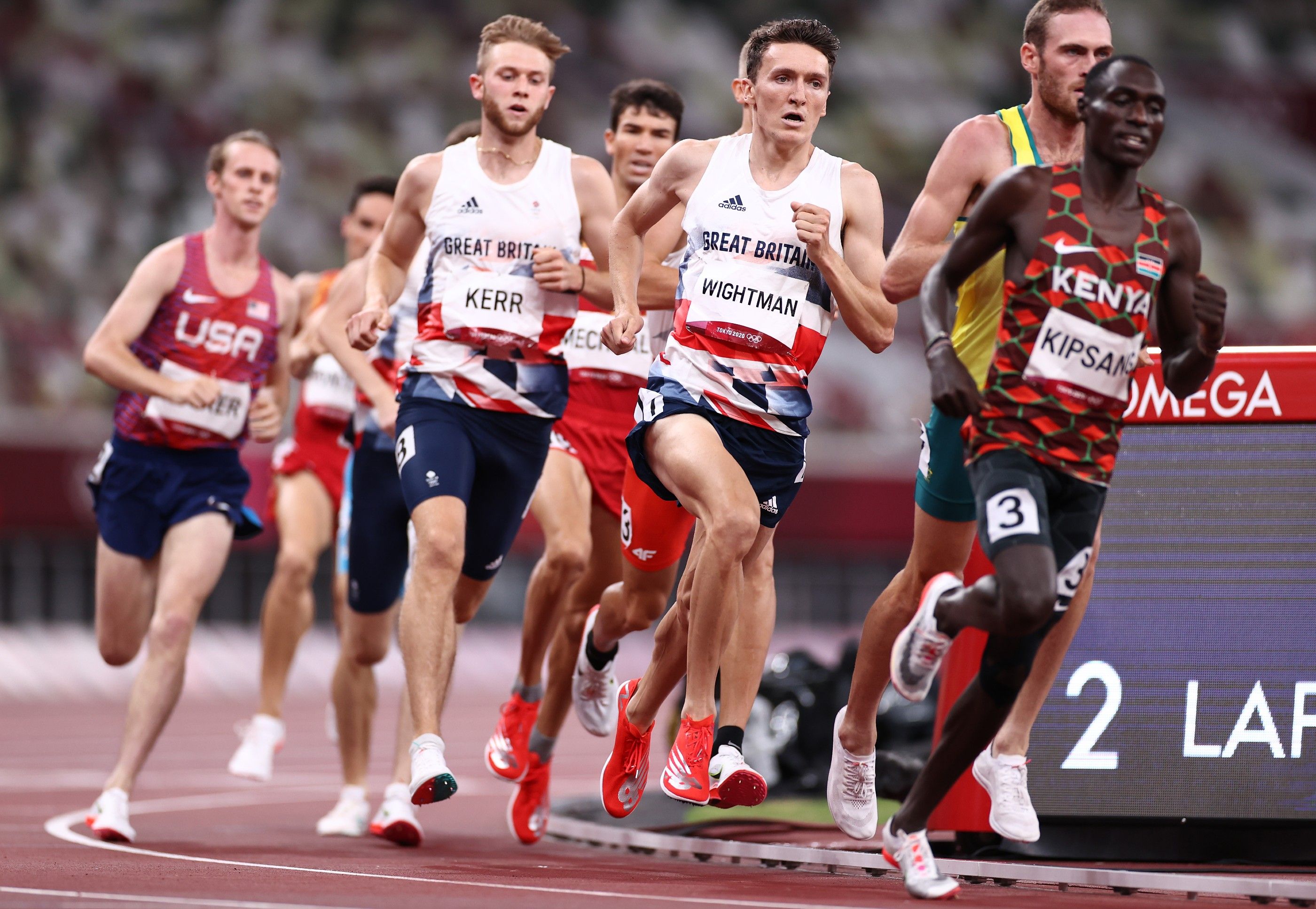 Britain's Josh Kerr and Jake Wightman in the 1500m final at the Tokyo Olympics (© Getty Images)

The game is changing these days. In the decade preceding the 2019 World Championships, the quickest winning time in a global 1500m final was 3:33.61, and in just two out of seven championships did the winner come home in under 3:35.
Then there was Doha, where Timothy Cheruiyot blitzed a solo 3:29.26 to take gold. Two years later in Tokyo, Jakob Ingebrigtsen outkicked and outlasted Cheruiyot to set an Olympic record of 3:28.32.
Cheruiyot is 26, Ingebrigtsen is 21. Neither is going anywhere any time soon, and both are at their best when the pace is hard from the gun, which means that when it comes to global finals, the future is almost certainly fast.
Kerr knows this, and he prepares accordingly.
"The 1500 has evolved over the last two or three years," he says. "We have to be strong and we train like a 5km athlete. That helps, knowing I'm going to get better round by round. It's exciting for people to watch and it's really hard for us racing, but that's what we're there for: to find the best.
"I do believe the world and Olympic champions over the next three or four years will be true champions – who are the best at the distance. Jakob last year was the best and he showed that in the final and Cheruiyot was second and I was third: those are honest, clear-cut, black-and-white results, and you can't ask for anything more."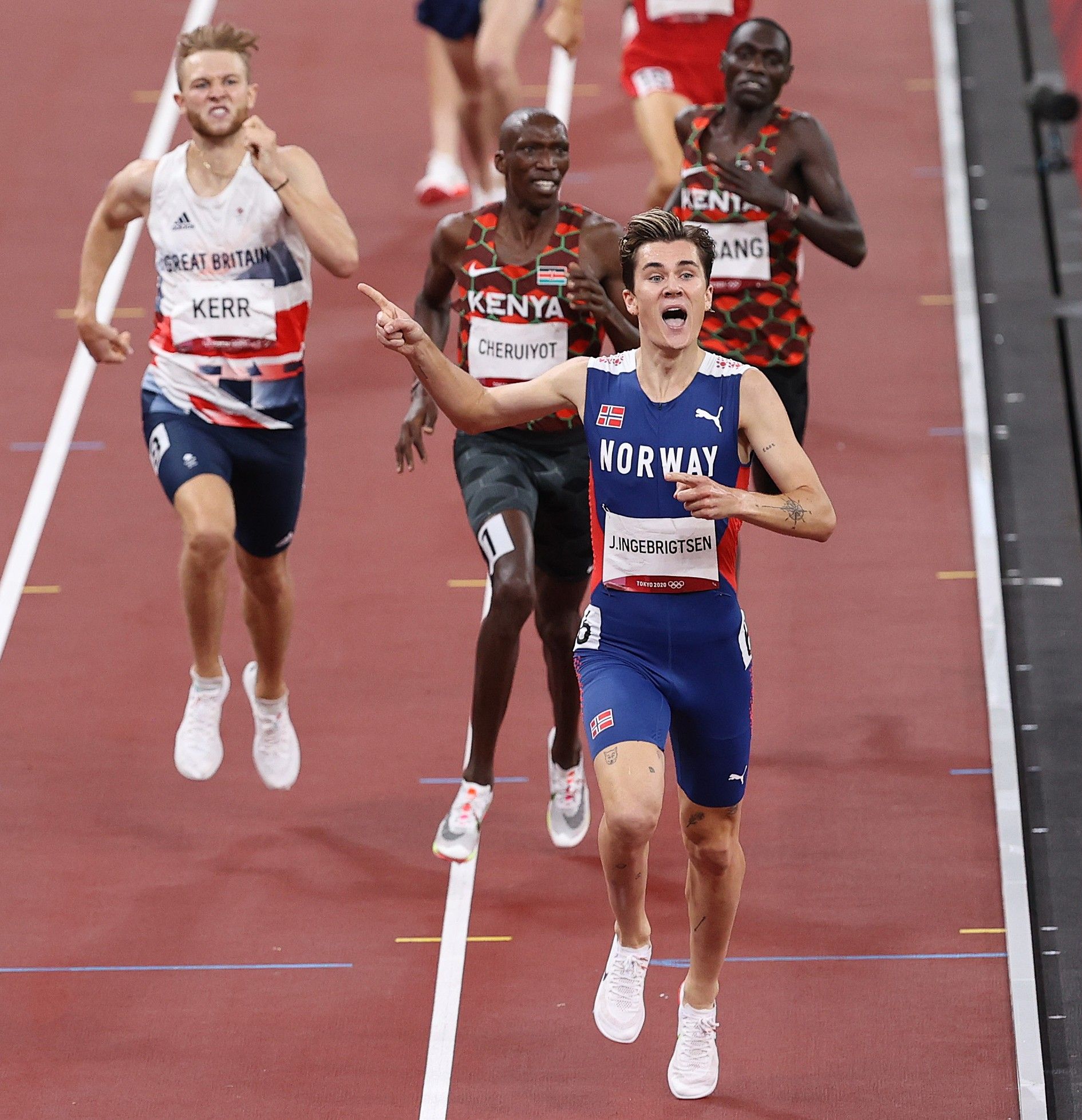 Medallists Josh Kerr, Timothy Cheruiyot and Jakob Ingebrigtsen in the Olympic 1500m final in Tokyo (© Getty Images)

Kerr prepared for Tokyo in his typical manner, racking up 65-70 miles (104-112km) a week in training, along with two gym sessions. It's been his approach since 2018, when he joined the Brooks Beasts in Seattle and began training with coach Danny Mackey.
Being a three-time NCAA champion for the University of New Mexico, the Scottish athlete had a wealth of options in the professional ranks. Why did he choose the Brooks Beasts? It came down to his trust in Mackey.
"I've had the most amazing, honest conversations with him," says Kerr. "He knows me very well, I know him very well. He said, 'this is the coach I am, we're not the flashiest group but you come here, you'll get better.' He stayed true to that promise. I've got six seconds quicker since I've gone there.
"The training isn't massively intense but what I do really well: my injury rate is really low and I'm able to stack a bunch of days together and it ends up being a phenomenal fitness level."
That was exactly what Kerr carried to Tokyo, and while his 1500m PB of 3:31.55 had many underrating him at the time, his workouts convinced him he was ready to run 3:28.
"I thought, 'you know what, the best way to run that is evenly,'" says Kerr. "I wasn't planning on being so far at the back after the first lap but it was just so fast."
Kerr narrowly avoided disaster in the heats, scraping through as a non-automatic qualifier, but he was far more convincing in the semifinal, finishing a close third.
After the first lap of the final, with Ingebrigtsen pouring it on from the outset, Kerr was 10th, splitting 57.3 seconds. By 800m he'd moved up to seventh. By 1200m, he was fourth, and ready to take aim at the big two out front – Ingebrigtsen and Cheruiyot – along with Abel Kipsang of Kenya. Kerr waited until the home straight before going for broke, overtaking Kipsang and finishing just 0.04 behind Cheruiyot.
"I was hoping for a better medal than the one I got," he says now.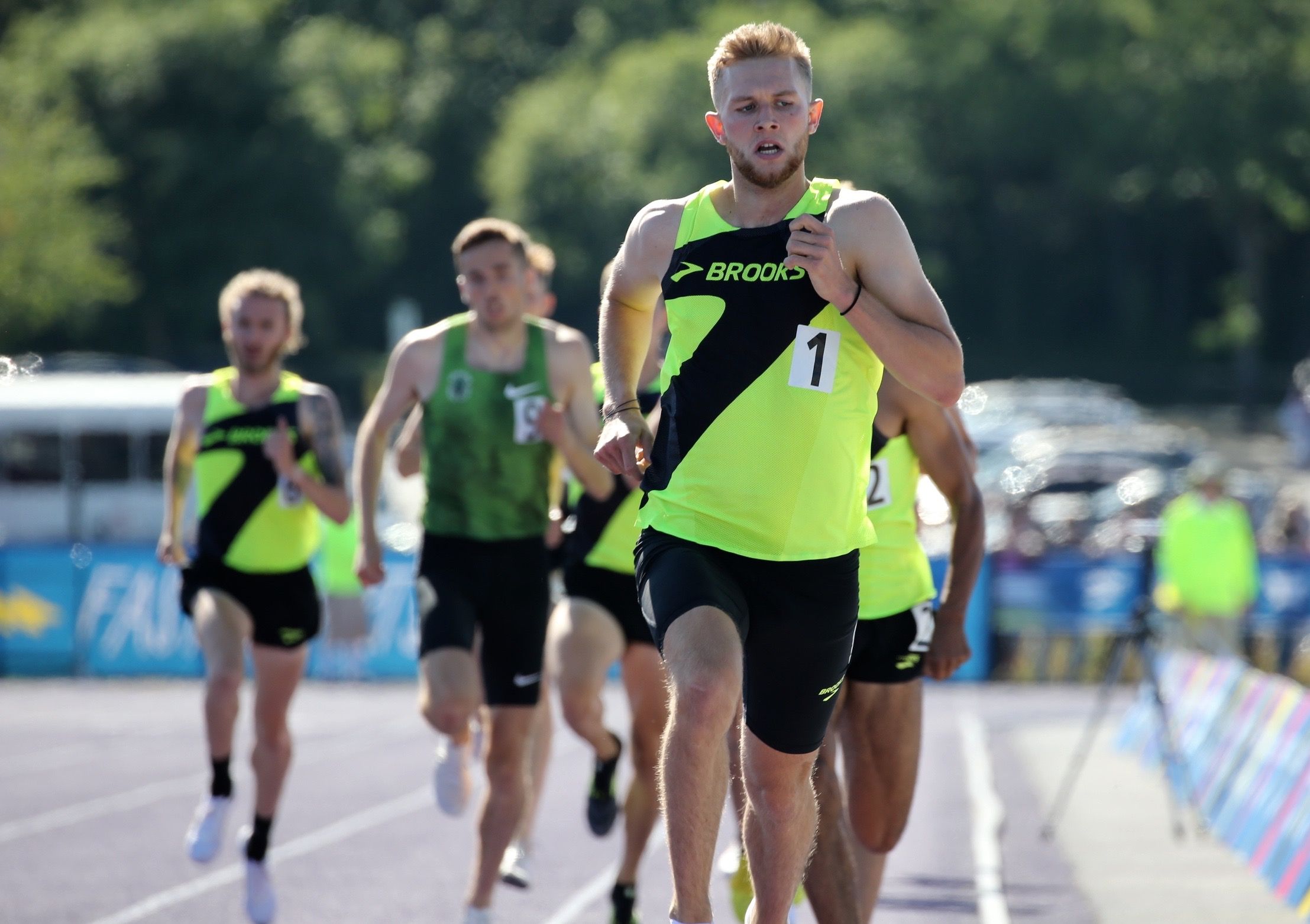 Josh Kerr now runs for Brooks Beasts (© Kirby Lee)

After the Games, he went to Albuquerque, USA, to spend time with his fiancee and a few weeks later he returned to Scotland. The last six months have been a "whirlwind", but after a few weeks off Kerr was back into base training to prepare for better things again in 2022.
"It's about building the motivation back up, climbing back up the hill with fitness and trying to show some better performances," he says. "And hopefully better colour of medals."
He had just one race set in stone for the indoor season: the Wanamaker Mile at last month's Millrose Games, a World Athletics Indoor Tour Gold event. After biding his time for seven laps, Kerr powered to the lead at the bell, but couldn't hold off the vicious surge of longtime rival Ollie Hoare, who won in 3:50.83 with Kerr second in 3:52.27, just shy of Peter Elliott's British record of 3:52.02.
"First one of the season is always going to be a bit rocky but I told myself I'd be aggressive, I'd push," says Kerr. "I may have pushed a little bit too early, but I gave it my all. I like to press a little bit and see who falls apart, and it might be me. I'm not scared of anyone or any distance or any race."
That may be Kerr's only race of the indoor season. With an outdoor season overflowing with medal opportunities, he's giving that his prime focus.
His main targets are the World Athletics Championships Oregon22 in July and the Commonwealth Games in Birmingham. Only after that will he make a decision on the European Championships in Munich.
"Because that's enough for my brain to explode," he says. "We'll take it step by step."
When he speaks of such championships, Kerr does so with a calm but resolute confidence that he can beat whoever he faces. It's not surprising, given he has a habit of toppling favourites.
When he lined up in the mile at the 2017 NCAA Indoor Championships, he was a 19-year-old with a 1500m personal best of 3:41.08 – an athlete no one expected to challenge the all-conquering Ed Cheserek.
When Kerr surged past Cheserek with two laps to run, the ESPN commentator all but dismissed his chances: "That's Josh Kerr, the New Mexico freshman, and that may just be a freshman move."
But it wasn't. Kerr ran Cheserek into the ground during the final lap, coming home a distant winner. He added the NCAA title outdoors that year – winning the 1500m at Hayward Field in Eugene, Oregon – and repeated his indoor win in 2018. Those successes taught him he could contend at global level.


Josh Kerr winning the 2017 NCAA 1500m title at Eugene's Hayward Field (© Kirby Lee)

"You have that mindset of wanting to be the champ, to go after the fastest guys," he says. "You don't care who anyone is, and if you have that fearless mentality you're going to be fine in the pros. But if you always look at stats and look up to these guys, you're going to find it hard to toe the line against them."
Does he believe he can match Ingebrigtsen and Cheruiyot this summer?
"Yeah, definitely," he says. "It's quite funny, but people were saying, 'any other Olympics you'd have won with the times,' but they're different races. The 1500m is exploding because of the way we're running these races. Those guys are doing great things for the sport."
Kerr knows those two will likely be the men to beat again in Eugene this summer. He's not yet raced in the new-and-improved Hayward Field, but is relishing the chance to do so.
"It's over the top," he laughs. "It's a phenomenal facility and I'm excited to go there and run fast. It's built for fast times and for history to be made, and that's what's going to happen this year."
He knows his sport's history, but he also knows his own, and Kerr can extrapolate plenty from it about what might lie ahead.
"I was 37th (at the World Championships) in 2017, sixth in 2019, and third (at the Olympics) in 2021," he says. "So in 2022 the trajectory is looking like second or first. That's always what I'm going for. I'm always looking for progress."
Cathal Dennehy for World Athletics