US high jumper Rachel McCoy (© Getty Images)
As an 18-year-old in 2014, US high jumper Rachel McCoy finished fourth at the World U20 Championships in Eugene, only missing a medal on countback. Eight years later, she's targeting a return to Hayward field for the World Athletics Championships Oregon22, fuelled by memories of that U20 competition and her journey since.
But her story could have been very different if the former basketball player had acted on her initial reaction to the world record in her eventual sporting specialism.
"When I was in high school, I was debating whether to be a basketball player or a high jumper and for some reason my go-to was 'let me look at the world record for high jump and see how high it is'," she explains, with that world record mark standing at 2.09m. "So, at that point, I was like: 'Oh that doesn't seem feasible, I'm going to stick to basketball!'" Luckily for the sport, her path led her back to the high jump.
Growing up in Fontana, California, McCoy first demonstrated her jumping ability by being able to grab the basketball rim in eighth grade, at the age of 13 or 14. She took up the team sport but was introduced to the high jump by one of her fellow basketball players in her freshman year of high school and won her first state title in 2011. She went on to take up a basketball scholarship at Long Island University but high jump would soon take over.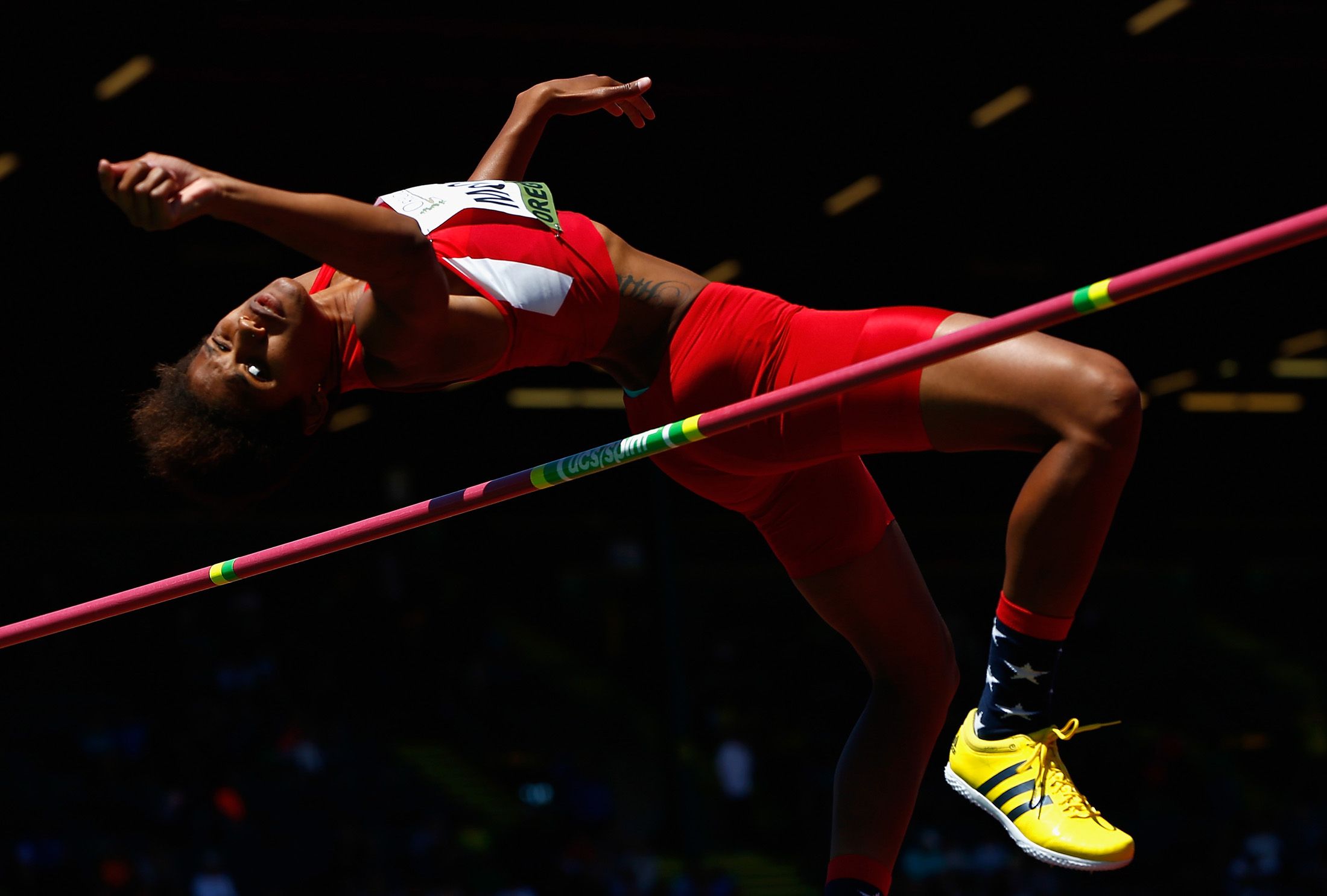 Rachel McCoy at the 2014 World U20 Championships (© Getty Images)

"I gave up that scholarship and made it to junior nationals for the high jump the following year," the 26-year-old explains. "Then I made the World U20 Championships and it kind of went off from there. It was certainly not planned!"
So much so, that initially the idea of the event took some getting used to.
"I could always jump really high and I could dunk, and I was persuaded to go to the track team," she says. "I always thought it was quite weird going over backwards but you know, if you're good at something, then it becomes likeable!"
It was the World U20 Championships that really opened McCoy's eyes to what she might be able to achieve in the sport. Improving her PB to 1.88m, she matched the bronze medal-winning height and finished fourth on countback.
"I didn't know what I was doing out there," she smiles. "I think I just eyeballed the mark, I didn't even have a real mark (from which to start her approach).
"I remember when the bar got to 6ft 2in (1.88m) and I went over to the coach, I had to lean against the rail because I couldn't feel my legs, that's how nervous I was!
"Making the team, I just thought you got a t-shirt," she adds. "That influenced me to make the team, but turns out I got a whole uniform!"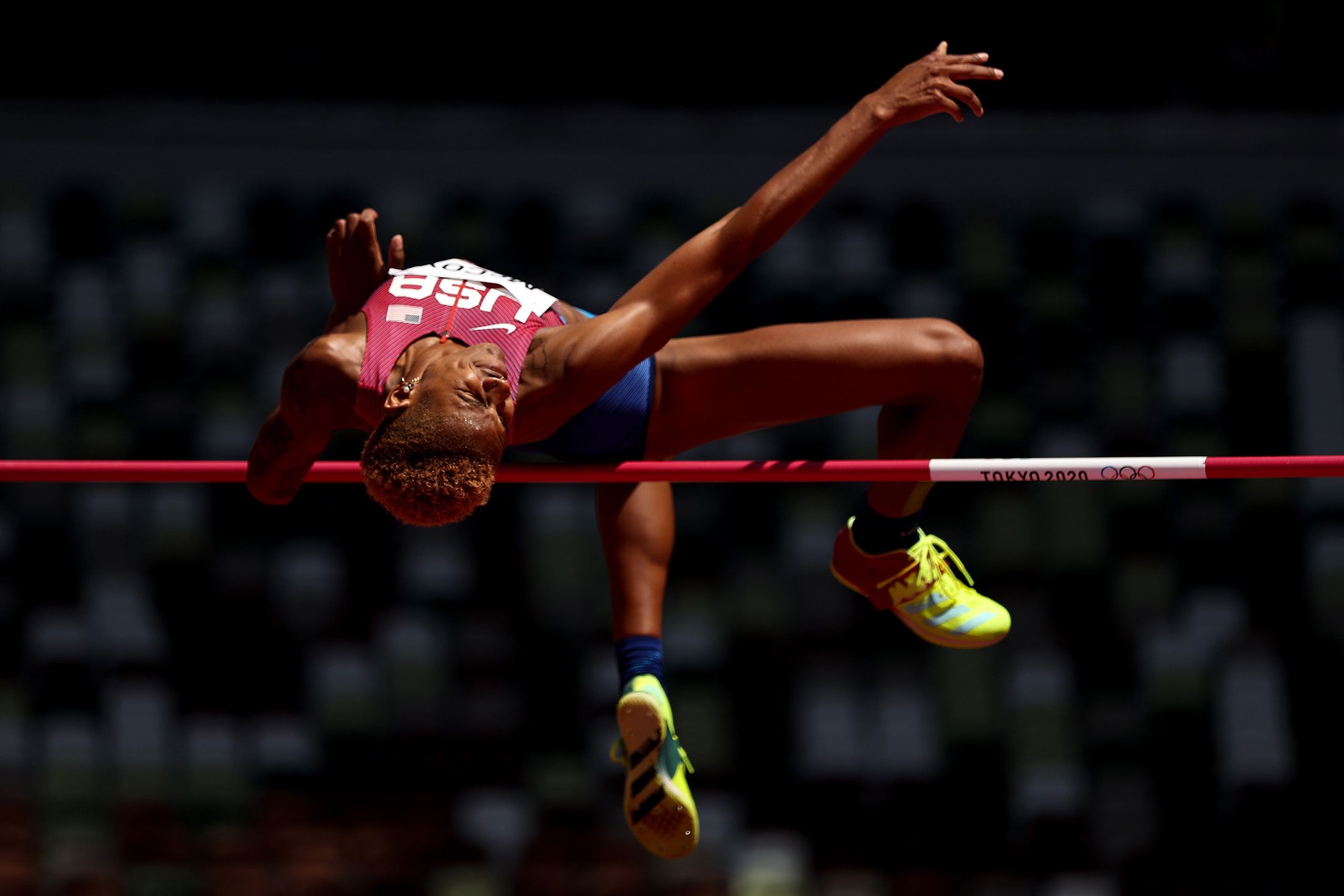 Rachel McCoy in action at the Tokyo Olympics (© Getty Images)

More US vests would follow under the guidance of Sue Humphrey, the 2004 US Olympic women's team head coach, with whom McCoy first crossed paths at the US U20 Championships in Eugene and now calls her "guardian angel".
"She saw me at junior nationals and was like, 'oh wow, this person has potential, just very raw talent'," explains the Texas-based athlete. "After the World U20 Championships, where she was a judge and couldn't really speak with me after I exited the competition, she shared with me who she was. I remarkably remembered her name two months later and I Google searched her before reaching out."
McCoy made the final of the US Olympic Trials in 2016 and then spent some time doing other disciplines before a high jump breakthrough in 2021 led her to the Olympic Games. Her improvement to 1.96m to win at the USATF Invitational at Prairie View in May that year was hugely significant as it secured her an Olympic qualifying standard and she was awarded a place on the team after her fourth-place finish at her second US Olympic Trials.
With two global championships to aim for in 2022, McCoy was determined to carry that momentum into the new year and her next international vest came at the World Athletics Indoor Championships Belgrade 22. After a 12th-place finish in the Serbian capital, she described having "conflicting feelings" but an appreciation for the experience of again taking on the best in the world.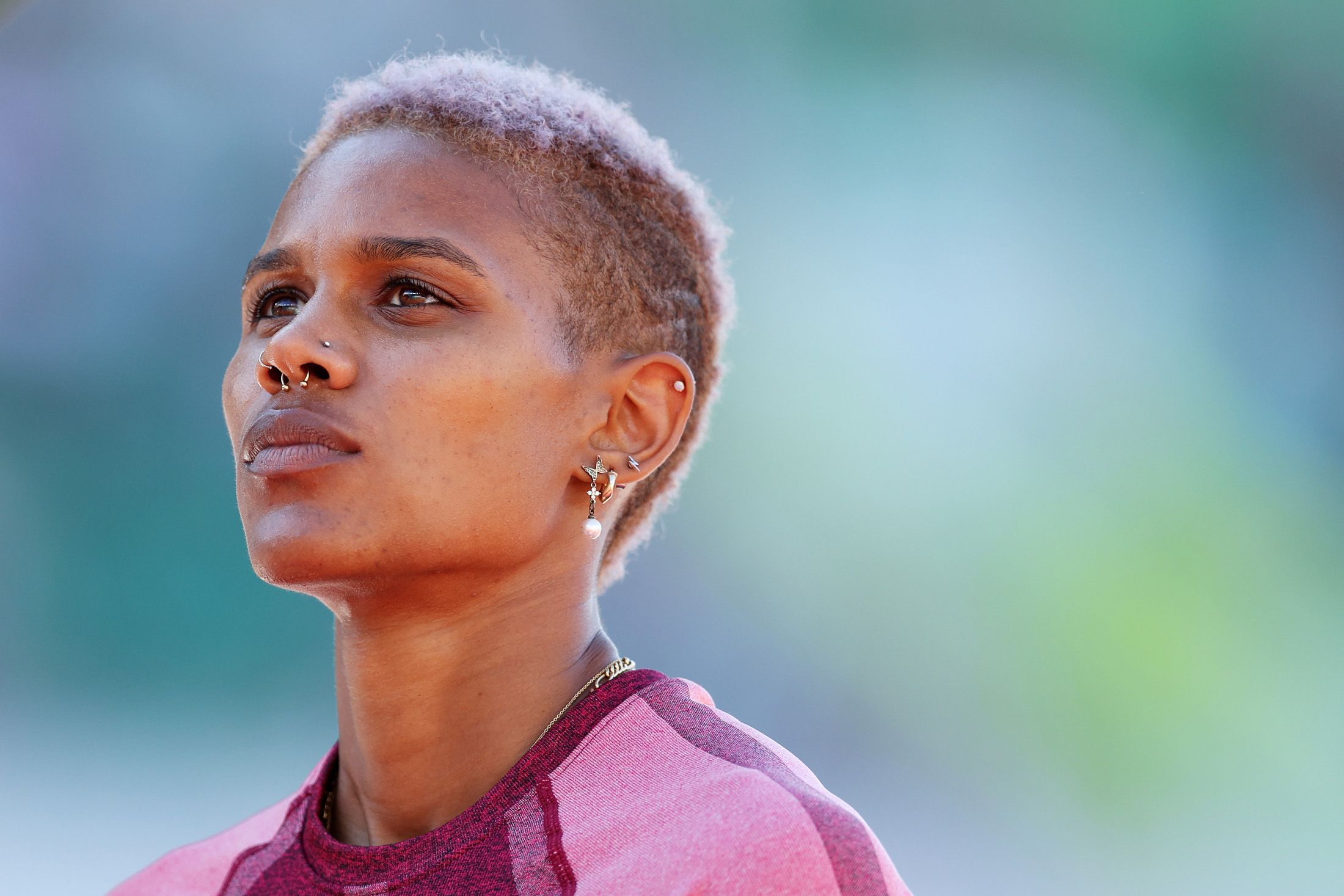 US high jumper Rachel McCoy (© Getty Images)

That's exactly what she hopes to do again in July, when global track and field action returns to Oregon. Joint second on the US top list behind 2016 world indoor champion Vashti Cunningham last year, McCoy also relishes the domestic competition.
"As far as the nation goes, there's always Vashti, now there's Jelena (Rowe) and me," she says. "So it's typically going to be us three in the mix. I have always had a bullseye on Vashti but competing internationally broadened my realm of competition. You see Vashti as the best in the nation but there's several more as far as the best in the world. I have my domestic bullseye and I then have my international goals as well.
"My aim this season is to really get to Europe and go compete," she adds. "I do feel like the best in the world in my event is in Europe, so the more I see and compete against them, the more used to it I will get."
McCoy started her outdoor season on a winning note, clearing 1.84m to triumph at a blustery USATF Bermuda Games, the first World Athletics Continental Tour Gold meeting of 2022, and followed that with runner-up finishes at the USATF Golden Games in California and the Drake Relays.
"It's very exciting," she says, on the prospect of competing again on home soil at the World Athletics Championships. "Hayward Field is so beautiful, especially since they have reconstructed it. It's one of the only 'track and field' stadiums I've been in, so that's really cool. It's kind of like returning to home and then, of course, the atmosphere – Oregon loves track, so we love Oregon!"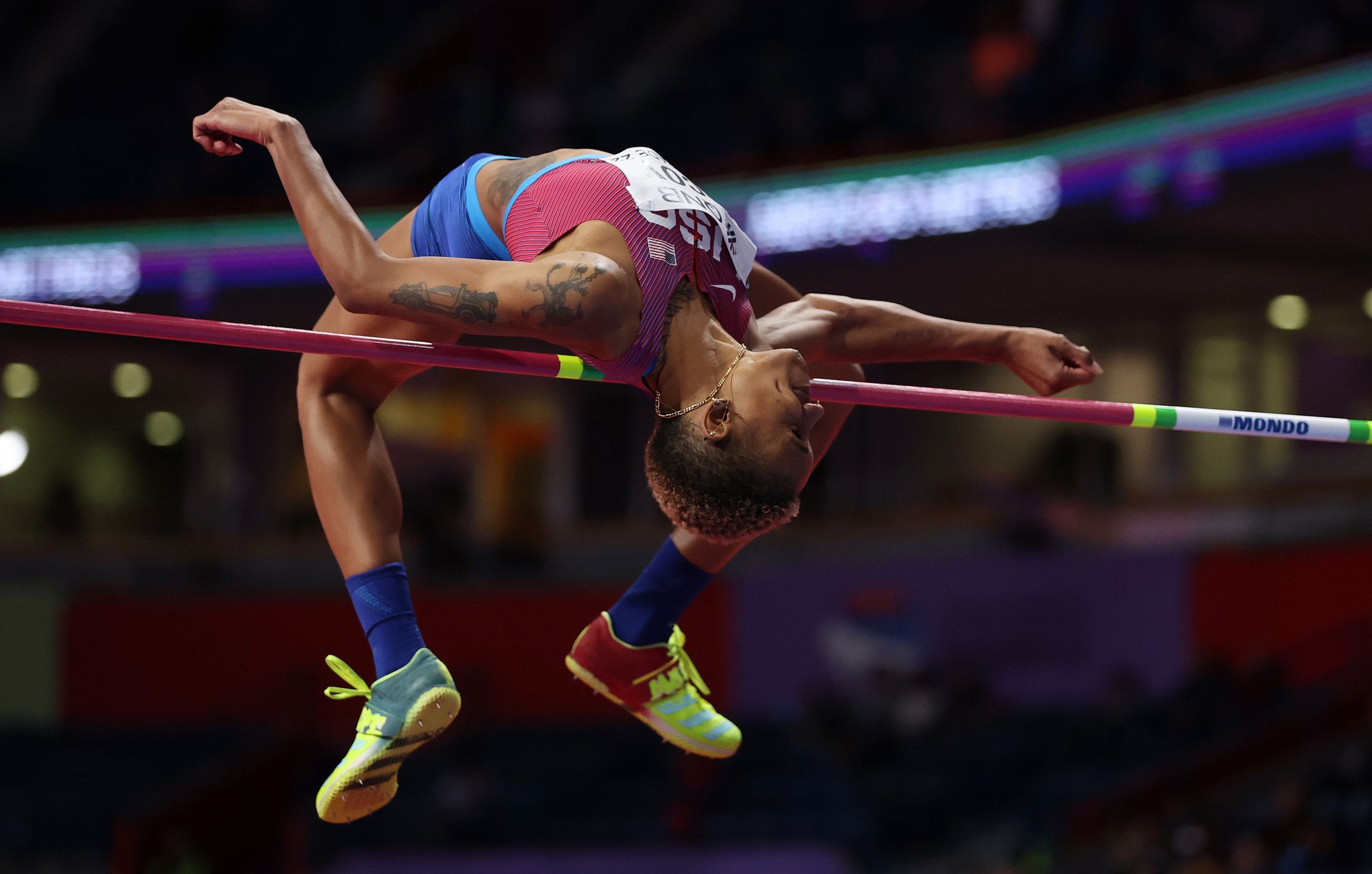 Rachel McCoy at the World Athletics Indoor Championships Belgrade 22 (© Getty Images)

But while her focus might be on the World Championships this year, she won't allow the sport to become all-consuming.
"I love to draw," she explains. "I don't know where it's going to take me, but I recently got into watercolour, so I really enjoy that, as well as fashion and design.
"I also recently got into neuroplasticity, so I would like to go back to school and study neuroscience and eventually get my PhD in neuropsychology.
"One of my good friends is Gabby Thomas," she adds, referencing her US teammate, the Olympic 200m bronze medallist and Harvard-educated neurobiologist. "I was having dinner with her, and we were discussing track and having other things to do. I was taking three classes at a community college but due to schedule conflicts I had to drop a few. I wanted to make sure that I kept one so that all of my focus wasn't on track.
"You need to have something to decompress with. Gabby adamantly agreed, so that made me feel like I was at least doing something right, when an Olympic medallist agrees with me!"
Although she strives to compete in a US vest, it's not only her nation McCoy is passionate about representing, and she has a tattoo to prove it.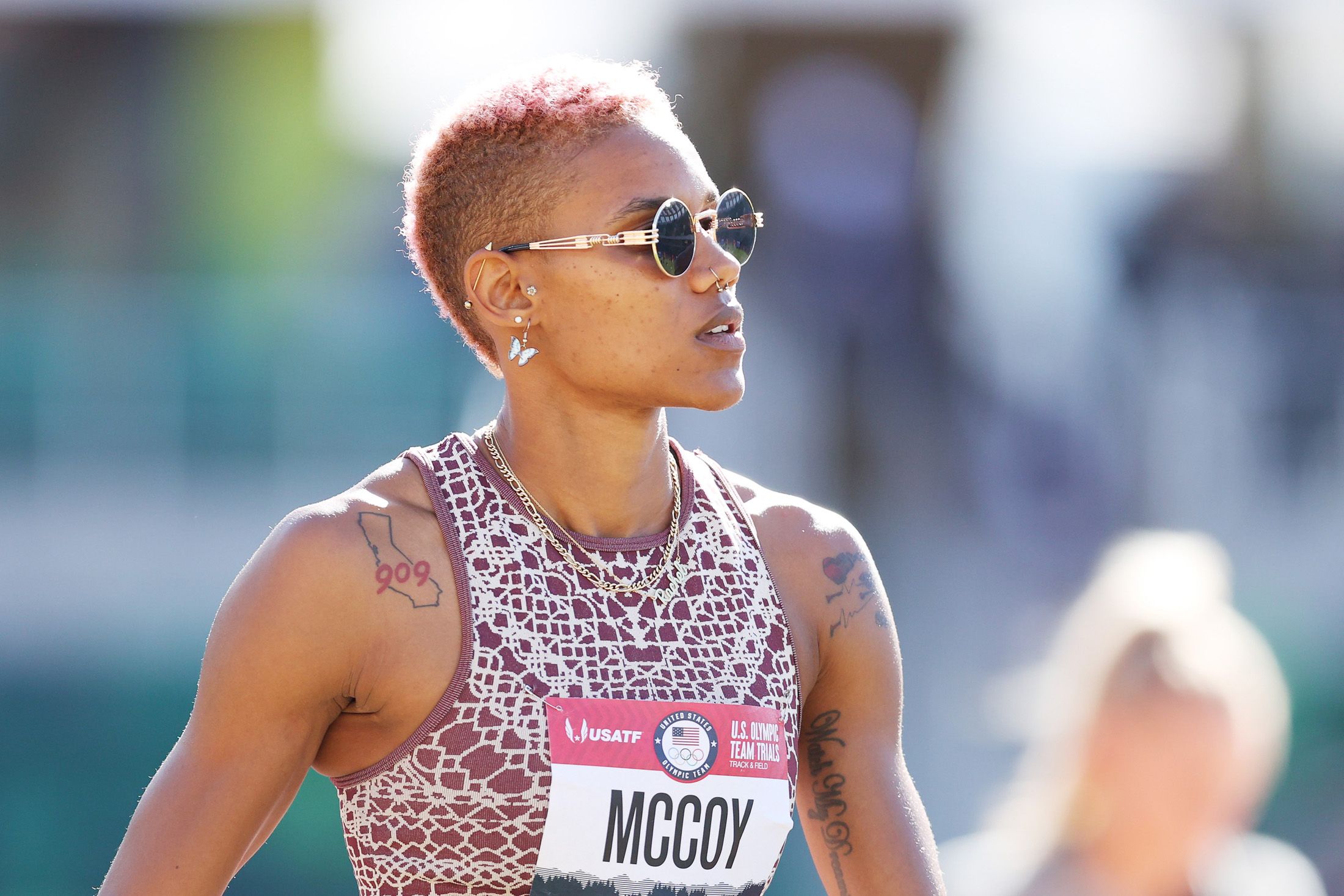 US high jumper Rachel McCoy (© Getty Images)

"It's tough where I'm from, the Inland Empire, and it's easy to feel overlooked, so I just want to make sure that everybody back home knows that it's possible," she says. "I stumbled upon the Olympics, so anybody can do it.
"I would just like to thank everybody that has stuck by my side. It's been a really long journey and it's really easy to get down on yourself in an individual sport. I really appreciate the support that I continue to get."
Jess Whittington for World Athletics