US sprinter Fred Kerley (© Getty Images)
Fred Kerley is an international man of mystery. He's a threat to win any race he enters, no matter if it's the 100m, the 200m or the 400m.
"Fred is a Swiss Army knife," says US teammate Michael Cherry. "He can do a lot of different sprint events."
Naturally, inquisitive minds want to know: What will Kerley run in June at the US Championships, where the team will be selected for the World Athletics Championships Oregon22?
"You've got to wait and see," he says.
The meeting is only four days, with three rounds in each of Kerley's events. He quickly puts to rest any notion he'd attempt the triple: "No, it's a lot on the body."
And so the guessing game begins. Kerley is the only man in history who has won Wanda Diamond League races in the 100m, 200m and 400m.
In 2019, he contested only 400m races, culminating in the bronze medal at the 2019 World Championships in Doha.
Then Kerley stunned the athletics world by skipping the 400m at the US Olympic Trials and placing third in the 100m and fourth in the 200m. He became the surprise silver medallist in the 100m at the Tokyo Olympics with a PB of 9.84. Switching back and forth between the two events, he finished his season with a spectacular 19.76 in the 200m at altitude in Nairobi.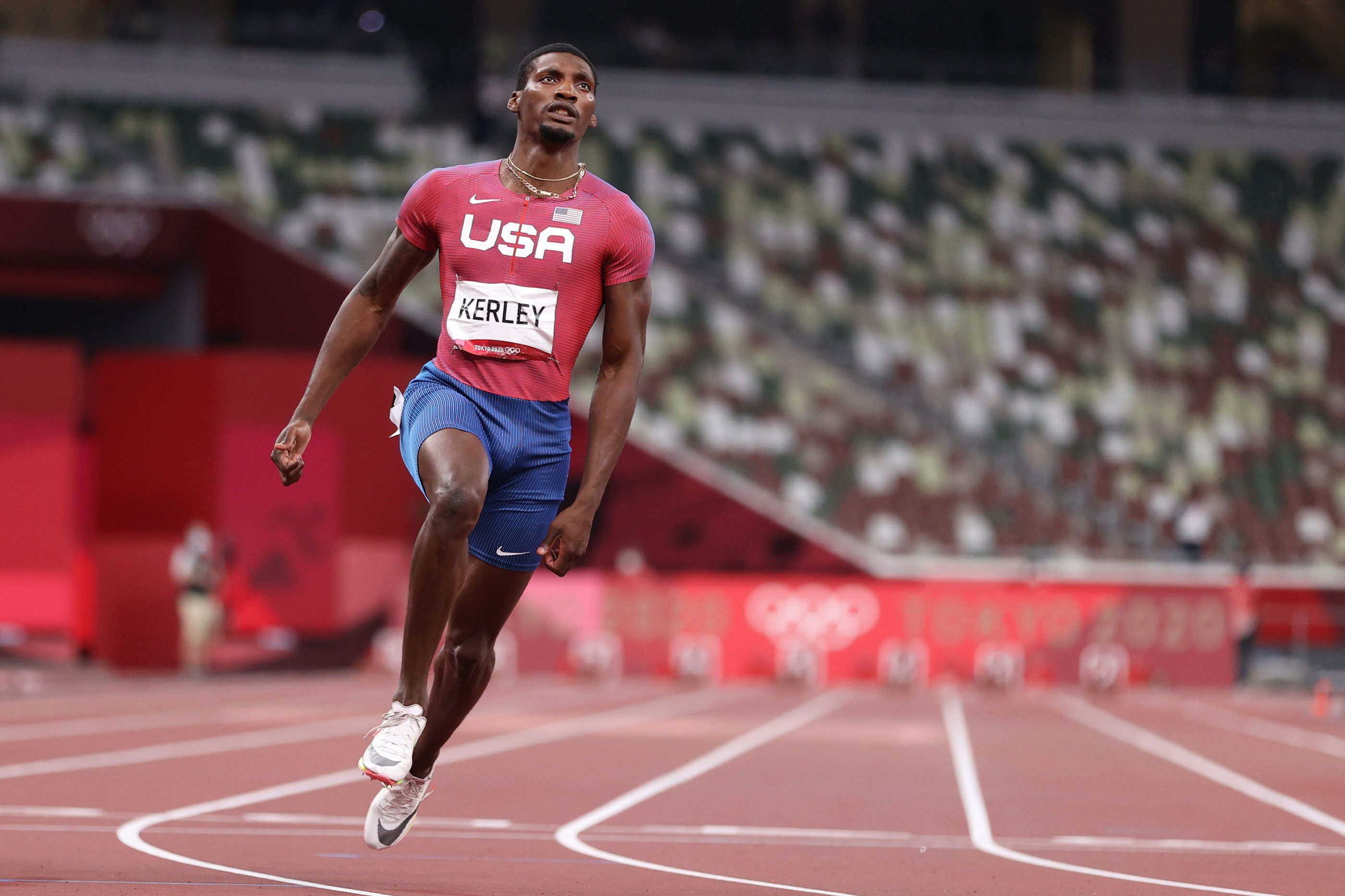 USA's Fred Kerley secures 100m silver at the Tokyo Olympic Games (© Getty Images)
On 16 April, the 26-year-old ran a sizzling 19.80 in the 200m at the USATF Golden Games in Walnut, California, bettering his own world-leading time of 20.04. Kerley chased down Michael Norman in the last 50 metres, his final burst taking him across the line at the World Athletics Continental Tour Gold event.
As Kerley's momentum carried him around the curve, he held his arms out wide as if to say, "How do you like that?"
"Boy, is he a gamer," said Sanya Richards-Ross, the Olympic gold medallist and television commentator. "He shows up in finals every single time. This young man always kind of has this chip on his shoulder. He keeps wanting to prove to us… 'Fred, we see you. You're a champion.'"
Norman could feel him. Kerley was on his right, methodically gaining down the stretch. "You just kind of get a sense of presence," the 24-year-old says, "you know what I mean?"
Norman ran 19.83 in his season opener and tweeted after the race that he "can't be too mad" because of his fast time. He added: "Much respect for @fkerley99 but I'm going to need that rematch sometime this year," to which Kerley replied: "Respect."


Respect https://t.co/ENZi0vGAtH

— Fred Kerley (@fkerley99) April 17, 2022

While Kerley is a prolific tweeter, favouring the hashtag #IAMHISTORY, he is a man of few words.
His thoughts on reeling in Norman? "I got the W."
His goals for the rest of the season? "Win."
What about time-wise? "Win," Kerley repeats. "Time is not my concern, it's all about the Ws that come."
The 6-foot-3 Kerley is undefeated so far this season across all three distances. In early March, he clocked 44.47 in the 400m in a meeting in Grenada, a time that was No.1 until Cherry went 44.28 at the Golden Games, while Olympic champion Steven Gardiner has since improved the world lead to 44.22. Kerley posted a time of 9.99 in the 100m, which ranks fifth on the world list, in a meet in Florida in late March.
His next race will be a 100m on 7 May at the Kip Keino Classic in Nairobi, this season's next World Athletics Continental Tour Gold meeting.
Renewed rivalries
Kerley says he decides which distance to run based on where his training is taking him. Of course, the 100m and the 400m place different demands on his body. One requires explosiveness, the other a tolerance to pain.
"Both of them got to give and take," Kerley adds. "One got your head spinning and one got your legs spinning, too."
Kerley believes his versatility can help promote his sport. He has rivals at every distance, from Norman, Noah Lyles and Christian Coleman in the US to Kirani James, Marcell Jacobs and Andre De Grasse from the international ranks.
"Hey, I like to compete, so rivalry's rivalry," Kerley says. "I feel like it's very important to have a rivalry in the sport because that's what's going to get more attention to track and field— like football and basketball. They've got rivalries. But if we have rivalries between us, we're going to be big."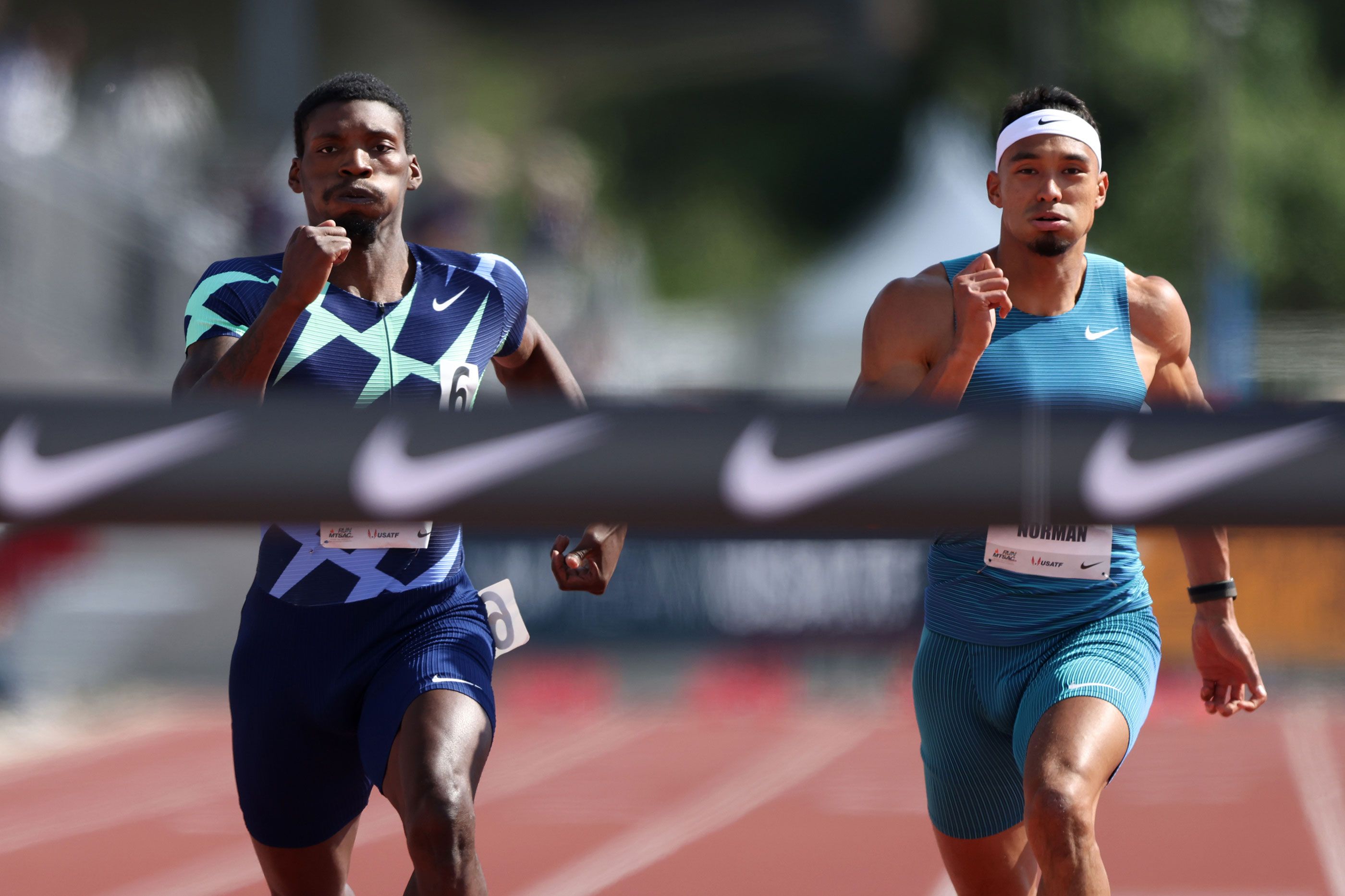 Fred Kerley and Michael Norman go head-to-head at the USATF Golden Games (© Getty Images)
Kerley and Norman are two of the three members of the exclusive, sub-10, sub-20, sub-44 second club. The other is Wayde van Niekerk, the 29-year-old 2016 Olympic champion from South Africa.
Head-to-head, Kerley has the faster time in the 100m — 9.84 to 9.86 — while Norman is quicker at the 200m — 19.70 to 19.76. Norman also has the better 400m time of 43.45 to 43.64. Van Niekerk's times, meanwhile, are 9.94, 19.84 and the world record of 43.03.
While Kerley and Norman are cordial, they are both also supremely competitive. "He does the same events as me — everybody is my enemy once you touch the track," Kerley says.
Norman has a similar mindset. "Nobody wants to lose to anybody," he says. "So every time we race each other, it's like who's going to get the best of who that race."
He adds of Kerley: "He's cool. All respect to Fred, no beef or animosity, or nothing like that. He's a great competitor, he's a good guy."
Norman says their rivalry keeps the sport "unpredictable".
"When it comes having somebody who does an extremely similar thing as you," he says, "it just brings out the best in both of us and it elevates each other, so there'll be plenty more races down the road."
Kerley adds that marketability and popularity — the 100m is the more glamorous event in the public eye — will have no bearing on which events he will choose for the World Championships.
However, he did acknowledge last year that he does have a long-term goal.
"I want to be a legend, like Usain Bolt," Kerley said.
No secret to success
Originally a 200m runner coming out of high school, Kerley moved up to the full lap in college. At Texas A&M, he won two NCAA titles.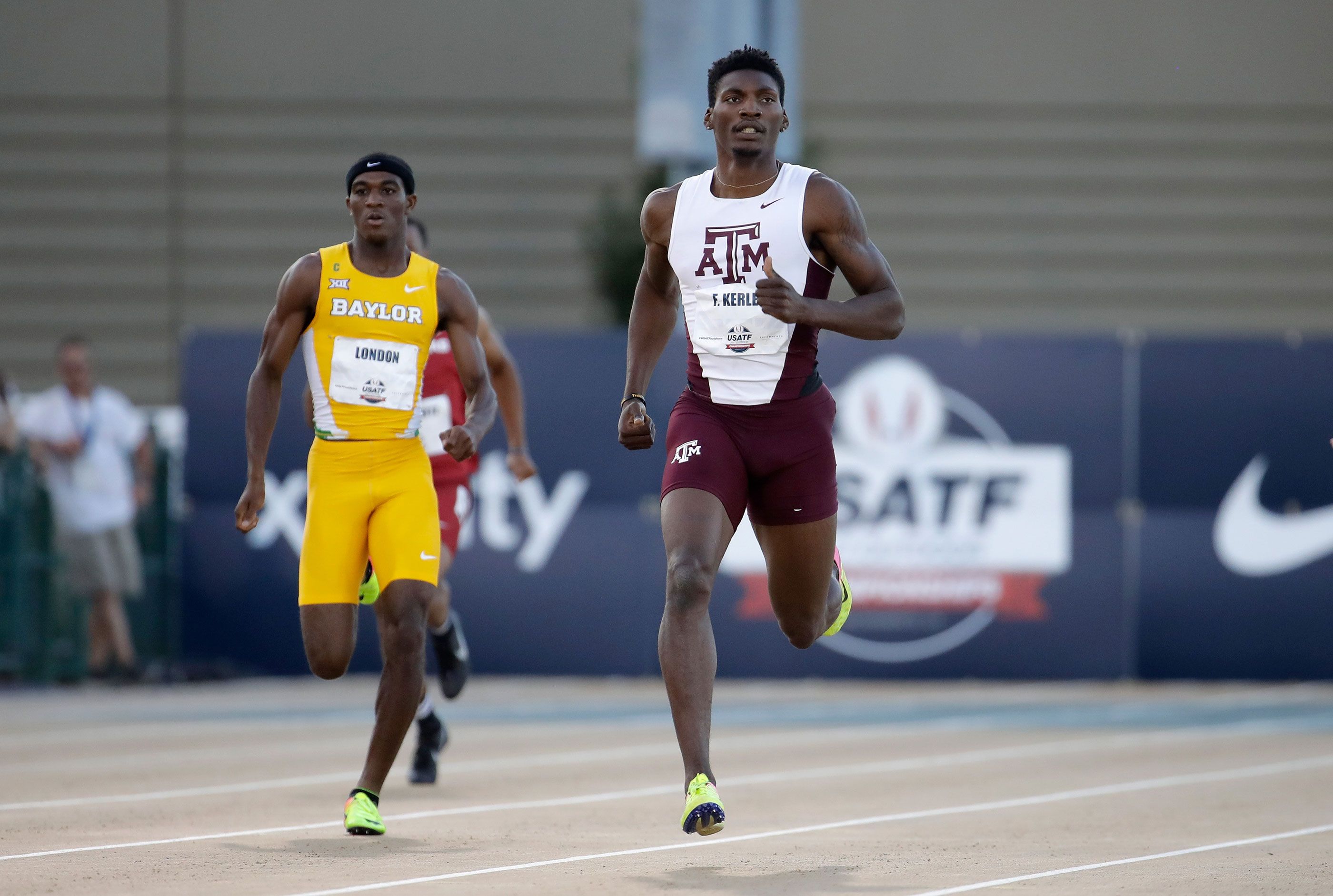 US sprinter Fred Kerley (© Getty Images)
He says there's no secret to how he is able to compete in three distances now. "Training," Kerley explains. "Training. And training."
But there has to be something else.
Michael Johnson was the Olympic gold medallist and world record-holder in both the 200m (19.32) and 400m (43.18), but his best time in the 100m was 10.09.
Usain Bolt holds the world records in the 100m (9.58) and 200m (19.19), but went no faster than 45.28 in the 400m. Carl Lewis and Jesse Owens were triple threats combined with the long jump, not the quarter-mile.
Kenny Bednarek, the Olympic silver medallist in the 200m, is a member of the sub-10, sub-20 and sub-45 club.
"What Fred's been doing is pretty incredible," Bednarek says.
He adds that the transition between events requires a lot of adjustments. "In the 400," Bednarek says, "we're never really explosive. It's more maintaining your rhythm and the lactate and see who has the most guts to finish that last 150 stretch. In the 400, you can make a mistake, but you can correct it. In the 200 and the 100, you don't really have time."
After Kerley completed his Diamond League triple last year by winning the 100m at the Brussels meeting, a certain Twitter account posed a question.
"So… which event will @fkerley99 focus on next year? Asking for a friend," wrote the World Athletics Championships Oregon22.
"800," Kerley replied, followed by three laughing emojis. "Naw I just playing."
Karen Rosen for World Athletics