The Clayton twins, Tia and Tina (© Athelstan Bellamy)
Nowadays it is quite rare to find identical twins performing at an international level in the same events in track and field. Born five minutes apart on 17 August 2004 in Westmoreland, one of the most rural parishes in Jamaica, the Clayton twins – Tia and Tina – have embarked on a potentially remarkable journey in athletics.
The super-fast siblings will feature for Jamaica at the World Athletics U20 Championships in Nairobi, Kenya, on 17-22 August. In fact, they will also celebrate their 17th birthday on the opening day of the event.
Before their meteoric rise with some noticeable high school performances, especially in the U15 age group, an important observer witnessed the sisters competing before their 10th birthday and decided to play a key role in nurturing their talent.
"I saw them competing at the JTA/Sagicor National Primary Schools Athletics Championships in the under nine category," says Michael Dyke, coach of eight-time Jamaican high school champion Edwin Allen. "From there I spoke to their mother about joining my programme at Edwin Allen when the time is right."
A few years later, the twins made the 145-kilometre journey from Westmoreland to Frankfield, Clarendon, to begin their apprenticeship under Coach Dyke.
On 26 February 2019, Tia made international headlines after blazing to a 100m world U15 best of 11.37 at the Digicel Central Athletics Championships.
However, the record lasted just over a month as Tina, the firstborn, ran 11.27 to defeat Tia in their highly anticipated first encounter at the annual Jamaican High School Boys and Girls Athletics Championships, which is popularly called Champs.
"It was a special moment for me and my most memorable win to date," says Tina, who had stepped down in distance.
Contrary to popular belief on the island, the fiercely competitive twins relish their sibling rivalry because it brings out the best in them.
However, the inevitable result of either one losing makes matters doubly tricky. "I am not going to allow her to beat me and she feels the same way," says Tia, who has since lowered her personal best to 11.29.
"I like competing against her," adds Tina. "To know that my twin sister is in the race and we finish 1-2 is always a great feeling."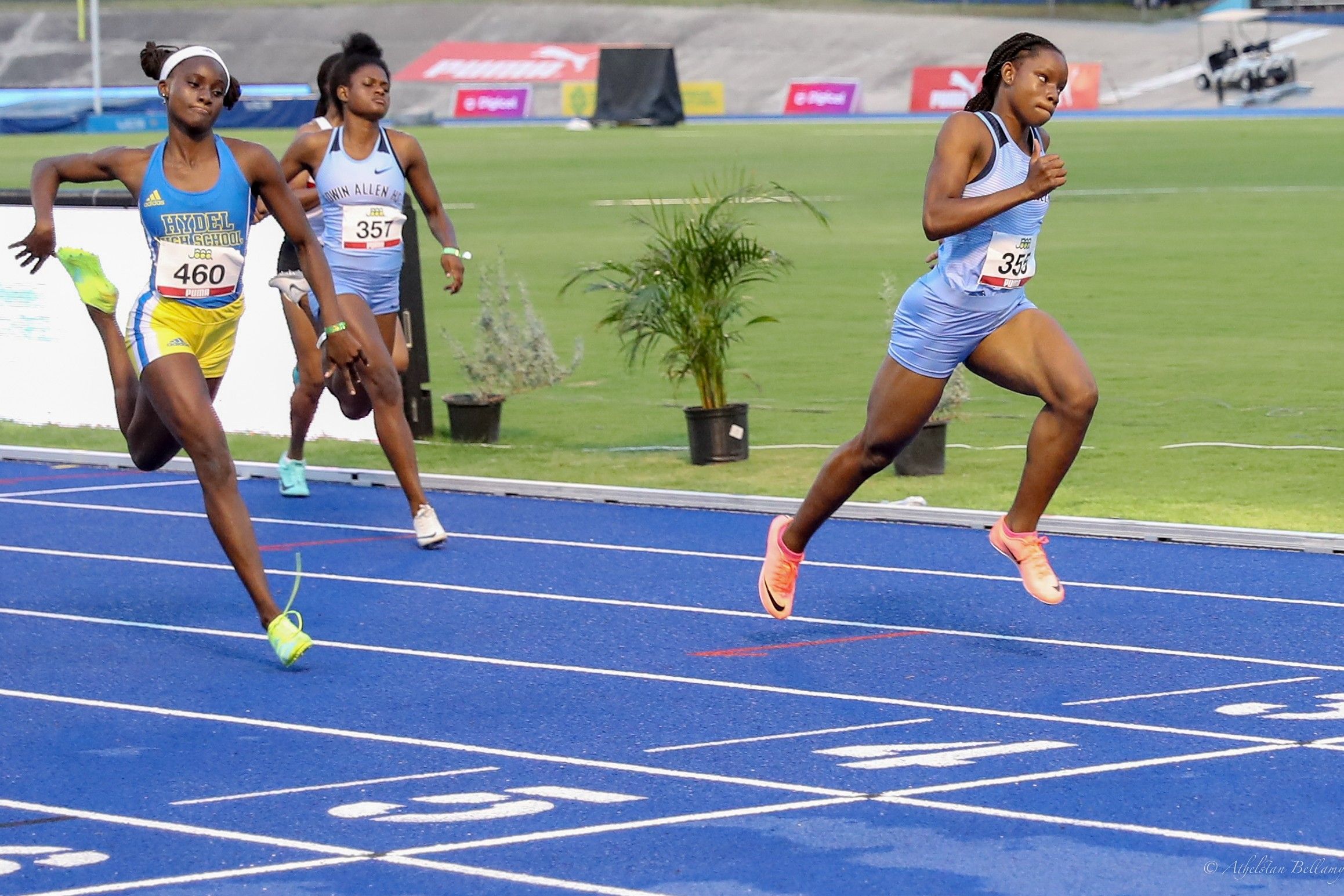 Tina Clayton wins the 100m at Champs 2021 (© Athelstan Bellamy)

Often it is difficult to distinguish between the twins unless they are competing in a 4x100m relay where Tina does duties on the back straight and Tia is usually on the anchor leg.
Tina, who started out as a 200m specialist, leads their 100m head-to-head clash 8-4. While Tina shows no preference for the 100m or 200m, Tia identifies the 100m as her specialty.
There was a moment of despair for the twins at this year's ISSA/GraceKennedy Boy's and Girl's Athletics Championships. They had been aiming for a 1-2 finish, but Tia was disqualified for a false start. Despite the disappointment, Tina regained her composure and then produced a scorching run to win in a season's best of 11.38 (-2.1 m/s).
"I was very disappointed at the start," explains Tina. "I was expecting to finish second behind my sister as that's her favourite event. When she got disqualified, I knew I had to do it for her."
Both have great admiration for multiple world and two-time Olympic gold medallist Shelly-Ann Fraser-Pryce, who they see as a role model.
"She's a lady that inspires a lot of young athletes," says Tina, the more vocal of the two. "Fraser-Pryce has set a trend that we can follow, she always teaches us that winning at all cost is not the way, you have to lose and get back on your feet and redeem yourself."
The twins' interests outside of athletics go no further than watching movies and playing mobile games. They credit their successes so far to the mentorship received from their supportive mother, a sprinting prodigy in her youth, and coach Dyke.
Tina warmed up for the World U20 Championships with a world U18-leading 11.17 on 9 July to win the 100m title at the NACAC U18 Championships in San Jose, Costa Rica. That moved her to third on the world U20 list behind her compatriots Briana Williams and Ackera Nugent.
Williams has decided to forego competing as a junior, while Nugent will be focusing on the 100m hurdles.
The twins, who were involved in an intense three-week camp at the Jamaica College Ashenheim Stadium in Kingston, are looking ahead to a successful outing in Nairobi.
"Going into any competition, you have to have confidence," says Tina. "I know that I will do well as I am working very hard, I'm injury-free and in good health and running fast."
"My training has been going well," says Tia, who overcame a niggle earlier in the year.
"My season was set back by injury, but I'm getting back to my best now and I am grateful to be selected to represent my country and I will do my best."
Coach Dyke is satisfied with the twin's preparation. "The world championships being held in August gave us a little more time to get them ready," he says. "They are in better shape than they were in May for Champs and I am confident that they are going to do extremely well."
Noel Francis for World Athletics