Lythe Pillay at the World Athletics Relays Silesia 21 (© Dan Vernon)
At the age of 18, you could be forgiven for feeling nervous when preparing to represent your country on the global stage, lining up against world-class seniors.
But right before Lythe Pillay settled into his blocks for the men's 4x400m heats at the World Athletics Relays Silesia 21, the South African teenager had the look of a kid passing time with his friends in the schoolyard.
He looked over at his teammates standing trackside, held the baton to his mouth and shot an imaginary arrow in their direction, then broke into a wide smile. Moments later, he got his nation off to an excellent start with a 46.25 opening leg, helping South Africa to second place in 3:03.79 and into the final, thereby securing Olympic qualification.
The following night, on a cold, windy evening in Chorzow – when the majority of athletes ran considerably slower – Pillay went quicker, his 45.76 the quickest opening leg in any 4x400m race at the event, which propelled South Africa to a fifth-place finish.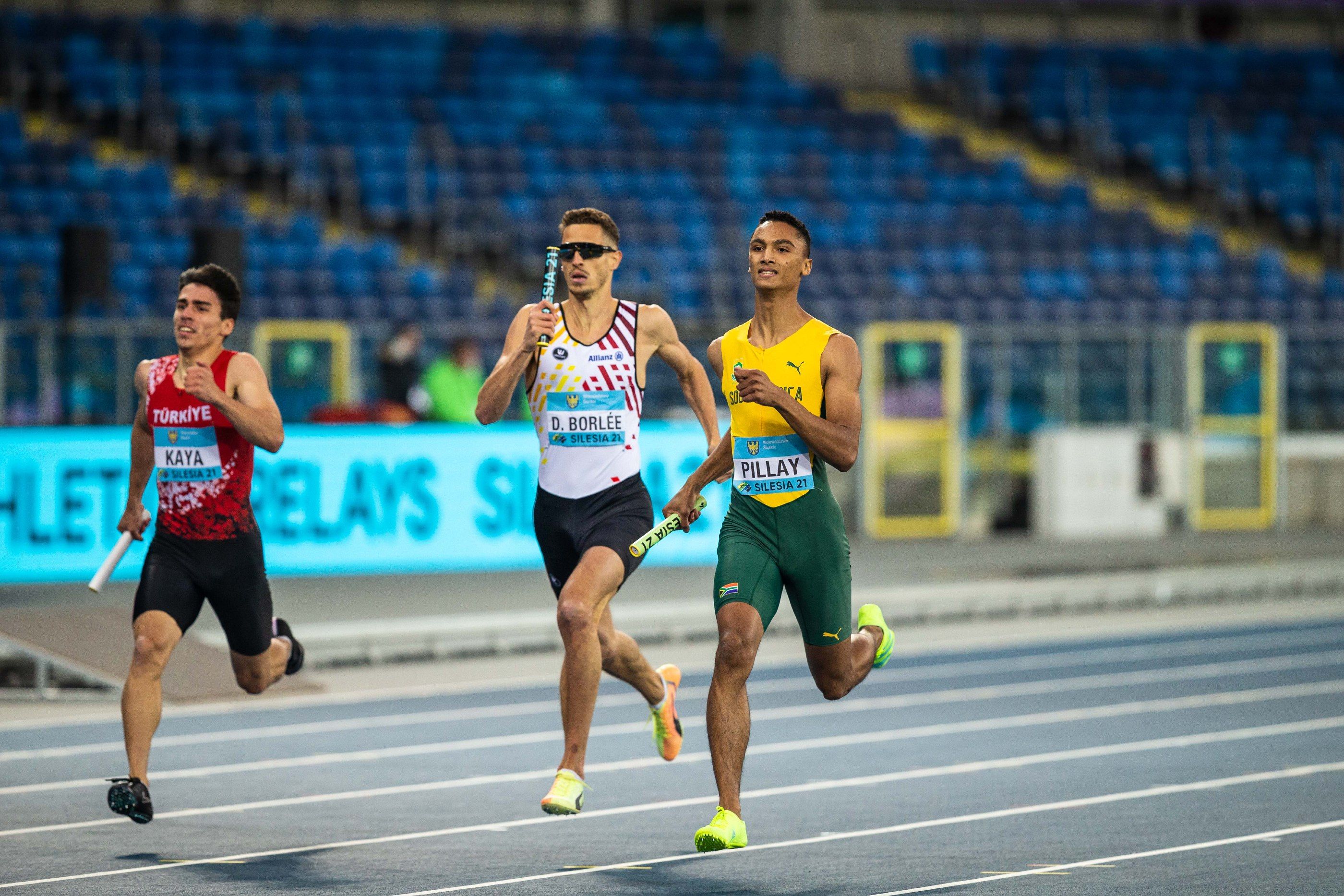 Lythe Pillay ran 400m splits of 45.76 and 46.25 in Silesia (© Dan Vernon)

Back at home, Pillay has long been flagged for potential stardom, described in South African media as a "one-lap sensation" and an athlete who "could be the next Wayde van Niekerk".
There are, of course, still countless rivers to cross before such comparisons can be made, but with 100 days to go until the World Athletics U20 Championships Nairobi 21, what's certain is that Pillay is one of his country's brightest prospects for gold.
At the age of 15, he clocked a blazing 46.76 for 400m. At 16 he ran 46.26 and at 18 – in March this year – he clocked 45.53.
"I did not expect it, it was a surprise for all of us," says Pillay, who is based in Johannesburg and trains under coaches Lindi and Corne du Plessis.
As a kid, his world-class talent wasn't obvious. Pillay started running in grade one when he was about six years old but was "never outstanding" in those early years.
"I was faster (than kids) in my school but come inter-school meetings I'd be lucky if I came fourth," he says. "I never had a coach so at that time I'd run up and down the street at my complex thinking I wanted to get faster for next year."
His mother, Beverly, had been a sprinter in high school and growing up, she was his biggest role model. "My mum always motivated me, saying, 'if it's something you love, keep pushing for it,'" he says.
His uncle played a similar role and as he progressed in athletics he'd tell Pillay to "compete against the aliens", a way of ensuring the youngster never set limits on his potential. Towards the end of primary school, Pillay became aware of Usain Bolt and Van Nierkerk and drew inspiration from the world-beating duo.
These days, he's in his final few months at boarding school, juggling studies with four or five track sessions a week, and while he recently began "basic gym instruction" Pillay has yet to start any weights programme.
He started 2020 in impressive style, clocking 46.93 for 400m a month before turning 17, but a bone bruise picked up while "fooling around" sidelined him for the months that followed. That period, it turned out, coincided with the world going into shutdown so he used it to rest his ankle, with the focus turning to rehab, core and stability work.
"It was a really difficult period, especially with schoolwork, having to do it online, and it was difficult to see my physio as we weren't allowed to move around," he says. "Then there was the mental aspect, trying to stay motivated and keep yourself uplifted during those very bleak times."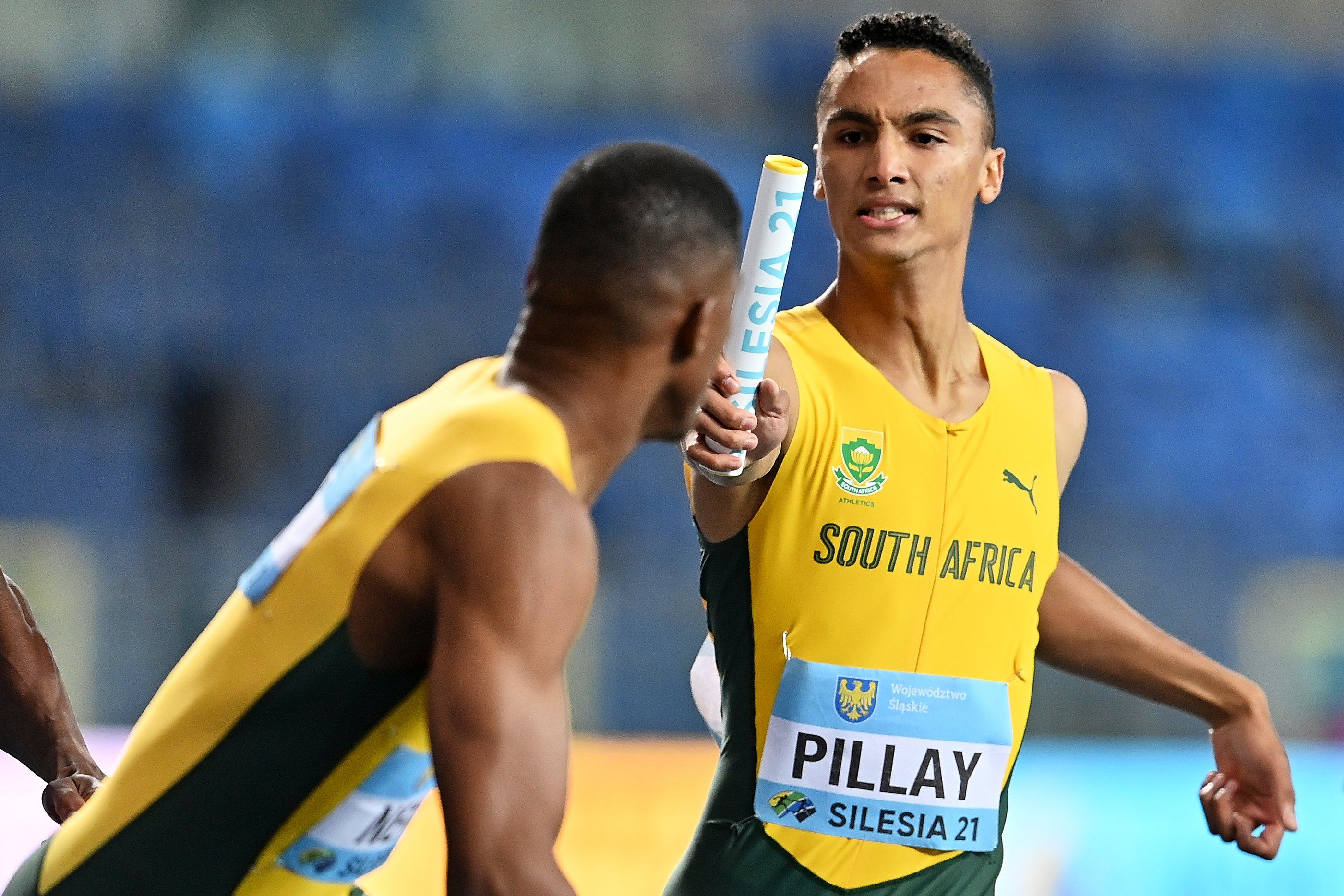 Pillay's main focus at the World Athletics Relays was to use it as a learning experience (© Getty Images)


His coaches' plan has always been to take things slow, to never risk long-term progression for the sake of short-term success, and they nursed him back to fitness through the latter half of 2020, which he ended by clocking a 32.96 300m in Potchefstroom.
"There definitely is a lot of room to improve," he says. "We know exactly what I'd have to do to drop down to 44 (seconds) this year but our goal is to keep it gradual, keep it consistent and work on one thing at a time."
Pillay's first race outside South Africa came in 2019 when he won the African U18 400m title in Abidjan, Ivory Coast, clocking 46.26. More than two years would pass before he got that opportunity again, when Pillay was picked for the South African men's 4x400m squad for the World Athletics Relays.
Although it was a complicated journey to Poland – featuring two flights, lengthy layovers and a long train journey – he soaked up the entire experience.
"Running with all these guys you see on TV, it's a real honour," he says. "Coming here, my main focus was to learn. It was a big eye-opener and it gives me a push, a level of competition I'm not often exposed to."
His teammates made him feel at home from the outset and were quick to pass on what guidance they could.
"They gave me a lot of knowledge and made me understand the sport a bit more. That's what I love about our team: we all uplift each other even though at home we race each other."
He was straight back to school after arriving back from Poland, but Pillay hopes to return to Europe in July to find high-level races in the build-up to World U20s.
"For this year, that is my main target," he says. "I'll go there and do whatever my body allows."
Down the line, he plans to choose a course at university that doesn't adversely affect his athletics, given he harbours such lofty ambitions for the years ahead. While he expects to dip his toe into the 200m, he feels the 400m is his main event, the one where, as his uncle often said, he can take on the extra-terrestrials.
First up, however, is taking on the world's best teenagers over one lap of the track in Nairobi in August, at an event that's been the traditional stage to introduce future stars of the sport.
The way he's going, Pillay might just be the latest.
Cathal Dennehy for World Athletics