Marcell Jacobs in the 100m at the World Athletics Championships Doha 2019 (© Getty Images)
Marcell Jacobs is keen to forget his first two appearances at the European Indoor Championships.
In Belgrade in 2017 he finished 11th in the qualifying round of the long jump with 7.70m, some 37 centimetres short of the PB he had jumped just a few weeks prior. Two years later in Glasgow, he left the long jump runway in tears after failing to record a valid mark in the qualifying round.
That was his last long jump competition.
He had shown flashes of brilliance in the event earlier in his career, breaking the Italian U20 indoor record in 2013 (7.75m) before going on to leap a wind-assisted 8.48m (2.8m/s) in 2016. But nagging knee injuries prevented him from fulfilling his potential, so he decided to switch full time to the sprints.
"The long jump was my first love, but injuries forced to change my discipline," he says. "I'm now happy with my decision to train only for the sprints, though."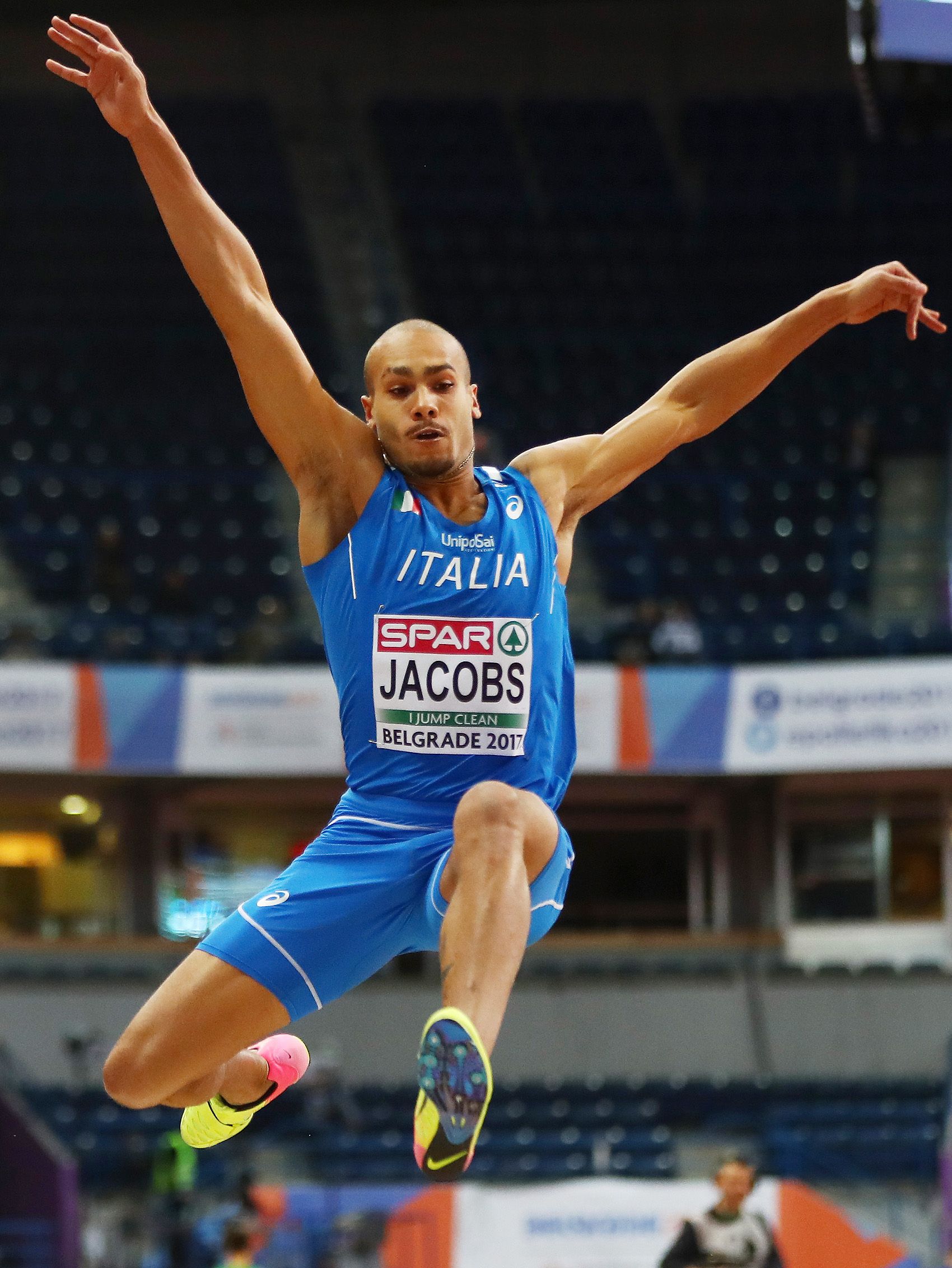 Marcell Jacobs in action in the long jump at the 2017 European Indoor Championships (© Getty Images)

The decision to focus on the 100m soon paid off. In July 2019 he reduced his PB to 10.03, making him the third-fastest Italian man in history, then he won the national title and reached the semifinals at the World Athletics Championships Doha 2019. Last year he won at the World Athletics Continental Tour Gold meeting in Turku and successfully defended his Italian title.
His progress took another big step forward in 2021.
During his first three indoor competitions of the season, he set four PBs over 60m. He clocked 6.56 and 6.55 in Berlin, then improved to 6.54 when winning at the World Athletics Indoor Tour Gold meeting in Lievin. Three days later, he improved again to 6.53 in Lodz.
But he still had something left in the tank for the European Indoor Championships in Torun. Following his disappointments in 2017 and 2019, he was determined to come away from the Polish city with a medal.
After breezing through the rounds in 6.59 and 6.56, he stormed to gold in the final with a world-leading 6.47, smashing the Italian record in the process and recording the biggest winning margin in the men's 60m in the history of the European Indoor Championships.
"It's amazing, this win is a dream come true," he said. "I was running well in training but I didn't expect to run 6.47. It was a very fast race. I started well from the blocks and I continued pushing as hard as I could in the final 20 metres. I didn't sleep the night after winning the European indoor title, it still hasn't sunk in."



US roots
Jacobs was born in El Paso, Texas, to an American father and Italian mother. His parents separated when he was young and he moved to Desenzano del Garda in Italy with his mother when he was one year old.
After a few years of playing basketball and football, his football coach Adriano Bertazzi – who is also an athletics coach – spotted Jacobs' natural speed and suggested he take up sprinting. Jacobs started training in Desenzano del Garda under the guidance of Gianni Lombardi, the director of the Multsitars Combined Events Challenge meeting, and his talent for sprinting and jumping soon became apparent.
In September 2015, a few months after his first eight-metre leap, Jacobs started training under the guidance of 2001 world indoor triple jump champion Paolo Camossi, first in Gorizia and, from late 2018, in Rome.
"I achieved good results during the three years I spent in Gorizia, but I felt I needed more regular medical and physiotherapy support. Rome offered everything I needed, so it was the right choice for me. I am really grateful that Paolo Camossi decided to coach me. He changed his life completely to follow me."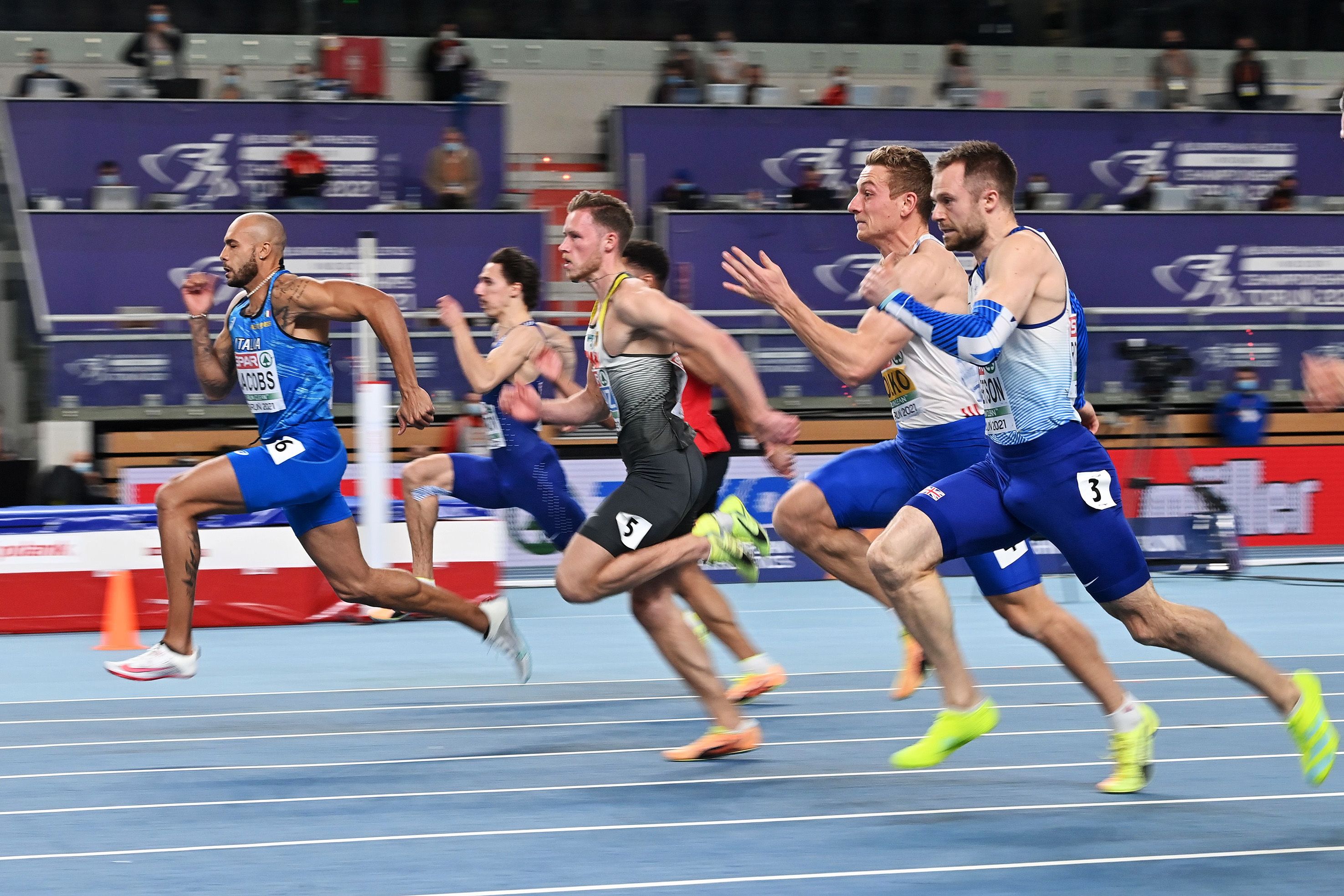 Marcell Jacobs storms to 60m gold at the European Indoor Championships in Torun (© AFP / Getty Images)

Tipped for sub-10
Stefano Tilli, the 1983 European indoor 60m champion who now works as a commentator for Italian TV, was the first to congratulate Jacobs after his 60m triumph in Torun. Tilli has now tipped Jacobs to become the second Italian man to break the 10-second barrier for 100m.
Doing so would mean that Jacobs would at least equal, if not break, the Italian record of 9.99 set by Filippo Tortu.
"Last year I clocked 6.63 in the 60m and then I went on to run 10.10 outdoors," says Jacobs. "This year I improved my 60m PB by 0.16, so if I am able to reproduce the same kind of improvement outdoors, I could run about 9.94 for 100m. My main goal for the outdoor season, though, is to reach the Olympic 100m final in Tokyo."
But Jacobs can't currently lay claim to being the undisputed No.1 sprinter in Italy as Tortu leads their career head-to-head record at 5-1.
"Filippo is a very good friend," says Jacobs, who narrowly defeated Tortu in their first encounter back in 2016, 10.23 to 10.24. "Our rivalry is great for Italian athletics. We push each other and this helps us run faster."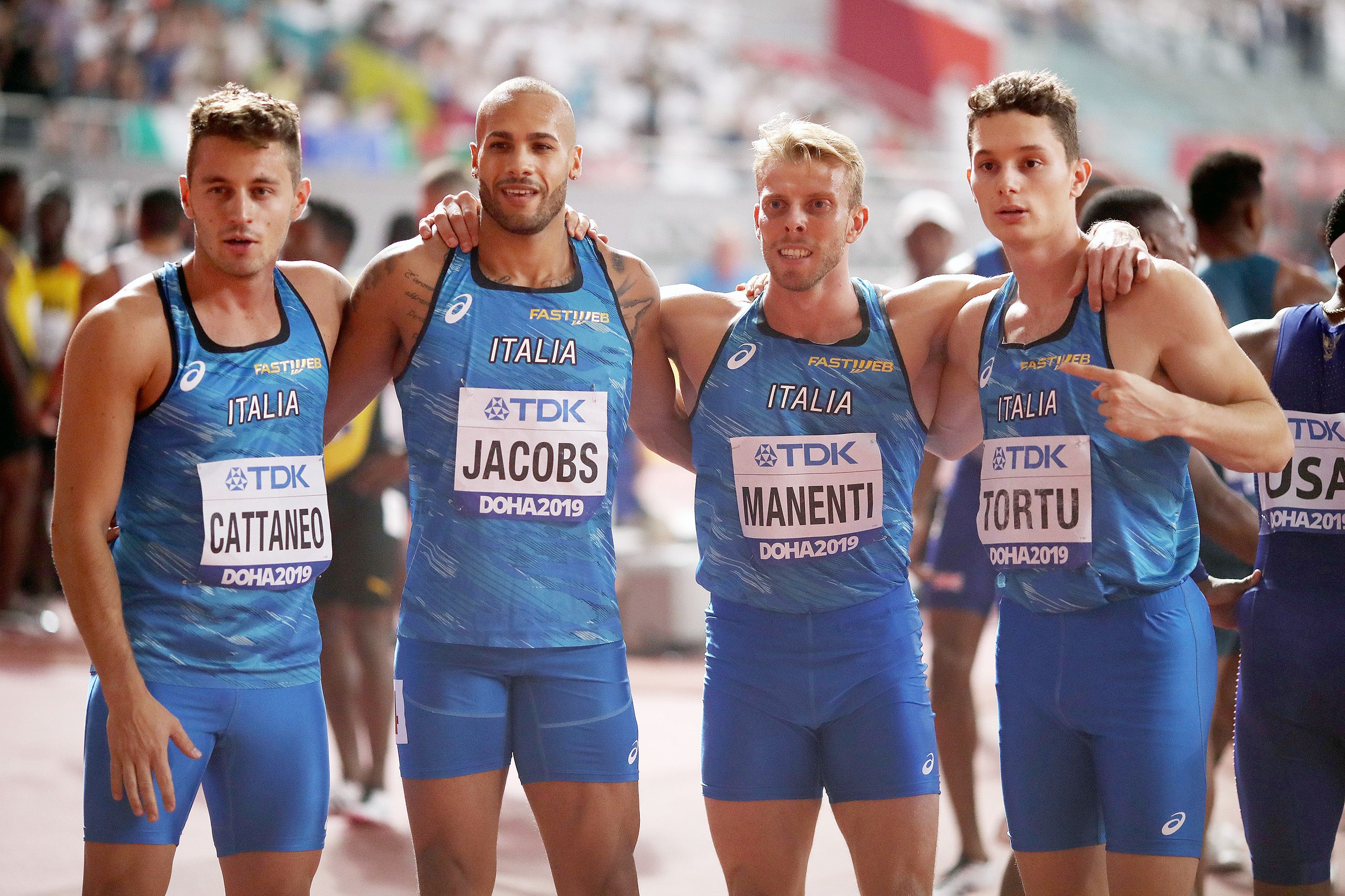 The Italian 4x100m team at the World Athletics Championships Doha 2019 (© Getty Images)
They both intend to compete at the World Athletics Relays Silesia 21 on 1-2 May, where they hope to improve on the 38.11 Italian record they set at the World Championships in Doha, narrowly missing a place in the final.
"I'm really looking forward to the World Relays," says Jacobs. "Representing Italy in relay competitions is very important to me. The goal is to secure a spot for the Olympic Games in Tokyo, and I think Filippo and I can help our team run a fast time."
"The work I have done for my 60 metres is also good for the 100m and the relay," he adds. "I'm determined to work hard for the summer season."
Diego Sampaolo for World Athletics