Luis Aviles in action at the World Athletics U20 Championships Nairobi 21 (© Dan Vernon)
Luis Aviles Ferreiro has enjoyed a well-deserved month of holidays after his best season ever.
In 2021 he became Mexico's second man to run 400m within 45 seconds en route to the silver medal at the World Athletics U20 Championships in Nairobi.
Fresh off his season-ending win at the inaugural Pan American Junior Games in Cali, Colombia, the 19-year-old reflects on a breakthrough 2021, improving his personal best by more than one second in the one-lap race.
"I am very happy and satisfied with my results this year," says Aviles, who won the 400m in Cali in 45.59 before anchoring Mexico to bronze in the 4x400m with a 45.03 split. "This was a beautiful experience to be part of the first Pan American Junior Games. Cali is a beautiful city. I feel blessed. The stadium was massive, one the best I have ever competed in. This is a great motivation to give my best in the upcoming events."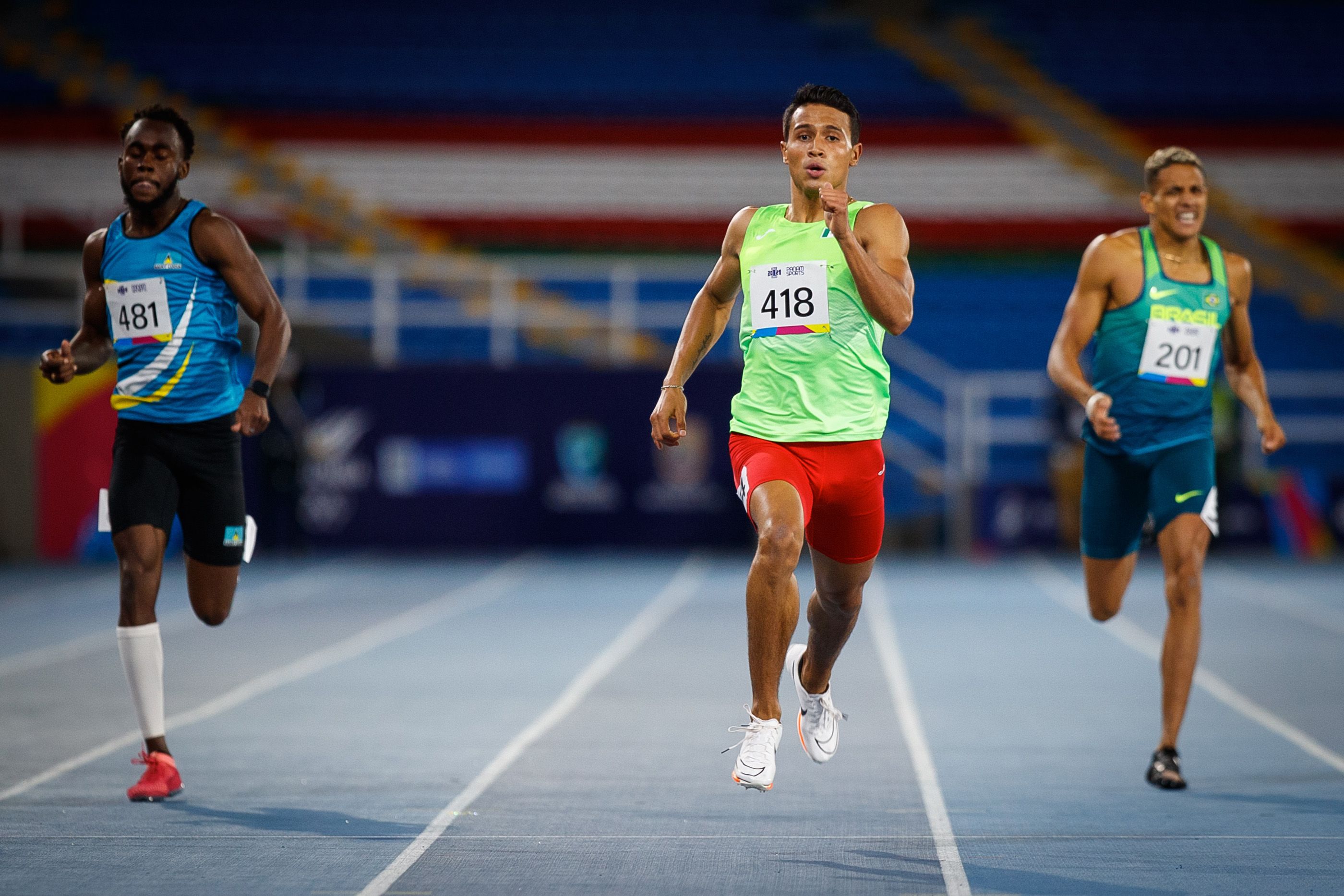 Luis Aviles at the Pan American Junior Games (© Oscar Muñoz Badilla)

The youngest of four siblings was born with no competitive sporting history in his family in his native Cuautla, Morelos. Like many Mexican children, he first practiced football. One day, his coach Demetrio Rodriguez noticed his speed and suggested he tried running. Soon after, he found himself running 11.7 and 36.6 in 100m and 300m at the National Olympics.
Spotted by his current coach, Lazaro Paz, he was invited at age 14 to join his team at the National High-Performance Centre in Mexico City, where he could pursue his studies and his athletics career.
Success soon followed as went from a season's debut of 49.30 to a massive personal best of 46.99 four months later to finish third at age 15 at the senior National Championships.
His first international victory came a year later at the Youth Olympic Games in Buenos Aires. Averaging the times of two 400m races (47.45 and 46.78), Aviles came on top and was rewarded with the gold medal.
"It was a great feeling to be alongside athletes from around the world," says Aviles, who earlier that year had set a national U20 record of 46.04. "I have athletes from other countries I am still in contact with to this day. Listening to the national anthem was a special feeling and gave me a lot of confidence of what I can accomplish with I work hard. It took about a month for that victory to sink in."
His rapid progression generated some concern at home with fears that his sporting career may be shortened. With that in mind, Aviles reduced his training volume and used 2019 as a transition year. He clocked 46.36 to take gold at the NACAC U18 Championships on home soil in Queretaro. Two weeks later, he finished fifth at the Pan American U20 Championships in Costa Rica.
Motivation was high after his best season opener ever with 46.86 in February of 2020, but the pandemic hit and put his career on hold.
"I was really looking forward to the World U20 Championships," he recalls. "I had been receiving financial support for more than a year. I was already living independently and all the sudden that support was reduced to zero for three or four months. I seriously thought of quitting the sport and joining the army or the navy.
"I don't know how I managed, but I stayed afloat. My family and support team were crucial in keeping a positive mind-set."
Back on the track, he opened 2021 with a clocking of 49.30 in February. "It was disappointing, but it gave me the motivation to train harder. Just three months later, he clocked 46.18 to win the senior national title, but he still wasn't quite satisfied with his form going into the World U20 Championships. After two more months of preparation, though, the hard work started to pay off.



He first lowered his best to 45.63 the heats in Nairobi and then broke through the 45-second barrier in the final to take silver in 44.95, Mexico's first ever medal in a running event at the World U20 Championships. His teammate Sofia Ramos Rodriguez had kick-started a glorious day for Mexico that morning with gold in the 10,000m race walk.
"I knew I was in 45-second shape, but I was really surprised to break 45 seconds in the final," said Aviles. "It's amazing what we can accomplish when we work hard. It was such a great boost to be in this 44-second zone.
"Sofia and I were the top medal contenders for our country in Nairobi," he added. "She delivered in the morning and I followed later. We achieved our medals and continue to pursue our goals."
Despite a temporary setback later in the season – he suffered a muscle tear in his left leg 25 days before travelling to Cali – Aviles took two weeks off and recovered in time for his season-ending 45.59 win at the continental event, dragging his closest rivals to personal bests.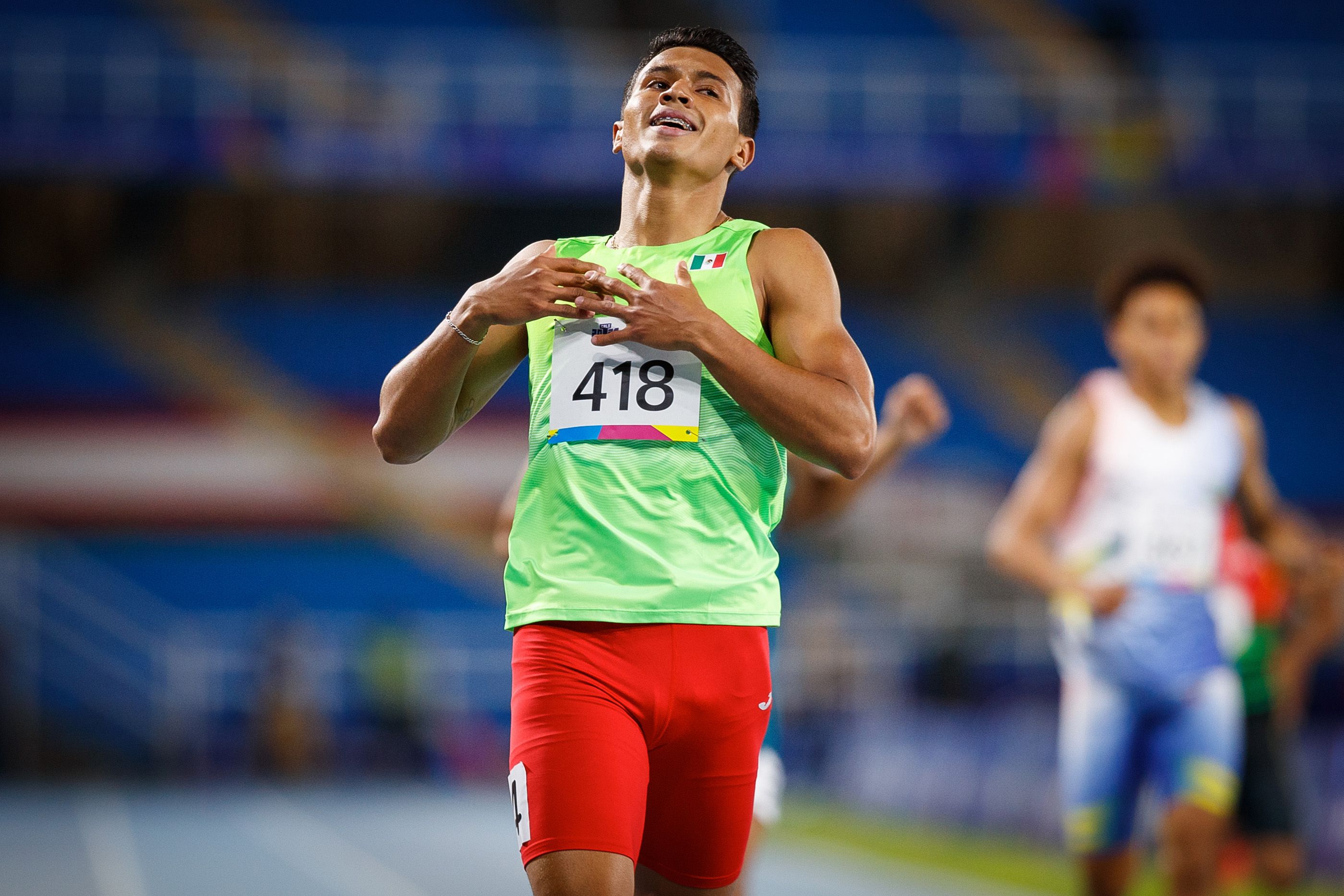 Luis Aviles at the Pan American Junior Games (© Oscar Muñoz Badilla)

As he enjoys quality time with his girlfriend and family at home, Aviles has set his eyes on both senior World Championships this year, indoors and out.
When he learned about Alejandro Cardenas' national indoor record of 45.93, he sees it being within reach. "It will be a new experience for me running indoors, but it will be a good stepping stone towards Oregon, our main goal for 2022," he says.
Cardenas' 22-year-old national outdoor record of 44.31 dates back to his bronze medal at the 1999 World Championships. "I have met him a few times and he motivates me to be better every day," adds Aviles, who feels fortunate to have a team of professionals: coaches Paz and Liamna Alarcon, nutritionists Raquel Benitez and Cristina Marlene and physicians Leticia Ramirez and Enrique Figueroa.
With his aim of starting university in March to study political science, Aviles wants to continue enjoying what does best and reach new goals in his young and promising career.
Javier Clavelo Robinson for World Athletics