Australian discus thrower Dani Stevens at the 2018 Sydney Athletics Grand Prix (© Getty Images)
For the first 15-or-more years of Dani Stevens' remarkable career, serious injury was something that happened to somebody else. One of the few athletes to win world titles at all three levels of competition – youth, U20 and senior – a fixture in the top half-dozen female discus throwers in the world, Stevens was a model of consistency.
When injury did strike, however, it seemed fate unleashed its pent-up fury at being denied so long. From the World Athletics Continental Cup in September 2018 until 13 March 2021, Stevens was able to compete just twice. A serious back injury and long rehabilitation wrecked almost all of 2019, before an even more devastating neck injury early in 2020 threatened to end her career.
The second major injury – a bulging disc and consequent extensive nerve damage to her throwing arm – was the result of a seemingly innocuous accident in the gym, a situation where, as Stevens puts it, "the weight is going one way and you're going the other." Innocuous-looking or not, the consequences were immediate, and severe.
"It was in the back of my mind that I might not be able to throw again," says Stevens. "My first priority was to get some function back in my arm, so I could do simple things like picking up my nieces and nephews, (or) being able to drive a car."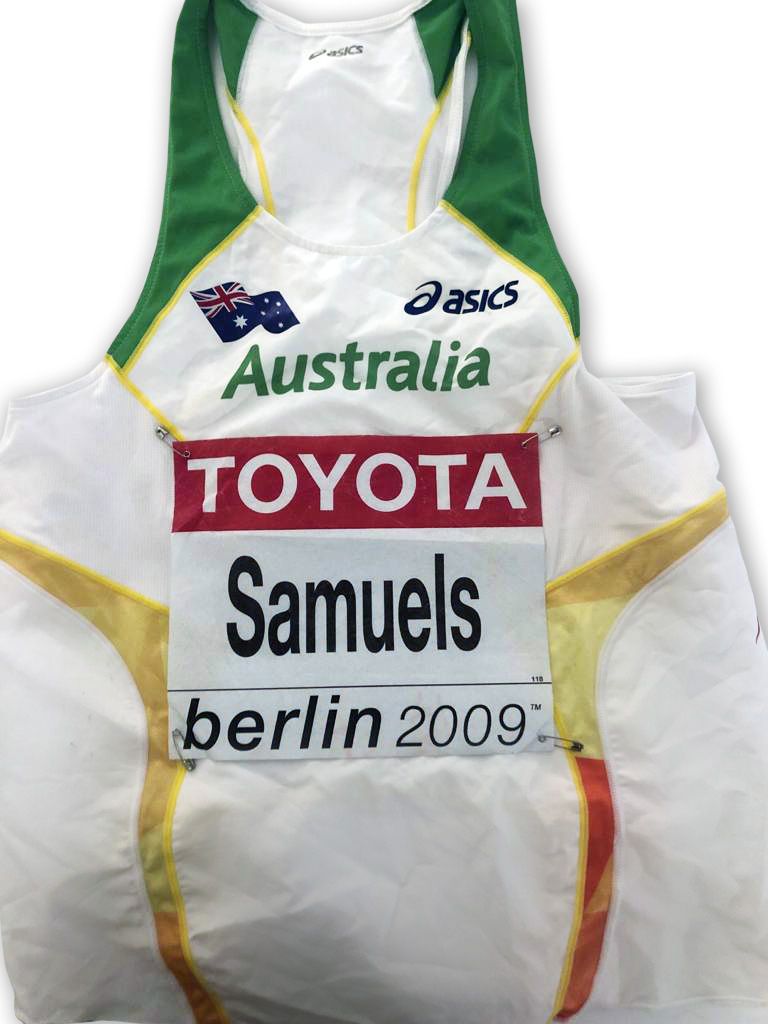 Progress was frustratingly slow at times, even as function did return. "I was told I would get to a certain point and it would pick up exponentially," says Stevens, whose singlet and bib (in the name of Samuels) from the 2009 World Athletics Championships in Berlin will be displayed in the Museum of World Athletics™ – the world's first 3D virtual sports museum – from July.
Like a mirage in a barren desert, the rocket-like lift-off always seemed to be a step further away.
Even as she prepared to resume at Sydney's Continental Tour bronze meeting on 13 March, Stevens was unsure of her condition. "I didn't feel ready," she says, "but I knew it was in my best interest to compete."
Stevens believed she was ready to throw 60 metres. She figured the adrenaline of competition might add a metre or two more. Her 63.36m was at the top end of her expectations. Since then, she has competed at the Continental Tour Silver meeting Queensland Track Classic, throwing 62.22m. She is due to compete in the Australian Championships in Sydney on 15-18 April (the women's discus in on 18 April) when, still over a month short of turning 33, she will be chasing her title No.14 (plus five more at shot put).
The bizarre thing about the 2019-20 years for Stevens is that she has come out of them with an Olympic qualifier and, with the postponement of Tokyo 2020 due to Covid-19, still has an Olympic Games to contest.
The qualifier came at a Sydney interclub competition on the last day of November, 2019. Stevens had done only a couple of throwing sessions at the first of which "I picked up that discus, and suddenly I had the biggest smile on my face," she told World Athletics last year. "I said to myself, 'Yeah, I still really love doing this." She loved it all the more when that one-and-only competition for 2019 resulted in a 65.93m throw, well in excess of the Tokyo automatic standard of 63.50m. With the Covid-19 postponement and consequent splitting of the qualifying window, Stevens still has her Tokyo qualification nailed down.
Both injury rehabilitations were protracted and gradual, but also different. Stevens avoided surgery for the back injury in 2020 and almost got back into competition a couple of times during that year, whereas her neck and nerve injuries in 2020 did require surgery and were followed by a ground-up rebuild.
"It was a strange time," Stevens says of early 2020. "I had never had surgery before and then there was Covid and the postponement of competition. It was a crazy time to have to get your head around a lot of things at once and let them settle in."
There may be more "crazy time" yet, but the certainty around the Olympics – for athletes, at least – appears to be there, even if the certainty around lead-up competition is not. Stevens, who is based on the Gold Coast, and her team have decided that she will do most of her preparation in Australia.
"Travel to Europe is a big decision," Stevens explains, "especially if you have to quarantine when you come back. I'll spend time in Sydney with (career-long coach) Dennis Knowles and there will be competitions here in Queensland where I can compete against Matt Denny. I am confident I can prepare successfully at home. I've done it before."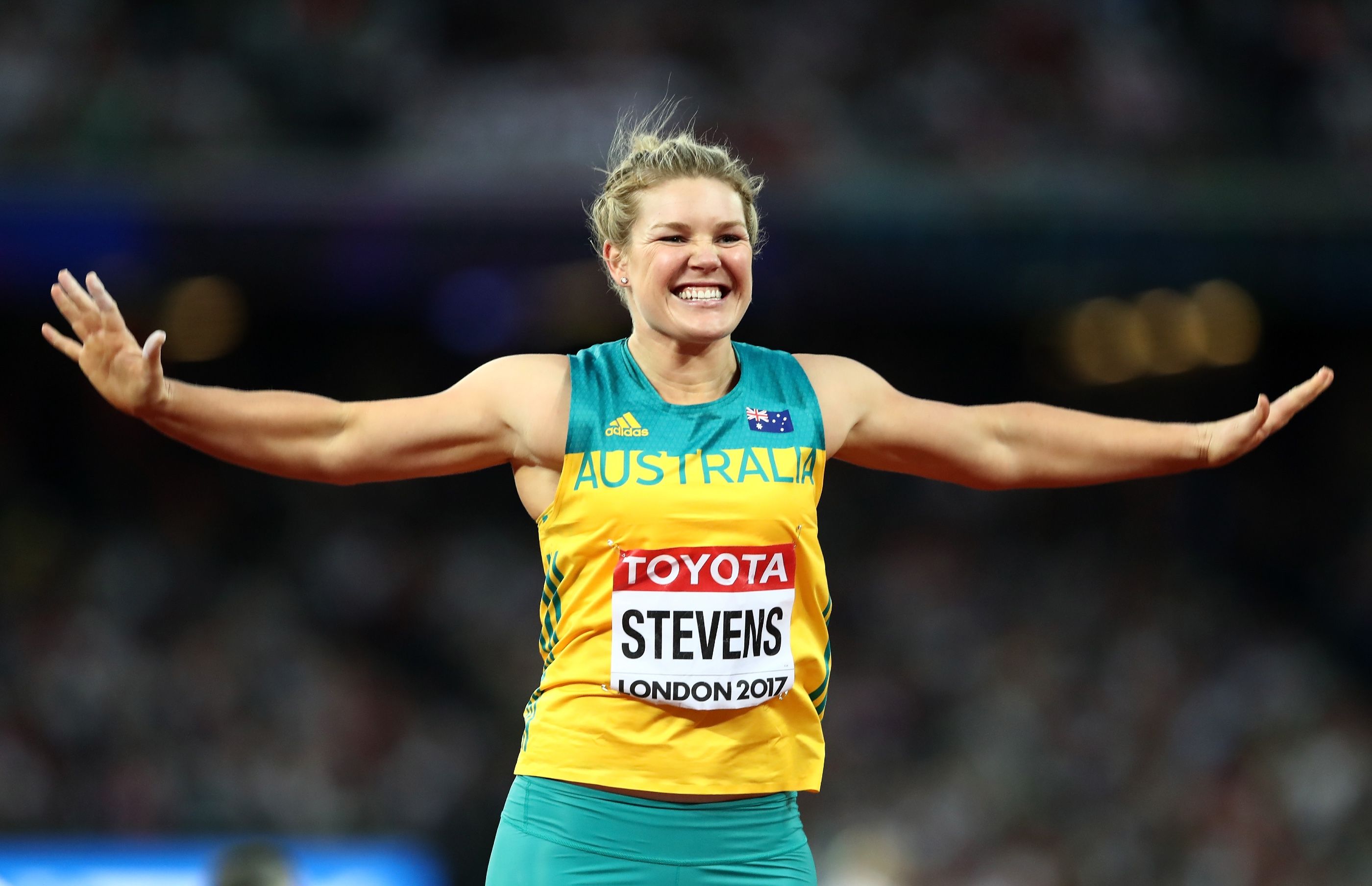 Dani Stevens during the 2017 World Athletics Championships in London, where she claimed silver (© Getty Images)

Dani Stevens has done it all before. Stevens, along with retired duo Sally Pearson and Jared Tallent, has been one of the pillars of Australian performance since competing in the first of her two World U18 Championships in 2003. She was a DNQ in the shot put then, but won the discus at the next edition of the championships in 2005.
From 2005 until 2019, Stevens never missed a major global event in which she was eligible to compete. She won the discus at the World U20 Championships in 2006, made her senior debut at the age of 19 at the Osaka 2007 World Championships, made the Olympic final in Beijing and became the youngest-ever winner of the women's discus at the Berlin 2009 World Championships.
Even in her 'less good' seasons, Stevens has been there, or thereabouts. For 11 straight years – 2008-2018 – she was ranked top-10 in US magazine Track & Field News's annual event rankings. No other Australian has ranked top-10 in as many years consecutively – not Betty Cuthbert, nor Ron Clarke, nor Pam Ryan, nor Cathy Freeman, nor Tallent. Not even Pearson.
If the middle years of that period saw Stevens somewhat in the doldrums, the most recent have produced a revival. Although bitterly disappointed with the competition, Stevens finished fourth at the Rio 2016 Olympics, then threw a national record 69.64m in taking the silver medal at the London 2017 World Championships. She followed that up with a Commonwealth Games win on home soil at the Gold Coast in 2018.
An Olympic medal is the obvious missing link. Fourth in Rio left Stevens "feeling crushed". It was a strange competition, a night-session qualifying conducted in heavy rain followed by a final the next morning in heat and steamy humidity. No-one threw well, some just threw slightly better than others.
"I'm so very motivated for Tokyo," Stevens told World Athletics just before 2020 turned "crazy". She hasn't lost the motivation, hasn't lost the love of competing. Fit and healthy, she will be a threat in Japan.
Len Johnson for World Athletics