Hammer thrower Lauren Bruce (© Alisha Lovrich)
To anyone looking at the results from afar, Lauren Bruce's Oceania hammer record of 73.47m last September seemed something of an anomaly.
Her previous best was 68.14m, yet in one competition she had not only broken 70 metres for the first time in her career, but had also surpassed 73 metres.
But in the months that have followed, Bruce has shown that her record-breaking throw was no fluke and, with a string of nine 70-metre competitions, has firmly marked herself as one to watch.
Nevertheless, that five-metre improvement in Hastings to place sixth place on the 2020 world list, along with her subsequent Olympic qualifying marks, was unquestionably a dramatic rise to prominence for the 23-year-old Kiwi thrower. Yet to gain a greater understanding of the journey undertaken by the young hammer ace, it is impossible to ignore 2017 world shot put champion Tom Walsh.
In a spookily similar career path, the pair both hail from the small port city of Timaru (population 46,000) on New Zealand's picture postcard South Island. The duo both initially developed through the coaching acumen of Ian Baird and today are both guided by influential Australian Dale Stevenson.
Bruce's goal is to maintain her rate of progression and one day go on to achieve the same level of sustained global success enjoyed by Walsh.
"Having qualified for Tokyo, this now puts me in a position to compete at every major championships," explains Bruce of her future ambitions. "In the next few years they will come thick and fast and the biggest challenge will be using them to step closer to expressing my full potential. A big part of why I throw is trying to figure out that puzzle."
Bruce took up athletics at the age of eight, competing predominantly as a sprinter and jumper. But as a youngster, gymnastics was her primary sport.
She performed to a high standard and earned a national level silver medal on the uneven bars, but nine years ago she picked up a stress fracture of the back. Ruled out of sporting activity for six months and concerned gymnastics was taking a toll on her body, she quit and focused her energy on athletics.
Baird introduced Bruce to the hammer and she quickly developed into a promising 'leftie' thrower.
"I remember doing a couple of sessions and asking my coach if I could switch from spinning anti-clockwise to clockwise," she recalls. "I am right handed throwing the discus and shot, but for whatever reason I found myself more comfortable rotating the other way for hammer, perhaps from my time spinning clockwise as a gymnast. As soon as I started throwing left-handed, it felt natural to me. I quickly improved and got sucked into the hammer."
The good body awareness from her gymnastics background, coupled with her natural strength, proved a winning combination and Bruce made an impact on the age-group scene, winning national titles in both hammer and discus.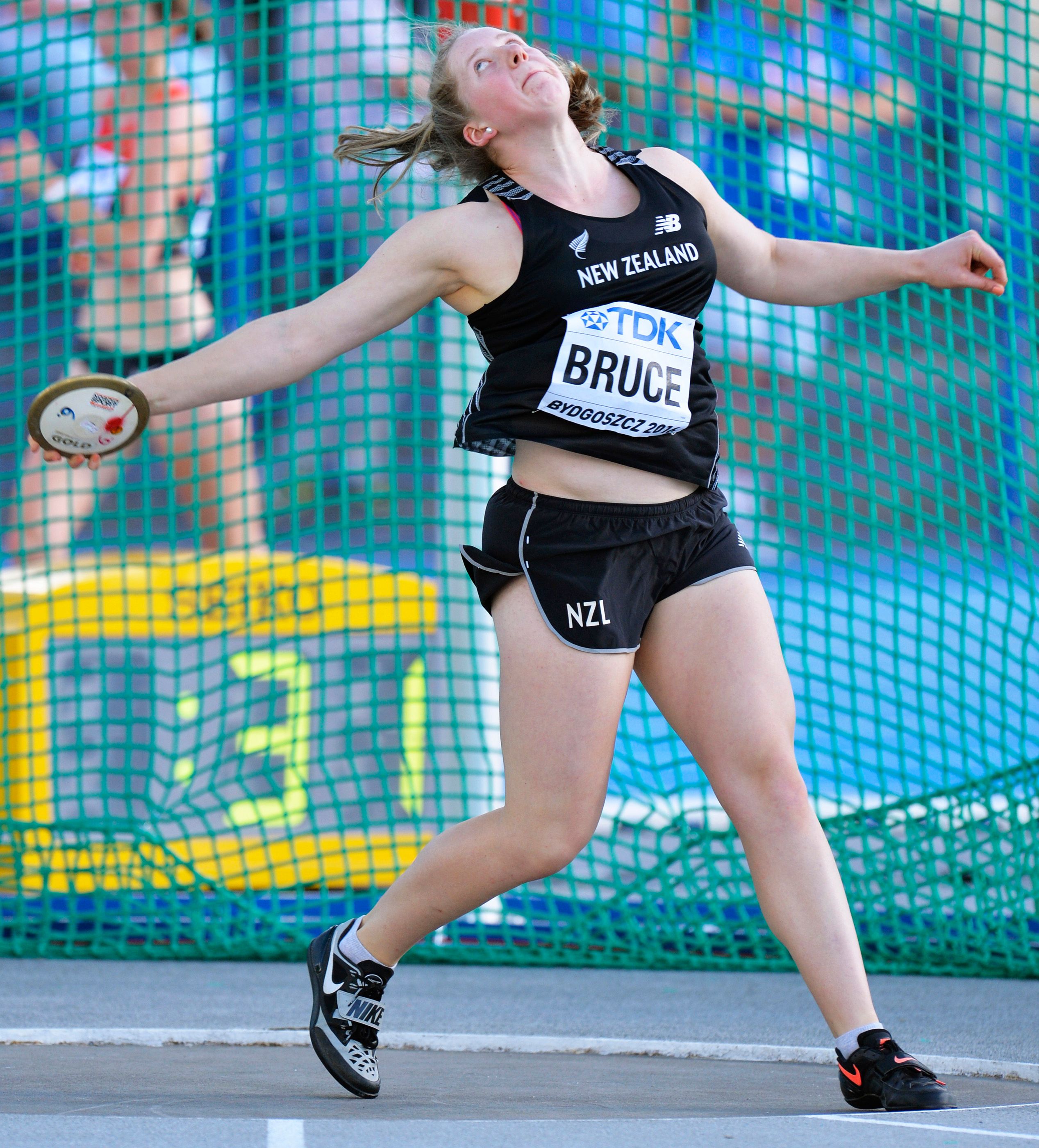 Lauren Bruce in action at the World U20 Championships Bydgoszcz 2016 (© Getty Images)
In 2016 she earned selection to represent New Zealand in the discus and hammer at the World U20 Championships in Bydgoszcz. After setting a hammer PB of 60.35m at a low-key meeting in Germany just two weeks before the championships, she was optimistic of a good showing.
She underperformed in both events, though, hurling a best of 55.17m to place 23rd in hammer qualifying and falling almost seven meters shy of her best in the discus (42.30m) in 24th.
"I was hugely disappointed," she explains. "Going overseas to compete in a big event for the first time was a great experience and looking back it was hugely valuable. But at the time I didn't feel like I belonged in that company. It was a bit of a wake-up call."
The following year, on Baird's recommendation, Bruce joined the Christchurch-based coaching group of Dale Stevenson, who was achieving big results with Walsh.
Without question, the move to Stevenson has played an instrumental part in Bruce's subsequent success.
"He's had a huge influence," explains Bruce. "He's sat on both sides of the fence with having been an athlete to the highest level himself (he competed at the London 2012 Olympics in shot) which is incredibly valuable for us.
"Obviously, in the past shot put has been more his thing but he has put a lot of time and energy into understanding the event, so he could help me. Over the last year to year and a half we've made some huge progress."
Yet Bruce's road has been far from smooth. In 2018 she extended her PB to 62.42m during the domestic season in New Zealand but struggled to replicate that form during a trip to Europe.
The under-par results started to take a toll mentally and for a period she weighed up whether she wanted to continue in the sport.
"My identity had become so wound up in the sport, I just couldn't let go of a bad competition or a bad training session," she explains. "It got to the point I didn't even know if I enjoyed the sport anymore."
Bruce took three months away from the sport to recalibrate before returning to athletics. Slowly, her passion for the sport returned, although her future hammer success was not immediately apparent after opting to prioritise the discus in 2019.
She duly qualified in the discus for the World University Games but while there also took up the option of competing in the hammer. In Naples, Bruce underperformed in the discus, placing 20th, but bounced back to finish seventh in the hammer with 62.50m – just half a metre shy of her PB.
That competition triggered some critical changes which set Bruce on the road to success.
"I came out of that competition feeling like I still didn't really belong out there," she explains. "That's what really got the ball rolling for me to make a mental shift to carry myself with more confidence."
Later that year, and in consultation with her coach, Bruce decided to focus on the hammer.
"For a long time, I held on to always having something else alongside hammer," she explains. "I realise now I liked the security of having another event to fall back on. If the hammer did not go well, I'd channel my frustration into the discus.
"I distinctly remember the conversation in the car park with my coach after training one day when he said 'you are going to have to choose one event; if you keep trying to do both you're not going to qualify for the Olympics at all'."
Focusing solely on one event has given her the time and clear-eyed focus to make the necessary technical refinements. During the 2020 New Zealand summer season she added more than five metres to her to PB, going out to a best of 68.14m.
Then, coming out of lockdown last year, she made another important decision on her road to improvement by ditching her 25-hour a week job working for a food company to focus 100% on hammer.
Becoming a full-time athlete has led to huge gains in training, all of which resulted in that huge five-metre plus PB of 73.47m in Hastings – a moment which was much less of a surprise to her as it was for many others.
"It was honestly more of a relief," she says of surpassing the Oceania record of 72.35m which had been set earlier in 2020 by fellow Kiwi Julia Ratcliffe, the Commonwealth champion. "I think I've known for some time I could throw farther than I had done previously. In training my distances had been slowly creeping up. To finally do that in a competition was further confirmation of this."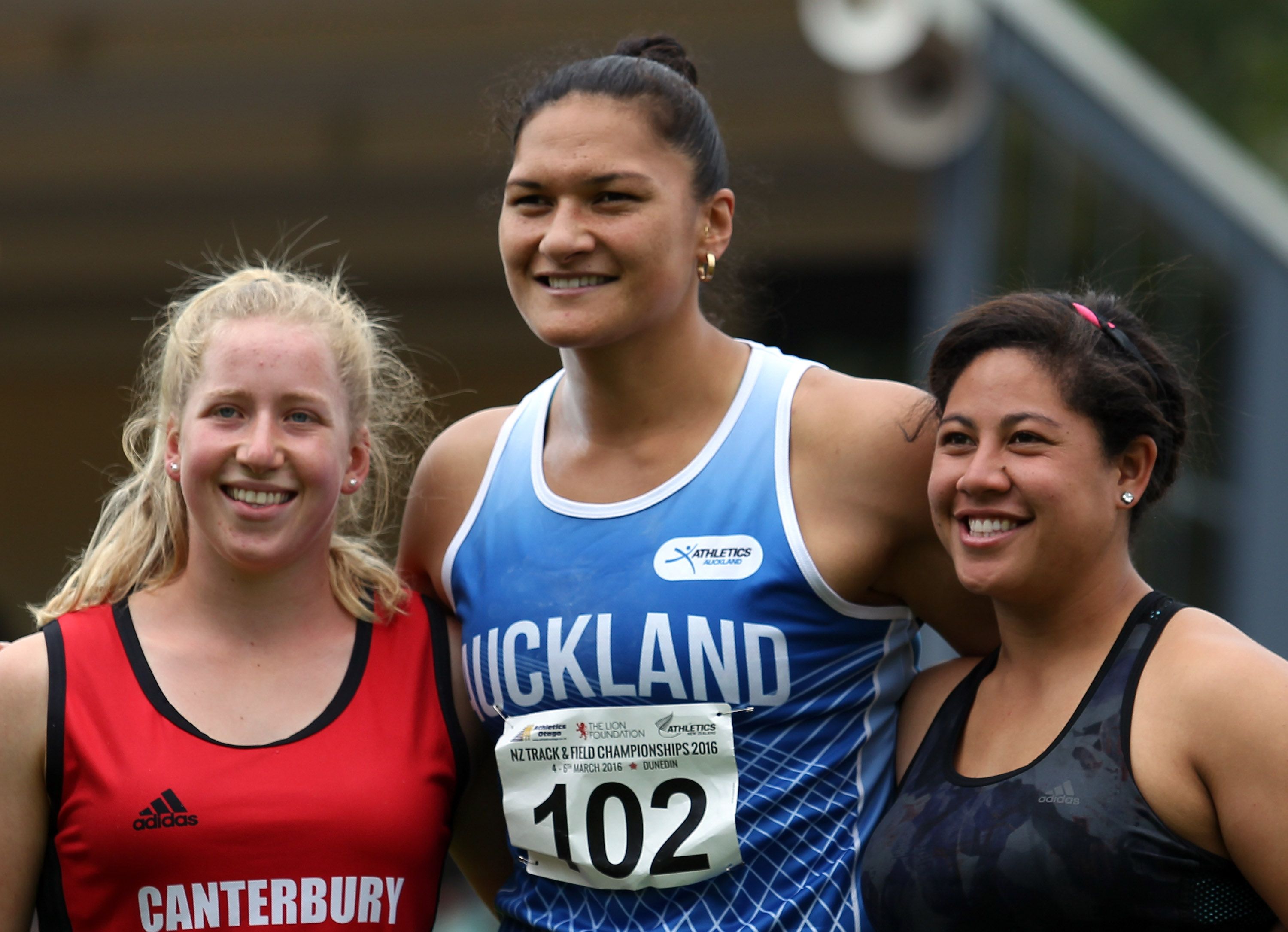 Lauren Bruce, Valerie Adams and Kasandra Vegas at the 2016 New Zealand Championships (© Getty Images)
Training four to five times a week in the gym with three to four throwing sessions, Bruce admits her strength is her strength. Able to clean 125kg with the Olympic weights and snatch 100kg, she enjoys the challenge of chasing her new training partner Valerie Adams, the double Olympic champion, who has recently joined the group.
Bruce says her natural power allows her to occasionally 'bully' the hammer but also admits she has recently made some real technical advancements.
During the New Zealand season her consistent 70-metre form has given her validation she is on the right track. Meanwhile, the motivation she gets from her rivalry with Ratcliffe has also acted as another spur.
The pair have elevated the women's hammer to one of the marquee events in New Zealand athletics – perhaps best illustrated by the fact in February's Porritt Classic it formed the concluding field event of the meet.
"Normally the hammer is always pre-meet, so to be held as the final event shows how far we have come," says Bruce.
For the remainder of the New Zealand domestic season she is targeting a maiden national senior title and would also like to advance her Oceania record.
"I would like to break my record again," says Bruce who, since throwing her Oceania record, has thrown beyond 70 metres in all nine of her subsequent competitions. "I'm getting close to going over 75m."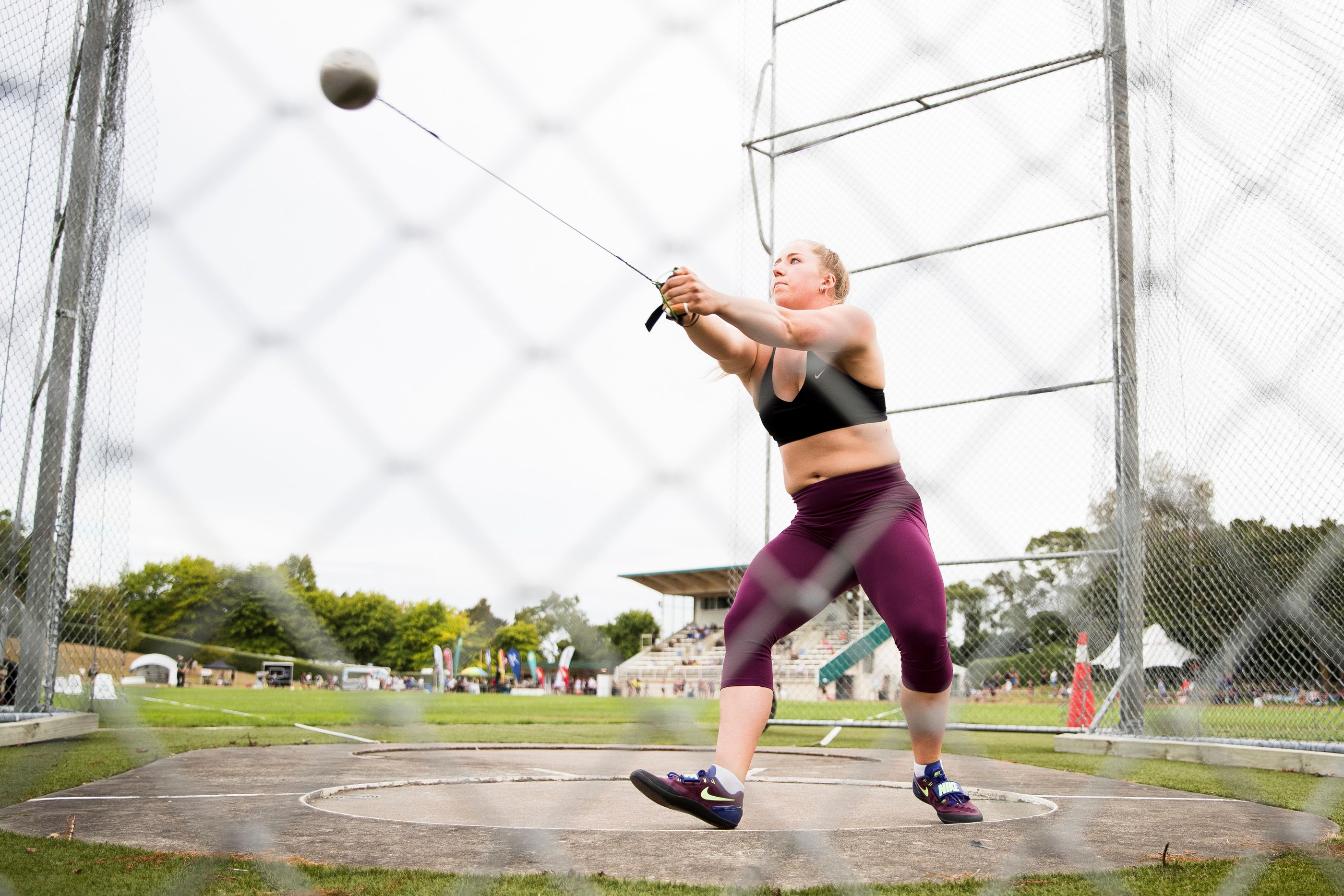 Lauren Bruce in action in the hammer (© Alisha Lovrich)
With the Olympic qualification mark comfortably secured, she has some big aims for Tokyo but is not prepared to make any predictions.
"We are still five months away from the Games and I know how much I've improved over the previous five months, so I don't want to set a limit on what might be possible. I'm more than capable of making the final, although in terms of how I want to perform, we'll just have to wait and see where I'm at come August."
Yet it would be remiss not to mention Walsh and the role he has played in her progression.
"As we come from similar backgrounds, we definitely have quite a bit in common and I'd say I consider him somewhat of an older brother," Bruce explains. "He is definitely someone I can go to for advice because he has such a wealth of knowledge and experience.
"It's pretty cool to have him around because he has shown the path you can take coming from a small town to competing on the world stage at the highest level."
A path it seems like Bruce is already treading.
Steve Landells for World Athletics