Caterine Ibarguen competes in the long jump at the 2020 Diamond League meeting in Stockholm (© AFP/Getty Images)
The great athletes never stand still. They face challenges with gusto. They are continually prepared to adapt and will stop at nothing in their thirst for knowledge in order to self-improve.
Now aged 37, the veteran of the triple jump runway, Caterine Ibarguen, is one such athlete who throughout her long and glittering career has lived by that mantra.
A fact perhaps most clearly illustrated by the challenges the Rio Olympic champion has faced over the past couple of years.
Success despite adversity
Having undergone injury issues and a coaching switch which involved a change of country and environment, not to mention the continued fallout of a global pandemic, life has not always been a smooth ride for the Colombian jumping legend.
Yet adopting her typical steely determination underpinned by her undiluted passion for the sport, Ibarguen is ready and primed for what she hopes will be a successful defence of her Olympic title.
Rewind to 2019 when Ibarguen had come into the season full of confidence. Unbeaten through 2018 in her speciality event and ending the year as the World Athlete of the Year, she had high hopes of regaining the world title she had previously snared in 2013 and 2015.
"My 2019 season began with expectations of doing things better than in previous years, but the pain prevented me," she explains.
"A plantar fasciitis injury in my left foot ended my dreams (of winning a third world title). But I didn't want to stop. I was still determined to compete at the World Championships (in Doha), so I did everything I could to achieve that goal."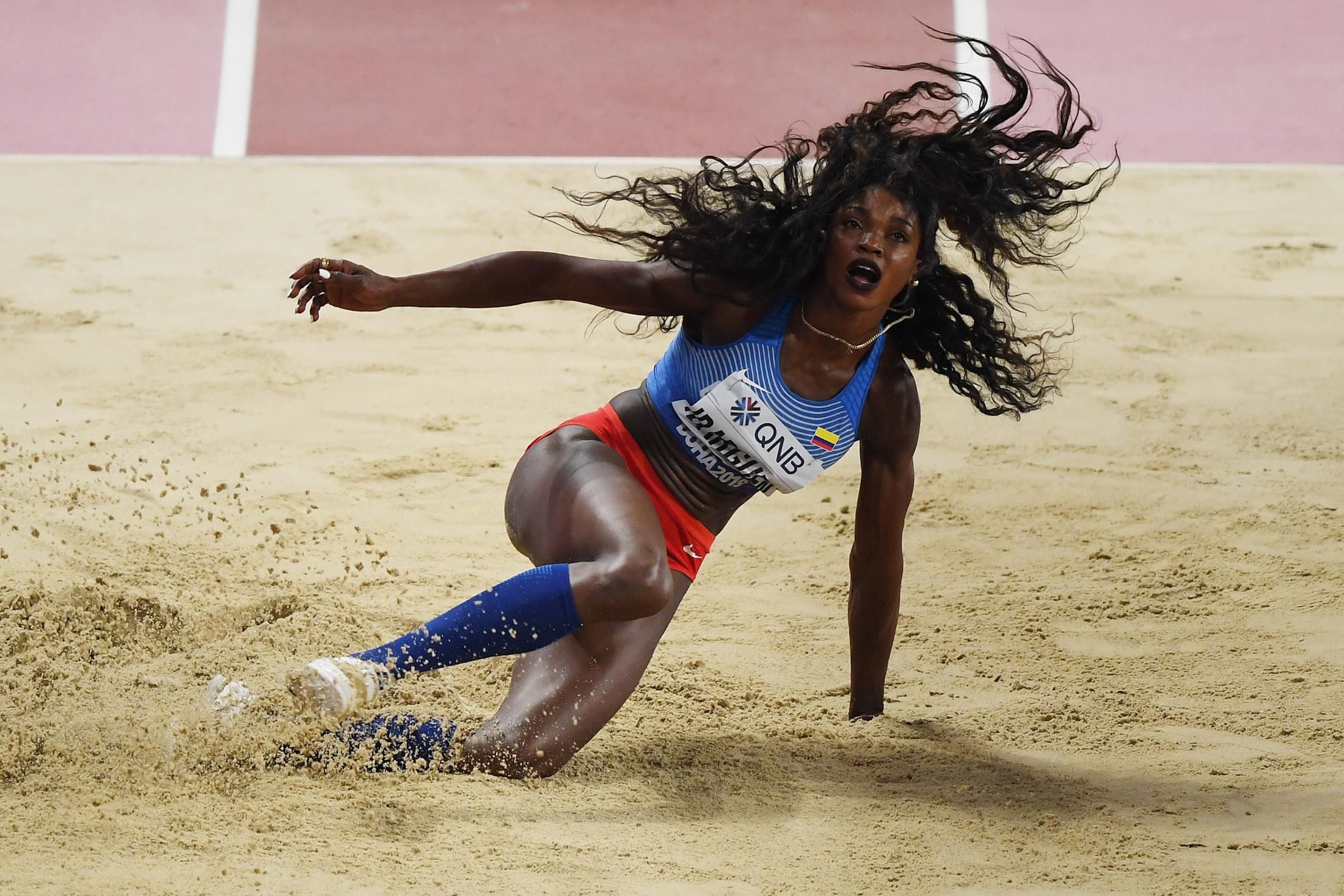 Caterine Ibarguen in the triple jump final at the World Athletics Championships Doha 2019 (© Getty Images)
Her first half of the season had gone promisingly. She had claimed Diamond League wins in the triple jump in Oslo (14.79m) and Lausanne (14.84m) and earlier that season notched a long jump victory at the Doha Diamond League.
However, the injury prevented any triple jump competition from the Monaco Diamond League – where she placed sixth with 14.33m – in July until the World Athletics Championships in Doha some three months later.
Despite the lack of preparation, she drew upon her 'champion's spirit' to win an against-the-odds bronze medal with a best of 14.73m behind her South American rival Yulimar Rojas and Jamaican's Shanieka Ricketts.
"My expectation was to win a medal," she says of Doha. "2019 had been a very difficult year full of pain. But we wanted to perform well in what may be my last World Championships. To win that bronze medal made me very happy because only I, and those around me, knew of the sacrifices I'd made to climb the podium."



Switching set-up
Ibarguen returned to her training base in Puerto Rico to join her long-time coach Ubaldo Duany to begin her preparations for the Tokyo 2020 Olympics.
But she took the decision to leave her coach of the past decade and last March joined the training group of the Portuguese-based Jorge Pichardo.
"Ubaldo was not only a coach, he was like a father to me," explains Ibarguen of the man who had guided her to seven global triple jump medals spanning a nine-year period.
"The decision was made mutually, but I think I needed a change and that's what I did."
The switch to a new coach and father of two-time world triple jump silver medallist Pedro Pablo Pichardo was a courageous decision by Ibarguen.
It necessitated a move from Central America to relocate to Portugal. It has also required a change in mindset to adapt to new training techniques but the evergreen jumper insists the change has been positive.
"Professor Jorge Pichardo has his differences in some aspects of training (with Duany) but the objectives do not change, so I feel very comfortable training with him," she says.
"He is very meticulous when working on technique and strength work but I think the most exciting part for me is every day I know I will learn new things. Plus, training with the great Pedro Pichardo and watching him jump has also been a big thrill."
Olympic adjustment
Shortly after joining her new training group the global pandemic then plunged much of the world into lockdown. Like many athletes, Ibarguen was forced to improvise and adapt her training.
She also had to come to terms with the fact the Tokyo Olympics would be postponed by a year – an announcement which resulted in an evolving set of emotions for the woman who has claimed a podium spot at each of the past five World Athletics Championships.
"It was a shock when I found out that the Olympic Games were not being held, it filled me with a lot of sadness," she explains.
"However, later with more knowledge of what this virus was, I took a lot of peace of mind and I think it was the best thing to do. This decision also gave me more time to continue to get to know my new coach and adapt to the changes that being in another country entailed."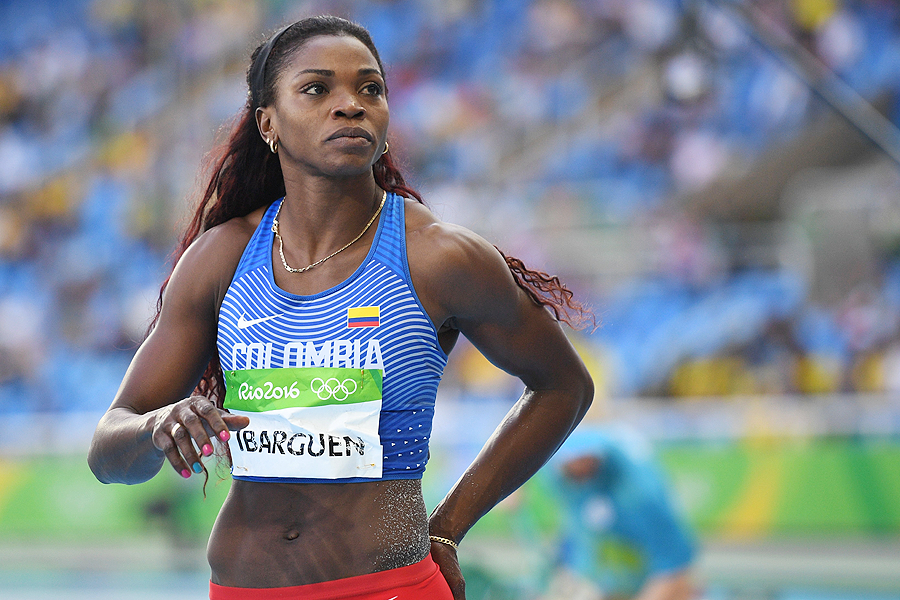 Caterine Ibarguen at the Rio 2016 Olympic Games (© AFP/Getty Images)
In order to further bed down a greater understanding with her new coach, last year she opted to compete in a couple of international long jump competitions, highlighted by a solid 6.61m effort in Stockholm to place second.
Restarting her training for the rescheduled Tokyo Olympics in October, she has since made good progress.
The day-to-day preparation at her training base in Setubal has not been unduly impacted by the global pandemic and she hopes to resume competition in April or May.
Taking on the challenge of Venezuela's 2017 and 2019 world champion Rojas – a woman she describes as 'the new icon for women's triple jump' – is an exciting prospect.
Nonetheless, despite Rojas' formidable presence, Ibarguen believes she can make a big impact in 2021 – some 22 years after making her international debut as a high jumper at the World U18 Championships in Bydgoszcz.
"I still think I can produce a great performance at the next Olympics," she explains. "My goals and ambitions burn as brightly as they did when I made my Olympic debut at the Athens Games. My aims are to be in top condition, so I can continue to enjoy this beautiful sport and close with a beautiful Olympic medal."
But now aged 37 in an event which is hugely demanding on the body, what is the secret of her remarkable longevity?
"I don't know whether to call it a secret or fortune, I consider it is based on my training," she says. "Each coach I have worked with has made a great contribution with my training which reflects in my performances today. But my passion, love and respect I have for the sport, which is reflected in my discipline and perseverance, has also been very important."
Steve Landells for World Athletics