US pole vaulter Chris Nilsen (© Getty Images)
Track and field was only ever meant to be a way to keep fit for Chris Nilsen when he was a talented and enthusiastic teenage soccer player.
But the US athlete soon found he not only relished his new sport, but he was good at it, too. He also liked the greater responsibility from competing as an individual. And – as a striker – he found his attacking instincts were bringing him success, eventually putting him on a runway to a silver medal at last year's Tokyo Olympic Games. Now his sights are on next month's World Athletics Championships Oregon22 on home soil.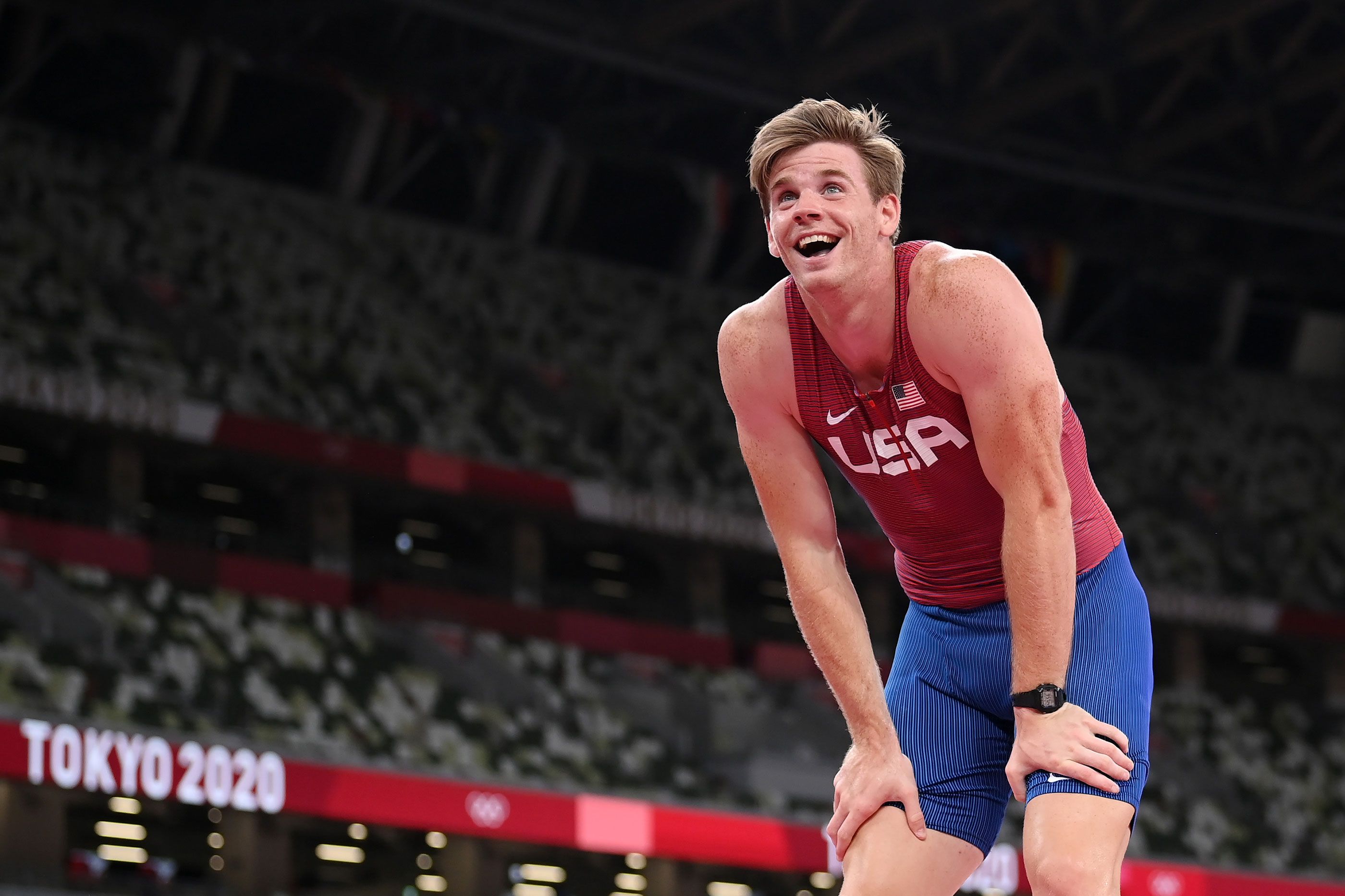 Chris Nilsen at the Tokyo Olympic Games (© Getty Images)
"I've been a soccer player or football player, as it's known in Europe, since I was four years old," says the always affable Nilsen. "When I was a soccer player I played forward or a striker, I was very rarely in defence.
"When I was freshman year of high school, around 14 years old, they told me I needed to do something in the off season. I could do off season soccer training – which I was told was the worst – or I could go and do golf, tennis, track and field.
"When I was 12 or 13, I had seen other kids doing pole vault and I said, 'that looks super fun'. And also seeing my eighth-grade English teacher out there as the coach (Stephanie Yen), it seemed like the most comfortable place to go and the one I would have the most fun with.
"I went out there every day or so, quite sparingly, not quite into it. Pole vaulted like 10 feet (3.05m) in my freshman year, in my sophomore year (age 15-16) something like 3.70m. In my junior year, I started going to a private coach, his name was Rick Attig, he coached people like Scott Huffman (1996 Olympian) and Jeff Hartwig (1999 world indoor silver medallist) back in the day.
"So, I was jumping 5.25m by the end of my third year in high school. That's when I ended up getting a call from my university coach, my current coach Derek Miles, bronze medallist in the Olympics in 2008."
Along with his burgeoning ability in the pole vault, Nilsen found the accountability that athletics offered appealing. "I realised I was increasing in skill and technique at a much faster rate than what I was in soccer," he says.
"Plus, in soccer, you have to be good, you need a great connection and trust with your teammates and the team overall has to be good. I like the idea of putting the entire weight of my success on my own back. Not necessarily because I didn't have trust in my teammates, but I didn't want to have to rely on someone else for my success.
"I wanted to do it for myself, and track and field being an extremely individual sport, that seemed like the way to go."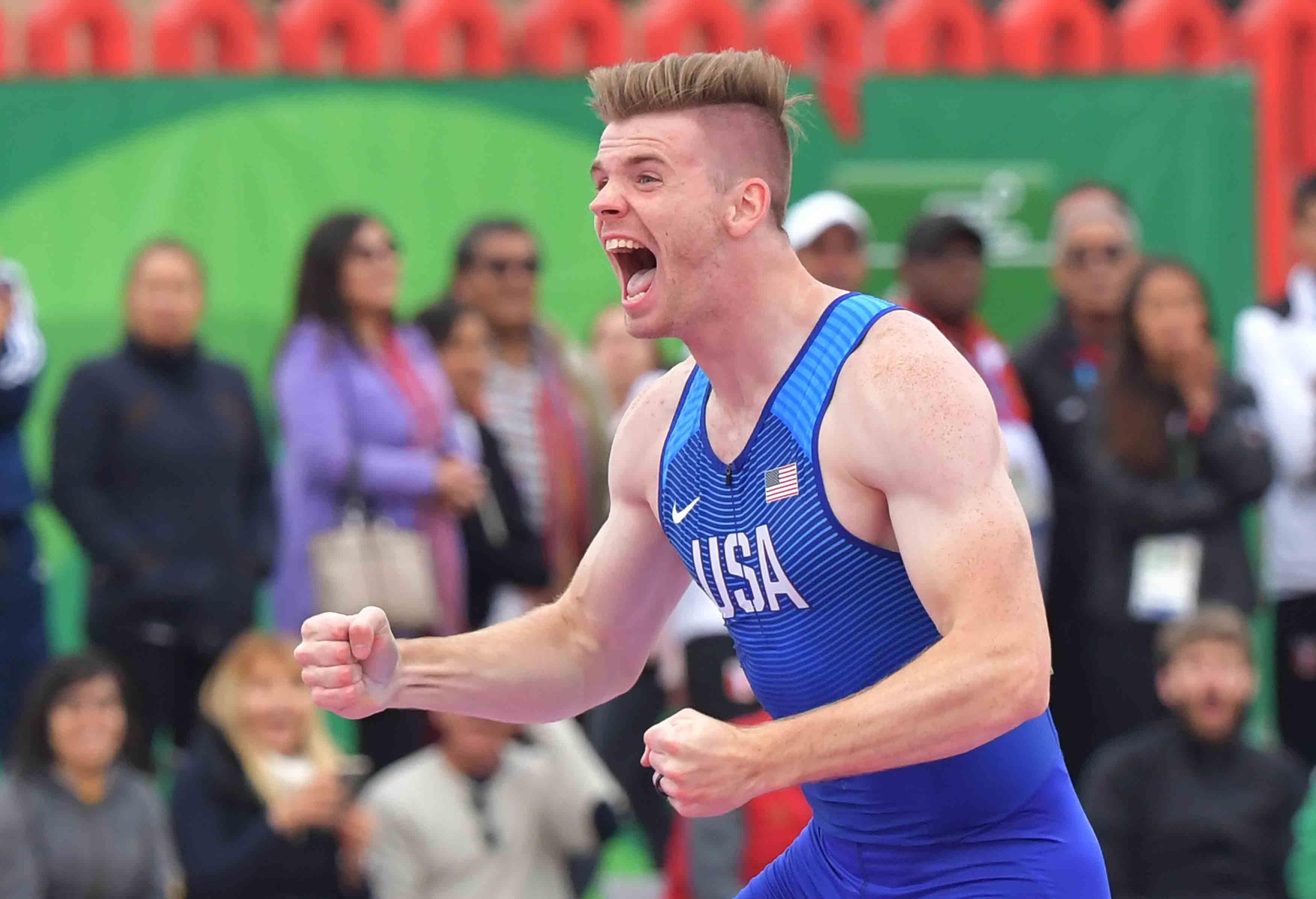 Chris Nilsen after winning the 2019 Pan American Games pole vault title (© AFP/Getty Images)
Football remains something he still gets a kick out of. "Sam Kendricks (USA teammate and two-time world champion) is notorious for bringing a soccer ball to track meets, so that becomes our warm-up," Nilsen explains.
"If we go to the same meets, we'll end up kicking a soccer ball out on the field and have a good time. It's a way to get your mind off what you need to be doing."
And since last year, it is his athletics career that has really kicked on. During his first season on the international circuit, 2021 culminated in a brilliant silver medal in Tokyo with 5.97m.
The 24-year-old has consolidated his place as a world class athlete this year, by winning bronze in the World Indoor Championships in Belgrade, Serbia. Plus he has cleared six metres for the first time - a significant marker for any ambitious male pole vaulter.
In the indoor season, he twice broke the North American record, setting the current indoor best in Rouen, France, with 6.05m in March. Then outdoors, he cleared 6.00m in Sioux Falls, USA, in May.
"It's a cliche to say, but if I'd talked to myself 18 months ago and said 'you've achieved this, this and this', I wouldn't have believed it at all," admits the modest Nilsen. "My coach was an Olympic medallist. I've been watching professional track and field years before I broke into the professional world.
"Especially for Americans, you have to beat out every single American just to get top three at the trials just to make the championships. Then you have to beat everyone in the prelims just to get a shot at the top 12 for the final. And then you have to be top three – not only in the world – but on the day.
"That seemed like such an impossible feat, unless you are someone like Mondo Duplantis, Sergey Bubka or Renaud Lavillenie – anyone who is consistently so good.
"It seemed like a really hard thing to get top three, but it also seemed really hard to remain top three. You could be a six-metre jumper in February and not a six-metre jumper in July. It's such a span of time and so much can happen in the range of those few months.
"So, when we figured out what was working really well for me last year, we capitalised on that and kept grinding away on what we thought was going to be good. It ended up working out. That was about having a great coaching system. Derek (Miles) being such a relatable and compassionate coach and pushing me in a straight path in such a good way."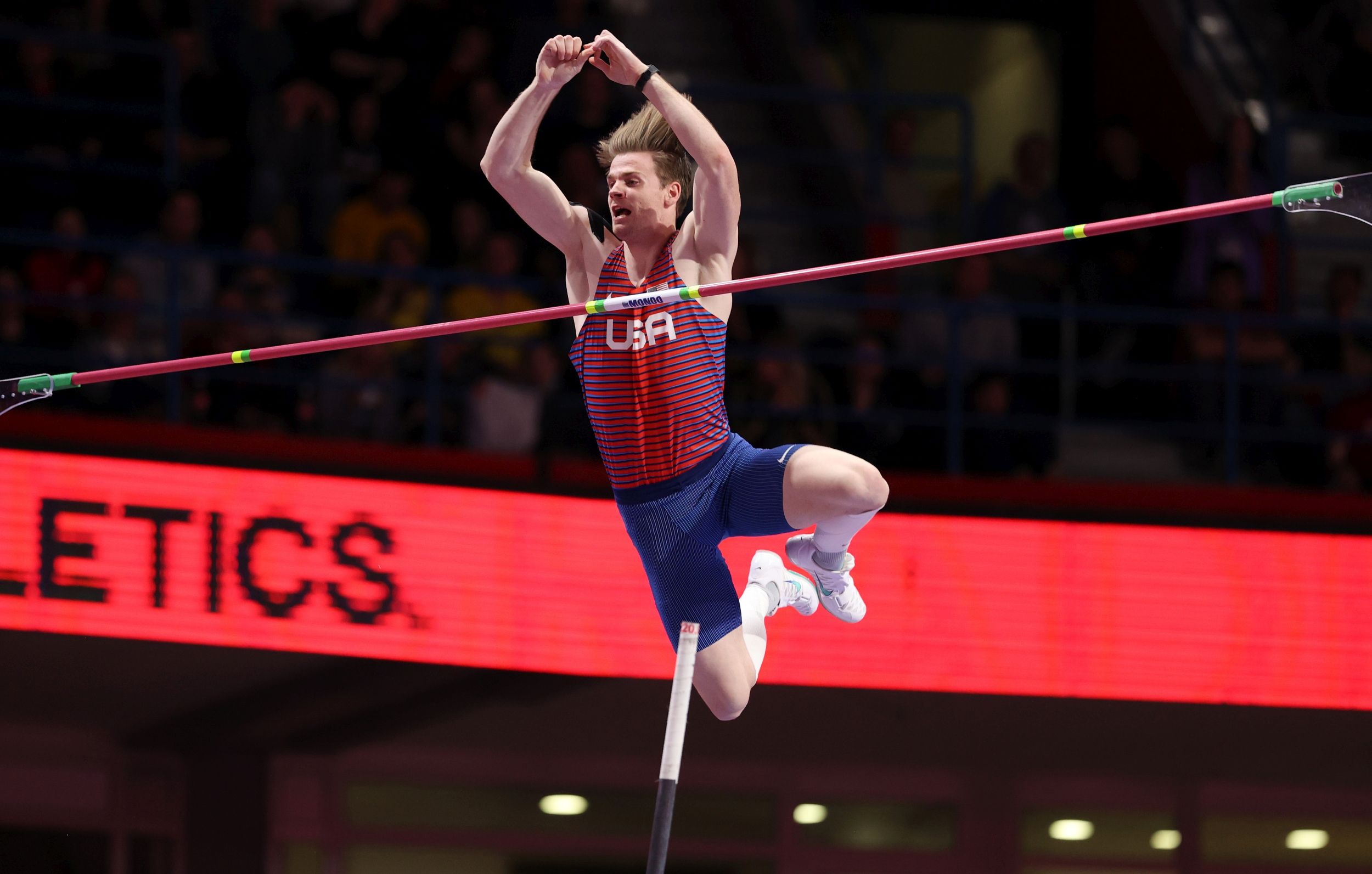 Chris Nilsen in action in Belgrade (© Getty Images)
He also puts his success down to his ease in the oft-spoken camaraderie enjoyed between pole vaulters on the international circuit. "I think people take for granted the pole vault community being close knit.
"Whether you're at a desk job or at the track for a meet, it makes everything so much easier and so much fun to be around. If you're at a family function and you've got an aunt or a cousin you don't like, the family function is completely ruined.
"So, when you get to work and you like who you jump with, it makes it so much more rewarding than anything else you could possibly do. So, a positive environment and a lot of work on stuff we knew was going well for me ended up turning the last 18 months into something that was more than a dream."
As a keen student of pole vault history and heritage, Nilsen is also highly conscious of the significance of the current era and in particular, the incredible deeds of Olympic champion and world record-holder Mondo Duplantis of Sweden.
"It's a double-edged sword," he smiles. "In my specific position you get to see one of the great generational athletes. He's a once-in-a-generation athlete. It's kind of a passing of the torch. You had Sergey Bubka who was so, so dominant for so many years and you had Renaud Lavillenie and he was dominant for the last decade and he passed the torch to Mondo.
"At all times there is going to be one of those guys who has the torch passed to them and is doing incredible human feats than denies the laws of physics. Mondo happens to be that guy.
"The double-edged sword is that I get a front row seat to watch it, but it sucks because I lose to him. But, he is such a cool guy. He's very relatable and just a good friend. Along with being a good pole vaulter, he is a good human being.
"He has great intentions for his friends and he loves to include everyone in what he is doing. He has never given a negative comment to anybody. It's cool. I'd like to be him!
"But I wouldn't be in the sport if I didn't want to win. I am never going to go into a meet and compete for second place. As much as many people like to think that might be the case - every one of us is trying to compete for first place, but he (Mondo) jumps just so dang high.
"It's hard to beat that consistency and that greatness that is Mondo, but at the same time it's cool to be part of his journey and cool to have him be a part of mine."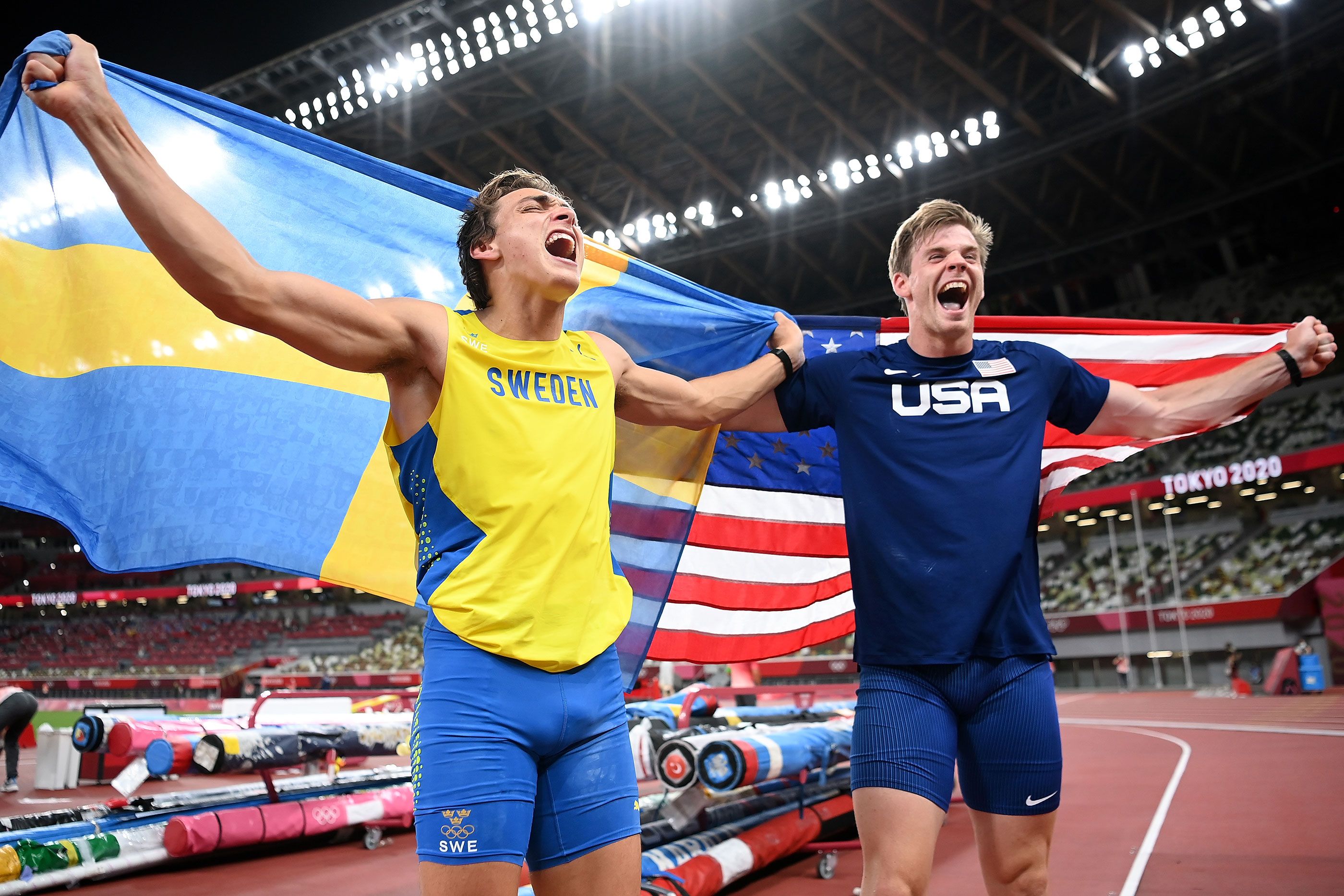 Champion Mondo Duplantis and silver medallist Chris Nilsen celebrate their success at the Olympics in Tokyo (© Getty Images)
Nilsen is hopeful of being part of more historic moments this summer when the World Athletics Championships are held in the USA for the first time in Eugene, Oregon. It's a prospect that excites Nilsen.
"All of us were in Belgrade for the World Indoor Championships in Serbia. And every single time Spanovic (now Ivana Vuleta) jumped, and before they even had the marker down, the whole crowd was losing their minds because this woman had jumped in the sand," he says of the Serbian athlete competing in front of a rapturous home crowd in March.
"So, in a bigger stadium, in a city that is known for loving track and field in Eugene, Oregon - to have an American do anything well, the crowd is going to go crazy.
"You live for those moments. You have people supporting you not because they know you, but they want something to love and something to support."
Assuming he makes it through the notoriously challenging trials, the likeable US athlete can be sure to enjoy soccer-style backing from a passionate home support this summer.
Chris Broadbent for World Athletics