Nigerian sprinter Favour Ofili (© Dan Vernon)
The first time Favour Ofili had an inkling she could make a name for herself in athletics was when she made her first national team in 2018.
Just a couple of years prior, she was just a high school student in Delta State, southern Nigeria, with nothing to her name except a firm belief in her talent, ignited in her by her high school coach, Anne Otutu.
Ofili, who is still a teenager, is now rewriting the history books and breaking records.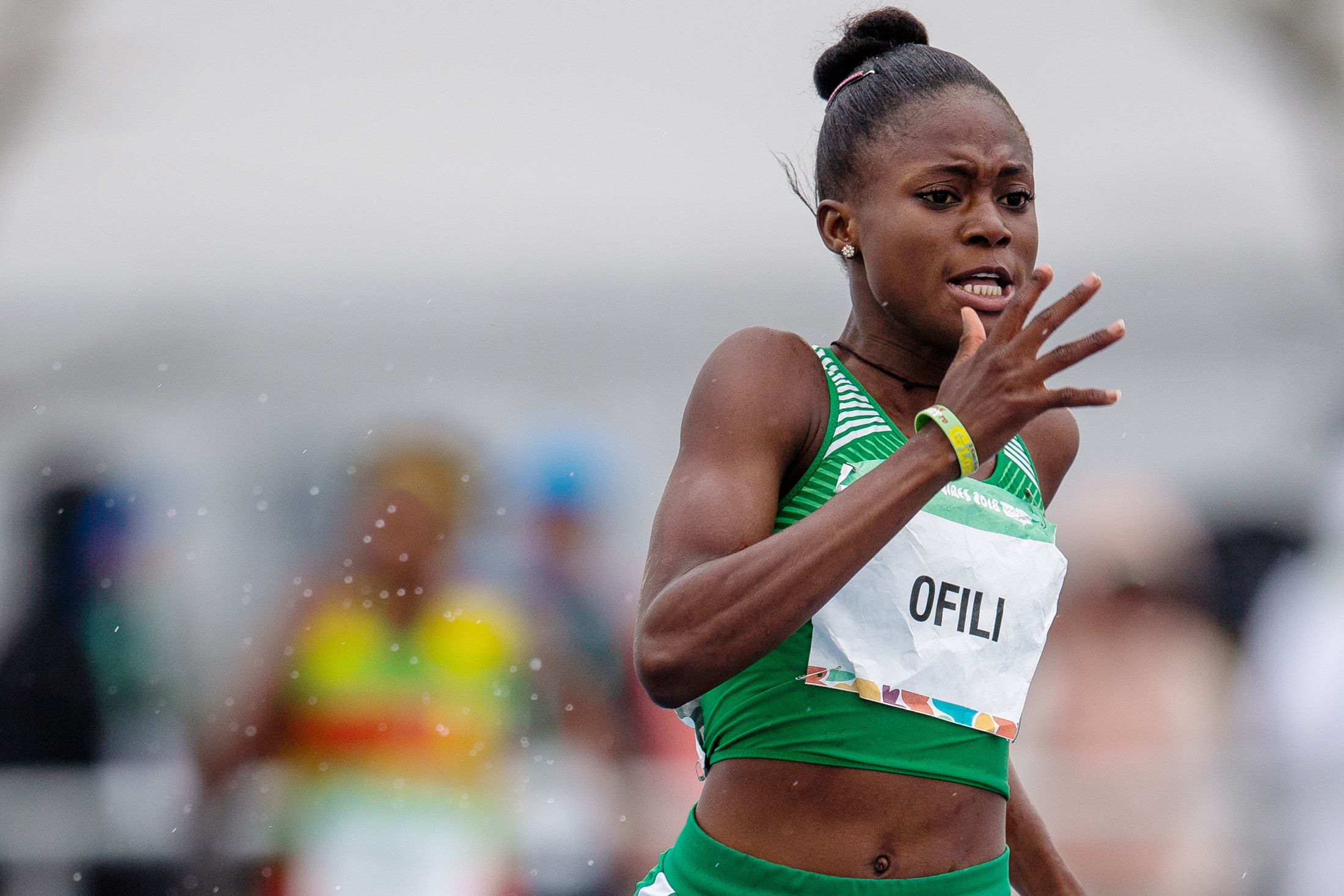 Favour Ofili in action at the 2018 Youth Olympic Games (© Lukas Schulze for OIS/IOC)

In 2019 she came close to breaking the Nigerian U18 400m best, clocking 51.51 on her way to advancing to the semifinals at the World Championships in Doha. Just a few months after starting her sports administration major at Louisiana State University (LSU), she set an African indoor 200m record of 22.75 and established herself as one of the leading sprinters on the US collegiate circuit.
It's little wonder she has been nicknamed 'Star Girl' by followers of the sport in her home country.
At the end of last month, Ofili stormed to her first legal sub-11-second run in the 100m, racing to a lifetime best of 10.93 (2.0m/s) in Baton Rouge. It puts her third on the Nigerian all-time list, fifth on the African all-time list and fourth on this year's world list.
Earlier in the month, Ofili had registered PBs of 11.11 and 11.00, followed by a wind-assisted 10.90 (4.2m/s). And in Gainesville on 15 April she stormed to a national record of 21.96 over 200m, becoming the first collegiate athlete in history to break 22 seconds in the discipline.
Ofili refuses to get caught up in the excitement of her feats, though.
"Since my Nigerian record, nothing has really changed; nothing special has changed," she said. "I am trying to keep my head down and not allow whatever is happening online (the buzz) get to my head. I am just happy and grateful to God for making me the first Nigerian woman to do it (sub-22).
"When I ran and I saw the time, 21.96, I was like 'Oh, okay'," she explained in an interview with lsusports.net. "It was an expectation that was meant to happen because of hard work. If it (21.96) came now, that means there are still more things that are coming for me when it comes to the 200m. All these things I have achieved now are nothing. People have done it before; I'm not the first person to do it."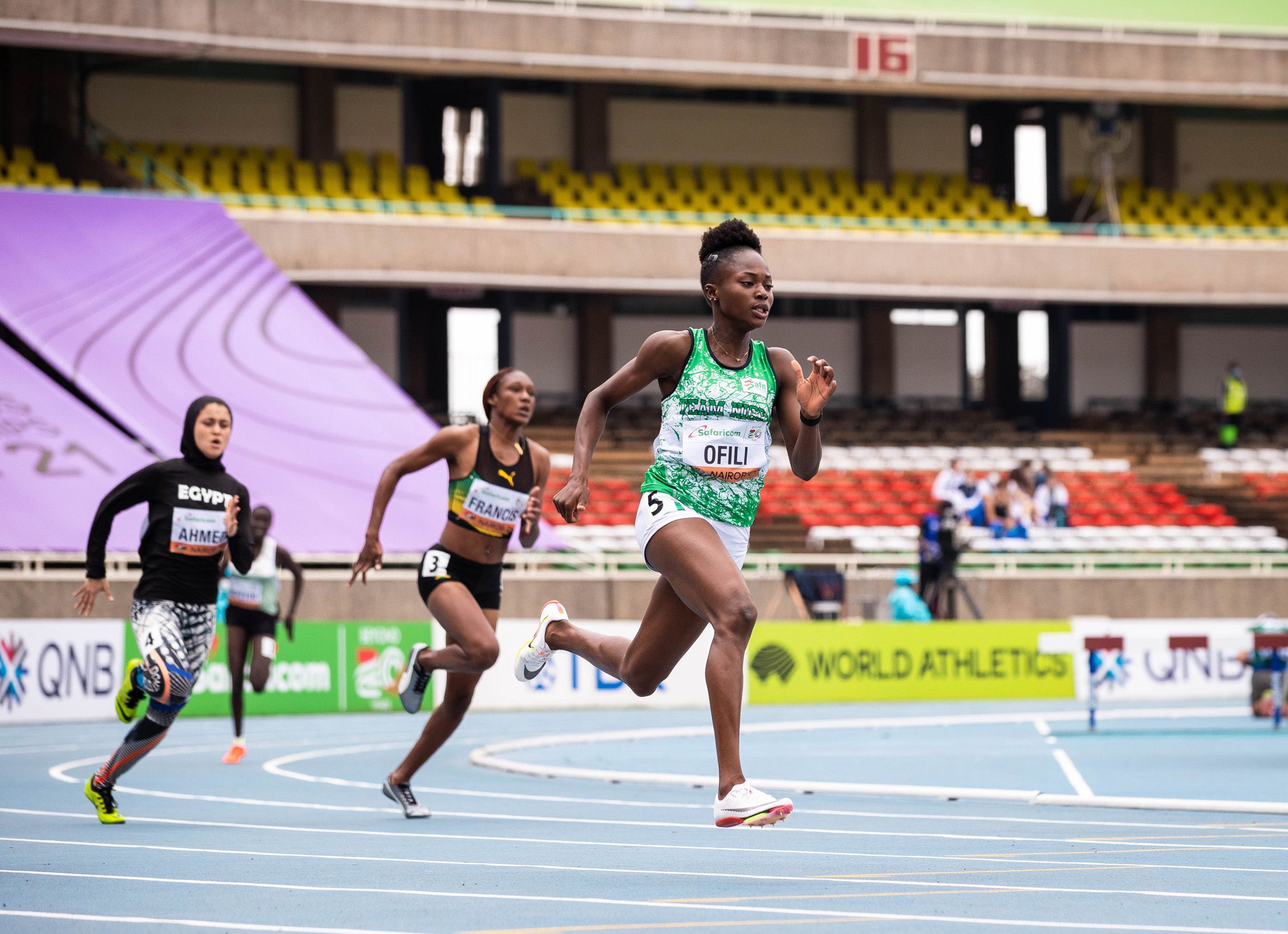 Favour Ofili in the 200m at the World Athletics U20 Championships Nairobi 21 (© Dan Vernon)

During her early years in the sport, Ofili started out in the 400m. She won the girls' 400m title at the 2017 National Youth Games, and then made her international debut at the 2018 African Youth Games in Algiers where she won the 400m in 53.57.
She went on to compete at the Youth Olympic Games in Buenos Aires, finishing 10th overall, and then enjoyed a breakthrough year in 2019, starting at the African U18 Championships in Abidjan where she won the 200m and 400m in PBs of 23.38 and 52.28. She was later named the most outstanding female athlete of the championships.
Ofili contested both events at the senior Nigerian Championships later in the year, winning the 200m in 23.32 (-1.6m/s) and placing second in the 400m in a PB of 51.90. The latter performance earned Ofili a spot on the team for the African Games in Rabat, where she went on to claim 400m silver in another PB, 51.68, before anchoring Nigeria to gold in the 4x400m.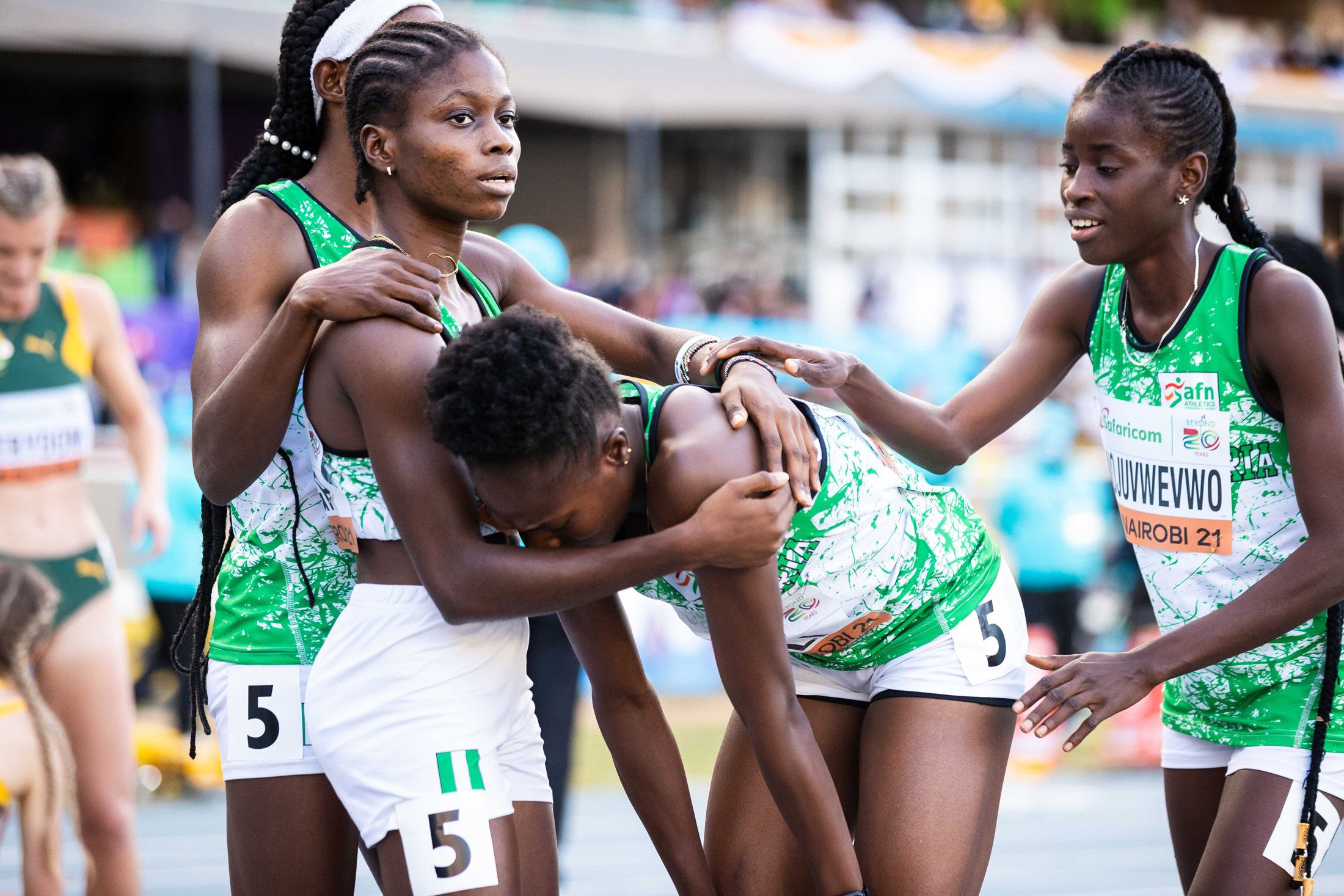 Nigeria's victorious 4x400m team at the World Athletics U20 Championships Nairobi 21 (© Dan Vernon)

But it was when she secured an athletics scholarship to LSU in 2020 that her career really started to take off.
"I had always believed that with God everything thing is possible, and that I will be great in track and break records," she says. "But I knew that everything was going to start falling into place when I decided to come to the States. I knew that was the starting point."
In her freshman (first) year, Ofili won the 200m at the SEC Indoor Championships in 22.75 and reached the final at the NCAA Indoor Championships. She narrowly missed a podium place at the outdoor NCAA Championships, placing fourth in 22.45. Earlier in the season, she reduced her 400m PB to 51.49.
Ofili was looking forward to making her Olympic debut in Tokyo but she was among 10 Nigerian athletes who were barred from competing at the Games as the Nigerian Athletics Federation had not met its target of out-of-competition tests for its athletes.
But Ofili soon brushed aside that disappointment and channelled her energy into the World Athletics U20 Championships Nairobi 21.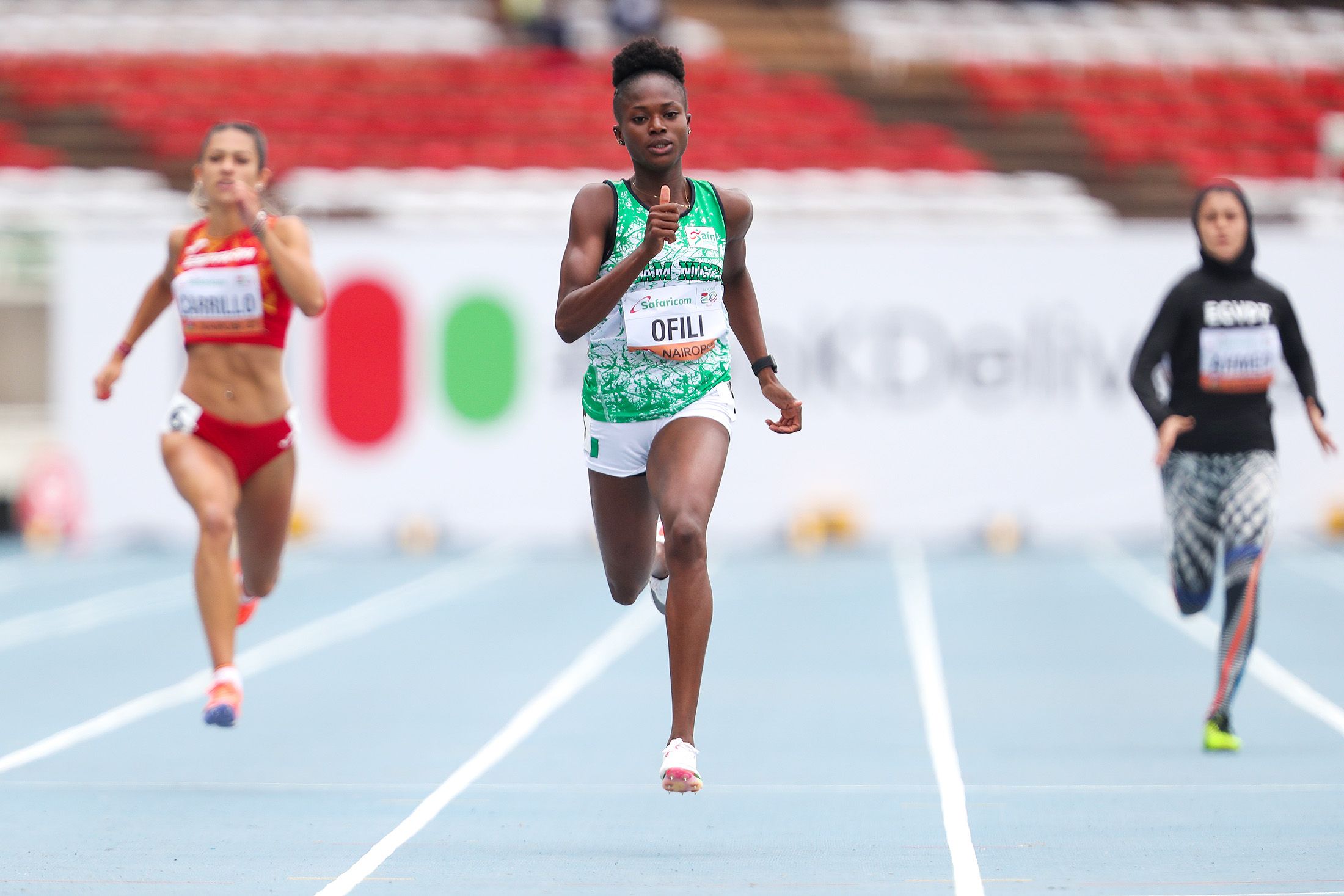 Favour Ofili in the 200m at the World Athletics U20 Championships Nairobi 21 (© Roger Sedres)

She dominated her 200m heat (22.74) and semifinal (22.37) and then earned bronze in the final in a lifetime best of 22.23, finishing behind Olympic silver medallist Christine Mboma and Olympic finalist Beatrice Masilingi of Namibia.
One day after the 200m final, Ofili took bronze in the 4x100m and gold in the 4x400m, anchoring Nigeria to a world U20 lead of 3:31.46, just 0.62 shy of the African U20 record.
"The World U20 Championships was a miracle competition for me," she says. "Going into the competition, I was not physically or mentally okay because of what happened with my place on the Olympic team. I went to Nairobi to have fun and, to my greatest surprise, it turned out to be great. I learned a lot from that competition and it helped changed my mind-set."
As the owner of sub-11, sub-22 and sub-52 PBs for 100m, 200m and 400m, Ofili has already displayed remarkable range for a sprinter so young. For now, though, she doesn't want to specialise in one discipline, nor does she want to compare herself to other versatile sprinters such as Allyson Felix and Shericka Jackson.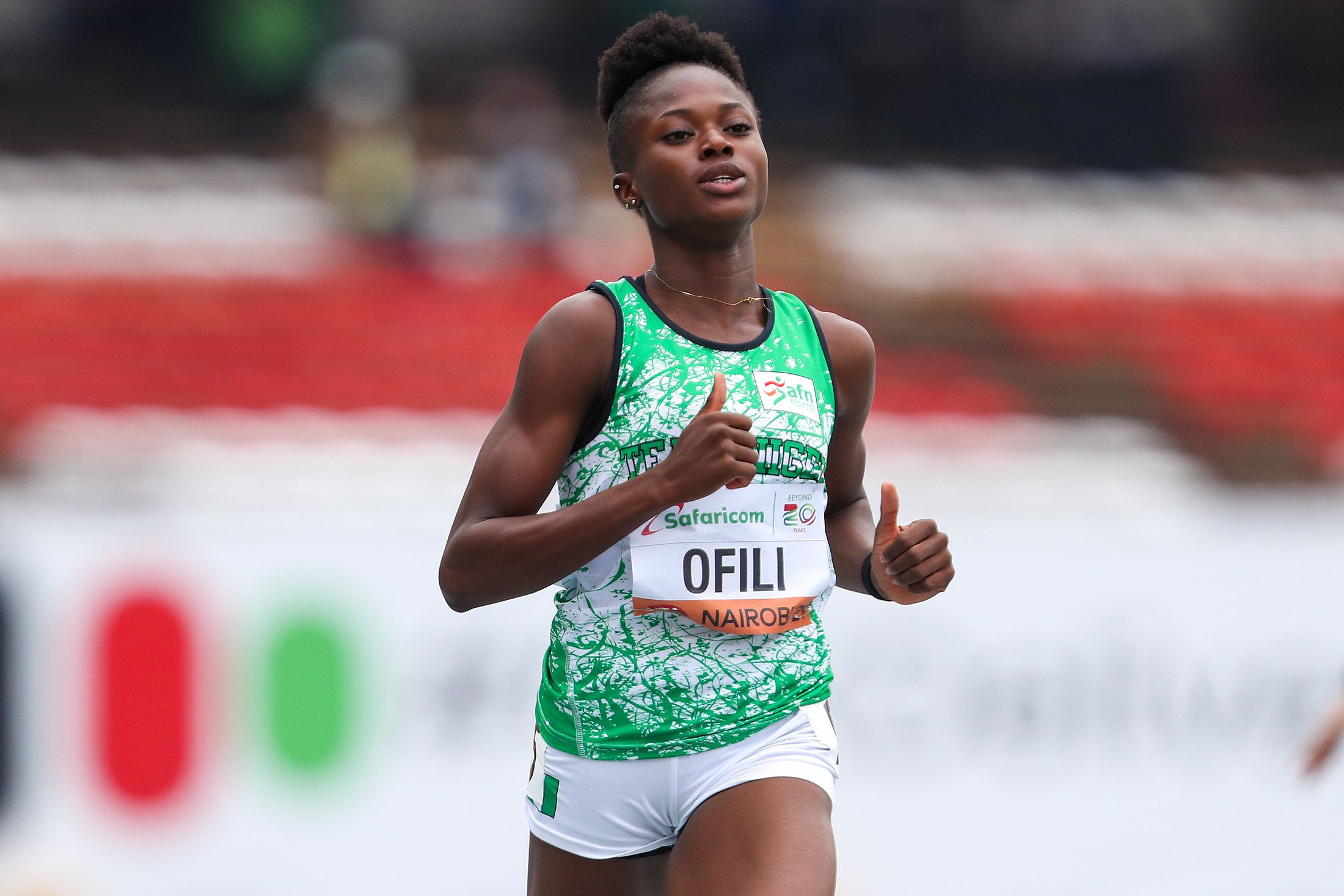 Nigerian sprinter Favour Ofili (© Roger Sedres)

"For now I don't have a permanent event," she says. "I see myself achieving the speed for the shorter sprint events because that's what we (my coach and I) started focusing on from the indoors so we just have to maintain it and keep it going.
"Allyson Felix is someone most athletes look up to because she is the most decorated US track and field Olympian," added Ofili. "But I don't see myself as 'the next' anyone; I see myself as me, Favour Chukwuka Ofili, who is coming up with the grace of God in my life. It's another motivation for me."
As the World Athletics Championships Oregon22 beckons, Ofili is excited at the prospect of returning to Hayward Field. When she competed there last year at the NCAA Championships, she finished just 0.03 shy of a medal.
"The track felt good when I competed there last year," she said. "It will be a great honour to compete there again for the World Championships."
She has even bigger goals in the long term, and feels she has only just scratched the surface.
"As I get deeper into this track and field career of mine, I just want to keep my head down, focus on my studies which brought me here to the States and stay healthy," she says. "If you are healthy, you can really do anything."
Yemi Olus for World Athletics