Eliud Kipchoge (© Getty Images)
Kenya's world record-holders Eliud Kipchoge and Brigid Kosgei will face a tough test when the 2022 calendar of World Athletics Elite Platinum Label road races kicks off with the Tokyo Marathon on Sunday (6).
Kipchoge is one of seven sub-2:05 men in action, while the same number of athletes have PBs under 2:21 in the women's field, and they will all be looking for a strong start to their racing year in Japan's capital.
The pandemic prevented the race from taking place in 2021, but Kipchoge and Kosgei did both compete over 26.2 miles in Japan last year, claiming gold and silver medals respectively at the Olympic Games in August. Now they are preparing to make their Tokyo Marathon debuts, but they won't have things all their own way.
Kipchoge has won 13 of the 15 marathon races he has contested so far and two of those came in 2021. First was victory in Enschede, where he ran 2:04:30, and next was the Olympic Games, where he retained a title he had first claimed in Rio five years earlier.
It will be the 37-year-old's third time racing in Japan – his first being at the 2007 World Championships in Osaka, where he claimed 5000m silver – as he works towards his aim of winning each of the four Abbott World Marathon Majors. He has already won London four times, Berlin three times and Chicago once, which leaves Tokyo, Boston and New York City.
"It will be different (to the Olympic Games) because it will be colder, but it has not changed my training," Kipchoge, who set his world record of 2:01:39 in Berlin in 2018, told his NN Running Team. "I'm preparing like I am for any other race, and I think I'm on the right track."
When it comes to time targets, Kipchoge hasn't stated a specific aim for Sunday and wrote 'ST:RO:NG' instead of numbers on his prediction card at the pre-event press conference.
Although a dominant force, he is not unbeatable, and among those looking to deny Kipchoge another victory will be Ethiopia's Shura Kitata, who won the 2020 London Marathon when Kipchoge placed eighth. There's also world silver medallist Mosinet Geremew, who sits fourth on the world marathon all-time list with the 2:02:55 he ran in London in 2019, and Kenya's Amos Kipruto, who won world bronze in 2019 and has a best of 2:03:30 from 2020.
The challenge doesn't end there. Also in the sub-2:05 club are Ethiopia's Olympic and world medallist Tamirat Tola, who claimed 10,000m bronze in Rio in 2016 and marathon silver in London in 2017, plus Kenya's Jonathan Korir and Japanese record-holder Kengo Suzuki, who ran 2:04:56 to win the Lake Biwa Marathon last year.
Kosgei will also have to hold off some strong opposition if she is to claim her fifth major marathon win. The 28-year-old set her world record of 2:14:04 at the 2019 Chicago Marathon and went on to win the London Marathon for the second time the following year, but at the Tokyo Olympics she was beaten to the title by her compatriot Peres Jepchirchir and she finished fourth in London just two months later.
"My goal this time is a secret," she said at the pre-event press conference. "I've been training hard and everything is going well, so I want to do my best on Sunday. I would definitely like to break the event record."
The women's race record stands at 2:17:45, set by Lonah Chemtai Salpeter in 2020, while the men's mark is 2:03:58.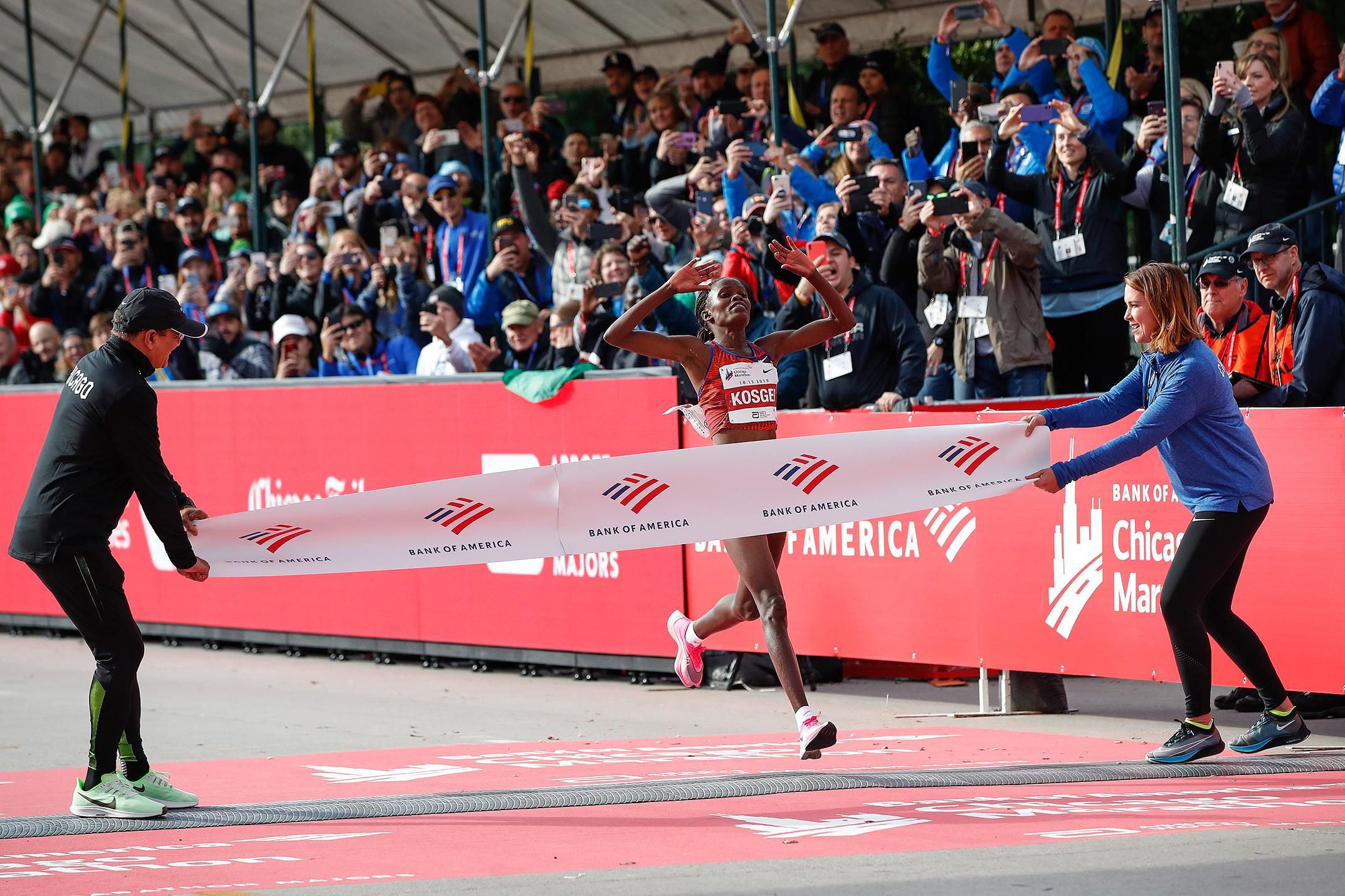 In Tokyo this time her biggest challenge could come from her fellow Kenyan Angela Tanui, who won last year's Amsterdam Marathon in 2:17:57, a time that places her 10th on the world all-time list, or Ethiopia's Gotytom Gebreslase, who won the Berlin Marathon last year on her debut at the distance. Since her 2:20:09 to win in Berlin – the sixth-fastest ever women's marathon debut – Gebreslase has improved her half marathon best to 1:05:36 in Bahrain and the 27-year-old is looking to make another statement in Tokyo.
Hiwot Gebrekidan was second behind her compatriot in Berlin last year and has a PB of 2:19:35, while their fellow Ethiopian Ashete Bekere has a sub-2:19 clocking to her credit having recorded 2:18:18 when finishing third at last year's London Marathon.
They will be joined on the start line by Japan's Mao Ichiyama, who clocked 2:20:29 in Nagoya in 2020, and Hitomi Niiya, who won the first Tokyo Marathon in 2007.
The USA's 2020 London Marathon runner-up Sara Hall will be looking to build on her PB of 2:20:32 set in Arizona that same year, following her 1:07:15 US half marathon record in Houston in January, while Ethiopia's Helen Bekele will be battling to go one better than her second place finish in the 2019 Tokyo Marathon.
Coverage of the event is set to be shown in 160 countries and territories, while fans can also follow the action on the live leaderboard. The elite marathon starts at 09:10 local time on Sunday.
Jess Whittington for World Athletics