Keira D'Amato breaks the US record at the 50th Chevron Houston Marathon (© Kevin Morris)
Keira D'Amato broke the long-standing US women's marathon record, while Kenya's Vicoty Chepngeno set a North American all-comers' half marathon record to move to 11th on the world all-time list and Sara Hall broke the US half marathon record on a busy morning of road race action in Houston on Sunday (16).
At the 50th Chevron Houston Marathon and Aramco Houston Half Marathon – both World Athletics Elite Label events – D'Amato became the first US woman to win the Houston Marathon since 2005 and she did so in a national record time of 2:19:12. That followed the record-breaking performances achieved by Chepngeno and Hall in the half marathon, as they clocked respective times of 1:05:03 and 1:07:15.
On a cold and sunny day, the men's races were won by Kenya's James Ngandu, who ran 2:11:03 to claim victory on his marathon debut, and Ethiopia's Milkesa Mengesha, who took the half marathon title in 1:00:24.


D'Amato dominates
Speaking after her record run, D'Amato described her running career as having been "very unique" but her journey over the past couple of decades has led to some remarkable results.
The 37-year-old stepped away from the sport for seven years between 2009 and 2016 and returned as a "hobby jogger" but went on to set a marathon PB of 2:22:56 and a North American 10-mile record of 51:23 in 2020 before a fourth-place finish in last year's Chicago Marathon and a half marathon PB of 1:07:55 last month. Now she's also the fastest US women's marathon runner in history.
D'Amato always had Deena Kastor's US marathon record of 2:19:36, set in London in 2006, in her sights, and she went out with her two pacemakers on schedule to break it. She went through 5km in 16:25, joined by Ethiopia's three-time Houston Marathon winner Biruktayit Eshetu Degefa, and they remained close through 10km in 32:45 and 15km in 49:14.
Degefa was unable to maintain that speed, however, and was 20 seconds behind D'Amato at half way, when the clock read 1:09:40 as she remained on US record pace. D'Amato slowed a little and reached 30km in 1:39:14 but, running with pacemaker Calum Neff, she managed to pick back up again and eventually crossed the finish line in 2:19:12 for a huge victory, winning by almost 10 minutes ahead of Great Britain's Alice Wright and the USA's Maggie Montoya, who both recorded the same time on their marathon debuts, Wright getting the nod in 2:29:08.
The USA's Roberta Groner was fourth in 2:32:02 and Ethiopia's two-time Chicago Marathon winner Atsede Baysa fifth in 2:32:38.
"I don't think I'm going to be able to find the right words to describe what I'm feeling right now, but I'll try!" said D'Amato after the race. "I've had a very unique running career and my running has evolved throughout my life. I have experienced high school running and college running, I tried post-collegiate running a little bit and got injured. Then I quit running for a while and came in as a hobby jogger, a recreational runner, and somehow I got this second opportunity. It had been wild. I just can't believe I'm sitting here as the American record-holder in the marathon."
Asked what she thought might be possible ahead of the race, she added: "Anything is possible. With the pacers, we went out at American record pace and I really believed in my heart and in my legs, in my soul and in my brain, that I was capable of breaking the American record today. It never really felt that good, but I just tried to hang in there."
In the men's marathon, Ngandu progressed from his ninth and 18th-place finishes in the half marathon in Houston to win the marathon on his debut at the distance.
He later admitted that being part of a large group until the closing stages had made him nervous, but he stuck to his plan of kicking over the final kilometre and it paid off.
Ngandu, who previously ran for Tiffin University in Ohio, was part of an eight-strong group, led by the USA's Frank Lara, that went through half way in 1:05:29, and that pack remained through 30km in 1:33:57.
He made a move after 41km and crossed the finish line in 2:11:03 to win by seven seconds ahead of Bahrain's Abdi Abdo. Kenya's Elisha Barno claimed third place in 2:11:16, with Japan's Kenta Uchida two seconds back and Ethiopia's defending champion Kelkile Gezahegn a further second behind in fifth. Lara went on to secure sixth in 2:11:32.
"I'm surprised," said Ngandu. "The marathon is not an easy journey but I've been training for 12 weeks and I didn't know that I was going to win.
"It was tough to make a decision (to break away during the race) because I think there was seven of us together and I didn't want to make a move and my body fail on me, so I waited until the last kilometre or so."


All-comers' record for Chepngeno as Hall also makes history
Like D'Amato in the marathon, Chepngeno also had the race of her life to win the women's half marathon. Less than two months after running 1:07:22 in Philadelphia, the 28-year-old improved to 1:05:03 for the fastest ever women's half marathon recorded on North American soil, moving her to 11th on the world all-time list.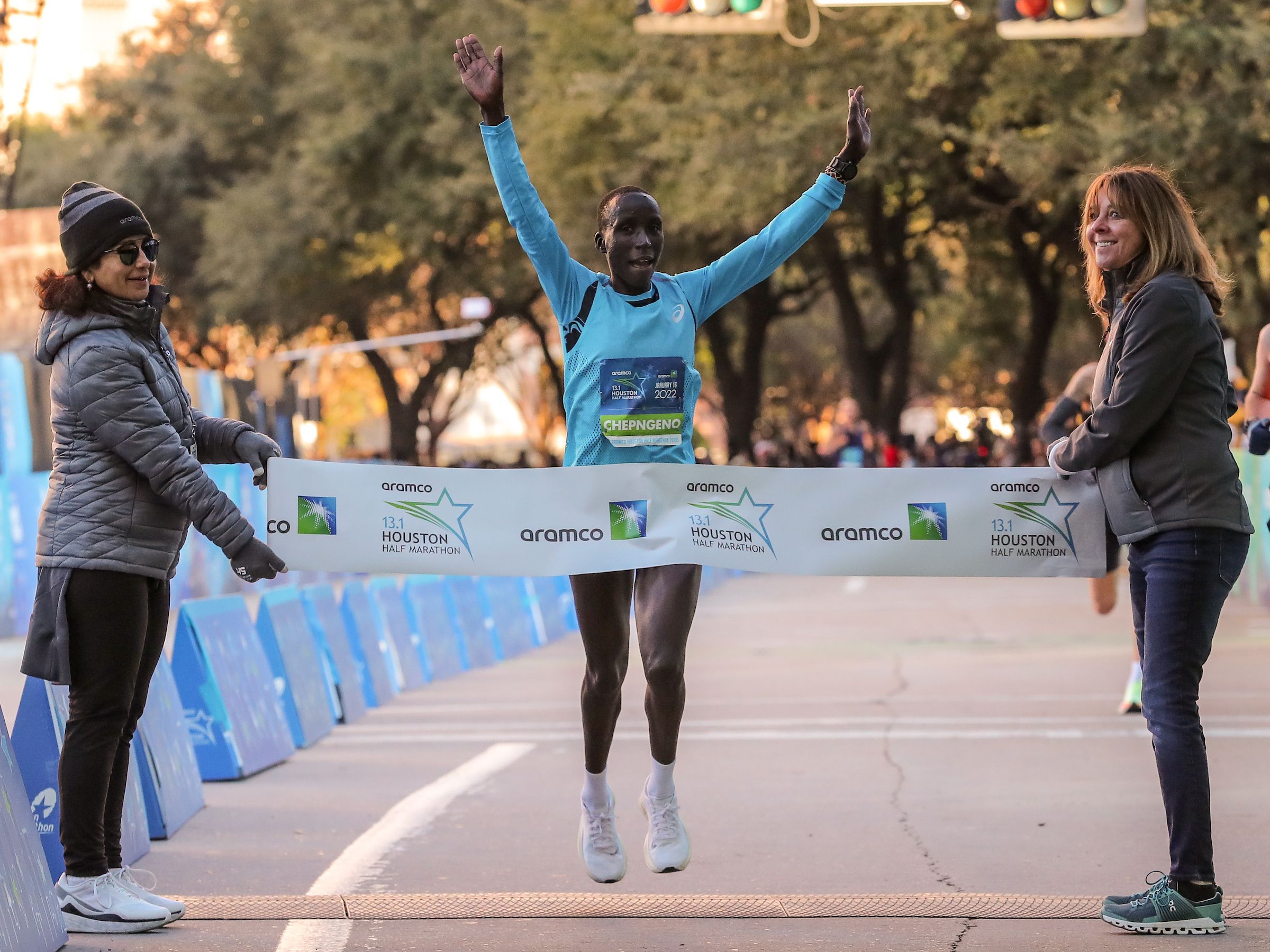 With her performance she improves on the previous North American all-comers' half marathon record of 1:05:50 set by marathon world record-holder Brigid Kosgei on the same course in 2019.
A couple of minutes behind her, Hall also made history as she took 10 seconds off the US record of 1:07:25 which had been set by Molly Huddle on the same course in 2018.
Leading from start to finish, Chepngeno was half a minute ahead of her closest challenger, Caren Maiyo, by the 5km mark, which she crossed in 15:15. Hall was 48 seconds back, running as part of a five-strong group plus pacemakers. Chepngeno had increased her lead to 1:21 by 10km, as she clocked 30:32, and the gap grew to 1:46 by the 15km point, which she crossed in 46:04. At that stage three women were on US record pace, with Hall joined by Fiona O'Keeffe and Emily Durgin, plus South Africa's Dominique Scott, all on 1:07:18 pace.
Chepngeno's advantage grew to two minutes over the next 5km, as she passed 20km in 1:01:45, with Hall having broken away in second to record 1:03:52 at that point. Both athletes held on to make history, with Chepngeno running her all-comers' record of 1:05:30 and Hall breaking the US record with 1:07:15. With her record run, Hall matched the feat achieved by her husband, Ryan Hall, who set the US men's half marathon record of 59:43 on the same course in 2007.
Scott finished third, improving her PB to 1:07:32, while O'Keeffe finished fourth on her half marathon debut, running 1:07:42. Another debutante, Great Britain's Jess Judd, finished fifth in 1:07:52, meaning she now has PBs ranging from sub-2:00 in the 800m to sub-68 minutes in the half marathon.
"I am so happy about this race," said Chepngeno, who was making her Houston Half Marathon debut and has now won 11 of her past 12 half marathons. "I went with the pace and I felt good because I wanted to run my best time, so I said let me follow the men to push me to run a good time."
Hall, the 2020 London Marathon runner-up and 2021 Chicago Marathon third-place finisher, said: "It's incredible. I'm emotional right now because it's something I have dreamed about doing.
"I thought it would be really special to do it today, with it being 15 years since Ryan set the record here," added the 38-year-old. "That day changed our lives forever. It launched his career and our lives were never the same after that day. Fifteen years later, to be able to do that, it also shows the story of our careers. For him, he just knocked it out of the park from the beginning, and then for me, it has taken 15 years of grinding and persevering to get to this point."
While Chepngeno and Hall both have much half marathon experience, the men's race was won by a relative newcomer, with Mengesha claiming victory in his third half marathon. The 21-year-old, who won the 2019 world U20 cross country title and was 10th in the Olympic 5000m final, moved away from Kenya's John Korir in the closing stages to triumph in 1:00:24, despite struggling with the cold conditions.
A large group went through 10km in 29:04 and 15km in 43:19 before Mengesha and Korir started to break away. They passed the 20km mark in 57:28 and Mengesha went on to gain a two-second advantage to win in 1:00:24, with Wilfred Kimitei finishing third behind his compatriot Korir in 1:00:44. Making his half marathon debut, the USA's Kirubel Erassa finished fourth in the same time. He later said he had been targeting Hall's US record but was pleased with his performance, having had Covid-19 two weeks earlier.
Kenya's Shadrack Kimining Korir, who was third in 2020, this time placed fifth in 1:00:53.
"It was bitingly cold at the beginning and actually I thought that I would not be able to win," said Mengesha. "However, things started getting warmer and more than the weather, the support that we had from the fans was overwhelming, and that's what gave me the energy and push to emerge victorious."
Jess Whittington for World Athletics