Degitu Azimeraw in action in Madrid (© Organisers)
Ethiopia's Degitu Azimeraw and Spain's Mohamed Katir captured commanding wins at the San Silvestre Vallecana, a World Athletics Elite Label road race, in Madrid on 31 December on a perfect night for running.
Azimeraw, contesting her first race since her 2:17:58 runner-up finish at the London Marathon in October, won in 30:26, the third-fastest winning time in the event's history. Katir, meanwhile, won in 27:45, becoming the first Spanish man in 18 years to win in Madrid.
Two-time world 5000m champion Hellen Obiri had been due to compete but she tested positive for Covid-19 and had to pull out on the eve of the race.
The women's race started at a swift pace, the first kilometre being covered in 2:54 by Azimeraw, her fellow Ethiopian Haven Hailu and Kenya's Edinah Jebitok. Israel's Lonah Salpeter and Ethiopia's Ayel Likina were a few strides behind, covering the first kilometre in 3:00.
The pace proved to be too quick for Hailu who lost ground before the third kilometre, covered in 8:46 by the lead group. Azemiraw and Jebitok went through the halfway point in 14:38, the quickest ever split and well on schedule to break the tough course record of 29:54. By then, Haven ran in third 13 seconds behind, Salpeter clocked 15:04 for Likina's 15:11.
Azimeraw kept pushing hard over the following kilometres, possibly fearful of Jebitok's finish, but she finally managed to leave the Kenyan behind just before the eighth kilometre at the beginning of the hardest section of the race.
Azimeraw's cadence dropped significantly in the closing kilometres, missing her chance of breaking 30 minutes, but she still won comfortably in 30:26. Jebitok, recent winner at the Venta de Baños cross country meeting, was second in 30:44 in what was her first ever road race. Further back, the experienced Salpeter finished third in 31:14.
In contrast to the women's race, the opening downhill kilometre in the men's contest was covered in a relatively modest 2:46. It soon became clear that Burundi's Rodrigue Kwizera, the current leader in the World Athletics Cross Country Tour, had no plans to be a front-runner. Instead, Spanish sub-2:09 marathon runners Daniel Mateo and Yago Rojo were the early leaders.
The lead pack continued at a steady 2:45/2:46 kilometre pace to reach 3km in 8:17 and halfway in 13:46. By then the lead group was still large and led by 40-year-old Spaniard Ayad Lamdassem.
Katir progressively moved to the front and shortly after the seventh kilometre (19:17) made a first serious attack which could be matched only by Kwizera while Kenya's Shadrack Koech and Spain's Nassim Hassaous began their own battle for third place.
Once at the uphill section of the race, Katir took command and gradually opened up a gap over Kwizera. By the time Katir crossed the line in 27:45, he had built a 10-second advantage over Kwizera, who in turn was 10 seconds ahead of Hassaous.
"It's great to win such a prestigious race but I'm not at my peak yet," said Katir, the Spanish record-holder at 1500m, 3000m and 5000m. "I'm now loading mileage and hope to be in top form in February when I would like to take part in several World Indoor Tour meets."
Leading results
Women
1 Degitu Azemiraw (ETH) 30:26
2 Edinah Jebitok (KEN) 30:44
3 Lonah Salpeter (ISR) 31:14
4 Ayel Likina (ETH) 31:30
5 Haven Hailu (ETH) 31:42
6 Laura Priego (ESP) 32:59
7 Agueda Muñoz (ESP) 33:00
8 Clara Viñarás (ESP) 33:07
9 Blanca Fernández (ESP) 33:31
10 Laura Méndez (ESP) 33:41
Men
1 Mohamed Katir (ESP) 27:45
2 Rodrigue Kwizera (BDI) 27:55
3 Nassim Hassaous (ESP) 28:05
4 Shadrack Koech (KEN) 28:16
5 Ayad Lamdassem (ESP) 28:19
6 Daniel Mateo (ESP) 28:26
7 Yago Rojo (ESP) 28:27
8 Yohanes Chiappinelli (ITA) 28:29
9 Raúl Celada (ESP) 28:33
10 Abdessadam Oukhefen (ESP) 28:45
Seyaum and Worku secure Ethiopian double in Bolzano
Dawit Seyaum and Tadese Worku claimed an Ethiopian double at the Boclassic, a World Athletics Label road race, on a warm Friday afternoon (31) in Bolzano.
Seyaum beat steeplechase specialist Norah Jeruto in 15:22, the fastest ever winning time in the women's 5km at Bolzano. With Worku's 28:18 victory, meanwhile, it means eight of the past 10 men's races have been won by an Ethiopian.
Jeruto and Seyaum set the early pace and went through the first lap in 3:55 with a one-second lead over Italy's Nadia Battocletti, who was the only runner able to keep up with the lead duo.
Seyaum and Jeruto increased their lead over Battocletti to seven seconds during the second lap and reached the end of that circuit in 7:45. Seyaum finally broke away from her Kenyan rival with 500 metres to go and held on to win in 15:11, breaking the 15:30 course record that was shared by Margaret Kipkemboi Chelimo and the late Agnes Tirop, for whom there was a minute of silence before the race.
Jeruto, who clocked the third fastest time in history in the 3000m steeplechase in Eugene with 8:53.55 last August and won the Diamond League final in Zurich last September, had to settle for second place with 15:24. Battocletti finished third in 15:55, becoming the first Italian woman since 2011 to make the Boclassic podium.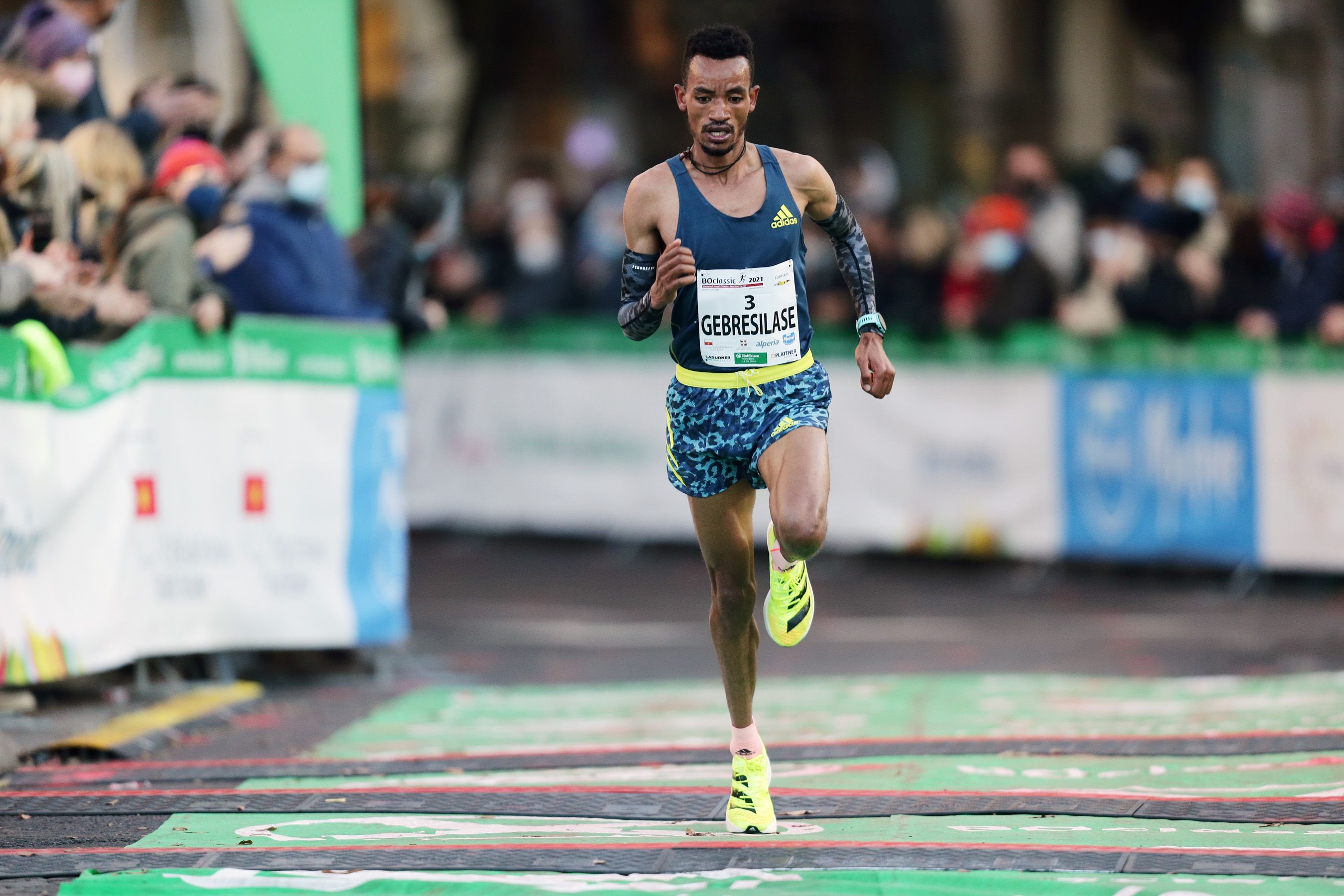 Tadese Worku in action in Bolzano (© Dametto)
Worku and Tamirat Tola took the lead during the second lap of the men's race and went through the second lap in 7:07 with a gap of four seconds over Britain's Thomas Mortimer and Italian twins Osama and Ala Zoghlami.
Worku, the world U20 3000m champion, stepped up his pace and went through the half-way point in 14:11 with a two-second lead over Tola. Worku continued to increase his lead and eventually crossed the finish line in 28:18. Tola, winner of this race in 2015 and 2018, held on for second place in 28:26.
"I was not in my best form, but I am happy with my race," said Worku, who intends to compete in the 10,000m at the World Athletics Championships Oregon22. "I want to return next year to break the course record."
Mortimer finished third in 29:23. 20-year-old Italian middle-distance runner Dario De Caro took fourth place in 29:27, while Spanish marathon record-holder Hamid Ben Daoud completed the top five in 29:32.
After the 2020 edition was moved to an alternative route due to the pandemic, the Boclassic races this year returned to the usual picturesque course through the centre of Bolzano.
Diego Sampaolo for World Athletics
Leading results
Men (10km)
1 Tadese Worku (ETH) 28:18
2 Tamirat Tola (ETH) 28:26
3 Thomas Mortimer (GBR) 29:23
4 Dario De Caro (ITA) 29:27
5 Hamid Ben Daoud (ESP) 29:32
Women (5km)
1 Dawit Seyaum (ETH) 15:22
2 Norah Jeruto (KEN) 15:24
3 Nadia Battocletti (ITA) 15:55
4 Diane Van Es (NED) 16:16
5 Bojana Bjeljac (SLO) 16:17