Judith Korir Jeptum on her way to winning the Paris Marathon (© AFP / Getty Images)
Judith Korir Jeptum produced the first women's sub-2:20 marathon on French roads when winning at the Schneider Electric Marathon de Paris on Sunday (3). The 27-year-old Kenyan won the World Athletics Elite Label road race in a lifetime best of 2:19:48, while Ethiopia's Deso Gelmisa took the men's race in 2:05:07.
Sharon Chelimo and Marion Kibor, who spearheaded the lead group of seven runners, set out at an aggressive pace from the outset in sunny but cold conditions. They covered the first 10km in 32:23, suggesting a finishing time inside 2:17 – well under the course record of 2:20:55 set by Purity Rionoripo in 2017. The rhythm slowly faded over the next kilometres, though, as the pack reached half way in 1:08:31.
Five kilometres later, Keptum moved up a gear and broke up the lead group. By 30km, reached in 1:37:44, she had built a one-minute gap over the rest of the field. Although her pace slowed in the waning stages, she reached the tape in 2:19:48, taking almost three minutes off her PB and more than a minute off the course record.
"The cold weather made the race hard," said Jeptum, who set a half marathon PB of 1:05:28 earlier this year. "But I tried to do my best and to push hard."
Fantu Jimma crossed the line 3:04 behind the winner in a PB of 2:22:52 as Besu Sado rounded the podium in 2:23:16.
The men's contest went down to the wire. 15 runners passed through the 10km checkpoint in 29:45, 15 seconds ahead of a second group of nine runners.
Pacemakers Kirwa Yego and Sila Keptoo set a steady rhythm, followed by France's Morhad Amdouni, who was targeting the national record of 2:06:36.
Soon after reaching 30km in 1:29:28, Gelmisa and fellow Ethiopian Seifu Tura started to kick on. They opened a 50-metre gap over Amdouni who had separated himself from the rest of the field. Gelmisa and Tura clocked a strong 29:13 between 30-40km on the hilliest section of the race.
Following a fierce sprint, Gelmisa prevailed in 2:05:07, nine seconds faster than the PB he had set in Valencia in December where he had finished runner-up. Tura, winner in Chicago in 2021, finished three seconds in arrears in 2:05:10 as Amdouni rounded the podium in a national record of 2:05:22.
Quentin Guillon for World Athletics
Leading results
Women
1 Judith Korir Jeptum (KEN) 2:19:48
2 Fantu Jimma (ETH) 2:22:52
3 Besu Sado (ETH) 2:23:16
4 Adanech Anbesa (ETH) 2:24:07
5 Yenenesh Dinkesa (ETH) 2:24:09
Men
1 Deso Gelmisa (ETH) 2:05:07
2 Seifu Tura (ETH) 2:05:10
3 Morhad Amdouni (FRA) 2:05:22
4 Abayneh Degu (ETH) 2:06:03
5 Olika Adugna (ETH) 2:06:27
Kipkemboi and Teklu confirm supremacy in Barcelona
Kenya's Margaret Chelimo Kipkemboi (1:05:26) and Ethiopia's Haftu Teklu (59:06) were victorious at the Edreams Mitja Marató Barcelona, a World Athletics Elite Label race, on Sunday (3) on an ideal morning for distance running.
World 5000m silver medallist Kipkemboi was making her debut at the 13.1-mile distance while Teklu successfully defended his title and bettered the course record by 33 seconds.
Spain's Alejandro Rodríguez set the early pace for the elite women and he set off at a moderate 3:07-3:08/km pace for the opening uphill kilometres. The first 5km was covered in 15:39 with just Kipkemboi and Ethiopian duo Gete Alemayehu and Ayanech Awoke matching the pacemaker, while Ethiopia's Rediet Molla was further behind (16:00).
The tempo heated up over the second 5km section which only took 15:19 for a 30:58 10km split; by then Awoke had begun to lose ground and only Kiplemboi and Alemayehu remained close to the pacesetter who dropped out of the race exactly at 12km with the clock reading 37:12, well on schedule to finish inside 1:06.
Over the following kilometres, Kipkemboi ran sandwiched between a number of male athletes, which helped to keep the pace fast enough to threaten her compatriot Florence Kiplagat's course record of 1:05:09 set in 2015 as another 15:24 5k split led to a 46:22 clocking at 15km. That kind of cadence proved to be too tough for Alemayehu, a 1:08:23 performer; the Ethiopian had lost 18 seconds on Kipkemboi by then.
Kipkemboi's rhythm slowed down a bit in the following 5km section, which she covered in 15:47, but she found another gear for a fast finish, crossing the line in 1:05:26 – the third fastest clocking in the history of the event, only bettered by Kiplagat's 1:05:12 (2014) and 1:05:09 (2015) then world records.
"It was my debut so I can't be more satisfied," said Kipkemboi. "Everything was superb, the circuit, the temperature and the pacemaker."
Alemayehu's cadence decreased in the closing kilometres but the 23-year-old managed a huge lifetime best of 1:06:37 as a runner-up while Awoke finished a distant third in 1:09:34.
The men's contest opened at a steady 2:50/km pace set by leading cross-country runner Thierry Ndikumwenayo. The Spain-based Burundian led an 11-man pack which included the main favourites: Kenya's Titus Mbishei and Elvis Cheboi, Uganda's Ali Chebures, Eritrea's Berhane Tesfay and Ethiopia's Teklu, Chala Regasa, Antenayehu Dagnachew, Kindie Derseh and Teresa Nyakora.
As was the case in the women's event, the rhythm increased over the favourable following kilometres and the leading group went through 10km in 27:54 after a brisk 13:45 5km section and the pack whittled down to seven athletes with Dagnachew running closest to the pacemaker for much of the time. The Burundian made a brave final effort to reach 15km in 41:52 before dropping out the race and left the favourites on the right path to finish close to the 59:00 mark.
Dagnachew and Teklu took turns at the lead to maintain the rhythm with only Regasa, Derseh and Cheboi for company. That quintet ran together until the closing stages, the 56:20 20km split suggesting Teklu's crouse record of 59:39 from last year would be easily lowered. With about 600 metres remaining, Regasa unleashed a burst of speed which could be matched only by Teklu as the other three opponents were left behind.
In the final sprint between the two Ethiopians, Teklu prevailed over Regasa in 59:06, winning by four seconds to set a PB and course record. In the fight for third place, Cheboi (59:15) prevented an all-Ethiopian podium sweep as the unheralded Kenyan got the better of Dagnachew and Derseh.
"As I said before the race, I went out very determined to improve on my record," said Teklu. "The weather was fantastic, the rhythm too and I managed to do it so I'm delighted."
Emeterio Valiente for World Athletics
Leading results
Women
1 Margaret Kipkemboi Chelimo (KEN) 1:05:26
2 Gete Alemayehu (ETH) 1:06:37
3 Asnakech Awoke (ETH) 1:09:34
4 Rediet Daniel Molla (ETH) 1:10:22
5 Aoife Cooke (IRL) 1:10:58
Men
1 Haftu Teklu (ETH) 59:06
2 Chala Regasa (ETH) 59:10
3 Elvis Cheboi (KEN) 59:15
4 Antenayehu Dagnachew (ETH) 59:17
5 Kindie Derseh (ETH) 59:18
Renju and Jepleting pounce for victory in Prague
Kenya's Keneth Renju and Nesphine Jepleting battled their rivals and the cold conditions to triumph at the Sportisimo Prague Half Marathon, a World Athletics Elite Label road race, when it returned for the first time since 2019 on Saturday (2).
Securing the first half marathon wins of their careers, Renju ran 59:28 for victory ahead of his compatriots Philemon Kiplimo and Mathew Kimeli, while Jepleting clocked a PB of 1:06:57 to claim the women's title ahead of her fellow Kenyans Irene Cheptai and Brenda Jepleting.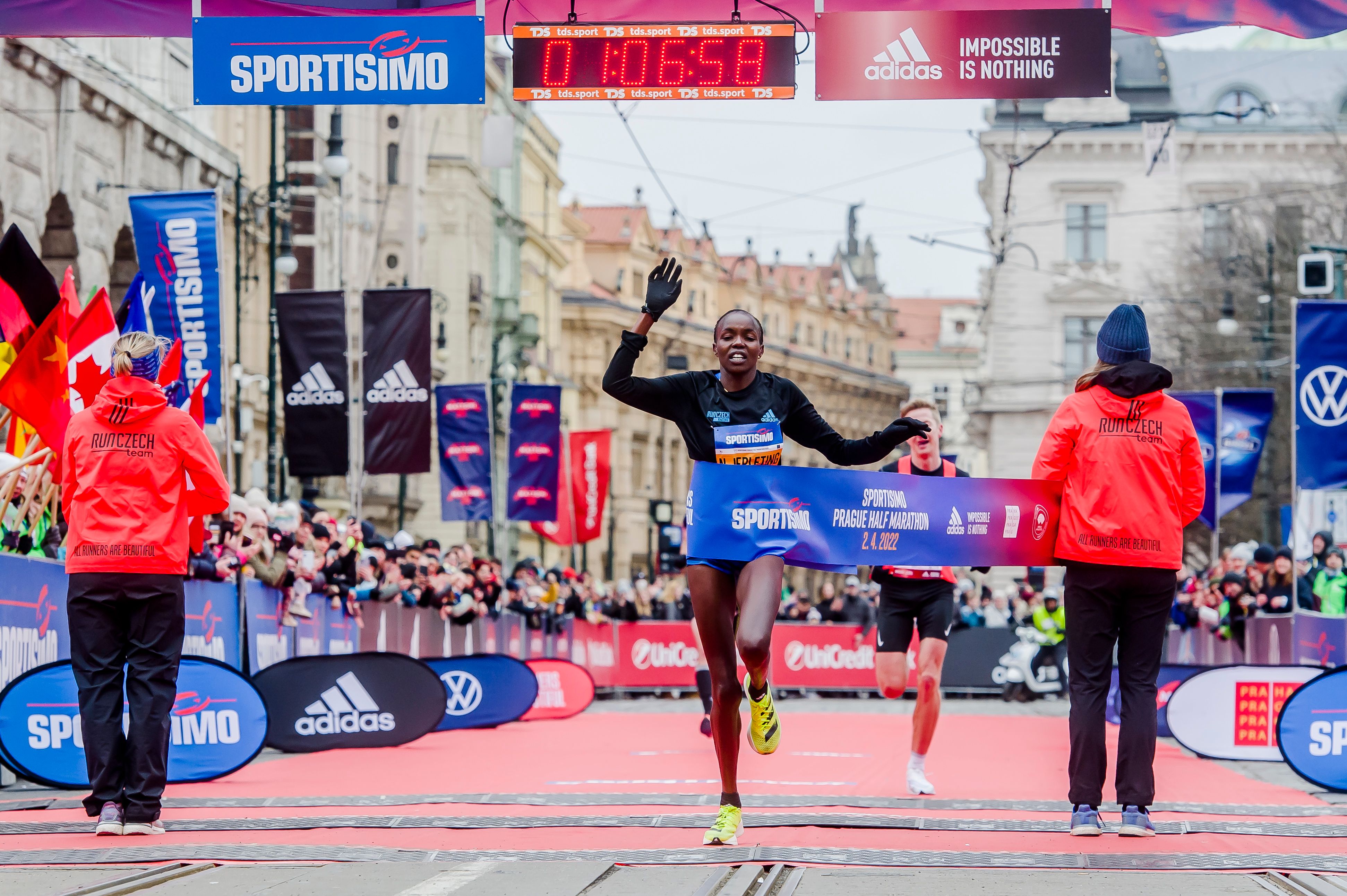 (© RunCzech)

In the men's race, a 10-stong lead group went through 5km in 13:50 before Renju, Kiplimo, Mathew Kimeli and Benard Kimeli broke away and led through 10km in 27:52, 10 seconds ahead of the chase pack.
That quartet remained together as 15km was passed in 42:08, with now a 40-second advantage over their closest pursuers.
Kiplimo and Renju were level at the 20km mark, passed in 56:23, but Renju responded with a kick that would see him win by five seconds ahead of Kiplimo, who clocked 59:33. Mathew Kimeli was third in 59:46, with their compatriot Benard Kimeli also finishing inside 60 minutes with 59:59.
The result saw Renju go one better than his runner-up finish at the Copenhagen Half Marathon in September, while he finished third in Ras Al Khaimah earlier this year.
"I really liked the race. Even though it was too cold, it was good," said Renju. "Even though I didn't feel pressure on myself, I wanted to win.
"The race was very windy, from the sixth kilometre it was causing problems because there was a headwind. I had to lean into it from the seventh kilometre. I would like to run here again next year because this track is fast. A world record may fall here. Despite the conditions here, it was fast."



After seventh-place finishes in Herzogenaurach and Madrid last year, Nesphine Jepleting was contesting her third half marathon and made her move in the closing kilometres to claim a 19-second victory in the women's race ahead of 2017 world cross country champion Cheptai.
The pair led the women's field at 5km, which they passed in 15:11. They then went through 10km in 30:50 and 15km in 46:59 before Jepleting started to make a move.
The 25-year-old, who finished third at the World Athletics Cross Country Tour Gold event in Eldoret in February, was 11 seconds ahead of Cheptai at the 20km point (1:03:29) and extended that advantage by a further eight seconds at the finish.
Cheptai, who was second at last month's United Airlines NYC Half, claimed another runner-up finish in 1:07:16 and Brenda Jepleting was third in 1:08:39. The top five all dipped under 70 minutes, with Ethiopia's Ftaw Zeray fourth in 1:08:53 and Italy's Sofiia Yaremchuk fifth in 1:09:09.
"I could run faster, but it was too cold and windy," said Nesphine Jepleting. "During the race, I doubted I could win. But the mental strength, my head, helped me. In the group we ran until the 12th kilometre, then we accelerated as we wanted."
Jess Whittington for World Athletics


Kiplagat and Kipruto claim Kenyan double in Milan
Vivian Kiplagat and Titus Kipruto claimed a Kenyan double at the Telepass Milano Marathon, a World Athletics Label road race held on Sunday (3) in perfect distance-running conditions (10C).
Kiplagat won the women's race for the third time in her career in 2:20:18, setting a record for the event's traditional course, although Ethiopia's Hiwot Gebrekidan ran faster (2:19:35) in last year's special edition on a different route. Kipruto, meanwhile, crossed the finish line in 2:05:05, taking 17 seconds off his PB.
The leading pack in the women's race – comprising Vivian Kiplagat, Rahma Tusa, Zinash Lema Mekonen, Beatrice Cheptoo, Getahun Syntayehu Tilahun and Atalel Dargie – started fast, reaching 10km in 32:49 and 15km in 49:13, comfortably inside the race record pace set by Hiwot Gebrekidan last year.
The pace slowed down a bit after then, but the six women continued running at a good pace, going through halfway in 1:09:51. Kiplagat stepped up her pace at 27km, opening up a six-second gap on Getahun, Cheptoo, Tsegaye and Dargie. The 30-year-old increased her lead to almost 80 seconds at 39km before crossing the finish-line in 2:20:18.
"I felt very well during the all race, especially in the final 12 kilometres," said Kiplagat, who won in Milan in 2018 and 2019. "I am very proud with my third win in Milan and my PB."
Ethiopia's Tilahun finished runner-up in 2:22:19, holding off Dargie by two seconds.
In the men's race, a 13-man lead group set off at a brisk pace, going through 5km in 14:43, 10km in 29:35 and 15km in 44:27. The pace was just 14 seconds slower than Titus Ekiru's intermediate time of 44:13 during his Italian all-comers' record set last year.
Nine men were still in contention at the halfway mark, which was reached in 1:02.29. Titus Kipruto led the seven-men leading group at 30km (1:28:55) closely followed by Daniel Kibet, Amedework Walelegn and Felix Alphonce Simbu. The race heated up at 30km, when Kipruto pushed the pace, and only Kibet, Simbu and Walelegn were able to follow it.
Kipruto and Kibet broke away at 34km and the race became an exciting battle between the two Kenyan runners. Kipruto unleashed his final kick at 40km, opening up a 20-second gap and he held on to win the biggest marathon race in his third appearance over this distance.
"The pace was not very good, as we had to push pacemakers at halfway," said Kipruto. "I decided to run at the front at 30km and push the pace."
The race produced a good depth of results with seven men finishing inside 2:08 and 11 runners under 2:09. Kibet finished second, improving his PB to 2:05:20. Simbu, the 2017 world marathon bronze medallist, was third in a PB of 2:06:20 beating Moges Welderiorgis (2:07:06), Geza Tadesse (2:07:20), Ande Filmon (2:07:25) and Elkana Langat (2:07:56).
Diego Sampaolo for World Athletics
Leading results
Women
1 Vivian Kiplagat (KEN) 2:20:18
2 Tilahun Getahun (ETH) 2:22:19
3 Atalel Anmut Dargie (ETH) 2:22.21
4 Tsegaye Beyene (ETH) 2:24:47
5 Rahma Tusa (ETH) 2:28:34
Men
1 Titus Kipruto (KEN) 2:05:05
2 Daniel Kibet (KEN) 2:05:20
3 Alphonce Simbu (TAN) 2:06:20
4 Moges Weldegiorgis (ETH) 2:07:06
5 Geza Senbeta Tadesse (ETH) 2:07:20