Eliud Kipchoge wins the Tokyo Marathon (© AFP / Getty Images)
World record-holders Eliud Kipchoge and Brigid Kosgei recorded another two of the fastest marathons of all time in Tokyo on Sunday (6), running 2:02:40 and 2:16:02 respectively on their return to Japan.
Back in the country where they claimed their respective Olympic gold and silver medals seven months ago, they both used their great experience to leave their rivals behind in the closing kilometres and break the Japanese all-comers' records in the Tokyo Marathon, the first World Athletics Elite Platinum Label road race of the 2022 calendar.
Kipchoge's performance is the fourth-best ever behind his own world record of 2:01:39 set in Berlin in 2018, while Kosgei's is a time that only she with her world record of 2:14:04 from Chicago in 2019 and Paula Radcliffe with her 2:15:25 from London in 2003 have ever beaten.
Kenya's world bronze medallist Amos Kipruto had remained with Kipchoge until 36km and continued running solo to a PB of 2:03:13 in second, while Ethiopia's Olympic and world medallist Tamirat Tola was third in the men's race in 2:04:14.
In the women's race, Ethiopia's 2019 Berlin Marathon winner Ashete Bekere was runner-up this time in a PB of 2:17:58, while another winner in Berlin – 2021 champion Gotytom Gebreslase – was third, 20 seconds behind her compatriot, in a PB of 2:18:18.
Although missing his targeted own Japanese record, Kengo Suzuki had another strong performance, running 2:05:28 to finish fourth as 22 athletes went sub-2:09. A total of 50 runners, including 43 Japanese athletes, dipped under 2:15, while in the women's race the top five went sub-2:20, 13 went under 2:30 and Mao Ichiyama with 2:21:02 in sixth led the list of 13 Japanese athletes to go sub-2:40 on a sunny and cool morning.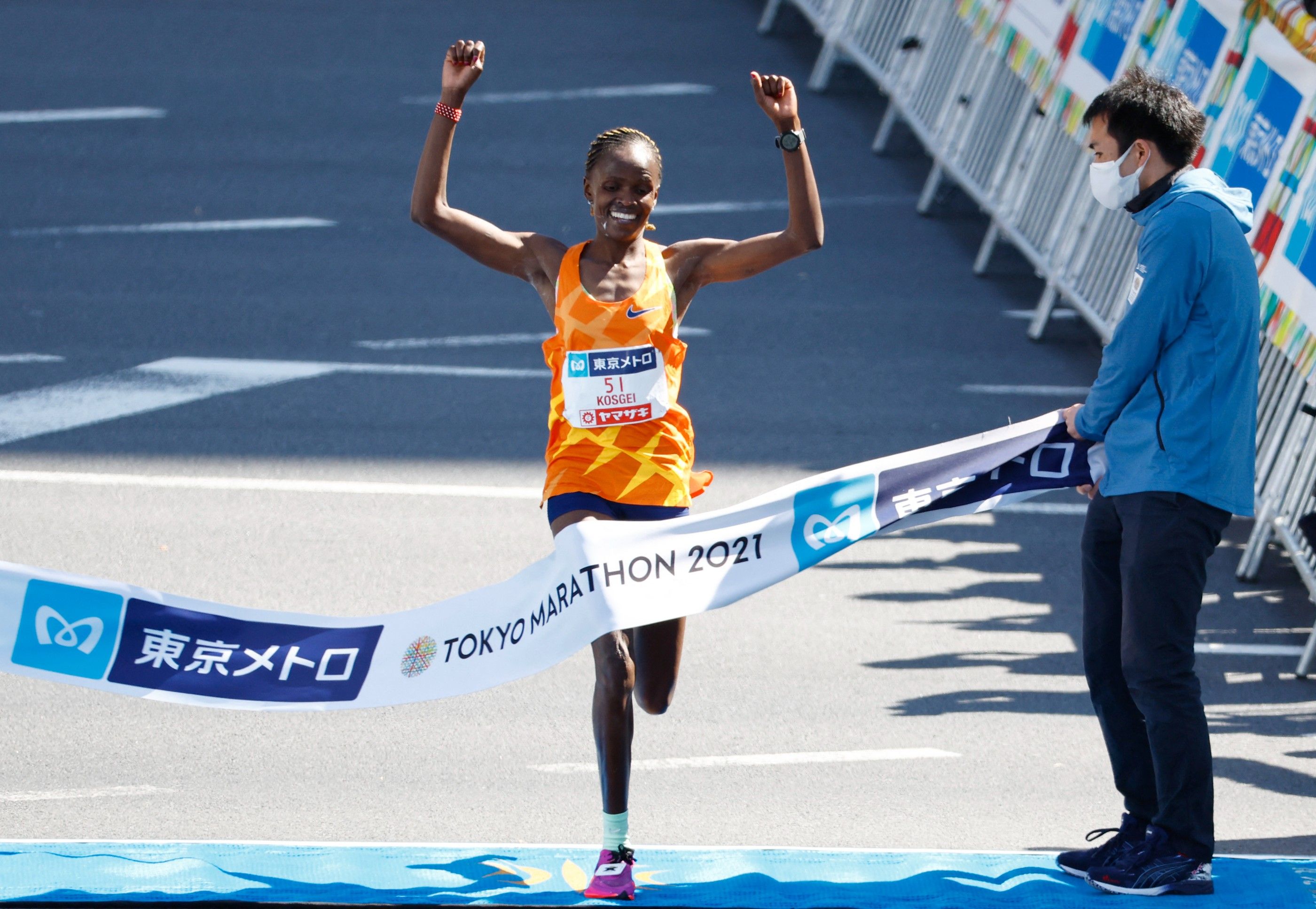 Brigid Kosgei celebrates her Tokyo Marathon win (© AFP / Getty Images)

Despite all he has achieved in the sport so far, marathon great Kipchoge has set himself another aim of winning each of the six Abbott World Marathon Majors. After four London wins, three Berlin victories and one Chicago triumph, he added Tokyo to the list on Sunday and will now aim for Boston and New York City at some point in the future to compete the set.
With his winning time in Tokyo, Kipchoge also extended his list of all-comers' records, having now run the fastest ever marathons on German, British and Japanese soil with some of those majors wins. Only he with his world record and 2:02:37 run in London in 2019, plus Ethiopia's Kenenisa Bekele with 2:01:41 in Berlin in 2019, have ever gone faster than the Kenyan's winning time in Japan's capital.
The race had been fast from the start and the leaders – with Kipchoge in control at the front of the pack behind the pacemakers – were well under world record pace as they passed 5km in 14:17. That pointed to a predicted 2:00:13 finishing time, but one based on a first 5km featuring a substantial downhill. At 10km the clock showed 28:37, with Ethiopia's Shura Kitata dropped by that point, the 2020 London Marathon winner struggling to keep in touch from 8km. A course mishap that saw runners go slightly off track just after 10km gave Kitata the chance to close the gap but he was soon dropped again from a lead group that featured Kipchoge, Kipruto and Tola, together with Ethiopia's world silver medallist Mosinet Geremew and Kenya's Jonathan Korir.
That five-strong pack remained together through 15km in 43:16, 20km in 57:53 and half way in 1:01:03, with the world record looking less of a target.
Geremew had been right on Kipchoge's shoulder up to that point but he dropped back slightly at around 23km and one kilometre later the world silver medallist – who sits fourth on the world marathon all-time list with the 2:02:55 he ran in London in 2019 – pulled up and started to walk, with his hands on his head.
When the final pacemaker stopped at 27km, Kipchoge continued to push ahead and the race was down to three: Kipchoge, Kipruto and Tola, who started to lose touch 2km later. Kipchoge led through 30km in 2:02:09 and at this point a determined Suzuki had caught Kitata and was a couple of minutes behind the leaders.
Kipchoge and Kipruto were side-by-side through 35km in 1:41:30 and then Kipchoge began to make his move. He was a stride ahead at 36km and that increased to around five seconds over the next kilometre as the athletes made a turn and began running into a headwind. But he hung on to record the fastest marathon ever run in Japan by over a minute and claim a 33-second victory.
"I am really happy," said two-time Olympic marathon winner Kipchoge. "I am excited to be here in Japan, especially after winning the Olympic Games in Sapporo. I really appreciated the crowd."
Before the race Kipchoge had written 'ST:RO:NG' instead of numbers on his finish time prediction card and the 37-year-old felt he had achieved his aim.
"I said I wanted to run strong in Japan and I did, I ran a course record," he said. "I am really happy I won another major marathon."
Kosgei, too, has multiple major marathon wins to her name, having triumphed twice in London and twice in Chicago. After securing silver at the Olympics behind her compatriot Peres Jepchirchir, she finished fourth in London just two months later but was back on top in Tokyo.
The women's race record had been held by Lonah Chemtai Salpeter with the 2:17:45 she set on a slightly different course in 2020 and that time always looked under threat. The leaders were on 2:15:44 pace for the first downhill 5km and then passed 10km in 32:14.
By that point, Kosgei was running as part of a larger mixed group along with fellow women's race leaders Gebreslase and Bekere, plus Kenya's Angela Tanui and Ethiopia's Hiwot Gebrekidan. A chase group featuring Ichiyama and her compatriot Hitomi Niiya, who won the first Tokyo Marathon in 2007, plus Ethiopia's Helen Bekele and the USA's 2020 London Marathon runner-up Sara Hall was 30 seconds back.
The same group of five led through 15km in 48:21 and reached half way in 1:08:06. At 25km, passed by the leaders in 1:20:48, chase group athletes Ichiyama and Hall remained on national record pace but those aims began to move out of reach a short while later.
Kosgei was still in control with Gebreslase tracking her, and the pair had broken away by 35km, with 1:53:08 on the clock. Kosgei missed her drink at that point but she didn't seem to mind as she forged ahead while Gebreslase dropped off the pace. Kosgei broke away by 37km and went on unchallenged to record another magnificent mark.
With 2:02:40 and 2:16:02, Kipchoge and Kosgei achieved 4:18:42 for the fastest ever combined winning time for men and women in a single race, beating the previous best of 4:19:49 (2:05:45 and 2:14:04) recorded at the 2019 Chicago Marathon.
Bekere – who ran 2:18:18 when finishing third at last year's London Marathon – came through to claim the runner's up spot and improve her PB by 20 seconds while Gebreslase also had the run of her life to match her compatriot's former PB of 2:18:18, building on her 2:20:09 debut performance in Berlin.
Tanui was fourth in 2:18:42 and Gebrekidan fifth in 2:19:10, while Ichiyama secured sixth in 2:21:02, Niiya seventh in 2:21:17 and Hall eighth in 2:22:56.
With their respective 2:05:28 and 2:21:02 performances, Suzuki and Ichiyama achieved a combined time of 4:26:30 – the fastest recorded combined result for a married couple running in the same race.
Before the race, Kosgei had said her target time was "a secret" and although she went on to record the third-fastest ever women's marathon, she later explained how she felt the wind in the latter stages had prevented her from again attacking 2:14.
Jess Whittington for World Athletics