TCS New York City Marathon contenders
When the TCS New York City Marathon takes place on Sunday (7), it will be returning for its 50th running – a golden celebration. Two multiple global gold medallists looking to mark the occasion by claiming yet another crown are Peres Jepchirchir and Kenenisa Bekele as they run the World Athletics Elite Platinum Label road race for the first time.
For Jepchirchir the event comes three months after her Olympic triumph in Sapporo, where the Kenyan clocked 2:27:20, while three-time Olympic track champion Bekele is back in action six weeks after placing third in the Berlin Marathon.
They are certainly no strangers to success, but they will both face some tough competition when they line up in the Big Apple this weekend.
Jepchirchir leads the entries for the women's race and sits fifth on the world all-time list with her PB of 2:17:16, set when winning the Valencia Marathon last December.
"The 50th year of something is often called its 'golden anniversary,' so how fitting it will be that for New York City's 50th running I will run as the Olympic gold medallist," said the two-time world half marathon champion.
"2021 has already been a magical year, and I am excited that it is not yet over."



But among those looking to deny Jepchirchir a fairytale in New York will be Ethiopia's 2019 Tokyo Marathon winner Ruti Aga, Namibia's world bronze medallist Helalia Johannes and the USA's Olympic bronze medallist Molly Seidel.
Aga and Johannes both join Jepchirchir in having a sub-2:20 PB. Aga, who finished third at the New York City Marathon in 2019, ran 2:18:34 to finish second in Berlin in 2018, while Johannes, who placed 11th in the Tokyo Olympic marathon, has a best of 2:19:52 set when finishing third in last year's Valencia Marathon won by Jepchirchir.
Like her fellow Olympic medallist Jepchirchir, Seidel also makes her New York City Marathon debut, three months after she ran 2:27:46 for bronze in Sapporo. Her PB of 2:25:13 was set in London last year.
Also looking to make an impact will be Ethiopia's former world half marathon record-holder Ababel Yeshaneh, who returns to race in the USA two years after her second-place finish at the Chicago Marathon where she set her PB of 2:20:51.
Joining them in the field are the USA's 2016 New York runner-up Sally Kipyego, Laura Thweatt, Stephanie Bruce and Kellyn Taylor, while Kenya's Viola Cheptoo, the sister of five-time Olympian Bernard Lagat who is part of the broadcast team for the event, makes her marathon debut.


Bekele hopes for more history
He might have three Olympic titles, five world track titles and 11 senior world cross country titles, but Ethiopian running great Bekele is still looking to make history in the sport and next on his list is a win in New York.
His PB of 2:01:41, set when winning the 2019 Berlin Marathon, is just two seconds off Eliud Kipchoge's world record and the 39-year-old says he has recovered well after last racing in Germany's capital city in September.
"The race (in Berlin six weeks ago) was a bit tough for me because the day before I couldn't sleep well and I was very tired," he said. "Now I have recovered well.
"I know in the New York City Marathon the course is tough, and there are also no pacers in the race. It is about concentration and a tactical race.
"The New York City Marathon is a really big race so to achieve a good result would be perfect. It would be good to make more history in the sport."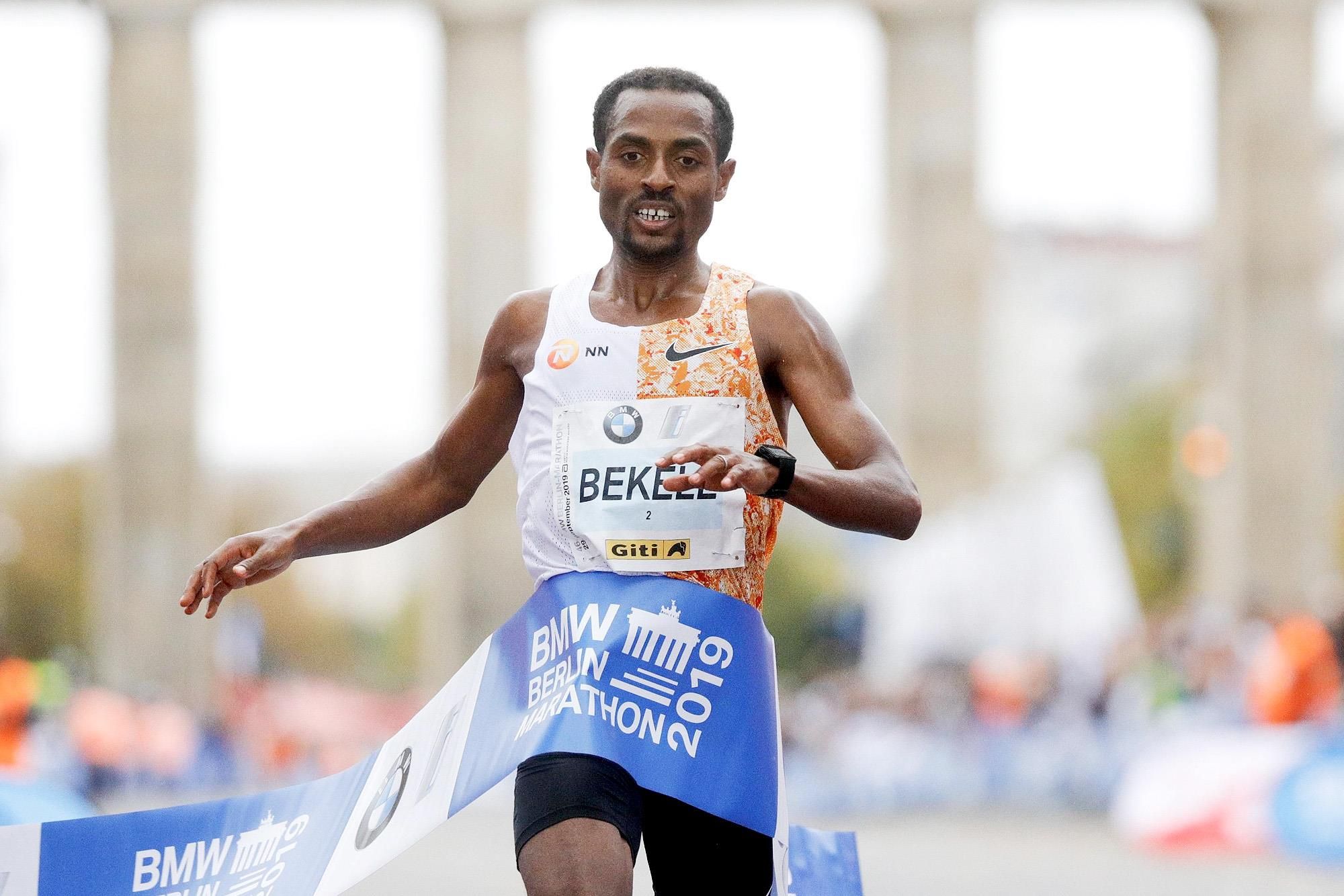 Another athlete to have already made history is Kenya's Kibiwott Kandie, who became the first to dip under 58 minutes for the half marathon when setting his world record of 57:32 in Valencia last year. Now the 25-year-old, who ran 26:51 for 10km last month, makes his marathon debut.
Looking for another strong run after his silver medal win at the Olympics is Abdi Nageeye of the Netherlands, who ran 2:09:58 in Sapporo to finish runner-up to Kipchoge. Also making his New York City Marathon debut, he ran his PB of 2:06:17 when finishing fourth at the 2019 Rotterdam Marathon.
Eritrea's Ghirmay Ghebreslassie is an athlete who does have experience of the event, with the 2015 world champion having won in New York in 2016, while Kenya's Albert Korir and Ethiopia's Girma Bekele Gebre also return after their respective second and third-place finishes in 2019.
Rio 2016 Olympic sixth-place finisher Jared Ward leads the US entries, while Ben True makes his marathon debut.
For 2017 New York City Marathon champion Shalane Flanagan, this year's race marks the end of a six marathons in six weeks challenge that has so far seen her run in Berlin, London, Chicago, Boston and Portland, which was a replacement for Tokyo after the event was held virtually. Her aim has been to dip under three hours for each one and so far she has achieved it, with respective times of 2:38:32, 2:35:04, 2:46:39, 2:40:34 and 2:35:14.
Jess Whittington for World Athletics


Elite field
Women
Peres Jepchirchir (KEN) 2:17:16
Ruti Aga (ETH) 2:18:34
Helalia Johannes (NAM) 2:19:52
Ababel Yeshaneh (ETH) 2:20:51
Kellyn Taylor (USA) 2:24:29
Sally Kipyego (USA) 2:25:10
Molly Seidel (USA) 2:25:13
Laura Thweatt (USA) 2:25:38
Andrea Ramirez Limon (MEX) 2:26:34
Haruka Yamaguchi (JPN) 2:26:35
Stephanie Bruce (USA) 2:27:47
Lanni Marchant (CAN) 2:28:00
Krista Duchene (CAN) 2:28:32
Hanna Lindholm (SWE) 2:28:59
Rebecca Gentry (GBR) 2:32:01
Rachel Hannah (CAN) 2:32:09
Lindsey Scherf (USA) 2:32:19
Beverly Ramos (PUR) 2:32:43
Viola Cheptoo (KEN) debut
Men
Kenenisa Bekele (ETH) 2:01:41
Abdi Nageeye (NED) 2:06:17
Ghirmay Ghebreslassie (ERI) 2:07:11
Eyob Faniel (ITA) 2:07:19
Albert Korir (KEN) 2:08:03
Noah Droddy (USA) 2:09:09
Mohamed El Aaraby (MAR) 2:09:16
Jared Ward (USA) 2:09:25
Akira Tomiyasu (JPN) 2:10:29
Thijs Nijhuis (DEN) 2:10:57
Ryan Vail (USA) 2:10:57
Yano Nathan Martin (USA) 2:11:05
Matt Llano (USA) 2:11:14
Patricio Castillo (MEX) 2:11:24
Elkanah Kibet (USA) 2:11:31
Temesgen Habtemariam (ETH) 2:11:42
Shadrack Biwott (USA) 2:12:01
Kevin Lewis (USA) 2:12:02
Urgesa Kedir (ETH) 2:12:20
Birhanu Dare (ETH) 2:12:21
Augustine Choge (KEN) debut
Kibiwott Kandie (KEN) debut
Teshome Mekonen (ETH) debut
Ben True (USA) debut