Angela Tanui wins the Amsterdam Marathon (© AFP / Getty Images)
Angela Tanui and Tamirat Tola produced the fastest ever times on Dutch soil with their victories at the TCS Amsterdam Marathon, clocking 2:17:57 and 2:03:39 at the World Athletics Elite Platinum Label road race on Sunday (17).
Tanui, who was a late addition to the field after her plans to compete in Boston fell through due to visa issues, bided her time for much of the race before breaking away in the closing stages to win by more than two minutes, covering the second half in a swift 1:07:50.
Running as part of a lead group of six, Tanui covered the first 10km in 33:00. Shortly after, Ethiopia's Shasho Insermu dropped back from the lead pack, leaving Tanui, fellow Kenyan Maureen Chepkemoi and Ethiopia's Haven Hailu, Gabiyanesh Ayele and Worknesh Alemu out in front.
They covered 15km in 49:48 before reaching the half-way point in 1:10:07, suggesting a sub-2:20 finish was possible with a slightly faster second half.
Alemu was the next to drift off the pack, and she trailed the leaders by 24 seconds at the 25km point, which was covered in 1:23:02. Tanui, Hailu, Ayele and Chepkemoi stuck together through 30km (1:39:37), but Tanui then put in a surge and covered the next five-kilometre section in 15:51, giving her an 11-second lead over her opponents at 35km.
She continued to pull away from her pursuers in the closing stages and went on to cross the finish line in 2:17:57, smashing the previous course record of 2:19:26. She also chopped more than two minutes from her previous best of 2:20:08 set earlier this year, and now moves to 10th on the world all-time list.
Chepkemoi came through to take second place in 2:20:18, overtaking Hailu shortly before the finish. Hailu finished one second adrift in third, while Ayele was further behind in fourth (2:21:22). Ruth van der Meijden was the top Dutch finisher, placing sixth in 2:29:55 to secure the national title.
Tola, like Tanui, displayed great patience and waited until the final few kilometres before making his move in the men's race.
The opening pace was relatively swift as a large lead pack covered the first 10km in 29:10 and 15km in 43:58. The pace settled down slightly then, with the half-way point reached in 1:02:11 and 25km in 1:13:49, putting them just outside course record schedule (2:04:06).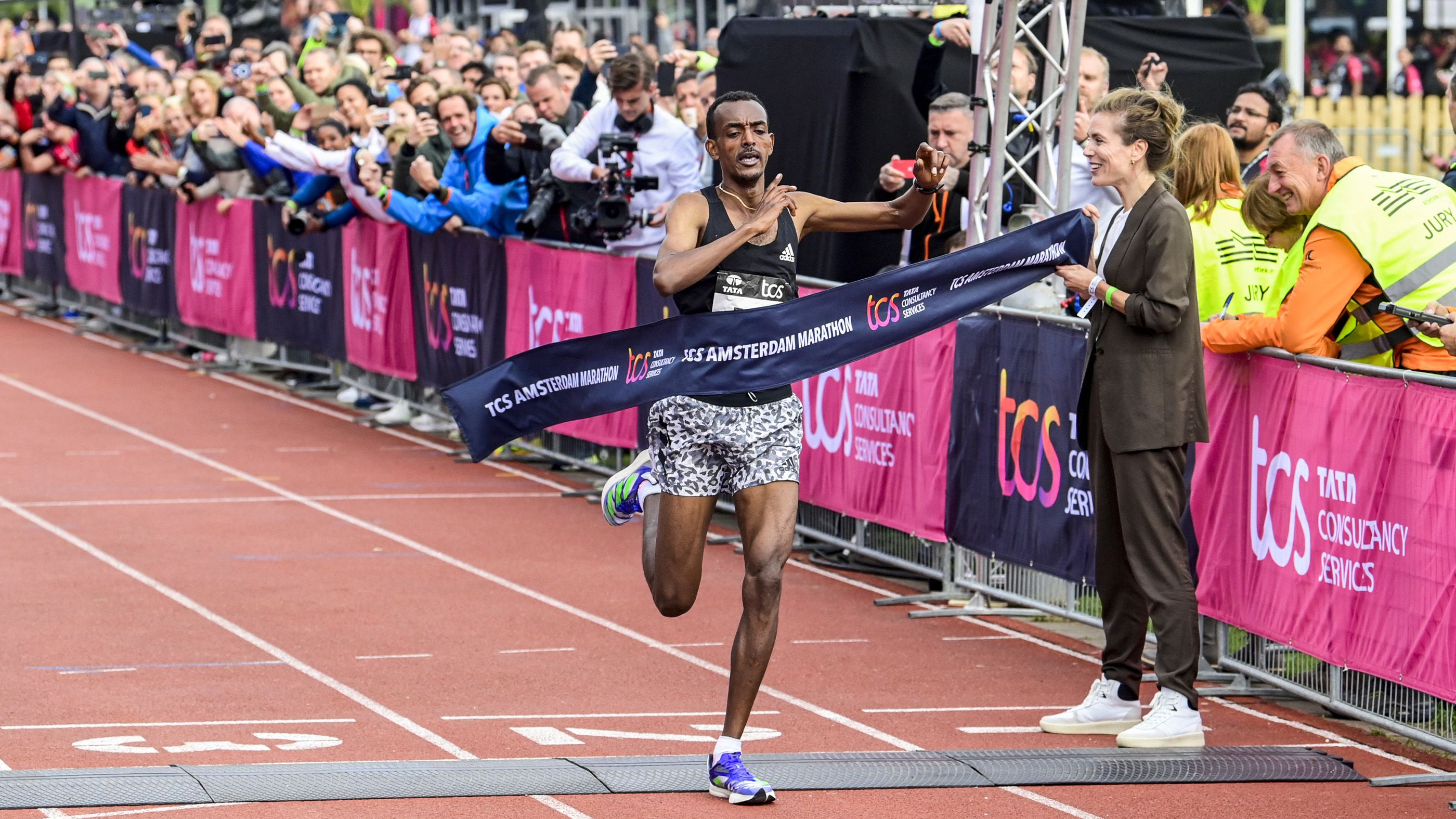 After going through 30km in 1:28:33, some of the runners in the lead pack – namely Edwin and Abraham Kiptoo and Ethiopia's marathon debutante Amdewerk Walelegn – started to drift off the pace. Just six men – Tola, Leul Gebresilase, Eritrea's Hiskel Tewelde and Afewerki Berhane and Kenya's Jonathan Korir and Bernard Koech – were left in the pack at the 35km point (1:42:59).
Tola then started to win up the pace and, having covered the previous 10km section in 28:53, had a nine-second gap on his opponents at the 40km point with the leading contenders now strung out.
Tola continued to extend his lead and crossed the line in a 2:03:39, winning by 30 seconds from Koech (2:04:09). Tola's winning time took almost half a minute off the previous course record (2:04:06) and elevates him from 23rd to 16th on the world all-time list.
Gebresilase took third in 2:04:12, 20 seconds ahead of Korir. In fifth, Tewelde set an Eritrean record of 2:04:35.
Jon Mulkeen for World Athletics


Leading results
Women
1 Angela Tanui (KEN) 2:17:57
2 Maureen Chepkemoi (KEN) 2:20:18
3 Haven Hailu (ETH) 2:20:19
4 Gabiyanesh Ayele (ETH) 2:21:22
5 Worknesh Alemu (ETH) 2:26:54
6 Ruth van der Meijden (NED) 2:29:55
7 Bo Ummels (NED) 2:31:51
Men
1 Tamirat Tola (ETH) 2:03:39
2 Bernard Koech (KEN) 2:04:09
3 Leul Gebresilase (ETH) 2:04:12
4 Jonathan Korir (KEN) 2:04:32
5 Hiskel Tewelde (ERI) 2:04:35
6 Moses Kibet (UGA) 2:05:20
7 Afewerki Berhane (ERI) 2:05:22
8 Kenneth Keter (KEN) 2:06:05
9 Bernard Kipyego (KEN) 2:06:32
10 Merhawi Kesete (ERI) 2:06:36