Eliud Kipchoge and Amane Beriso (© Getty Images and sportmedia.es)
Eliud Kipchoge will look to add to his legend with another major marathon win, while an incredibly deep women's field will battle it out for glory at the Boston Marathon, this year's sixth World Athletics Elite Platinum Label road race, on Monday (17).
Kipchoge improved his own world marathon record to 2:01:09 the last time he raced. That performance was achieved in Berlin in September, four years on from the world record of 2:01:39 he ran in the same city. Now the Kenyan athletics great races the Boston Marathon for the first time, as he aims to take another step towards his goal of winning all six of the races in the World Marathon Majors series. So far he has won the London Marathon and Berlin Marathon four times each, and has also claimed victories in Tokyo and Chicago. That leaves Boston and New York City still to conquer.
Although the Boston event takes place on an undulating course, two-time Olympic champion Kipchoge is confident that his usual training lends itself to a hilly race.
Victory may not come easy, however, as he faces a field featuring three former winners in Boston and a number of other major marathon champions.
Leading the contenders are defending champion Evans Chebet, 2021 winner Benson Kipruto and two-time victor Lelisa Desisa.
Kenya's Chebet ran 2:06:51 to claim his Boston Marathon victory last year and then followed that with a New York City Marathon win in November, becoming just the sixth man to ever win the Boston and New York City marathons in the same year.
His compatriot and training partner Kipruto won the 2021 Boston Marathon in 2:09:51 and then placed third in the 2022 edition of the race before rebounding to win the Chicago Marathon in a PB of 2:04:24 last October.
Ethiopia's Desisa has great experience of the Boston event as together with his wins in 2013 and 2015, he secured second-place finishes in 2016 and 2019. This year marks 10 years since his first victory, after which he donated his champion's medal back to the City of Boston in recognition of the tragedy of 15 April 2013. The 2019 world marathon champion also won the New York City Marathon in 2018.
Joining them on the start line will be Ethiopia's Shura Kitata, who won the London Marathon in 2020, when Kipchoge placed eighth after struggling with a blocked ear. He was also runner-up in New York in 2022 and 2018 and finished second behind Kipchoge in London in 2018.
Like Kitata, 2015 world champion Ghirmay Ghebreslassie will be making his Boston Marathon debut, while 2021 New York Marathon champion Albert Korir returns after a sixth-place finish last year.
In a field that features seven sub-2:05 runners, Tanzanian record-holder Gabriel Geay is the joint second-fastest behind Kipchoge, tied with Chebet after a 2:03:00 runner-up performance in Valencia last year, while Herpasa Negasa clocked his 2:03:40 PB in 2019.
USA's Conner Mantz is another Boston marathon debutant and he'll be joined on the start line by his compatriot CJ Albertson, the world 50km record-holder, plus Scott Fauble and Matt McDonald.
The women's race is also filled with great quality, featuring many strong contenders.
Ethiopia's Amane Beriso is the fastest in the field thanks to the 2:14:58 PB she ran to win in Valencia in December. Beriso also won the Mexico City Marathon last year, as she made her comeback after a series of knee injuries, and while the Valencia and Boston courses are very different, she does have experience of Boston as she raced the event in 2016, finishing 12th on that occasion.
Another three of the entered athletes have PBs under 2:18, while a total of seven have gone sub-2:20 and 14 have dipped under 2:21.
World champion Gotytom Gebreslase makes her Boston Marathon debut, five months on from her third-place finish in the New York City Marathon, which followed her world title win in Oregon in July, achieved in a 2:18:11 PB. Although it is her first time racing 26.2 miles in Boston, she is not new to racing in the city as she is a two-time runner-up of the Boston Half Marathon and has achieved three top five places at the Boston 5K.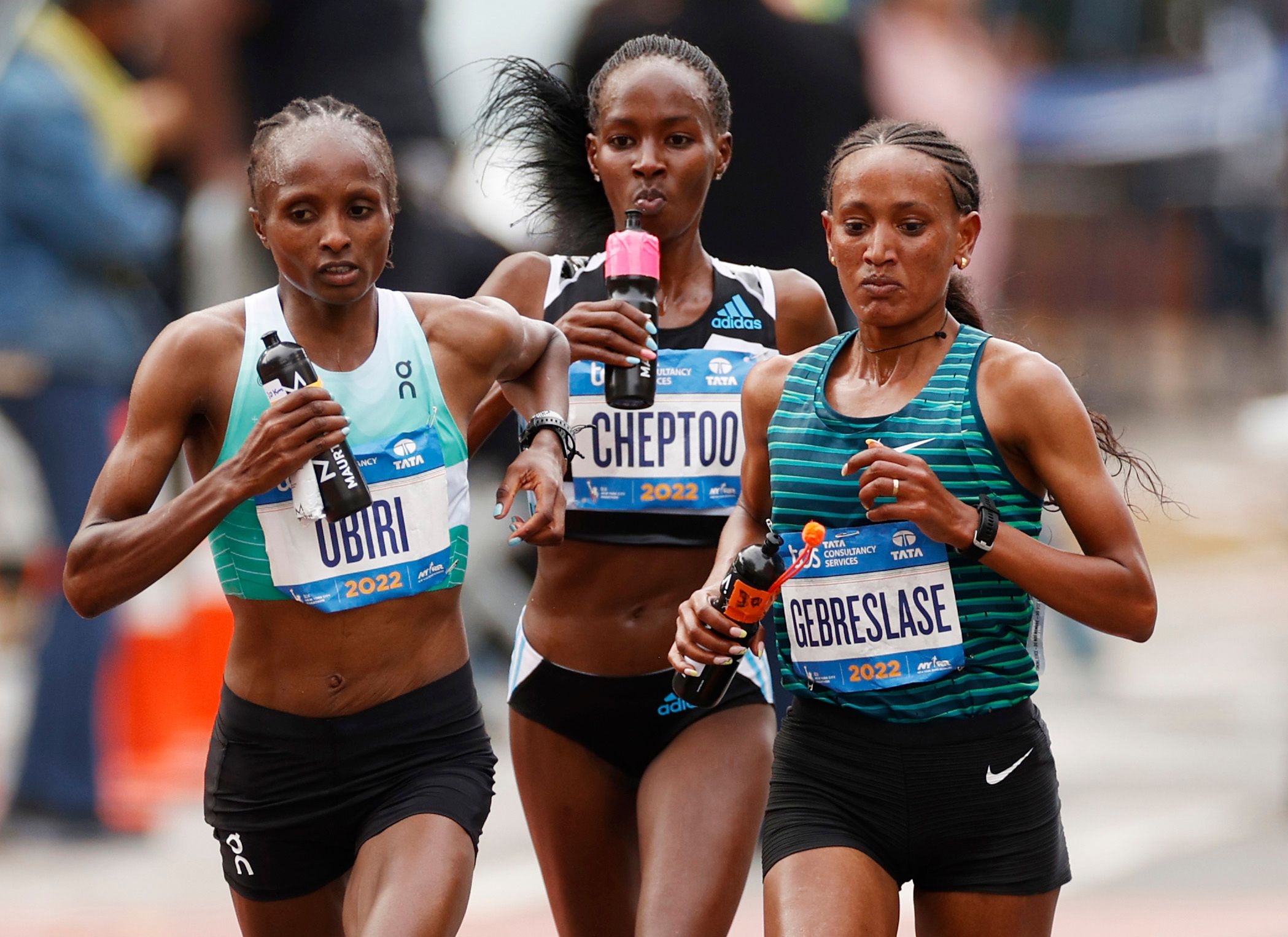 Hellen Obiri, Viola Cheptoo and Gotytom Gebreslase race in the New York City Marathon (© Getty Images)
Another notable debutante is Kenya's Hellen Obiri. The two-time world 5000m champion ran her first marathon in New York in November, finishing sixth, but since then she has won half marathons in Ras Al Khaimah and New York, where she set a 1:07:21 course record and then decided to run Boston.
Kenya's two-time Boston Marathon winner Edna Kiplagat returns, as do Ethiopia's Ababel Yeshaneh and Kenya's Mary Ngugi who finished second and third, respectively, in Boston last year.
As well as her two Boston Marathon wins in 2017 and 2021, Kiplagat has also claimed two world marathon titles – in 2011 and 2013 – and won in New York in 2010 and London in 2014. Now aged 43, she remains highly competitive and finished fourth at last year's Boston Marathon in 2:21:40 – 12 seconds faster than her winning time in Boston in 2017 – and also placed fourth in New York in November.
Yeshaneh finished a close second behind Peres Jepchirchir in Boston last year, clocking 2:21:05 to miss the title by just four seconds after an exciting head-to-head battle. Her CV also features a second-place finish in Chicago in 2019 and third place in New York in 2021.
Ngugi ran 2:21:32 for her place on the podium last year, repeating her finishing position from 2021.
Other returning champions are Ethiopia's Atsede Baysa, who won in 2016 and finished eighth in 2021, and USA's Desiree Linden, who won in 2018 and will be contesting her 10th Boston Marathon.
Kenya's former world half marathon record-holder Joyciline Jepkosgei is also back in Boston after her seventh-place finish in 2022 and will be aiming to add another major marathon win to the New York and London titles she claimed in 2019 and 2021, respectively. After racing in Boston last year she finished second at the London Marathon in October.
Israel's world marathon bronze medallist Lonah Salpeter placed second at the New York City Marathon last year and now races the Boston Marathon for the first time, as does Ethiopia's Hiwot Gebremaryam. The field also features Kenya's Angela Tanui and Viola Cheptoo.
Other US athletes joining Linden on the start line will be Sara Hall, Aliphine Tuliamuk and Emma Bates.
Elite fields
Women
Amane Beriso (ETH) 2:14:58
Joyciline Jepkosgei (KEN) 2:17:43
Lonah Salpeter (ISR) 2:17:45
Angela Tanui (KEN) 2:17:57
Gotytom Gebreslase (ETH) 2:18:11
Hiwot Gebremaryam (ETH) 2:19:10
Edna Kiplagat (KEN) 2:19:50
Celestine Chepchirchir (KEN) 2:20:10
Maurine Chepkemoi (KEN) 2:20:18
Mary Ngugi (KEN) 2:20:22
Nazret Weldu Gebrehiwet (ERI) 2:20:29
Sara Hall (USA) 2:20:32
Ababel Yeshaneh (ETH) 2:20:51
Vibian Chepkirui (KEN) 2:20:59
Atsede Baysa (ETH) 2:22:03
Desiree Linden (USA) 2:22:38
Viola Cheptoo (KEN) 2:22:44
Nienke Brinkman (NED) 2:22:51
Emma Bates (USA) 2:23:18
Dakotah Lindwurm (USA) 2:25:01
Laura Thweatt (USA) 2:25:38
Helen Obiri (KEN) 2:25:49
Nell Rojas (USA) 2:25:57
Annie Frisbie (USA) 2:26:18
Sara Vaughn (USA) 2:26:23
Haruka Yamaguchi (JPN) 2:26:35
Aliphine Tuliamuk (USA) 2:26:50
Maggie Montoya (USA) 2:28:07
Hanna Lindholm (SWE) 2:28:59
Maegan Krifchin (USA) 2:29:12
Militsa Mircheva (BUL) 2:29:23
Men
Eliud Kipchoge (KEN) 2:01:09
Evans Chebet (KEN) 2:03:00
Gabriel Geay (TAN) 2:03:00
Herpasa Negasa (ETH) 2:03:40
Benson Kipruto (KEN) 2:04:24
Lelisa Desisa (ETH) 2:04:45
Shura Kitata (ETH) 2:04:49
John Korir (KEN) 2:05:01
Ghirmay Ghebreslassie (ERI) 2:05:34
Andualem Belay (ETH) 2:05:45
Mark Korir (KEN) 2:05:49
Filmon Ande (ERI) 2:06:38
Isaac Mpofu (ZIM) 2:06:48
Hamza Sahli (MAR) 2:07:15
Michael Githae (KEN) 2:07:28
Albert Korir (KEN) 2:08:03
Conner Mantz (USA) 2:08:16
Hassan Chahdi (FRA) 2:08:19
Scott Fauble (USA) 2:08:52
Matt McDonald (USA) 2:09:49
Nico Montanez (USA) 2:09:55
Mustafa Mohamed (SWE) 2:10:03
Hendrik Pfeiffer (GER) 2:10:18
CJ Albertson (USA) 2:10:23
Nathan Martin (USA) 2:11:05
Colin Mickow (USA) 2:11:22
Wilkerson Given (USA) 2:11:44
Turner Wiley (USA) 2:11:59
Augustine Choge (KEN) 2:20:53