Rosemary Wanjiru celebrates her Tokyo Marathon victory (© AFP / Getty Images)
Rosemary Wanjiru surged to No.6 on the women's world marathon all-time list, while Deso Gelmisa prevailed in a men's race sprint finish at the Tokyo Marathon, a World Athletics Platinum Label road race, on Sunday (5).
Kenya's Wanjiru ran 2:16:28 for the seventh-fastest women's marathon performance in history, winning by 28 seconds ahead of Ethiopia's Tsehay Gemechu who also dipped under 2:17, herself becoming just the eighth woman to ever achieve the feat. Gelmisa, meanwhile, held off a strong challenge from his compatriots Mohamed Esa and Tsegaye Getachew to lead an Ethiopian top three in 2:05:22.
Contesting the second marathon of her career after a 2:18:00 debut for the runner-up spot in Berlin last year, long-time Japan based Wanjiru was always among the leaders.
A seven-strong pack went through 5km in 16:19, Wanjiru running with last year's runner-up Ashete Bekere and her Ethiopian compatriots Tigist Abayechew, Worknesh Edesa and Gemechu, as well as Japan's Mizuki Matsuda, through 10km in in 32:34.
Japan's woman-only national record-holder Mao Ichiyama, who ran 2:20:29 in Nagoya in 2020, had explained at the pre-event press conference that she fractured a rib in December and she dropped back by 10km, running 23 seconds behind the leaders.
Matsuda was the next to lose touch but was still on Japanese record pace as the speed picked up again, a sub-16:00 5km split taking the leaders to 15km in 48:32.
The women's race was down to four by 20km, the tempo having eased slightly as Wanjiru, Edesa, Bekere and Gemechu reached that point in 1:04:44. Matsuda was just over a minute behind them, clocking 1:05:52.
The leading quartet remained together behind the two pacemakers through 25km in 1:21:07, but a few kilometres later that group of four, led by Wanjiru, decided to leave the pacers behind.
The tempo had slipped to 2:17 pace at 30km, reached in 1:37:25, but Wanjiru and Gemechu forged ahead over the next couple of kilometres.
Wanjiru was running solo by 39km but upped her pace to a projected 2:16:20 finish at the 40km mark, passed in 2:09:14, and she had a 19-second lead over Gemechu.
Wanjiru continued to glance over her shoulder during the closing kilometre but she had nothing to worry about and she crossed the finish line well clear, evidently elated with her victory and big 2:16:28 PB.
Gemechu also broke 2:17, finishing 28 seconds back in 2:16:56, while Bekere was third in 2:19:11 and Edesa fourth in 2:20.13.
The 2016 Olympic 10,000m fifth-place finisher Betsy Saina, racing her first marathon as a US citizen and as a mother, worked her way through the field to finish fifth in a PB of 2:21:40, while Matsuda was sixth in 2:21:44 and the top 11 all dipped under 2:30. One week after finishing fourth in the Osaka Marathon in 2:23:15, Australia's Lisa Weightman clocked 2:31:42.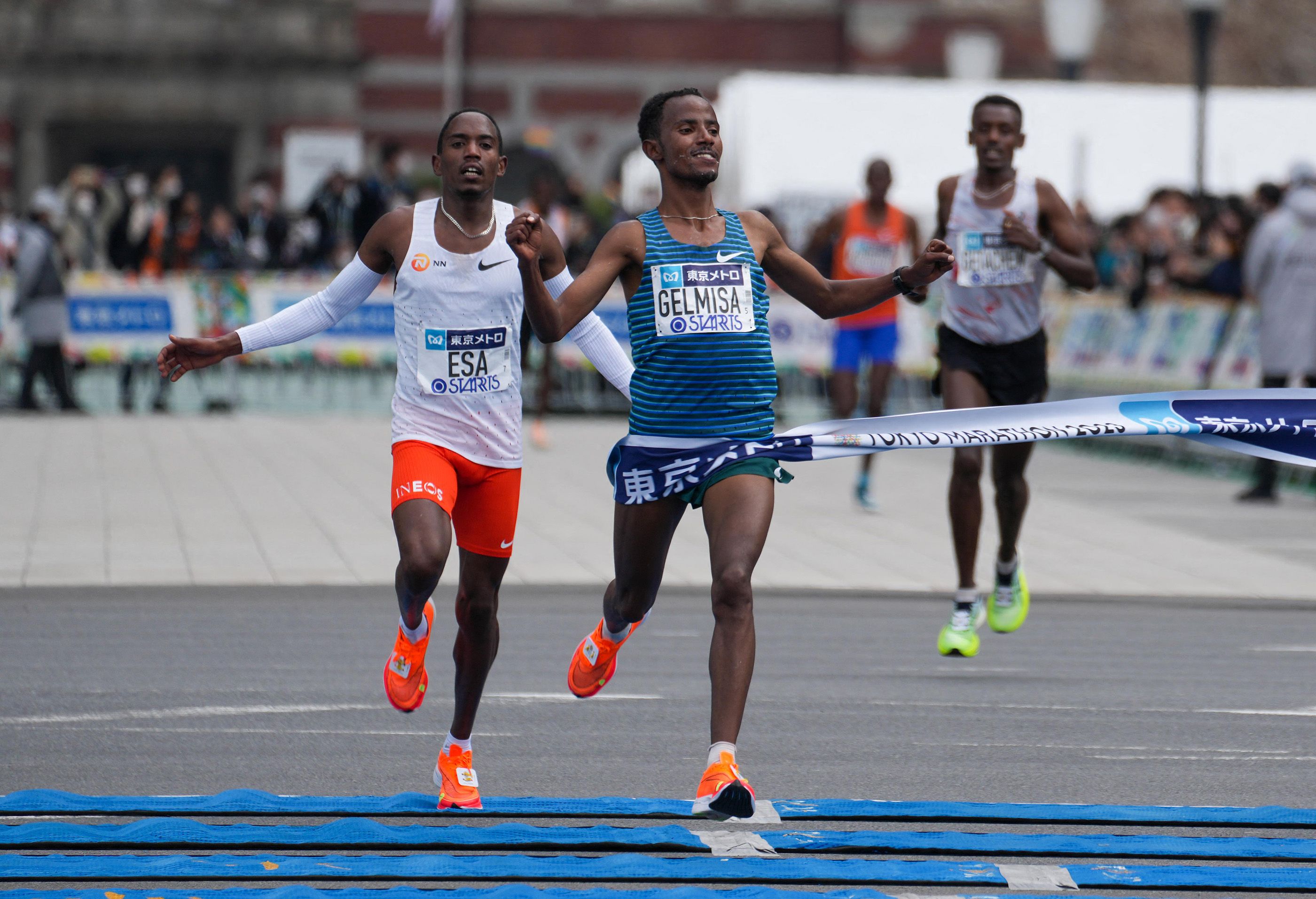 Deso Gelmisa pips Mohamed Esa to win the Tokyo Marathon (© AFP / Getty Images)
In the men's race, a huge group featuring all of the favourites was led through 5km in 14:45. The field started to break up as the pace picked up slightly, 10km reached in 29:21 and 15km in 44:03, but 30 runners remained together, the group spread by five seconds, as 20km was hit in 58:54.
Those 30 athletes remained on 2:04 pace through half way.
The tempo maintained through 25km in 1:13:45 and 30km in 1:28:39, with athletes at the back of the pack unable to stick with it.
Japan's Ichitaka Yamashita moved to the fore around 33km into the race and by 35km, reached in 1:43:47, the lead group was down to 12.
A group of six – Kenya's Titus Kipruto and Canada's Cameron Levins, plus Ethiopia's Gelmisa, Getachew, Deme Tadu Abate and Esa – broke away by the final turnaround point at around 37km and Levins hit the front a short while later. He took the leaders through 40km in 1:58:54 but was unable to hold on as Gelmisa, Esa, Getachew and Kipruto started their surge for home.
Gelmisa, Esa and Getachew kicked again and in a three-way sprint to the finish it was last year's Paris Marathon winner Gelmisa who had the strongest finish.
Leaving himself just enough opportunity to celebrate on his approach to the tape, he won in 2:05:22, narrowly pipping Esa, who recorded the same time.
Getachew was three seconds back to complete an Ethiopian top three, while Kipruto finished fourth in 2:05:32.
In fifth, Levins took two seconds off the North American record, clocking 2:05:36 to improve a mark set by Khalid Khannouchi in London in 2002. Levins' previous best had been the Canadian record of 2:07:09 he set when finishing fourth in last year's World Championships marathon in Oregon.
Abate finished sixth in 2:05:38, while Yamashita was the leading Japanese finisher in a PB of 2:05:51 for seventh place as Japan's Kenya Sonota also dipped under 2:06 and a total of 20 athletes went sub-2:10.
Leading results
Women
1 Rosemary Wanjiru (KEN) 2:16:28
2 Tsehay Gemechu (ETH) 2:16:56
3 Ashete Bekere (ETH) 2:19:11
4 Worknesh Edesa (ETH) 2:20.13
5 Betsy Saina (USA) 2:21:40
6 Mizuki Matsuda (JPN) 2:21:44
7 Ai Hosoda (JPN) 2:22:08
8 Lindsay Flanagan (USA) 2:26:08
9 Kaori Morita (JPN) 2:26:31
10 Yukari Abe (JPN) 2:28:20
Men
1 Deso Gelmisa (ETH) 2:05:22
2 Mohamed Esa (ETH) 2:05:22
3 Tsegaye Getachew (ETH) 2:05:25
4 Titus Kipruto (KEN) 2:05:32
5 Cameron Levins (CAN) 2:05:36
6 Deme Tadu Abate (ETH) 2:05:38
7 Ichitaka Yamashita (JPN) 2:05:51
8 Kenya Sonota (KEN) 2:05:59
9 Suguru Osako (JPN) 2:06:13
10 Hiroto Inoue (JPN) 2:07:09