Berlin Marathon contenders
Ethiopian long distance superstar Kenenisa Bekele will defend his BMW Berlin Marathon title on Sunday (26) in what will be his fourth appearance at the World Athletics Elite Platinum Label road race.
Two years ago he ran through the Brandenburg Gate on his way to an Ethiopian record of 2:01:41, a mere two seconds outside Eliud Kipchoge's world record set on the same course just one year prior. Thanks to that performance, Bekele remains the second fastest marathon runner of all time and heads Berlin's elite field for this Sunday.
Although the 39-year-old made no concrete mention of a world record attempt at Friday's press conference, there were signs that he had the target on his mind.
Eleven marathon world records have been set in Berlin so far, more than at any other race. Could Bekele make it a round dozen on Sunday?
"I have prepared well, but the pandemic hasn't made it easy in the last two years," said Bekele. Asked about the difference with his 2019 race in Berlin where he went so close to the world record, the three-time Olympic gold medallist said: "At the time it wasn't clear whether I could run that fast. This time I have more confidence and will do my best.
"Sunday may not be my last chance of the world record, I want to run a couple of years more," added the 39-year-old, who won the 2016 Berlin title in 2:03:03, only six seconds outside the then world record. The next year he had to drop out.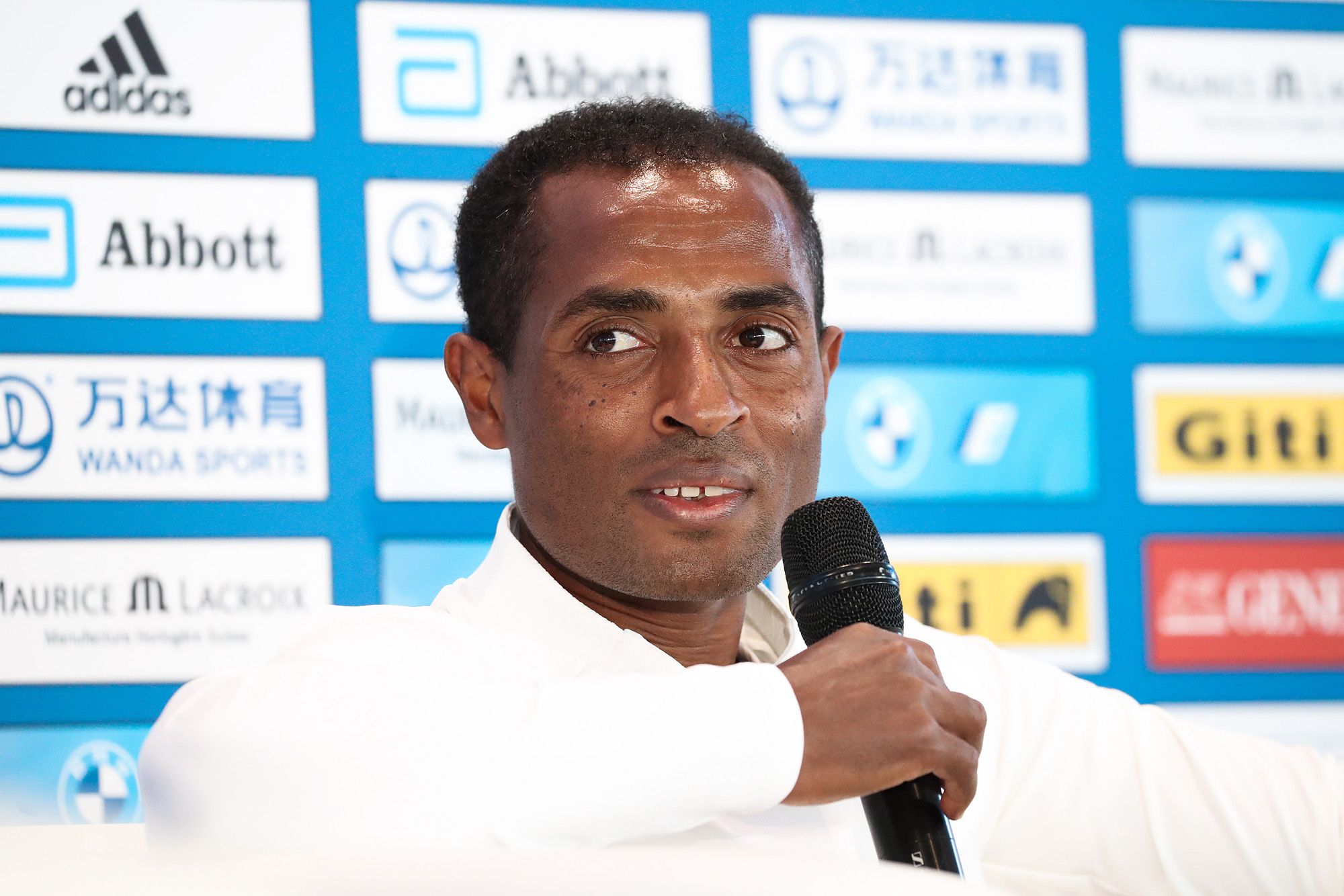 This Sunday offers Bekele arguably his best chance of breaking the world record, which is a view shared by his Dutch manager Jos Hermens. "Kenenisa has energy and the ability to be right up front at over 40," said Hermens. "But Sunday's race will be his best chance of a world record."
The race is about more than one man, though, as the field includes 10 men with sub-2:10 PBs. "We have connected almost seamlessly with where we had our last race in 2019," said race director Mark Milde. "Naturally we are delighted that we have been able to recruit a very strong field with Kenenisa Bekele at the top."
Bekele's compatriots Guye Adola and Olika Adugna could also produce impressive results. Adola famously stuck with Kipchoge until the very last stages of the 2017 Berlin Marathon, eventually finishing second in 2:03:46 – a time which, at that point, was the fastest marathon debut in history.
"I want to be among the leading group on Sunday," said Adola, the 2014 world half marathon bronze medallist.
Adugna, meanwhile, also produced a notable performance on his marathon debut, clocking 2:06:15 in Dubai last year. The 22-year-old hasn't raced since then, so will be raring to go on Sunday.


Gebrekidan sets sights on course record
An attack on the women's course record – which currently stands to Gladys Cherono at 2:18:11 – is looking increasingly likely in Berlin on Sunday.
Three women with sub-2:22 PBs will take to the startline, including world leader Hiwot Gebrekidan of Ethiopia, who clocked a PB of 2:19:35 in Milan in May.
"I've been preparing for the BMW Berlin Marathon for a long time and want to run my personal best on Sunday," said the 26-year-old, who will be contesting her first ever World Marathon Majors race.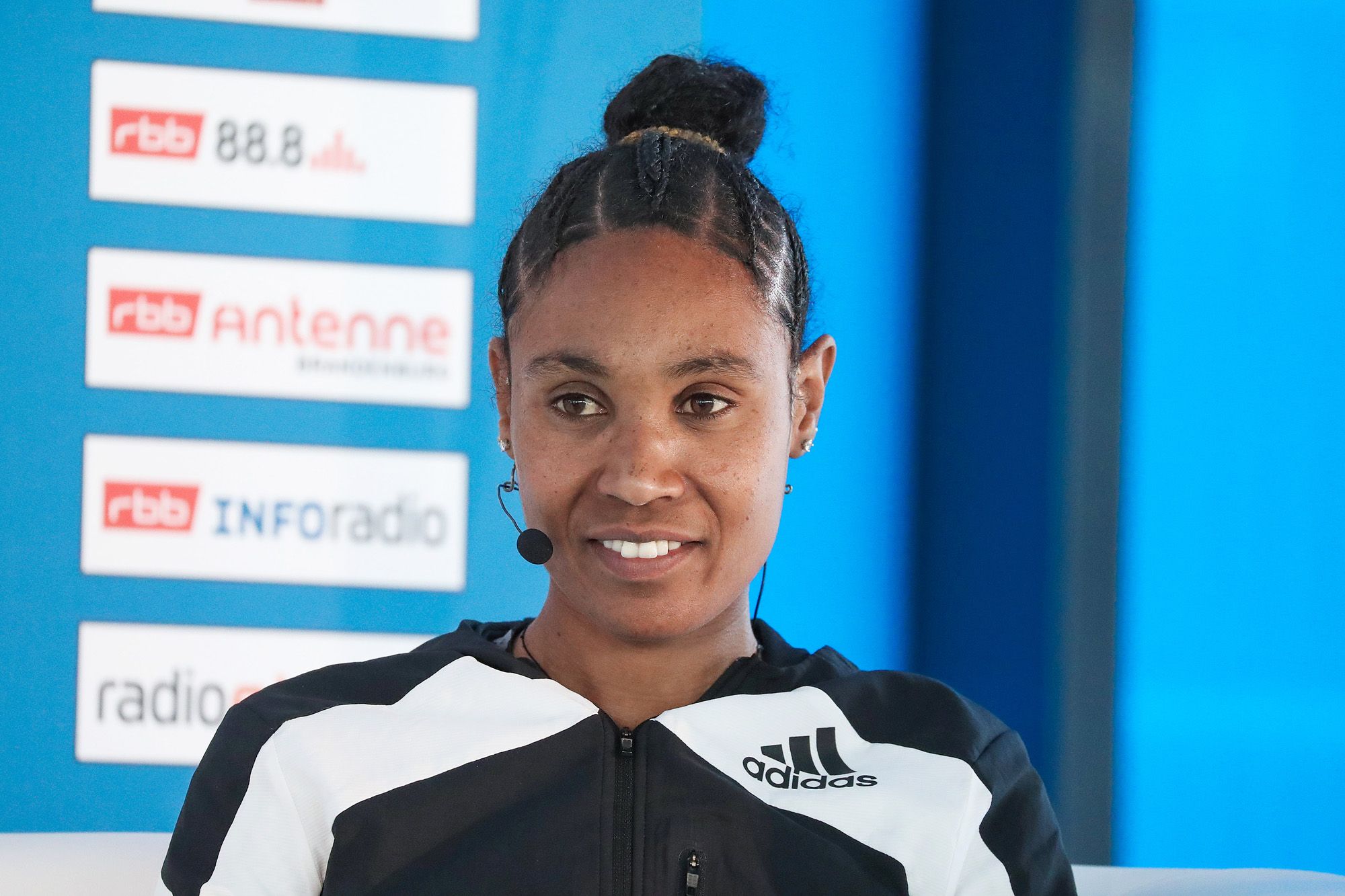 When pressed as to what pace she would like, Gebrekidan said: "I'd actually like to hold back in the first half. But I nevertheless plan to go through halfway in just under 69 minutes."
Such a split at halfway would put Gebrekidan not only in contention for the course record but also the Ethiopian record, currently held by Worknesh Degefa with her time of 2:17:41 in Dubai in 2019.
Fellow Ethiopian Shure Demise also has a personal best in her sights. She is a highly experienced marathon runner, having run a dozen of them. "I've spoken with other women runners and know what a fast course is Berlin. I have high expectations for myself and want to break my personal record," said Demise, whose best currently stands at 2:20:59 and could well go under 2:20 for the first time.
"2:20 remains a breakthrough target for women in the marathon," said race director Mark Milde. "We'll have to wait and see what times are actually run. But a pace like that (69 minutes at half way) would certainly suit us. And a course record would be great."
Fancy Chemutai, a late addition to the field, also has high hopes for Sunday's race. The Kenyan has a best of 2:24:27 and will be running only her second marathon. Her half marathon best of 1:04:52 – which makes her the seventh fastest woman of all time – suggests she still has a lot of untapped potential at the full marathon distance. No other woman on the Berlin start list has such a fast half marathon performance.
Gotytom Gebreslase could be another one to watch on Sunday. The Ethiopian, who won the world U18 3000m title back in 2011, will be making her marathon debut. Given her PBs of 1:07:52 for the half marathon and 14:57.33 for 5000m, the 26-year-old could be in contention for a podium place.
About 25,000 runners from 139 countries are expected to take part in the 47th edition of the Berlin Marathon. Although more than 90% of participants have been vaccinated against the coronavirus, the race will take place under strict hygiene regulations.
"For months our challenge has been to organise a safe BMW Berlin Marathon, and we've achieved our objective," said Jürgen Lock, the general manager of race organiser SCC Events. "It's a very good feeling; we've arrived at the new reality."
Organisers for World Athletics


Elite fields
Women
Hiwot Gebrekidan (ETH) 2:19:35
Shure Demise (ETH) 2:20:59
Helen Tola (ETH) 2:21:01
Ruth Chebitok (KEN) 2:23:29
Bethelhem Moges (ETH) 2:23:38
Fancy Chemutai (KEN) 2:24:27
Rabea Schöneborn (GER) 2:27:03
Iwona Bernardelli (POL) 2:27:47
Martina Strähl (SUI) 2:28:07
Izabela Paszkiewicz (POL) 2:28:12
Grace Momanyi (KEN) 2.28:18
Hanna Lindholm (SWE) 2:28:59
Edith Chelimo (KEN) 2:29:03
Beatie Deutsch (ISR) 2:31:39
Martha Akeno (KEN) 2:33:25
Nora Szabo (HUN) 2:35:00
Gotytom Gebreslase (ETH) debut
Men
Kenenisa Bekele (ETH) 2:01:41
Guye Adola (ETH) 2:03:36
Philemon Kacheran (KEN) 2:06:05
Festus Talam (KEN) 2:06:13
Tadu Abate (ETH) 2:06:13
Olika Adugna (ETH) 2:06:15
Tesfaye Lencho (ETH) 2:06:18
Hidekazu Hijikata (JPN) 2:06:26
Michael Njenga (KEN) 2:06:43
Okubay Tsegay (ERI) 2:06:46
Josphat Boit (KEN) 2:07:20
Kazuki Muramoto (JPN) 2:07:36
Taku Fujimoto (JPN) 2:07:57
Bethwel Yegon (KEN) 2:08:35
Weldu Gebretsadik (NOR) 2:09:14
Yimer Getahun (ISR) 2:09:27
Melkam Jamber (ISR) 2:09:51
Kamil Karbowiak (POL) 2:10:35
Hosea Kipkemboi (KEN) 2:10:40
Getaye Gelaw (ETH) 2:11:03
Blazey Brzezinski (POL) 2:11:27
Philipp Pflieger (GER) 2:12:15
Ömer Alkanoglu (TUR) 2:12:15
Adrian Lehmann (SUI) 2:12:34
Christian Vasconez (ECU) 2:12:50
Benard Kimeli (KEN) debut
Abraham Kipyatich (KEN) debut
William Wanjiku (KEN) debut