Yulimar Rojas in Madrid (© Dan Vernon)
Many star athletes are in action and a number of exciting head-to-heads are in store as the World Athletics Indoor Tour moves on to Madrid for the final Gold meeting in the 2022 series on Wednesday (2).
Such is the rare, otherworldly ability of Yulimar Rojas that anytime the Venezuelan takes to the triple jump runway, she commands the attention of all those present. That will again be the case when the world record-holder and Olympic champion contests her specialist event for the first time this year at the Villa de Madrid.
It was here, at Madrid's Centro Deportivo Municipal Gallur, that Rojas broke the world indoor record in 2020, soaring out to 15.43m, and this will be her first time contesting the event since taking the Diamond Trophy in Zurich last September with a jump of 15.48m.
This is essentially a home meeting for Rojas, who trains 66km away in Guadalajara, where she moved in 2015 to work under the guidance of Cuban long jump legend Ivan Pedroso. While the 26-year-old is unlikely to challenge the astonishing 15.67m she leapt to win gold in Tokyo, the world indoor record of 15.43 could again be under threat, particularly given Rojas started the year in impressive fashion with a recent long jump PB of 6.81m in Lievin.
Looking back to her competition in Madrid two years ago, Rojas said: "That night was incredible and it motivated me to work much harder. Madrid is always a good place for me."
Rojas said winning gold at the World Athletics Indoor Championships Belgrade 22 has been her biggest motivation since last year's outdoor season ended and helped her during her winter training.
"I've been working very hard, I'm strong, and what motivates me now is becoming world champion in Belgrade," she said. "I hope to have a good competition, over 15 metres, but it's hard to know if it will be something spectacular. I think I have good shape, and I'm very motivated to produce a big jump for the fans. I don't want to say a specific mark but I will do my best."
On the possibility of jumping 16 metres in the future, she added: "It's not easy, but it's also not impossible."
Lining up against her in Madrid are Brazil's Nubia Soares and Cuba's Liadagmis Povea, who have both gone over 14 metres this season.
While the triple jump should be a celebration of individual brilliance, the women's high jump will do the same while adding an intriguing competitive element. Eleanor Patterson, who set an Australian indoor record and world lead of 1.99m in Banska Bystrica, is in the field and she will face Montenegro's Marija Vukovic, who cleared 1.96m to also set a national record there. Britain's Emily Borthwick, who has cleared 1.95m, is also due to compete.
In the men's triple jump, Jordan Diaz, the former world U18 and U20 champion, is the leading performer this year with the 17.27m he jumped in Salamanca. Also in the line-up is Lazaro Martinez, who has jumped 17.21m this year, along with Greece's Andreas Pantazis and Germany's Max Hess.
The men's shot put will see Croatia's Filip Mihaljevic take on Poland's Konrad Bukowiecki, with just 1cm between them on season's bests, 21.84m to 21.83m respectively. Italian duo Nick Ponzio and Zane Weir are also sure to feature.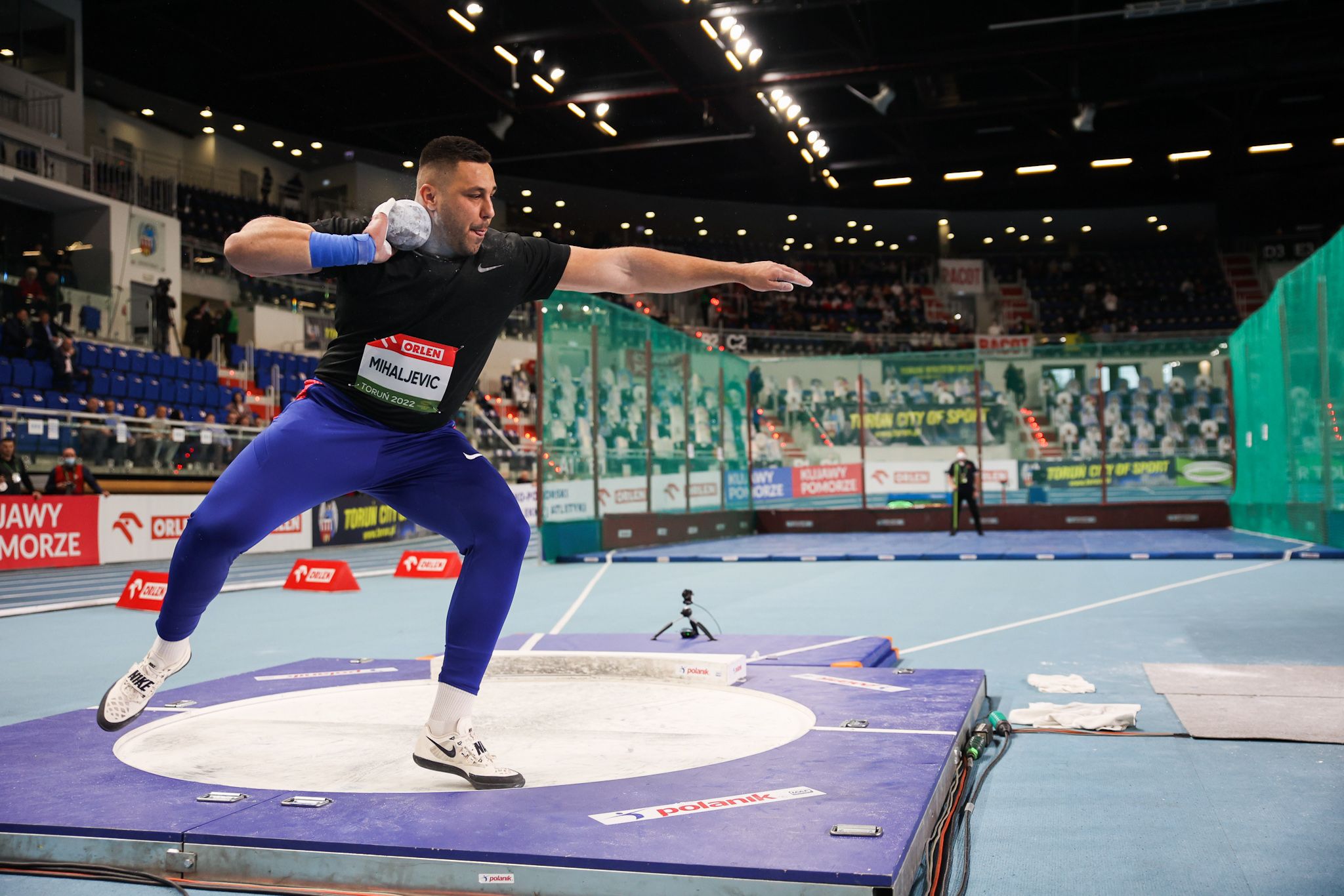 Filip Mihaljevic in Torun (© Marta Gorczynska)

Rounding out the field event action is the women's long jump, where Britain's Lorraine Ugen will take on Sweden's Khaddi Sagnia and Spain's rising multi-event star Maria Vicente, who have all jumped 6.70m or better this season. Also in the line-up are USA's Quanesha Burks, Spain's Fatima Diame and Italy's Larissa Iapichino.
On the track, the men's 3000m looks the standout event, pitting the formidable Ethiopian trio of Lamecha Girma, Selemon Barega – the reigning Olympic champion over 10,000m – and Getnet Wale against Spanish duo Adel Mechaal and Mohamed Katir. Girma is the quickest of them this year with the 7:30.54 he ran to win in Lievin, though Mechaal arrives in flying form after clocking a Spanish record of 7:30.82 in New York in recent weeks.
"It's been a long season. I started racing cross country in the autumn and didn't stop racing to this point, but I'm heading to the last part of it with a lot of hope for Belgrade," said Mechaal, who will target the 3000m there. "The Ethiopians are going to be hard to beat, but I want to be as close as possible to the medals."
Mechaal believes Wednesday's race will not be about times but more head-to-head competition, though Barega has stated his ambition is to run below 7:30.
"With the small altitude in Madrid, it will be hard to run a fast time, but my goal is to beat Lamecha Girma and try to be the champion for the World Indoor Tour," said Mechaal. "I don't want to give Ethiopia the chance to have four athletes in Belgrade so tomorrow is where the fight for the medals begins. If they go fast, I will try. If it's a tactical race, I will go for the win."
Katir explained that he had struggled with his fitness midway through last summer after suffering a bout of Covid-19, during which he "felt very bad for a week and struggled to recover afterwards." But he said his training has gone well recently and he's hoping for a fast time on Wednesday, though his chief aim is to mix it with the Ethiopian trio.
The host nation will also have a strong hand in the men's 800m where Mariano Garcia should prove tough to beat. He's the quickest in the world this year after his 1:45.12 win at the New Balance Indoor Grand Prix in New York. He will take on Kenya's Collins Kipruto and Britain's Elliot Giles, who went 1-2 in Birmingham recently with 1:45.39 and 1:45.42 respectively. Sweden's Andreas Kramer and Kenya's Michael Saruni should also be in contention.
In the women's 800m, Australia's Catriona Bisset will be looking to continue her fine form after setting a national record of 1:59.46 behind Keely Hodgkinson in Birmingham recently, though she'll face some strong opposition in the form of Britain's Jenny Selman, who ran 2:00.70 in Glasgow a few weeks ago, and Germany's Christina Hering, who has run 2:00.94 this season. Lorena Martin should put up a good display for the home crowd.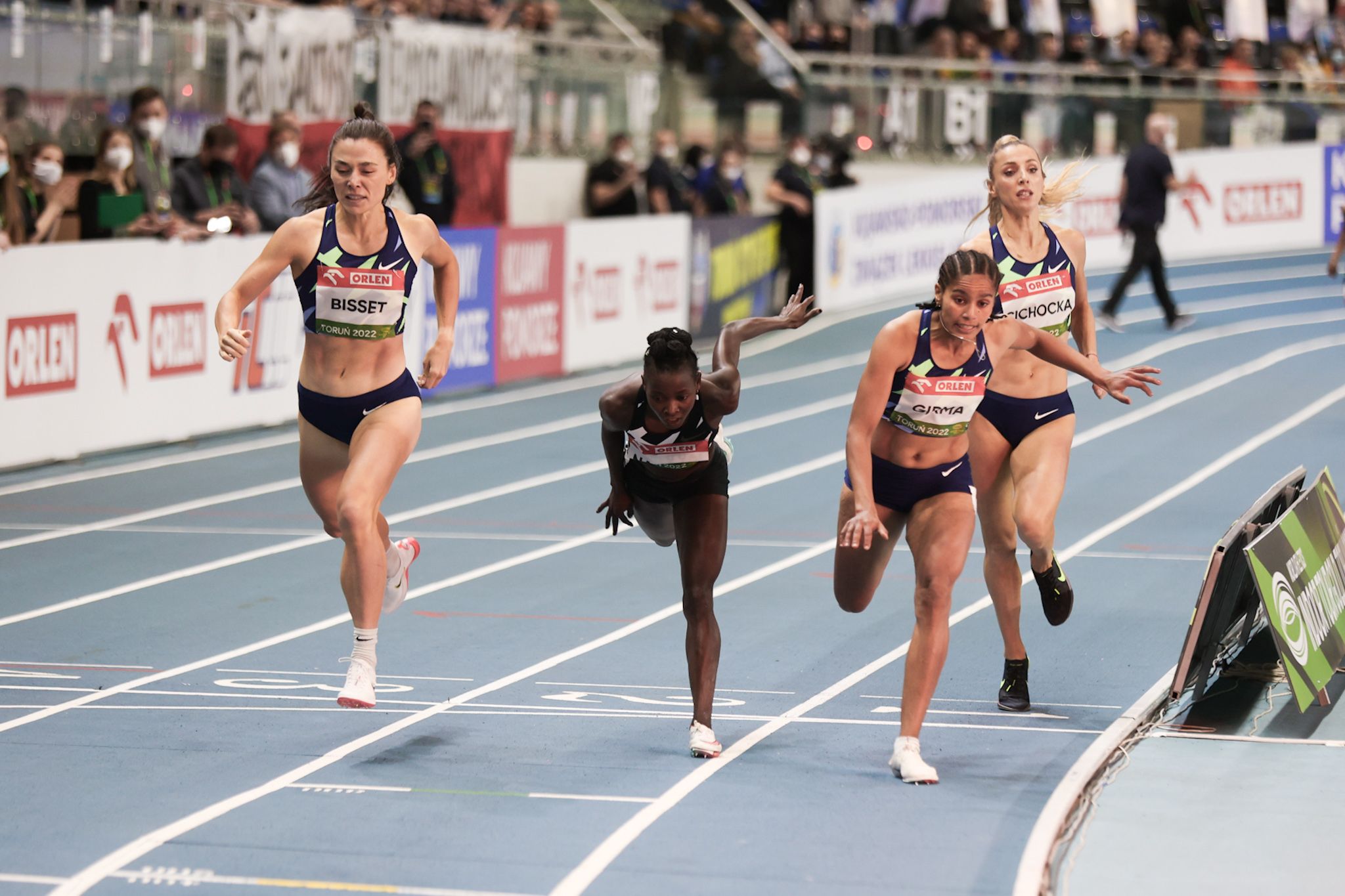 Catriona Bisset wins in Torun (© Marta Gorczynska)

A quartet of top-class Ethiopians look tough to stop in the women's 1500m, chief among them the oustanding Gudaf Tsegay, the world indoor 1500m record-holder who clocked a world-leading 3:54.77 in Torun last week. Finishing behind her there were compatriots Hirut Meshesha, Lemlem Hailu and Freweyni Hailu, all 4:02 performers this season, who will again be in the line-up in Madrid. Australia's Jessica Hull and Linden Hall should also be in the hunt for the minor places, along with Spain's Esther Guerrero.
In the sprints, US athletes Elijah Hall and Mike Rodgers look the most likely winners of the men's 60m – they've run 6.53 and 6.55 respectively this season. France's Jimmy Vicaut is also in the line-up, a 6.48 man at his best, while Britain's Jeremiah Azu and Dutch sprinter Joris van Gool have both run 6.60 this year and should be in the shake-up.
There'll be high hopes of a Spanish victory in the men's 60m hurdles where Asier Martinez is the quickest in the field this year, clocking 7.55 in Metz a few weeks ago, while his compatriot Enrique Llopis has run 7.59. However, Britain's Andy Pozzi will prove tough to beat if rekindling the kind of form that saw him win the world indoor title in 2018, the 29-year-old also holding a best so far this year of 7.59.
The women's 400m features Poland's Justyna Swiety-Ersetic, who clocked 51.40 in Torun last week. Also in the field is Ireland's Phil Healy, who has run 51.74 this year and who clocked 51.75 to win the Irish title on Sunday. Lithuania's Modesta Juste Morauskaite has run 52.02 this season and should also be a contender.
France's Cyrena Samba-Mayela is the quickest this year in the women's 60m hurdles, having run 7.84 in Karlsruhe. Devynne Charlton of Bahamas is also sure to feature, her best this year the 7.90 she ran in Torun last week, while Finland's Reetta Hurske will also be in contention.
Cathal Dennehy for World Athletics