Berihu Aregawi in action in Karlsruhe (© Getty Images)
Two world record-holders commanded the spotlight as this year's World Athletics Indoor Tour Gold action kicked off in Karlsruhe, with Berihu Aregawi and Mondo Duplantis starting their seasons in style.
At the INIT Indoor Meeting Karlsruhe on Friday (28), Aregawi solo ran his way to the fifth-fastest indoor 3000m in history, while Duplantis achieved his aim of becoming the first pole vaulter to clear six metres at the German meeting.
For much of the men's 3000m it looked as though Aregawi was on track for his second world record in the space of a month, with his sights set on Daniel Komen's almost 24-year-old mark of 7:24.90.
Although the record has been under attack over the past year, it ultimately survived another day as the 20-year-old ran 7:26.20 to move to fifth on the world indoor all-time list behind Kenya's Komen – who achieved his world record in Budapest in 1998, three years before Aregawi was born – and his Ethiopian compatriots Getnet Wale, Selemon Barega and Haile Gebrselassie. It was in Karlsruhe that Gebrselassie had recorded that mark, his 7:26.15 meeting record – then a world record – having been run in 1998.
Aregawi had run 12:49 to shave two seconds from the world 5km record on the roads of Barcelona on New Year's Eve and that, together with his fine track performances in 2021, meant his 2022 debut in Karlsruhe was highly anticipated.
Following the pacemakers through 1000m in 2:27.20, he was on world record pace, and when the second pacer left the track with seven laps to go, Aregawi forged on. He passed 2000m in 4:56.87 and was roared around the final lap as he crossed the finish line with 7:26.20 on the clock.
His previous PB had been the 7:29.24 he ran in Lievin last year – the fastest ever indoor performance by a teenager – and he was followed over the finish line in Karlsruhe by Spain's Adel Mechaal and Kenya's Jacob Krop, who clocked respective times of 7:36.57 and 7:38.15.
Duplantis, meanwhile, had started the year with two main aims for 2022: to break his own world record and win the world title in Oregon. The 22-year-old attempted the first of those goals in Karlsruhe, with three tries at 6.19m – a mark one centimetre higher than the world record he achieved in Glasgow in February 2020. Although that aim remains, Duplantis is targeting a full indoor season so will not be short of opportunities to give it another go, and by clearing 6.02m he did manage his secondary goal of breaking the meeting record of 5.95m achieved by Renaud Lavillenie in 2021.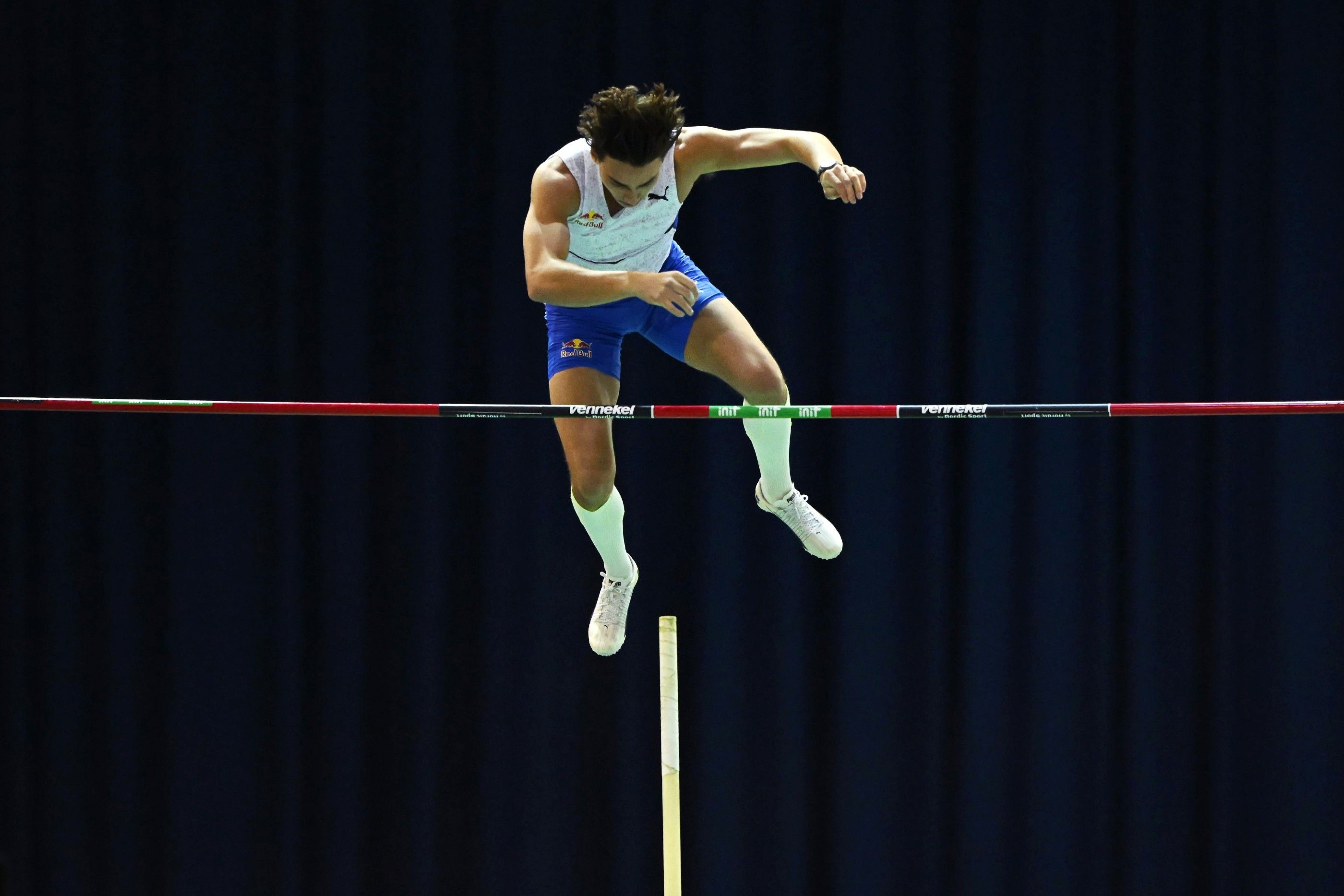 Mondo Duplantis in action in the pole vault at the World Athletics Indoor Tour Gold meeting in Karlsruhe (© Getty Images)
Duplantis entered the competition at 5.51m, which he cleared with ease, and went on to soar over 5.71m and 5.89m on his first attempts. Choosing to pass 5.96m, the bar then moved to 6.02m and Duplantis also cleared that on his first go. With victory secured, he then attempted 6.19m – a height he tried at 12 of his competitions in 2021 – before applauding the crowd.
His fellow six-metre-plus vaulter KC Lightfoot, who finished joint fourth at the Tokyo Olympics, cleared 5.89m to finish second, while Valentin Lavillenie was third thanks to a 5.71m clearance.
"I shouldn't complain too much when I jump six metres, and so I'm happy with that," said Duplantis. "When I found out that nobody had jumped six metres in Karlsruhe, I felt like it was about that time that somebody did it.
"It felt pretty close," he added, on his 6.19m attempt. "It's tough because it's really high up there and it demands perfection out of you. I know what I have to do though, and I think it's coming soon."
A total of seven men cleared 5.71m in the competition – the best depth ever for a World Indoor Tour meeting.
Like the men's 3000m, the women's 1500m had started off fast. The pacemaker had gone through 400m in a blistering 1:01.80, before Ethiopia's Hirut Meshesha took over at the front. She led through 800m but by that time it had turned from a time trial to a race, with 2:10.23 on the clock.
After the ambitious start, 2014 world indoor silver medallist Axumawit Embaye surged ahead and hit the bell in the lead, going on to win in a world-leading PB of 4:02.12. Just behind, her compatriots Meshesha and Olympic fourth-place finisher Freweyni Hailu ran 4:02.14 and 4:02.66 respectively ahead of Uganda's Olympic and world finalist Winnie Nanyondo, who broke her own national indoor record with 4:04.25.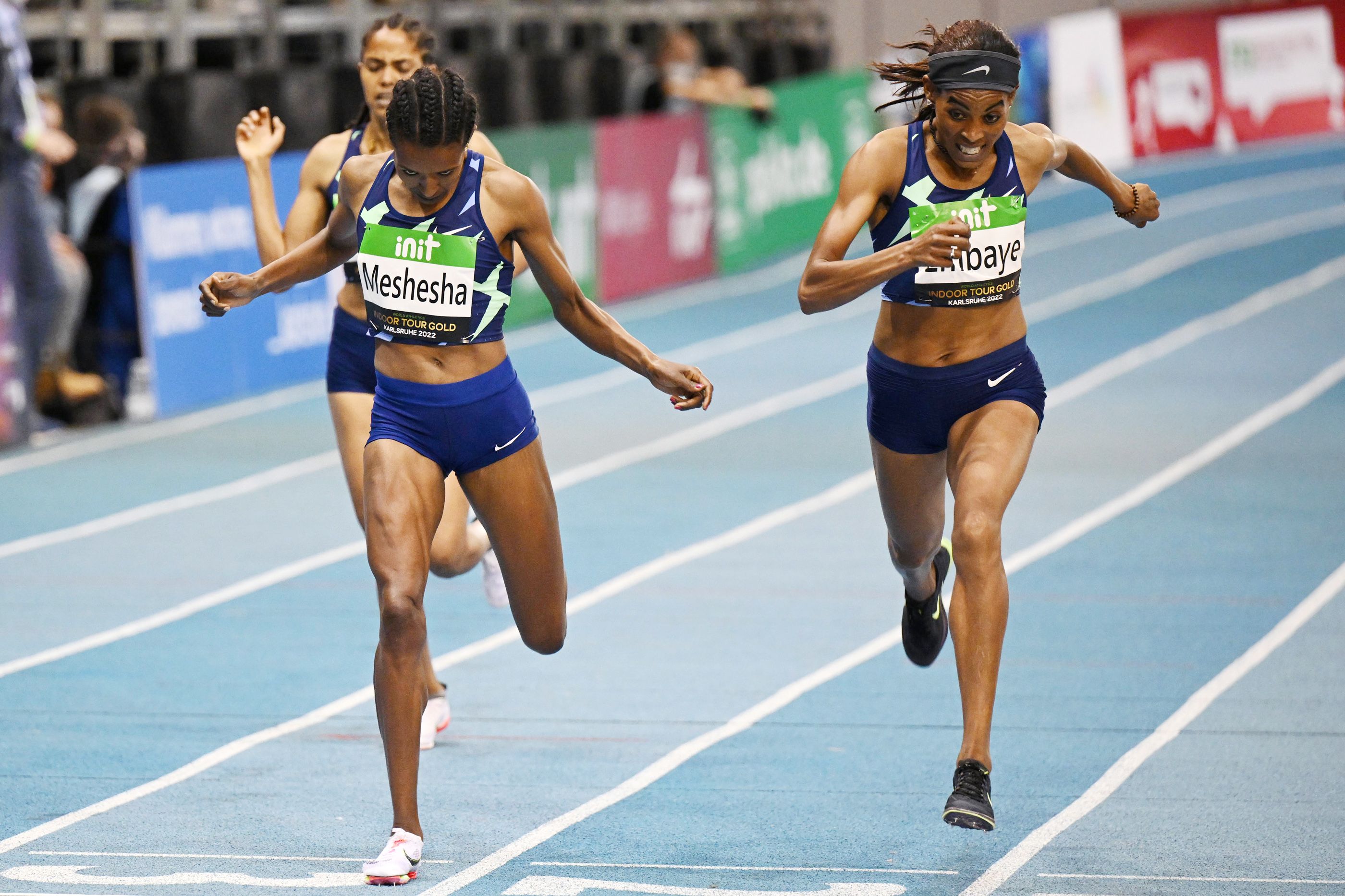 Axumawit Embaye holds off Hirut Meshesha to win the 1500m at the World Athletics Indoor Tour Gold meeting in Karlsruhe (© Getty Images)
A close women's 60m hurdles final was won by Jamaica's 2015 world 100m hurdles champion Danielle Williams, as she ran 7.84 to win in a photo finish ahead of France's Cyrena Samba-Mayela, who recorded the same time. Finland's Reetta Hurske finished third in 7.96, with the top three all improving their PBs.
"It was fast, of course, but I am never satisfied. I always want to run faster," said Williams, who had started her season with a 7.92 performance in Clemson earlier this month. "Nevertheless, the personal best gives me a good feeling for the upcoming season."
After equalling the men's world 60m hurdles lead with 7.56 in the heats, France's Pascal Martinot-Lagarde went 0.02 better to take the final, dipping to ensure a winning start to his season. Making his fifth appearance in Karlsruhe, the three-time world medallist claimed his first win at the meeting as he finished ahead of Spain's Enrique Llopis and Poland's Jakub Szymanski, who clocked respective PBs of 7.59 and 7.60.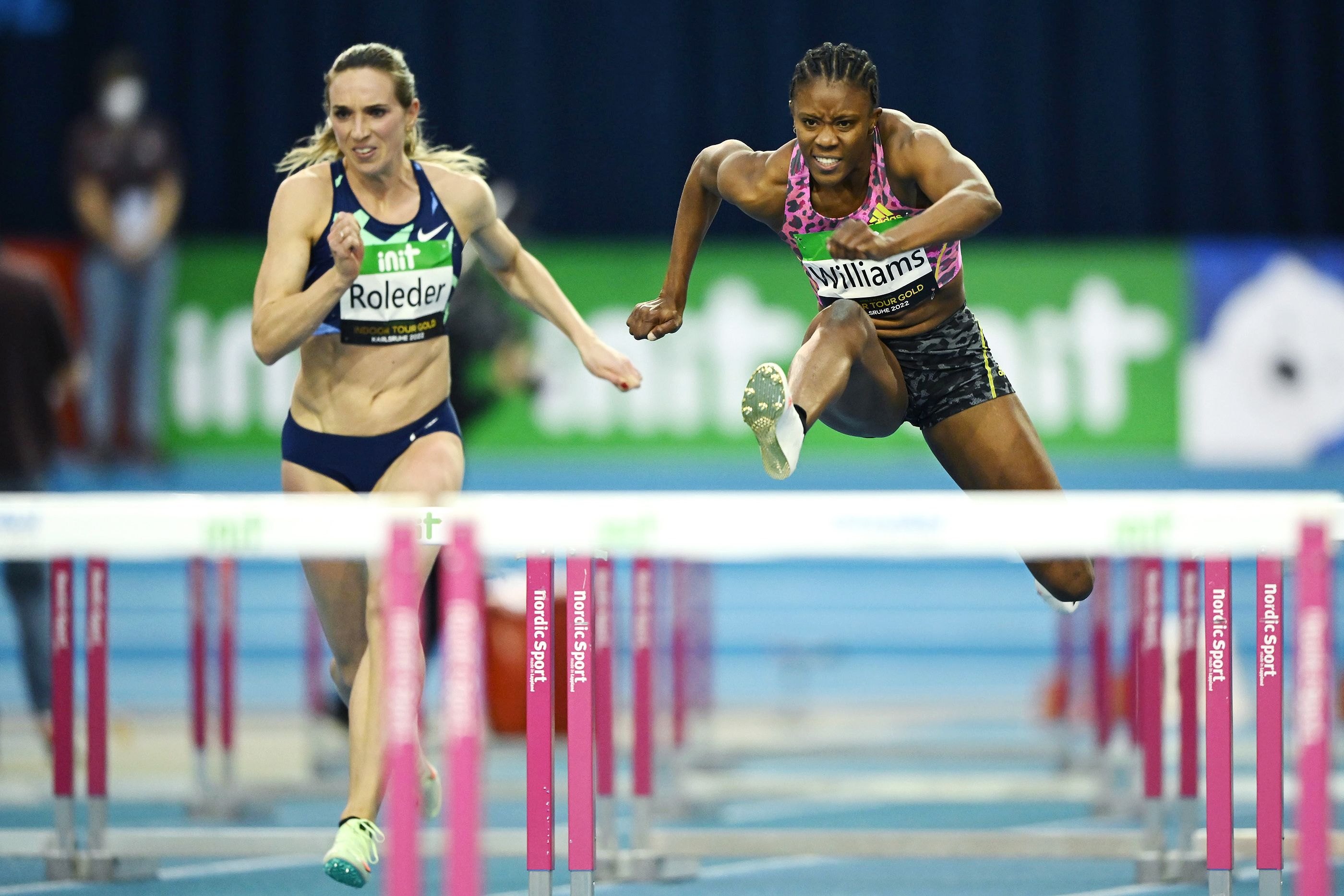 Danielle Williams in action in the women's 60m hurdles (above) and Pascal Martinot-Lagarde on his way to winning the men's 60m hurdles (below) at the World Athletics Indoor Tour Gold meeting in Karlsruhe (© Getty Images)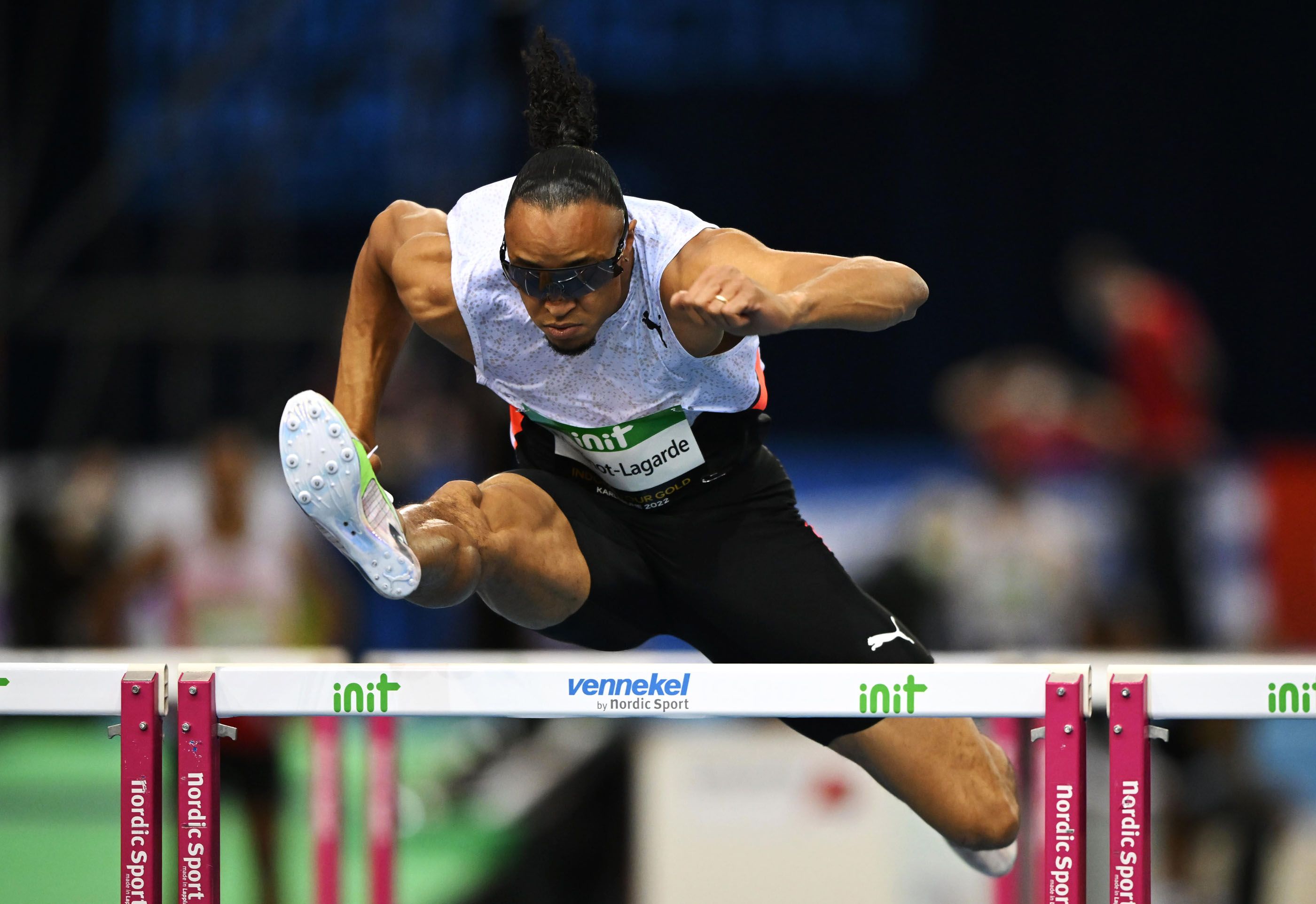 A year after becoming the second-fastest indoor 800m runner in history, Britain's Elliot Giles started his season with another strong performance, clocking 1:46.78 to win ahead of Swedish record-holder Andreas Kramer with 1:46.83.
Following the pacemaker through 400m in 51.74, Giles attacked with 100m to go and was delighted with his victory. "I enjoyed it, it was good fun. You miss it," he said. "I have just come back from a small stint in Dubai and I just thrive off the warmer weather. I got back to the UK and it was freezing! I laid some good foundations last year but this is a whole different year. I'm open-minded and I just figured, if I can just keep winning races, I'll be in good stead."
Morocco's Mostafa Smaili secured third place in 1:47.00.
The world champion claimed victory in the women's 800m, with Uganda's Halimah Nakaayi cruising clear on the last lap to clock 2:02.81 ahead of multiple German champion Christina Hering, who ran 2:03.73. Hering's compatriot Tanja Spill finished third in 2:04.39.
Poland's 2019 European indoor 4x400m gold medallist Anna Kielbasinska was another to start her season with a win, running the fastest 400m so far this year with a PB of 51.92 to take the first of the two women's 400m finals. Ireland's Phil Healy was second in 51.97, while the second final was won by Lieke Klaver of the Netherland in 52.41.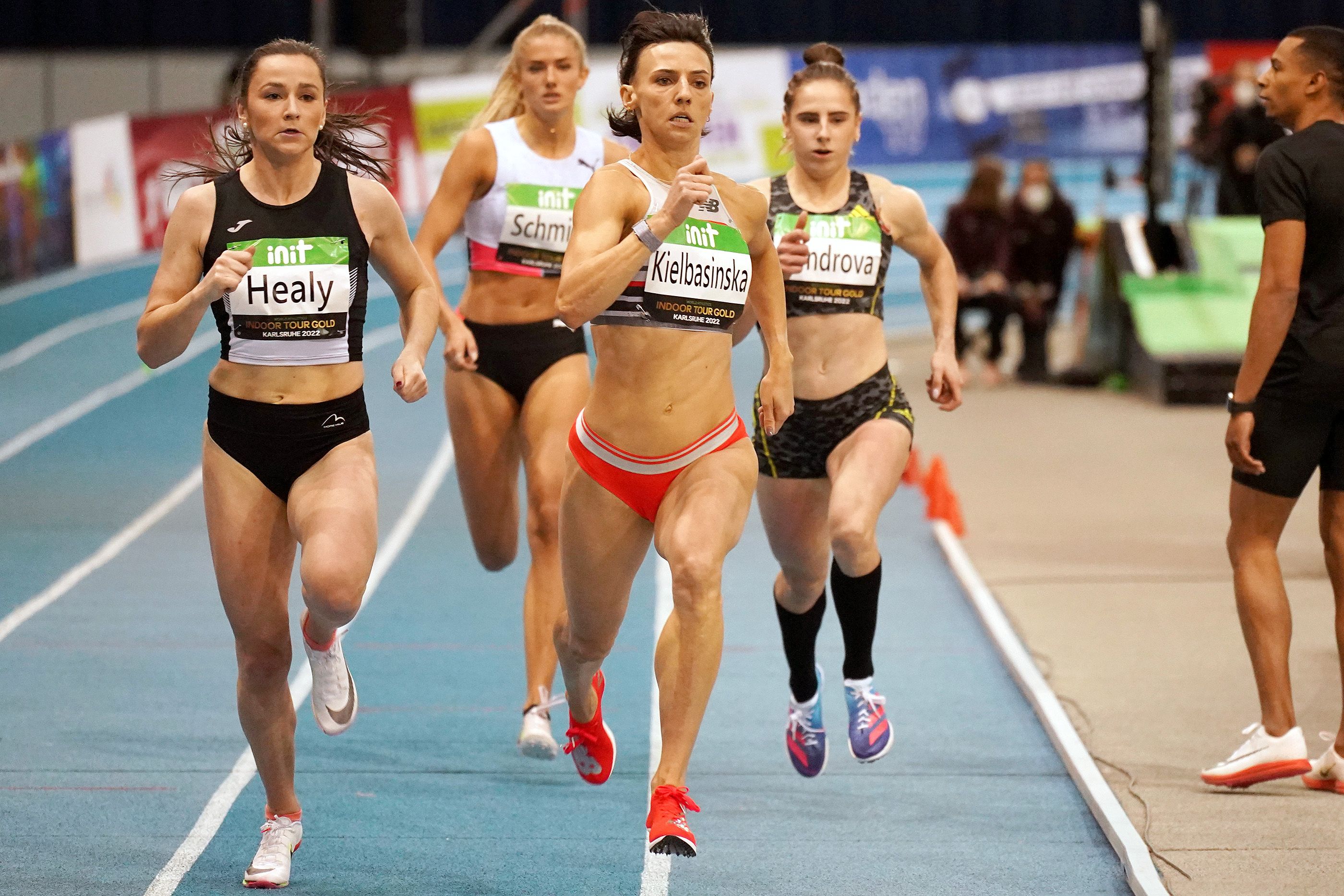 Anna Kielbasinska, winner of the 400m at the World Athletics Indoor Tour Gold meeting in Karlsruhe (© Gladys Chai von der Laage)
Spain's Maria Isabel Perez equalled her recently-set national record to win the women's 60m, running 7.21 to triumph ahead of Patrizia van der Weken of Luxembourg, who clocked 7.29, and Tristan Evelyn of Barbados, who ran 7.33. Two-time national 100m champion Perez had earlier run 7.22 to win her heat.
Sweden's Olympic finalist Thobias Montler soared beyond eight metres to win the men's long jump, his 8.02m leap coming in the final round and following a mark of 8.00m in round four.
France's 18-year-old Erwan Konate had improved his PB to 8.12m to win the world U20 title in Nairobi last August and his aim had been to achieve another eight metre-plus performance in Karlsruhe. He came incredibly close, jumping an indoor PB of 7.98m to improve on his previous best of 7.37m and finish second, with Germany's Maximilian Entholzner third with 7.92m.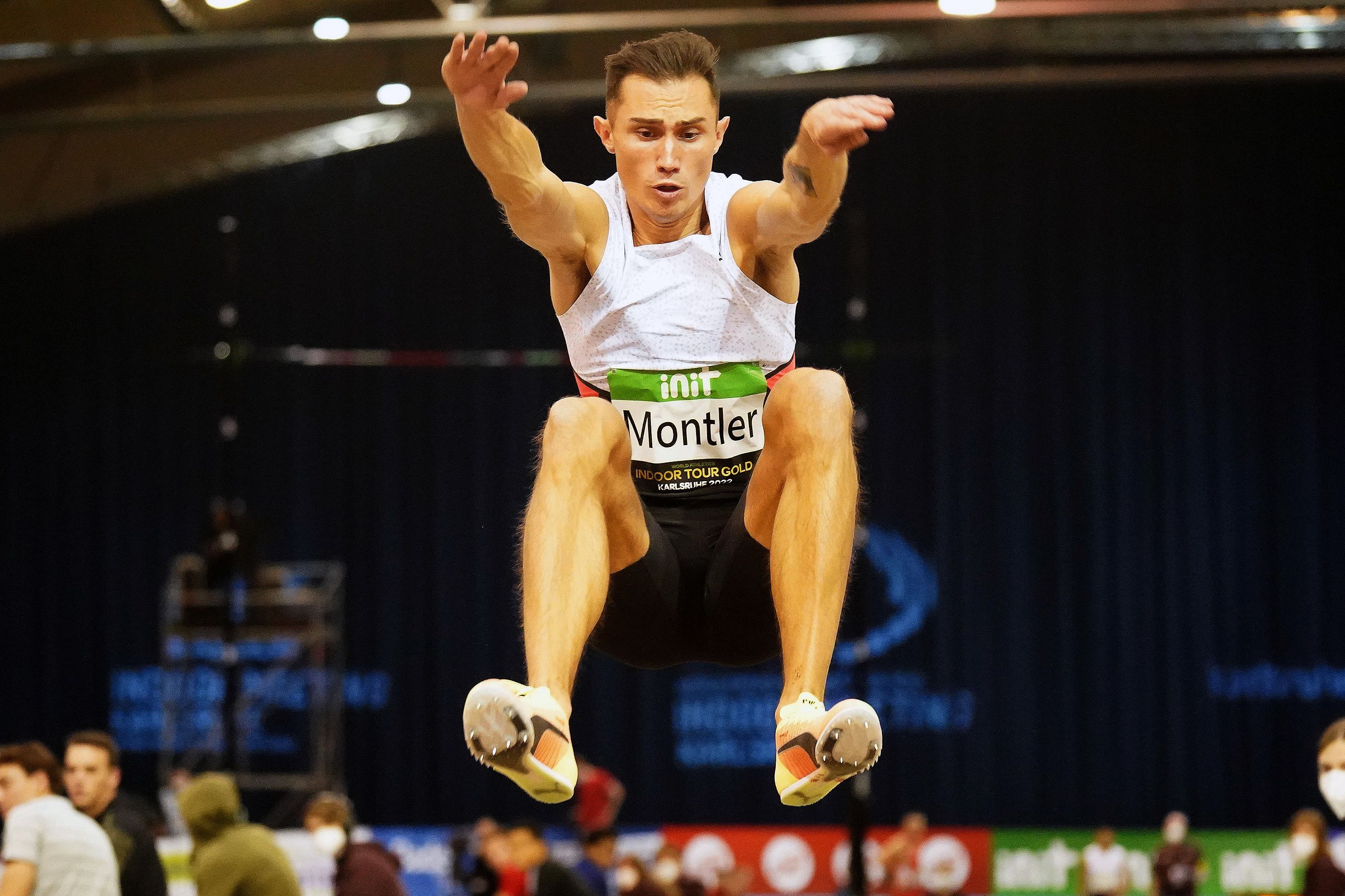 Thobias Montler in the long jump at the World Athletics Indoor Tour Gold meeting in Karlsruhe (© Gladys Chai von der Laage)
"You never know what to expect in the first competition, so 8.02m, it's good," said Montler. "I'm planning to do a pretty much full indoor season, with a focus on the Swedish Championships and the World Indoor Championships."
Konate's 7.98m ranks him eighth on the European U20 indoor all-time list. Pending ratification by the European Athletics Association, however, it will be considered a European U20 indoor record as it surpasses the current ratified mark of 7.93m, which was set by Konate's coach Robert Emmiyan in 1984.
"I'm feeling good," said Konate. "I had discomfort in my foot when training and I thought 'oh no, seriously, not now!' But I told myself, 'it's your time, just go, just jump.' And I jumped 7.98m."
Andreas Pantazis of Greece was another to enjoy his best ever indoor leap in Karlsruhe, with the 21-year-old jumping 16.79m to triumph in a close triple jump competition ahead of Azerbaijan's European indoor champion Nazim Babayev, who leapt 16.76m, and Germany's 2016 world indoor silver medallist Max Hess, who managed 16.73m. Just eight centimetres separated the top four, with Finland's Simo Lipsanen finishing fourth with 16.71m.
There was a shared victory in the women's high jump as Britain's Emily Borthwick and Germany's Imke Onnen both cleared a world-leading height of 1.91m and could not be separated on countback.
Jess Whittington for World Athletics