Jesus Tonatiu Lopez wins his 800m heat at the Tokyo Olympic Games (© AFP / Getty Images)
For all its strength across the sporting spectrum, Mexico has had scant success of late on the track when it comes to major championships. At the Tokyo Olympics, the nation of 128 million fielded full teams across the marathons and race walks, but had just one male competitor on the track.
That athlete was Jesus Tonatiu Lopez, a 24-year-old whose Games came to an end in the semifinals of the 800m, a tactical mistake costing him precious fractions of a second and leaving him wondering what might have been. Lopez finished third, just 0.03 behind Emmanuel Korir of Kenya and 0.17 behind Patryk Dobek of Poland – who went on to win gold and bronze respectively.
"I cried," says Lopez, who made his 2022 debut at the Millrose Games, a World Athletics Indoor Tour Gold meeting, on Saturday (29). "I felt very frustrated. I knew maybe I could be in that race."
Over the coming months, he'll have ample opportunity to make amends, with Lopez targeting the World Athletics Indoor Championships Belgrade 22 in March and the World Athletics Championships Eugene 22 in July.
"I'm not looking for a big achievement," he says of Belgrade. "To compete with the best in the world is going to be helpful; I'll get a lot of experience. In Eugene, I want to make the final. Obviously I want a medal, but I try to not stress myself with (such a) specific objective."
On the build-up to Tokyo, the medal question was often put to him by Mexican journalists, and Lopez did his best to play down expectations.
"I don't like to talk like that," he says. "I just want to run the best I can. I'm going to do my best, but of course with my best race I can get a medal."
The past 12 months have taught him as much.
Through 2020 and 2021 Lopez has taken many small steps that, ultimately, led to one giant leap into world-class territory. In May last year he lowered his national record to 1:44.40 and then two months later, he hacked almost a full second off that mark, clocking 1:43.44 in Marietta, USA.
It sounds strange, but Lopez was actually happier after the first race. The reason?
"When I ran 1:43, that same day was (the) Monaco (Diamond League meeting), and (Nijel) Amos ran 1:42.91," he says. "I wanted to be there, so I was frustrated. I thought I could run faster."


View this post on Instagram

What led to his breakthrough? Lopez's story is similar to many other athletes who had their worlds turned upside down in 2020, forced to reassess his approach, rebuild his fitness and return better than ever once racing resumed.
"I think the pandemic helped me," he says.
In 2019 he set a Mexican record of 1:45.03 shortly before the Pan American Games in Lima, Peru, but he was struck down with injury in the heats at that championships and failed to finish.
"In 2020 our philosophy was to get better in the things we do well and fix the things we don't do well," he says. "It was to get better in our weaknesses. I was not giving it everything I had (before) and I felt I needed to give a little more to get better."
Lopez is a full-time athlete these days and trains in Hermosillo, a city of 800,000 people, located in the state of Sonora in northwest Mexico. It's also where he grew up, first finding athletics at the age of seven, brought to it by his parents, Claudia Alvarez and Ramon Enrique.
At the time, he was playing American football, putting his speed to good use as a running back, and in those early years he "didn't really care so much" about athletics. His parents, though, made sure he stayed the course.
"They obligated me to train," he says. "When I was a boy I wanted to (play) American football, soccer, but they were like, 'no, you're going to be a track and field athlete.'"
There was no athletics background in his family, but his coach knew talent when he saw it. In 2013 Lopez – then 15 – competed at the World U18 Championships in Donetsk, Ukraine, and it left an indelible mark.
"I realised: I want to do this all my life," he says.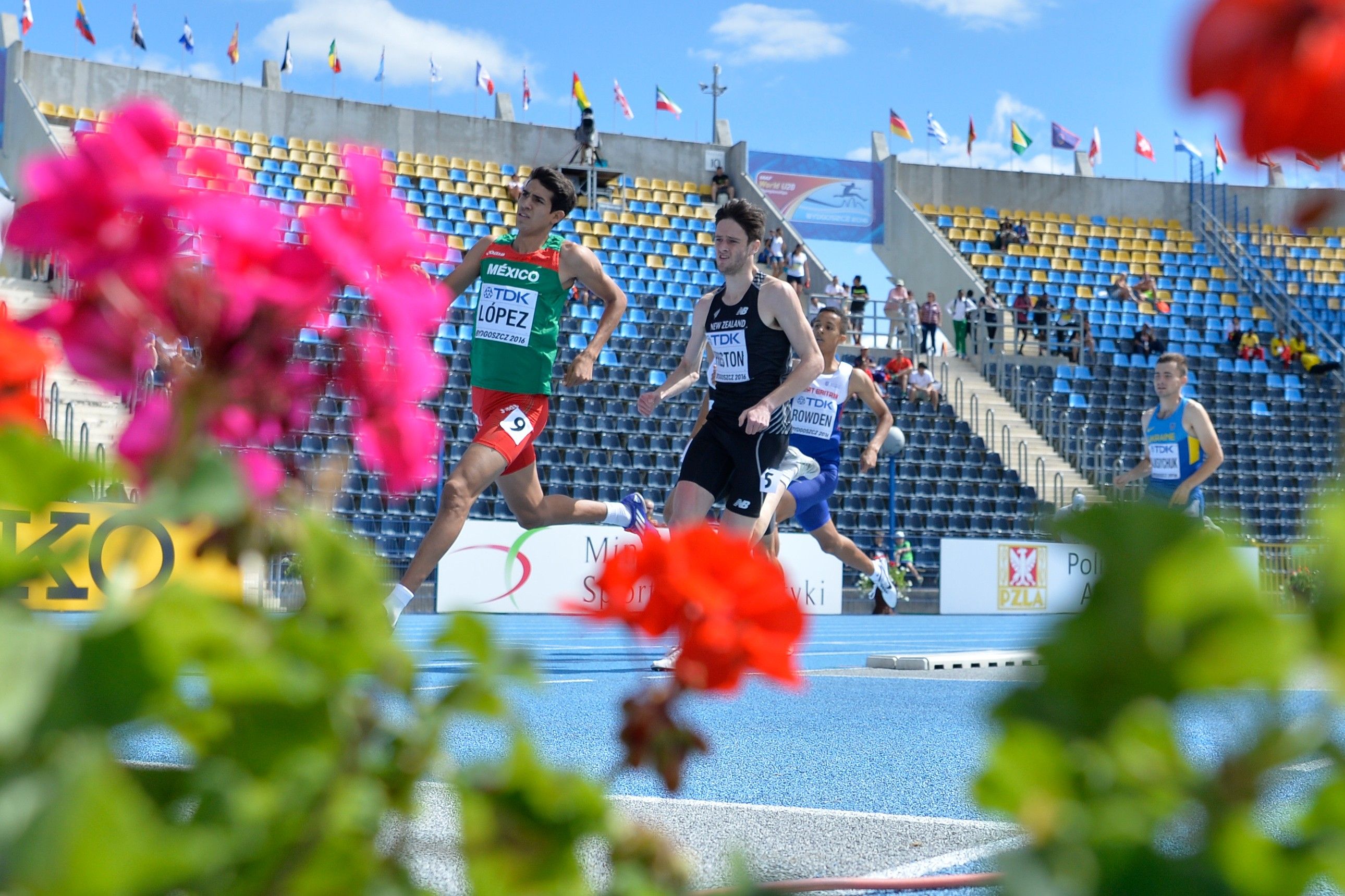 Jesus Tonatiu Lopez competes at the 2016 World U20 Championships in Bydgoszcz (© Getty Images)

At 16 he lowered his best to 1:50.33, and competed at the World U20 Championships in Eugene, USA. At 17 he was running 1:48.13. At 18: 1:46.57.
In 2017 he made his first World Championships at senior level, competing in London before going on to win the World University Games title in Taipei. By then he was a student at the University of Sonora, studying physical culture and sports and training under Conrado Soto, who still coaches him today.
Lopez would rise early, training at 6am before his classes, steadily progressing each month, each year. The sporting and academic demands meant he wasn't able to work on the side, but support from his parents – who started him out on this path – has never wavered.
"Even with not much money, they gave me what I needed to put me in the city where I need to compete," he says. "The first years were very difficult but thanks to them I was able to be consistent from year to year. They were also always there for me for emotional support. All this, I owe to my parents."
As he told his story, Lopez was sitting trackside in the Armory, New York City, ahead of the Millrose Games. He'd never raced on a 200m indoor track before but Lopez ran well to finish sixth in 1:48.60.
"It was a very fierce competition but I'm satisfied," he said. "I can get better and I know what I need to do to be better next time."
Given his pedigree as a teenager, he had a range of options available to study in the US but Lopez overlooked them in favour of staying at home. "My coach was great, I had my family, my home," he says. "I don't need to go to other places when I have everything in Hermosillo."
Growing up, he had few compatriots to look up to who were mixing it at the top level in middle-distance events, but Lopez is hoping his presence on that stage – both now and in the future – will inspire many others to follow.
"I always wanted that," he says. "Every competition, I want to have people by my side. It took me a long time to believe I could compete with the (world's best), but one year ago I really believed. I can compete with them."
Cathal Dennehy for World Athletics