Anouk Vetter in the heptathlon javelin in Gotzis (© AFP / Getty Images)
Olympic decathlon champion Damian Warner achieved a record seventh victory at the Hypo Meeting in Götzis while Olympic silver medallist Anouk Vetter became the first Dutch winner at the World Athletics Combined Events Tour Gold meeting on Sunday (29).
Warner trailed rising Swiss star Simon Ehammer on the first day as the world indoor silver medallist sailed out to a world decathlon best of 8.45m in the long jump. But Warner regained the lead at the start of day two and held on to the end, winning with 8797.
Vetter also only moved into the lead on Sunday as she chased world indoor silver medallist Adrianna Sulek for most of the two-day competition. But a meeting record of 59.81m in the javelin gave Vetter an unassailable lead ahead of the final discipline and she eventually won with 6693.
On the hunt for yet another Götzis victory, Warner got his campaign off to a strong start with a 10.14 run, missing his 100m PB and own world decathlon best set in the same town in 2019 by 0.02. Ehammer also showed he meant business with a 10.46 PB, while Canada's Pierce LePage ran 10.35.
Next up was the long jump – Ehammer's time to shine. Just three weeks earlier, the 22-year-old had jumped 8.30m in Ratingen, improving the 8.28m world decathlon best that Warner set en route to his victory in Götzis last year. It also broke the Swiss long jump record that had stood for almost 20 years and helped him on his way to a 8354-point national decathlon record.
Adding 15 centimetres to that mark, Ehammer achieved the best long jump in the world so far this season in the very first round and his delight was clear as he jumped out of the pit and started celebrating. That result launched him into the lead after two events and it was an advantage he wouldn't relinquish on day one.
Warner achieved the next best long jump mark of 7.93m and Estonia's Hans-Christian Hausenberg leapt 7.85m. LePage managed 7.49m but took no further part in the competition.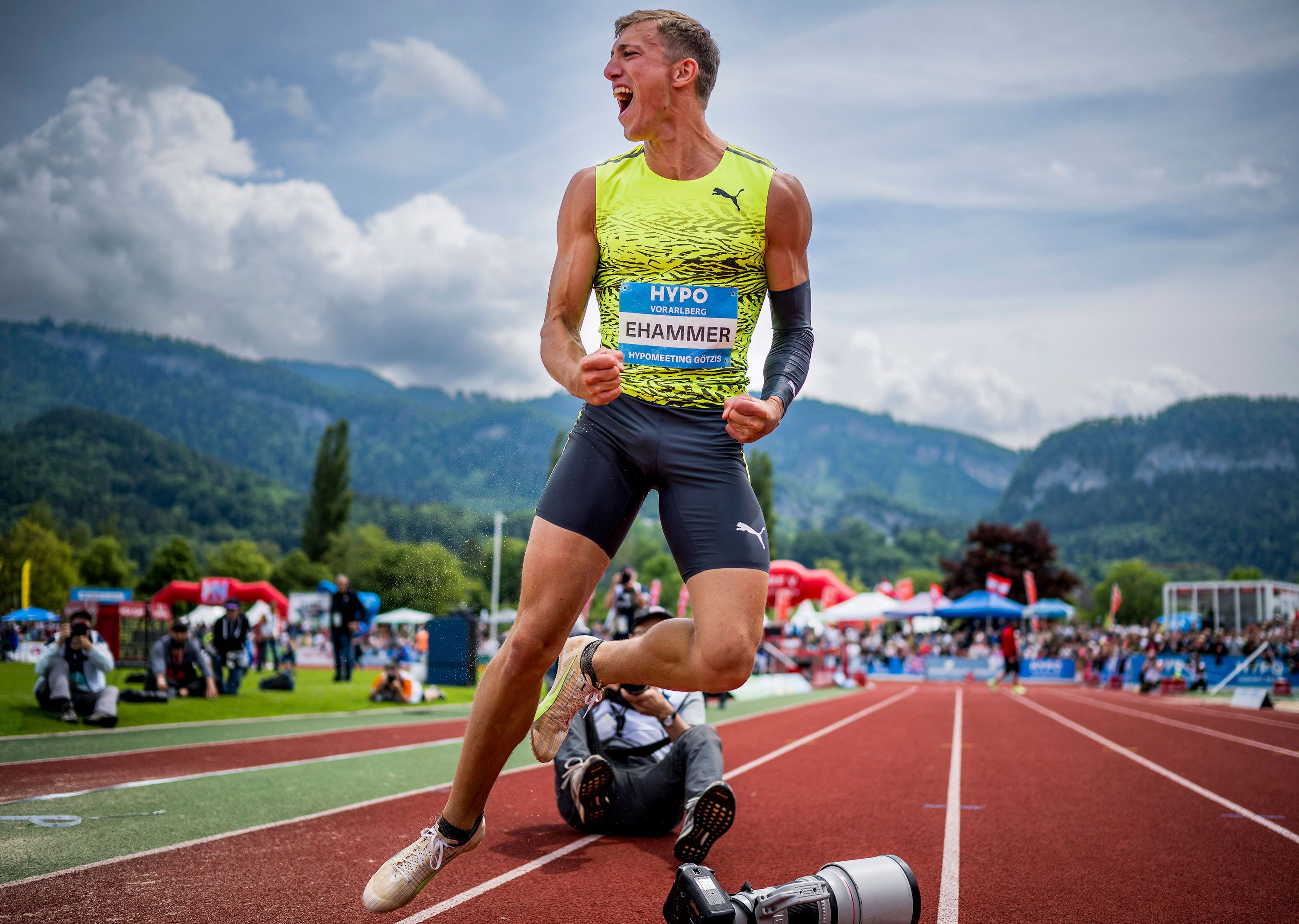 Simon Ehammer celebrates his 8.45m long jump in Götzis (© AFP / Getty Images)

Victor was strongest in the shot and wasn't too far off his PB with 16.28m as the only athlete to surpass 16 metres. Warner closed the gap on the leader with a 14.92m put to Ehammer's 14.42m.
USA's Hunter Price, making his Götzis debut, cleared 2.09m to top the high jump results ahead of Estonia's world silver medallist Maicel Uibo (2.06m), as Warner and Ehammer both managed 2.03m.
Netherlands' Rik Taam then stormed to a 400m PB of 47.28 and Warner powered to a time of 47.92. Ehammer's 48.44 saw him hold on to top spot overnight, but only just.
Warner finally regained his lead in the first event of the second day, though the gap between him and Ehammer in the 110m hurdles wasn't too significant, 13.48 to 13.75. Ehammer's Swiss teammate Finley Gaio was close behind with 13.86, enough to move up to third overall.
Warner extended his leading margin in the discus as his 48.24m effort was more than 10 metres farther than Ehammer's best (36.98m). But the big story in this event was Lindon Victor's monster heave of 54.85m – just 30 centimetres shy of the long-standing meeting record – which moved the Grenadian up to third overall.


Damian Warner in the decathlon discus in Gotzis (© AFP / Getty Images)

Somewhat surprisingly for a decathlon pole vault competition, the positions of the top six athletes remained the same after the eighth discipline, though the margins changed slightly.
Warner and Ehammer equalled their respective PBs of 4.90m and 5.10m to remain in first and second place. Victor's 4.70m was enough to hold on to third, while Kazmirek – showing his best form for quite some time – scaled 5.00m to consolidate his fourth place position ahead of Gaio and Rik Taam. A 5.30m vault from world silver medallist Maicel Uibo, meanwhile, elevated the Estonian from 11th to seventh overall.
Heavy rain and hail started to fall before the javelin, but the conditions didn't seem to affect the performances. World champion Niklas Kaul topped the event with a season's best of 69.29m, moving him into the top five overall for the first time in the competition.
Warner held on to his comfortable lead thanks to a throw of 58.62m, giving him an overall tally of 8108 and a leading margin of 243 points with one discipline still to go. Ehammer set a PB of 55.98m, just enough to hold on to second place overall from Lindon Victor, whose 63.93m throw put him just seven points adrift of Ehammer overall.
Kaul, determined to put in a strong showing after aborting his past three decathlons, took on the leading duties in the 1500m and got progressively quicker en route to a 4:16.31 clocking. Further back, Warner cruised around in 4:38.65 to end the competition with a winning score of 8797, the third-best mark of his career.
At the back of the pack, Victor and Ehammer were locked in their own battle for second place. Victor held on for a 4:55.00 run while a struggling Ehammer finished in 5:08.51. It meant Victor took second place overall with 8447 and Ehammer placed third with a Swiss record of 8377.
Kaul's heroic run in the 1500m moved the German up to fourth overall with 8303, his best score since winning the world title in 2019. Kazmirek was close behind with 8272, also his best mark since 2019. Taam, meanwhile, added more than 100 points to his PB to place sixth with 8246.
Vetter betters Dutch record
World indoor bronze medallist Kendell Williams blasted to an early lead in the heptathlon, clocking 13.13 in the 100m hurdles as Vetter ran 13.28 and Sulek 13.61.
Sulek has improved her high jump PB indoors and out this year and she went higher still in Götzis, clearing 1.92m on her third attempt after seven first-time clearances from 1.71m to 1.89m to get to that point. That performance took her into the lead overall, followed by Williams who was among three athletes to achieve a 1.80m clearance. Estonia's Liisa-Maria Lusti got closest to Sulek with a 1.86m PB.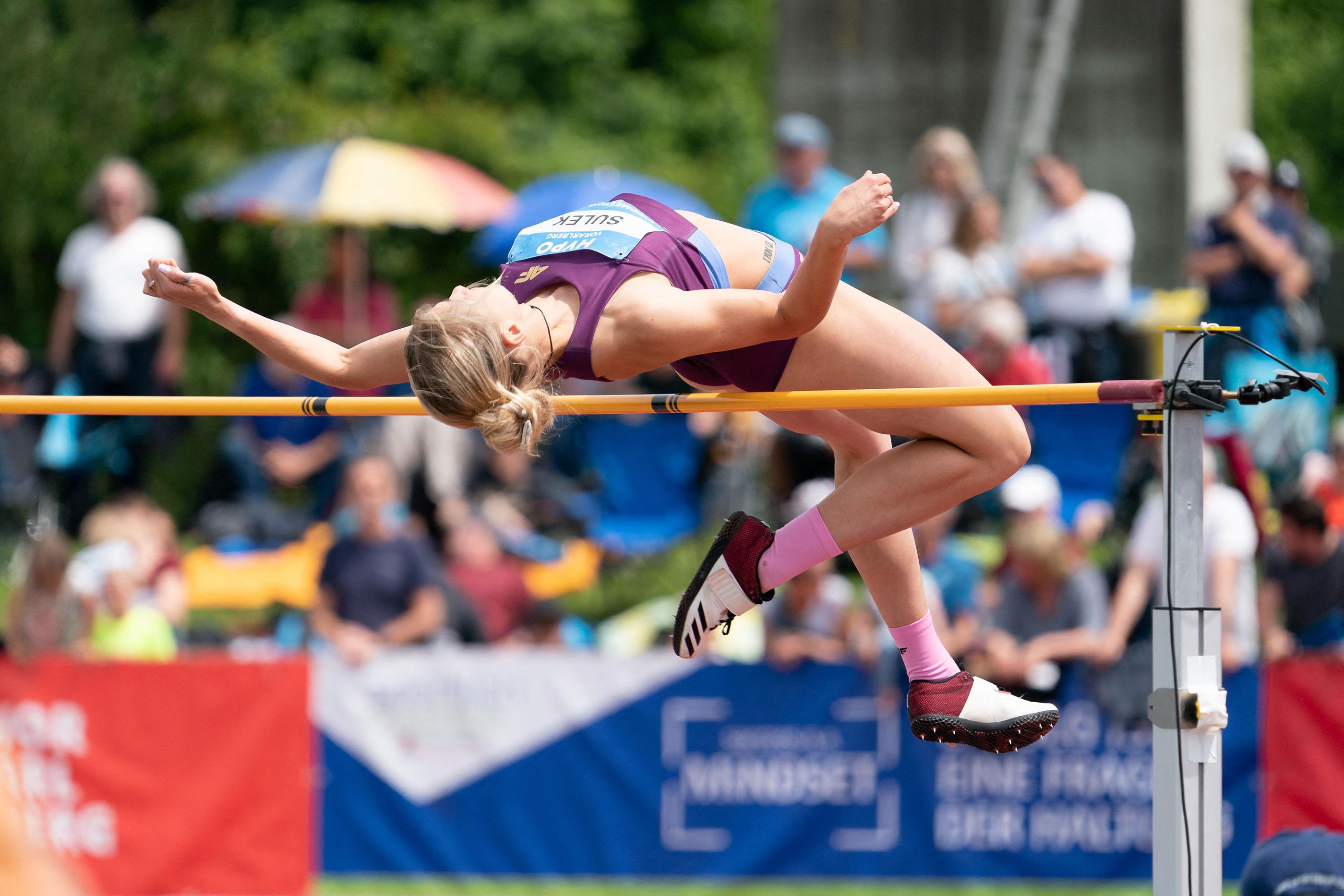 Adrianna Sulek in action in Götzis (© AFP / Getty Images)

Benin's Odile Ahouanwanou launched the shot 15.27m to top that event, while Germany's Vanessa Grimm recorded 14.96m, Vetter 14.88m and Finland's world U20 champion Saga Vanninen 14.58m. Sulek improved her PB to 13.79m and held on to her overall lead, with Vetter in second and Ahouanwanou moving up into third.
Another PB followed for Sulek as she ran 23.86 in the 200m to end the day with 3940 points. Britain's two-time Götzis winner Katarina Johnson-Thompson, looking to complete her first full heptathlon since her World Championships victory in Doha in 2019, clocked the fastest time of 23.51, while Germany's Sophie Weissenberg recorded a PB of 23.67.
Vetter's 23.76 and Williams' 23.77 secured them second and third place respectively overnight.
Vetter and Williams started the second day strongly, both leaping seasons bests of 6.47m in the long jump to close the gap on Sulek, who managed 6.28m.
But the tables turned in the javelin. Vetter opened with 47.14m, which would have been sufficient to overtake Sulek, whose opening throw of 38.66m remained her best of the day. But the Dutch all-rounder improved to 51.39m in round two and then a sensational 59.81m in round three, breaking Nafi Thiam's meeting record by almost half a metre. It's also the best ever throw within a 6000-point heptathlon.
Latvia's Laura Ikauniece (53.93m) and Emma Oosterwegel (52.53m) were the only other athletes to throw beyond 50 metres.
It meant that Vetter went into the 800m with a 372-point lead, essentially meaning the title was hers to lose. Competing in heavy rain and hail, Sulek won the fourth and final heat of the 800m in 2:13.80, but Vetter's 2:21.56 clocking sealed the crown with a score of 6693, adding four points to the Dutch record she set in Tokyo last year. Sulek was rewarded with a PB of 6429.
Grimm continued to put in a consistent series throughout the second day and emerged in third place with a PB of 6323, 22 points ahead of Multistars winner Annik Kalin. Johnson-Thompson finished down in seventh place with 6174, behind Oosterwegel (6265) and Britain's Holly Mills (6260).
Leading results
Heptathlon
1 Anouk Vetter (NED) 6693
2 Adrianna Sulek (POL) 6429
3 Vanessa Grimm (GER) 6323
4 Annik Kalin (SUI) 6301
5 Emma Oosterwegel (NED) 6265
6 Holly Mills (GBR) 6260
7 Katarina Johnson-Thompson (GBR) 6174
8 Odile Ahouanwanou (BEN) 6173
Decathlon
1 Damian Warner (CAN) 8797
2 Lindon Victor (GRN) 8447
3 Simon Ehammer (SUI) 8377
4 Niklas Kaul (GER) 8303
5 Kai Kazmirek (GER) 8272
6 Rik Taam (NED) 8246
7 Maicel Uibo (EST) 8067
8 Hunter Price (USA) 7996