Mondo Duplantis competes in Stockholm (© AFP / Getty Images)
It was in Stockholm's evocative 1912 Olympic Stadium that Armand Gustav Duplantis completed his first winning vault on the Wanda Diamond League circuit. That was back in the pre-pandemic mists of 2018, when the US-born Swede was still striving to make his name as an 18-year-old rookie on the senior international track and field scene.
Four years on, the 2022 edition of the Bauhaus-Galan Diamond League meeting in 'Stockholms Olympiastadion' on Thursday (30) presents Mondo Duplantis with the opportunity to raise his outdoor season game a significant notch as he prepares to challenge for the one major prize missing from his pole vault collection: a world outdoor title.
In the last Diamond League gathering before the World Athletics Championships Oregon22 opens for gold medal business on 15 July, Duplantis will be seeking something more than a 17th Diamond League meeting success – and a 12th win out of 12 indoors and out in 2022.



To his credit, the 22-year-old world record-holder and Olympic and world indoor champion has kept winning in the rain, and the gusting winds, while the stormy weather has followed him around the global outdoor circuit, notching world leads of 6.01m at the World Athletics Continental Tour Gold meeting in Hengelo on 4 June and 6.02m at the Diamond League meeting in Oslo on 16 June.
Assuming the mid-summer Scandinavian weather is more favourable, however, Duplantis could finally think about scaling something closer towards the 6.20m world record he cleared at the World Athletics Indoor Championships Belgrade 22 in March.
"When you get to the outdoor season, you're not going to get perfect conditions every day," he said. "That's part of the game, I guess, but I know that when the weather's right, and everything's lined up, I'm going to jump something really high."
It would be perhaps stretching expectations a little too high to speculate that Duplantis might draw upon the historical track and field gods and grace the hallowed Stockholms Olympiastadion with an 84th world record.
Still, just for the record, it is 25 years since the 83rd global mark was set there: the 1:41.73 run in 1997 with which the great Dane Wilson Kipketer equalled Sebastian Coe's 800m figures from 1981. It also just happens to be 50 years this month since the only pole vault world record set on Swedish soil: the 5.55m cleared at Helsingborg in June 1972 by Kjell Isaksson, the Swede who gained global fame in the international Superstars television competition.
Duplantis – who faces the trio of vaulters who placed behind him in the Olympic final last year: Chris Nilsen, Brazilian Thiago Braz and Nilsen's US teammate KC Lightfoot – has the added motivation of competing in his new hometown. "I'm spending a lot of time in Stockholm now," he said. "I just bought a flat here with my girlfriend, Desire."
The new Stockholmer has won five of the six competitions he has contested in the Olympic Stadium in the Swedish capital: Diamond League meetings in 2018, 2020 and 2021, plus the Finnkampen senior contest in 2019 and U18 competition in 2015. His only defeat came as a 15-year-old in the 2015 senior Finnkampen: "Finn Battle", as the annual track and field fixture against Finland is known in Sweden. He placed third with a clearance of 5.17m.
Unlike Duplantis, Sweden's other golden boy of the Tokyo Olympics, Daniel Stahl, has been obliged to fight his way into winning form this season, and on to the top of the 2022 world list for the discus.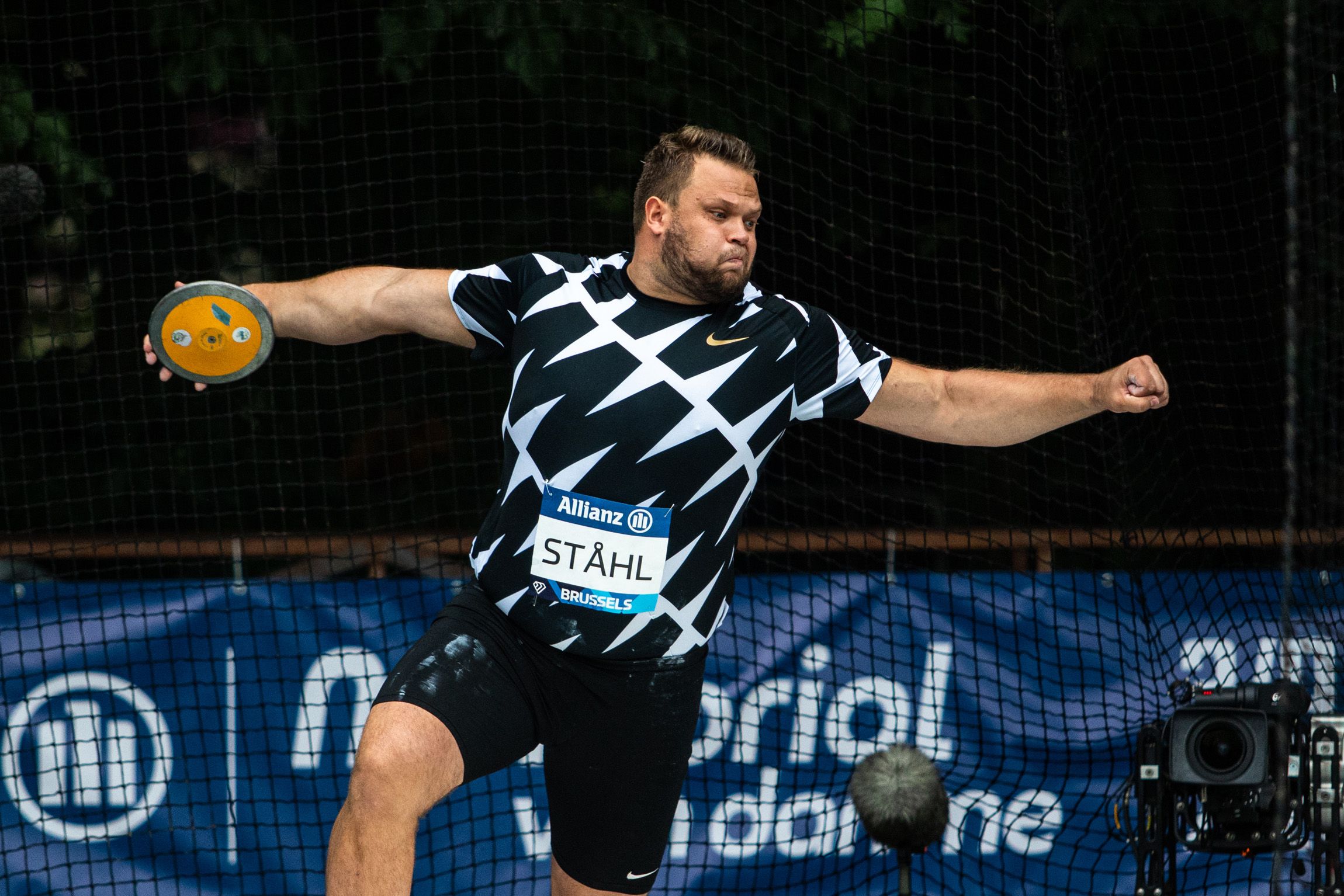 Daniel Stahl in discus action at the Wanda Diamond League meeting in Brussels (© Getty Images)
The 29-year-old found himself overshadowed by the 6ft 9in Kristjan Ceh in Diamond League defeats in Birmingham, Rabat and Rome. The Slovenian threw a Diamond League record 71.27m in Birmingham on 21 May to go 10th on the world all-time list, and also beat Stahl at the European Throwing Cup meeting at Leiria in Portugal in March.
Stahl, however, turned the tables at the Paavo Nurmi Games in Turku on 14 June, eclipsing Ceh's 67.76m with a season's best 70.62m, taking his head-to-head record against the European U23 champion to 14-4.
He followed that up last week (21) by claiming the 2022 top spot with a stunning 71.47m throw at the Swedish Team Championships in Uppsala – the second-best mark of his career, behind the 71.86m national record he notched in 2019. Having also nailed victories in the Sollentuna Grand Prix on 12 June and the Kuortane Games on 18 June, Stahl will be determined to keep the tables turned on his burgeoning young rival.
It is a measure of the towering Ceh's progress that fifth place in the Olympic final was regarded as a major advancement. In Stockholm he will face two of the three men who made the podium ahead of him – home throwers Stahl and Simon Pettersson – plus fourth-placed Matt Denny of Australia, Lithuania's European champion Andrius Gudzius and 19-year-old Mykolas Alekna (son of former world and Olympic champion Virgilijus), who threw 69.00m to win the Lithuanian title last Saturday (25), the best ever mark by a teenager.
It is the first year since 2008 in which two men have ventured beyond 71 metres. Given even half-favourable conditions, the red-hot competition ought to imperil Frederick Dacres' four-year-old stadium record of 69.67m.
The men's javelin also features a full set of Tokyo medal winners: India's Neeraj Chopra and Czech team-mates Jakub Vadlejch and Vitezslav Vesely. Add 2022 world leader and Grenada's reigning world champion Anderson Peters to the mix, plus near-90m men Oliver Helander of Finland and Germany's Julian Weber, and you have one heady cocktail.
For Chopra, it will be a first Diamond League date of the season – indeed, his first in almost four years, since the 2018 Weltklasse in Zurich. In his two 2022 appearances to date, the 24-year-old got the better of Peters in Turku on 14 June and in Kuortane four days later. Despite improving his Indian record to 89.30m in Turku, he was trumped by Helander's 89.83m. In Kuortane he threw a third-round 86.69m before slipping and hurting himself on the runway.
The Asian champion will need to be fully recovered to meet the challenge of the emerging Helander, Peters and Vadlejch, who threw a lifetime best of 89.87m behind Peters' monster 93.07m at the opening Diamond League fixture of the year in Doha last month. Weber threw a lifetime best 89.54 as runner up to Peters at the FBK Games in Hengelo on 6 June and took the German title with 86.61m last weekend.
A night of potentially classic throws contests also includes a loaded women's shot.
Unbeaten in six competitions now in 2022, Chase Ealey arrives in Stockholm fresh from her 20.51m world lead on the closing day of the US Championships in Eugene on Sunday (26). The put equated to a 38cm advancement in the world indoor silver medallist's lifetime best and knocked the 20.38m by China's Song Jiayuan off the top of the global list.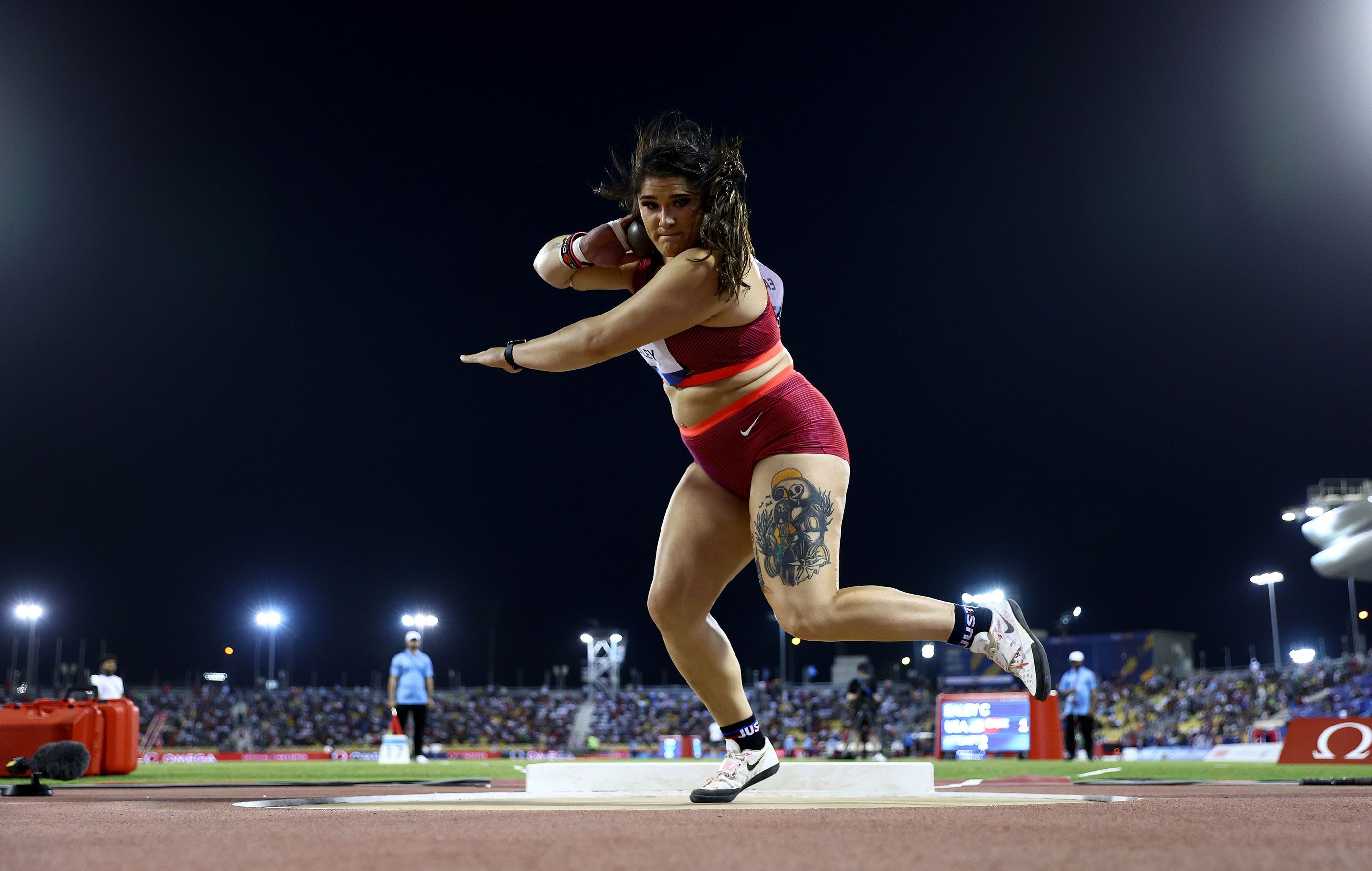 Shot put winner Chase Ealey at the Doha Diamond League (© Getty Images)
In the Swedish capital, the seemingly untouchable Ealey will face another bang in-form thrower. At the Canadian Championships in Langley on Saturday (25), Sarah Mitton breached the 20m barrier for the first time, improving her national record to 20.33m.
Having failed to venture beyond the qualifying round at the Tokyo Olympics, and finished seventh at the World Indoor Championships in March, the 27-year-old will be looking to maintain momentum before challenging for a place on the world outdoor podium in Oregon.
The field also features Portugal's world indoor champion Auriol Dongmo, world indoor bronze medallist Jessica Schilder of the Netherlands, Jamaica's 2019 world silver medal winner Danniel Thomas-Dodd and Sweden's European indoor silver medallist Fanny Roos.
On the track, Olympic 100m champion Marcell Jacobs will be aiming to prove his form and fitness ahead of the World Championships with what would be the 27-year-old US-born Italian's maiden victory in a Diamond League fixture.
The former long jumper has contested only two outdoor meetings since a trailblazing indoor campaign in which he won 12 out of the 12 races he managed to complete at 60m (also false starting in the Belgrade Invitational). He withdrew from Diamond League dates in Eugene, Rome and Oslo after suffering a minor muscle injury in the Citta di Savona meeting on 18 May, where he won his heat in a wind-assisted 9.99 and the final in 10.04.
Jacobs was clearly not pushing at full throttle as he eased to heat (10.17) and final (10.12) victories on his return to action at the Italian Championships in Rieti on Saturday (25). News of Fred Kerley's world-leading 9.77 at the US Championships in Eugene left him far from daunted by the prospect of facing the sprinter who took Olympic silver behind him in Tokyo, tweeting his rival the message: "Looking for a nice battle! See you in Oregon."
Jacobs, who finished runner up to Kerley's US teammate Ronnie Baker in Stockholm a year ago, will test his form against Reece Prescod, the Briton who clocked a lifetime best 9.93 in Ostrava last month, and 9.84 man Akani Simbine of South Africa, who finished third in the Diamond League meeting in Oslo on 16 June. Prescod had to settle for second place behind the inspired Jeremiah Azu at the British Championships last Saturday (25),clocking a wind-assisted 9.94 (2.5m/s) behind the Welsh sprinter's 9.90.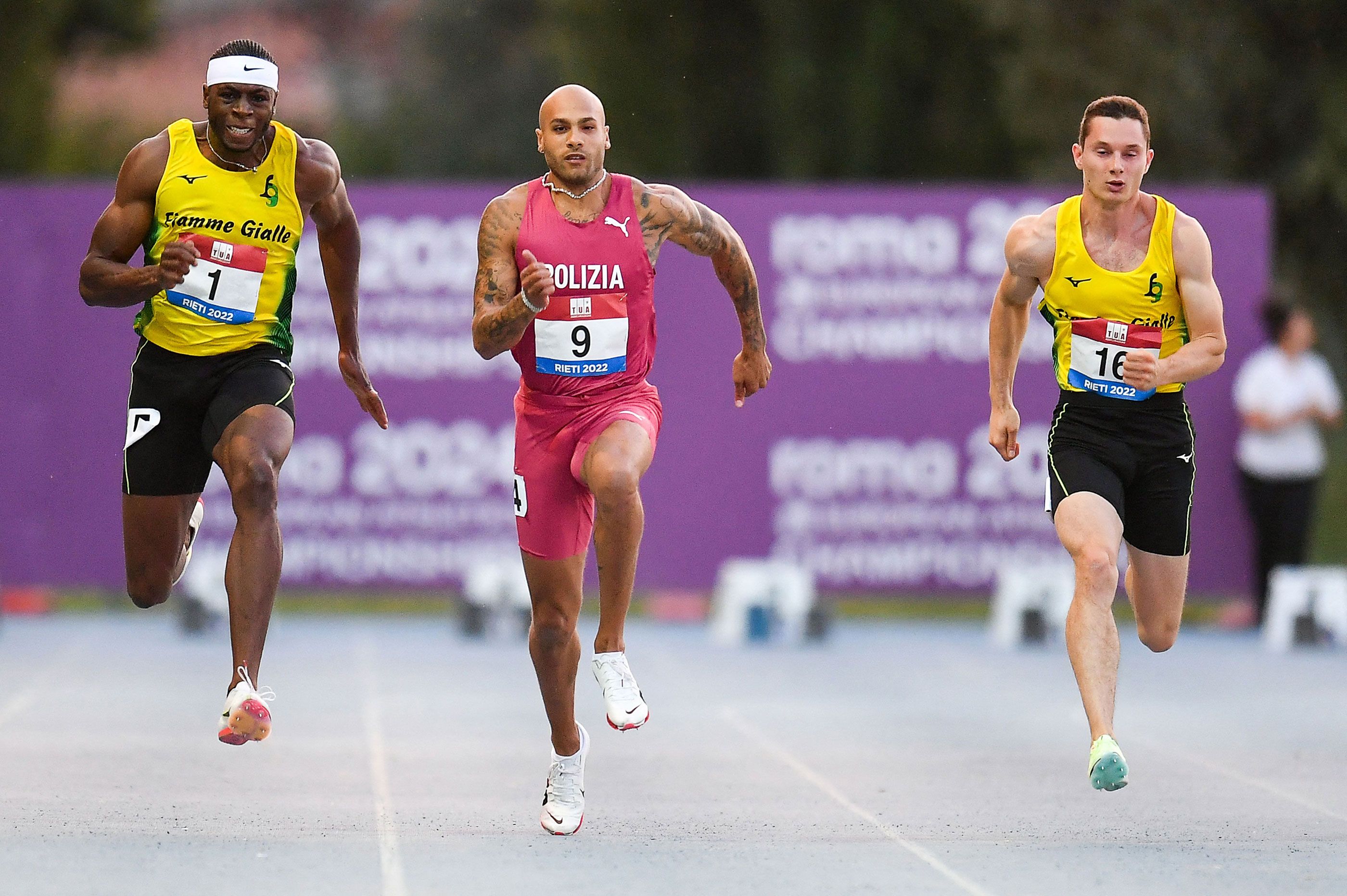 Marcell Jacobs on his way to winning the Italian 100m title (© AFP / Getty Images)
An intriguing women's 200m pits Switzerland's in-form Mujinga Kambundji against Britain's reigning world champion Dina Asher-Smith. In recent weeks, the 29-year-old Kambundji has regained the momentum that took her to that stunning 60m victory at the World Indoor Championships in Belgrade in March, clocking national records at 200m (22.18) in Bern on 14 June and at 100m (10.89) at the Swiss Championships in Zurich last Friday (24).
Asher-Smith has yet to get back into full-throttle form following the hamstring injury that ruined her Olympic ambitions last year, finishing 0.09 down on Daryll Neita over 100m at the British Championships last Saturday (25). Neita, who was blown to a 10.80 clocking in Manchester by a 3.8m/s wind, will have the chance to revise her lifetime best at the longer distance, 22.81. The Olympic 100m finalist won her national 200m title on Sunday (26) in a wind-aided 22.34 (3.5m/s).
Having enjoyed a pass from the US Championships final courtesy of her gold medal performance in Doha three years ago, reigning 100m hurdles world champion Nia Ali tests her pre-Oregon form against Puerto Rico's Olympic champion Jasmine Camacho-Quinn plus France's world indoor champion Cyrena Samba-Mayela and Tobi Amusan of Nigeria, who scorched to a 12.41 African record at the Diamond League meeting in Paris.
World, Olympic and European long jump champion Malaika Mihambo took her record for the season to five wins from six competitions with a 6.85m leap at the German Championships in Berlin on Sunday. Her one defeat came in the Diamond League meeting in Rome on 9 June, when she finished runner-up to Maryna Bekh-Romanchukh, the Ukrainian she beat to world outdoor gold with a mighty 7.30m in Doha two years ago.
The pair meet again in Stockholm, in a field that also includes Serbia's world indoor champion Ivana Vuelta, Olympic bronze medallist Ese Brume of Nigeria and Sweden's European indoor bronze medallist Khaddi Sagnia.
Ukraine's world indoor high jump champion Yaroslava Mahuchikh will be seeking to extend her unbeaten 2022 outdoor record to a fifth competition, following Diamond League victories in Eugene, Rabat and Paris and a 2.03m world lead performance in Brno on 22 June.
At 20, Mahuchikh has already bagged world and European indoor titles plus world outdoor silver and Olympic bronze. As the only female jumper to have cleared 2.00m this summer – with 2.00m in Eugene, 2.01m in Paris, plus that 2.03m in Brno – she is approaching the World Athletics Championships Oregon22 as the woman to beat.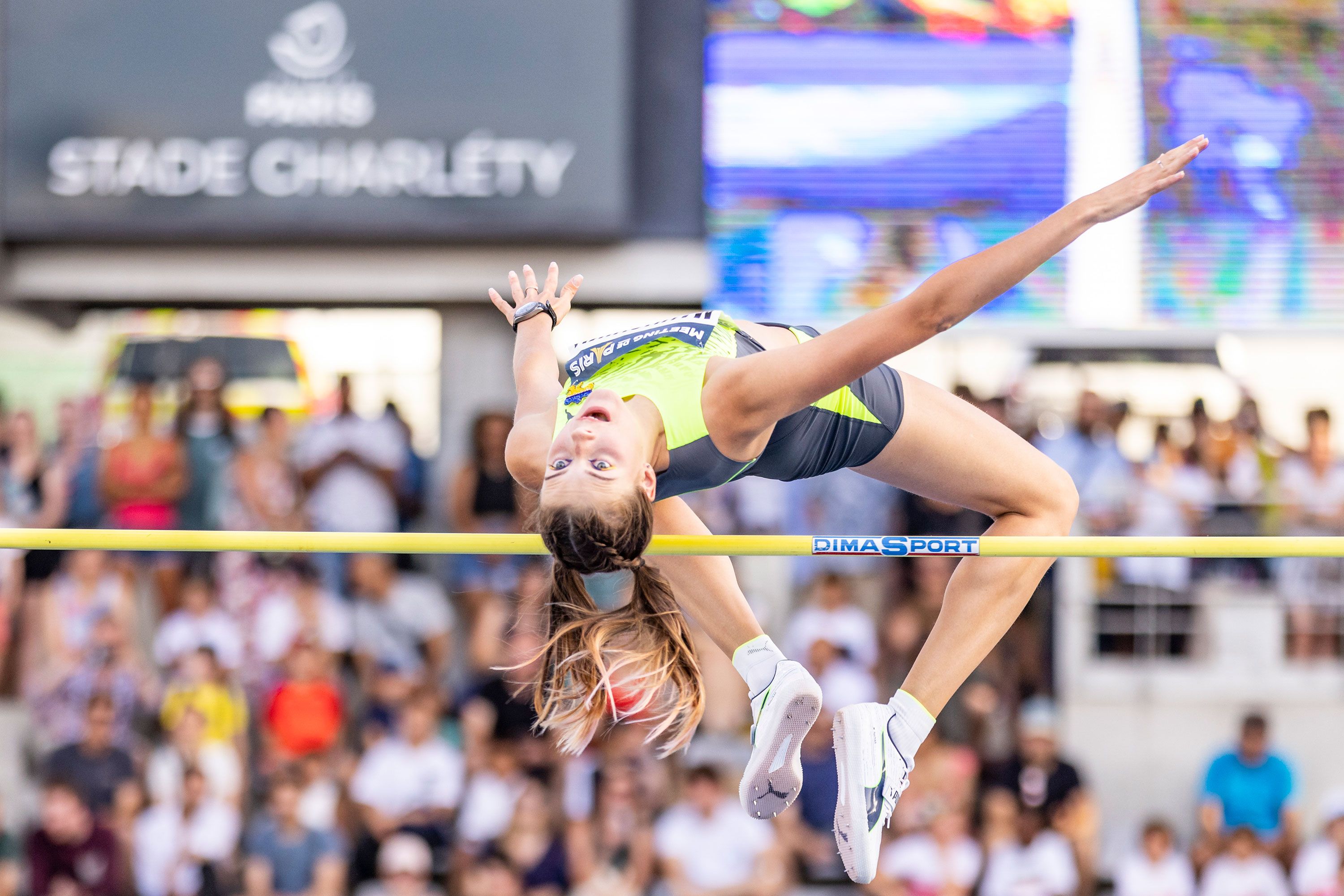 Ukraine's Yaroslava Mahuchikh (© Christel Saneh)
In Stockholm she faces Australia's Eleanor Patterson, who cleared 2.00m to finish runner up to Mahuchikh's 2.02m at the World Indoor Championships in Belgrade, plus fellow Ukrainian Iryna Geraschenko, who pushed her close in Paris with a 1.98m clearance, and Elena Vallortigara, who cleared 1.98m at the Italian Championships in Rieti on Sunday (26).
Another 20-year-old Olympic silver medallist, Keely Hodgkinson, will also be aiming to record a fourth win out of four appearances in the Diamond League this season. Victorious in Birmingham, Eugene and Oslo, the British 800m runner faces Uganda's reigning world outdoor champion Halimah Nakaayi.
Second now in the world list following Rai Benjamin's 47.04 at the US Championships, Brazil's Olympic 400m hurdles bronze medallist Alison dos Santos – who clocked 47.23 at the Diamond League meeting in Eugene – lines up against the emerging Estonian Rasmus Magi, third on the world list with 47.82. In the women's one lap hurdles, Olympic bronze medallist Femke Bol of the Netherlands will be looking to improve on the 52.47 stadium record she set last year in a field that also includes Ukraine's European silver medallist Anna Ryzhkova.
The men's 800m provides Kenya's Olympic gold and silver medal winners Emmanuel Korir and Ferguson Rotich with an opportunity to rediscover their Tokyo form, having failed to feature in the top five in Diamond League races this season. Benjamin Robert will have the chance to prove his victory in the Diamond League meeting in Paris on 18 June was no home-ground fluke. Disqualified, then reinstated after barging his way to the front in the home straight, the 24-year-old from Toulouse clocked a lifetime best of 1:44.14 in the French capital.
Gabriel Tual, fourth in Stade Charlety with a 1:44.23 PB, will be another Frenchman looking to continue his upward trajectory, while the field also includes newly-crowned US champion and world indoor bronze medallist Bryce Hoppell. In the men's 3000m, Uganda's Olympic 10,000m bronze medallist Jacob Kiplimo tests his speed.
In the men's long jump, a non-Diamond League event, Olympic, European and world indoor champion Militadis Tentaglou will be looking to extend his winning outdoor record to seven from seven. The 24-year-old Greek, who has a season's best of 8.36m, takes on world indoor runner-up Thobias Montler of Sweden.
Simon Turnbull for World Athletics