Shelly-Ann Fraser-Pryce wins the 100m in Paris (© AFP / Getty Images)
Double Olympic 100m champion Shelly-Ann Fraser-Pryce, the 'Pocket Rocket', went into orbit once again here at the Stade Charlety on Saturday (18) as she won the concluding event of a sweltering Meeting de Paris in 10.67, equalling her own world-leading mark.
The 35-year-old Jamaican's first clocking of that time this season – just 0.07 off her PB, which is the third best mark ever – came in the altitude of Nairobi on 7 May.
This meeting record was at sea level, albeit in temperatures still about 32C, having fallen from 38C at the start of this latest Wanda Diamond League meeting.
Behind her, Britain's Daryll Neita clocked 10.99 and the Ivory Coast's Marie-Josee Ta Lou was third in 11.01, with Poland's Ewa Swoboda clocking a personal best of 11.05 in fourth place.
"I came here feeling really good, and I like to run in the heat," said Shelly-Pryce, who was jumping for joy in the aftermath of a performance that boosts her prospects of a successful world title defence at the World Athletics Championships Oregon22.
"I am still training hard so I am now looking forward to the national championships and then afterwards," she added. "The plan and the aim is to make sure that I am able to run 10.60 sustainably."



The heat also suited Nigeria's Tobi Amusan, who danced in triumph after finishing strongly to win the women's 100m hurdles in an African record of 12.41, 0.02 better than her previous best.
The 25-year-old Commonwealth champion, fourth at last year's Olympics and at the 2019 World Championships, looks very capable of claiming a first global medal in Eugene this summer.
Devynne Charlton of The Bahamas was second in 12.63, ahead of Britain's Cindy Sember on 12.73 and France's 21-year-old world indoor champion Cyrena Samba-Mayela in a season's best of 12.76.
Ethiopia's Olympic 10,000m champion Selemon Barega finished half a straight clear in the men's 5000m after a long, long run for home, winning in 12:56.19 – very close to his season's best of 12:54.87 set in winning at the Rome Diamond League meeting.
Burundi's Thierry Ndikumwenayo was second in 13:05.24, with two-time world champion Muktar Edris of Ethiopia third in 13:06.54. Home athlete Jimmy Gressier was fourth in 13:08.75 – just inside the World Championships qualifying mark of 13:09.
World leads for Yavi and Mahuchikh
Bahrain's Winfred Yavi ran a solo race in the women's 3000m steeplechase to win in a world-leading PB of 8:56.55 that might have been even faster had she not almost fallen at the final hurdle.
The 22-year-old world and Olympic finalist finished alone, with Ethiopia's Sembo Alemayehu a distant second in a personal best of 9:09.19, just ahead of compatriot Mekides Abebe (9:11.09). Elizabeth Bird set a British record of 9:19.46 in fourth.



Ukrainian athletes dominated a high-quality women's high jump – and 20-year-old Olympic bronze medallist Yaroslava Mahuchikh dominated the Ukrainians as she won in a world-leading 2.01m.
That finally saw off the challenge of her compatriot Iryna Gerashchenko, who missed an Olympic medal by one place last summer and who achieved a season's best of 1.98m on this occasion.
Third place went to Ukraine's 2017 world silver medallist Yuliya Levchenko, who was one of four jumpers to clear 1.95m.
Meanwhile Belgium's double Olympic heptathlon champion Nafissatou Thiam set a season's best of 1.92m.
Cuba's 21-year-old Jordan Diaz Fortun marked his first Diamond League meeting by winning the men's triple jump with a best of 17.66m, 10cm below the mark with which he leads this season's world list. Fellow Cuban Andy Diaz, currently second on that list, improved his PB to 17.65m in second place.
Portugal's Olympic champion Pedro Pablo Pichardo thought he had trumped his younger opponents with the last effort of the competition, dancing away from the pit before flinging down his headband in disgust when it was registered as a foul, leaving him with a best of 17.49m.
Burkino Faso's France-based Olympic bronze medallist Hugues Fabrice Zango was fourth in 17.25m, with double Olympic champion Christian Taylor of the United States, recovering from last year's serious achilles tendon injury, improving his season's best to 16.54m in seventh place.
Allman avenges Oslo defeat with meeting record
Olympic discus champion Valarie Allman, beaten by Croatia's two-time Olympic gold medallist Sandra Perkovic in Oslo on Thursday night, responded to heat that she had said the day before would be just like summer where she now lives in Texas to get back to winning ways.



After Perkovic had taken a second-round lead with 66.00m, Allman – who earlier this year raised her own North American record to 71.46m – went out to a meeting record of 68.68m in the fourth round which proved to be the winning throw.
That said, Perkovic, ever competive, improved to a season's best of 68.19m in the sixth round.
The men's hammer, which was not part of the Diamond League programme, produced a suitably hot competition in early evening temperatures about 38C, with Poland's Olympic champion Wojciech Nowicki earning victory after producing four efforts beyond 80 metres, the best of them 81.25m, just 33cm shy of his mark which tops this season's world list.
His fellow Pole, four-time world champion Pawel Fajdek, was second with 80.11m.
In the women's event, which lacked Poland's triple Olympic champion Anita Wlodarczyk, who is out for the season with a thigh injury incurred while chasing someone attempting to steal her car, was won by her compatriot, Olympic bronze medallist Malwina Kopron, with 71.33m.
Japan's Haruka Kitaguchi won the women's javelin with a best of 63.13m from Latvia's Lina Muze on 62.56m and Lithuania's Liveta Jasiunaite, who threw a season's best of 62.09m.
Adams makes surprise breakthrough
South Africa's Italy-based Luxolo Adams produced the shock result of the night as clocked a huge personal best of 19.82 to finish well clear of a men's 200m field including Canada's Olympic champion Andre De Grasse, running his first big race of the season at this distance.
The 25-year-old from Burgersdorp, whose previous best was 20.01, earned bronze at the 2018 African Championships in Asaba but hadn't competed at any major championships since then.
He was followed home by Alexander Ogando in a Dominican Republic record of 20.03 and home sprinter Mouhamadou Fall, who ran a personal best of 20.26 ahead of De Grasse, who clocked 20.38.



Devon Allen of the United States, NFL wide receiver-in-waiting, maintained his winning run this season over 110m hurdles as he finished in 13.16 ahead of Brazil's Rafael Pereira, who equalled the personal best of 13.25 he had set in following the American home in the heats.
In those heats, France's 19-year-old world U20 champion Sasha Zhoya lowered his personal best to 13.40 (-1.7m/s) but did not appear in the final.
"My start was the best I have had this year," said Allen. "It was something we were really working on because it used to be the weakest part of my race. If we put it all together – maybe 12.65 in the future."
Double Olympic 400m champion Shaunae Miller-Uibo duly earned victory in her second major race over that distance this season.
But after pulling well clear of the field around the top bend the 28-year-old Bahamian slowed in the final 50 metres, looking around her almost as if she were running for qualification in a heat before virtually jogging over the line in 50.10.
However, she was full of enthusiasm for her win afterwards. "I had a great race tonight, really great," she said. "I did a strong start, I pushed a lot on the first 300 metres. Then I managed to stay in the lead. I still had some gas in the tank to finish strong. I'm exactly in the shape I wanted to be at this time of the season."
Poland's Natalia Kaczmarek, who ran a huge personal best of 50.16 in Ostrava and stands sixth in this year's world list, was second in 50.24 ahead of compatriot Anna Kilebasinska, who clocked 50.28.
Later in the evening The Bahamas' other Olympic 400m champion, Steven Gardiner, marked a rare Diamond League appearance with a smooth and dominant victory in a season's best of 44.21 from Lidio Andres Feliz of the Dominican Republic, who clocked 44.92.
Mixed fortunes for French stars
Home runner Benjamin Robert won the men's 800m in a personal best of 1:43.75 after a scrappy charge in the final 50 metres. About half an hour after the race, Robert heard news that he had been disqualified, but that ruling was later reversed and the original results stood.
The 24-year-old from Toulouse, back in the pack halfway down the home straight, accelerated steadily through the field and had to virtually run sideways at the end to get past Tony van Diepen, who seemed to lose momentum and fell back to third, albeit in a personal best of 1:44.14.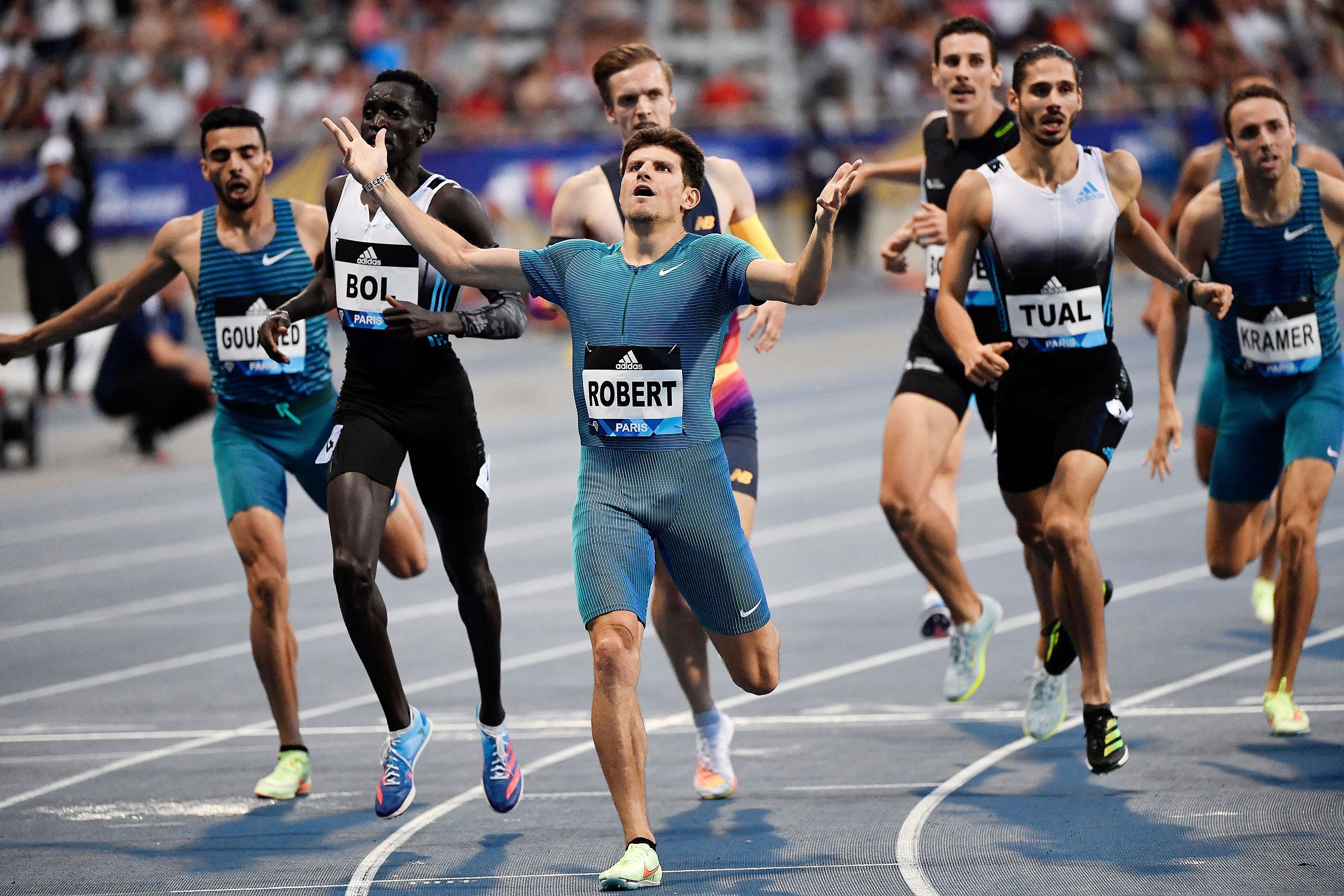 Benjamin Roberts wins the 800m in Paris (© AFP / Getty Images)

The second-placed finisher, Peter Bol of Australia, set an Oceanian record of 1:44.00. There were also personal bests for France's Gabriel Tual and Mohamed Gouaned of Algeria, fourth and fifth respectively in 1:44.23 and 1:44.43.
"In the last 200m I was burnt," said Robert. "I said to myself, 'It's going to be hard to finish.' Then something happened in the last 50 metres – the second wind. It's my first victory in the Diamond League. And it happened in Paris."
France's former world pole vault record-holder Renaud Lavillenie boosted his hopes of adding another global medal to his collection next month as he took second place on countback after clearing 5.80m, a centimetre below his season's best.
The win went to Belgium's Ben Broeders, with another home vaulter, Thibaut Collet, third on 5.75m.
Meanwhile France's world decathlon record holder and double Olympic silver medallist Kevin Mayer, troubled since the indoor season with an achilles injury that prevented him running properly, was engaged on his third 'triathlon' at this meeting following previous opportunities at the 2017 and 2019 editions.
After winning the shot put with 15.61m, the 2017 world champion took part in the long jump, registering red flags with two healthy-looking efforts before earning second place with his final effort of 7.38m behind compatriot Teo Bastien, who recorded 7.44m.
All was not well, however, and Mayer was a disconsolate spectator by the time the field line up for the concluding 110m hurdles, which he had said the day before would be his first hurdle session of the season. That will now have to wait…
"I did not want to do the hurdles today," said Mayer. "There was no point doing it. It's too risky. I haven't done hurdles on competition since last winter. Instead, I did a 150m on the warming up track at a 400m pace, to simulate a last event of the first day of decathlon.
"I'm quite satisfied with my results on shot put and long jump. Three weeks ago, I could not do sprint and jump at training. So, things are going better."
Mike Rowbottom for World Athletics