Jamaican sprinter Shelly-Ann Fraser-Pryce (© Getty Images)
At 35, Jamaica's two-time Olympic 100m champion Shelly-Ann Fraser-Pryce has done it all. But she still hasn't finished, and her appearance at the Wanda Diamond League meeting in Paris on Saturday (18) will represent another significant step in her campaign to defend her world 100m title in Oregon next month.
Fraser-Pryce established her name early on this season's world list when she ran in the rarified air of Nairobi and won in 10.67 - only seven-hundredths off the personal best she ran last year to put herself third on the all-time list.
Her Jamaican compatriot and twice successor as Olympic 100m champion, Elaine Thompson-Herah, has since made a good start to her pursuit of a first individual world title with a best of 10.79 on the Eugene track that will stage the World Athletics Championships Oregon22.
But now Fraser-Pryce is back to make another impression in top-level competition at the Meeting de Paris on the ultra-fast blue track at Stade Charlety, which was renovated in 2019.
She will be taking on some talented sprinters including Switzerland's Mujinga Kambundji, the surprise – and surprised – winner of the world indoor 60m title in Belgrade earlier this year in a personal best of 6.96. Kambundji, who turns 30 on the day before the race, will be targeting her personal best of 10.94.
Also in the mix will be Michelle-Lee Ahye of Trinidad and Tobago, who has run 10.94 this season and has a personal best of 10.82, and Marie-Josee Ta Lou of the Ivory Coast, who missed a 100m medal by one place in Tokyo as she ran 10.91.
Two-time Olympic 400m champion Shaunae Miller-Uibo, who has raced well but not exceptionally at 200m this season, will get down to serious business at her specialist event.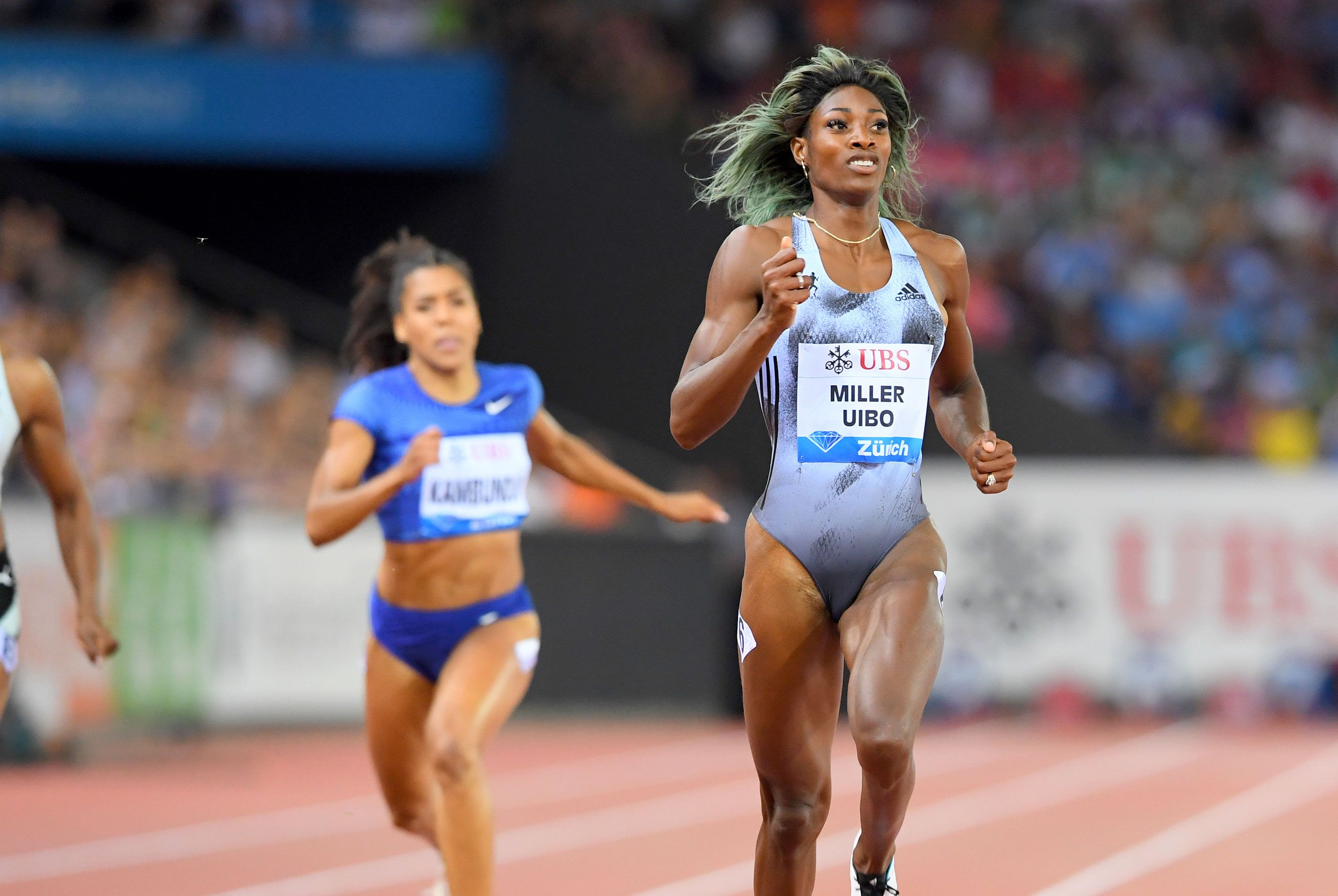 Shaunae Miller-Uibo wins the 2019 Diamond League final in Zurich (© Jiro Mochizuki)
The 28-year-old Bahamian, who lowered her own continental record to 48.36 in Tokyo last summer, is third in this year's top list with her time of 49.91, but that was set in April and the Olympic champion will want to check in on her current form having run over 200m recently.
She faces a strong Polish trio of Natalia Kaczmarek, who ran a huge personal best of 50.16 in Ostrava and stands sixth in this year's world list, European champion Justyna Swiety-Ersetic and Anna Kielbasinska.
The Bahamas will be providing both Olympic 400m champions in Paris, with Steven Gardiner hoping to further fine-tune his world title defence in Oregon with a rare Diamond League appearance.
The leggy 26-year-old, who is 1.93m tall and has run 43.48, making him the sixth best performer of all time, did not compete in any Diamond League race last year and only raced once in Europe, at Szekesfehervar in Hungary.
His last appearance on the sport's top circuit was at Monaco in 2019, when he won. Gardiner is already in good shape, having run 44.22 at Baton Rouge in Louisiana on 23 April - the fastest time recorded so far this year.
Meanwhile, European champion Matthew Hudson-Smith, who recently took one hundredth of a second off the British record of 43.36, set by Iwan Thomas in 1997, could be in position to better a record of even longer standing, this time the European one of 44.33 set by East Germany's Thomas Schoenlebe in 1987.
Devon Allen of the United States, whose 12.84 clocking in last Saturday's New York Grand Prix – the third-fastest ever run – earned him a handsome victory ahead of world champion and compatriot Grant Holloway, maintained winning momentum over 110m hurdles in Oslo, although this victory was earned in 13.22 into a headwind of -1.2 m/s.


Devon Allen wins the 110m hurdles at the Wanda Diamond League meeting in Oslo (© AFP / Getty Images)
Allen, who will take up a professional American football career at the end of this season as a wide receiver with National Football League side Philadelphia Eagles, is due to run in Paris against a field that includes home hurdler Wilhem Belocian.
Canada's Olympic 200m champion Andre De Grasse has been running 100m recently to sharpen up, but after clocking 10.24 at the Birmingham Diamond League on 21 May he dropped out of the Fanny Blankers-Koen Games on 5 June. On Thursday in Oslo, however, he returned to form in the 100m – in which he won Rio 2016 bronze – as he earned victory in 10.05 from Britain's Reece Prescod, who clocked 10.06.
On Saturday, like Miller-Uibo, he will get down to business in his main event against a field that includes Prescod, who produced a big personal best over 100m of 9.93 in blustery conditions at the Ostrava Golden Spike meeting on 31 May. Meanwhile, Alexander Ogando of the Dominican Republic will be seeking to build on what has been a good start to the season, in which he has run 20.07.
Olympic 10,000m champion Selemon Barega, who won the Ethiopian World Championships trials race in Hengelo and then finished fourth in the 5000m in Rome, is expected to race over the shorter distance in Paris.
Christian Taylor and Pedro Pichardo produced some of the most epic men's triple jump competitions when they met during 2015. It seemed only a matter of time before they prompted each other to surpass the 1995 record of 18.29m set by Britain's Jonathan Edwards.
They didn't manage that, although they came close, with Taylor recording 18.21m in Beijing before retaining his Olympic title in Rio the following year, and Pichardo reaching 18.08m. Taylor added two more world titles before his Tokyo Olympic hopes disappeared with a severe achilles tendon injury last season, from which he is now working his way back.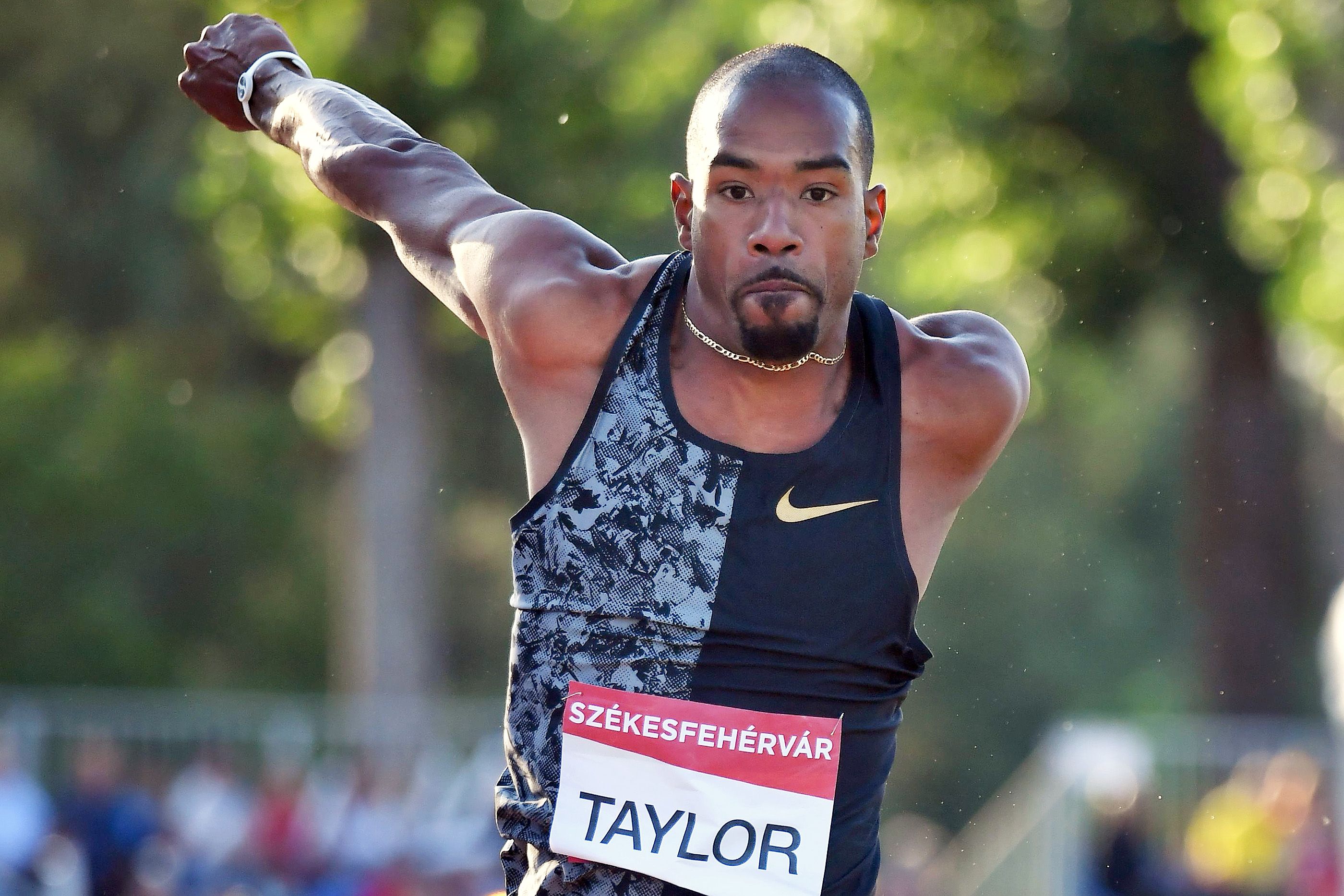 Christian Taylor in action in the triple jump in Szekesfehervar (© AFP / Getty Images)
The two men's fortunes diverged in 2021, as Pichardo, having switched from his native Cuba to represent Portugal, won the Olympic title, adding a world indoor silver earlier this year.
As the two men meet again in competition, the dynamics are different, as Taylor, now 31, is seeking to regain previous heights – or rather, lengths – and has a season's best of 16.11m, set in Montreuil on 2 June.
Pichardo is eighth in this season's list with 17.18m, but he will need to be on top form to fend off the challenge of his two Cuban former compatriots who currently top the list with 17.76m and 17.64m respectively, Jordan Diaz Fortun and Andy Diaz.
French-based Burkino Faso jumper Hugues Fabrice Zango, the Tokyo bronze medallist, is outside the top 10 right now with his outdoor best of 17.09m, but his recent victory in the African Championships – and his indoor personal best of 18.07m – makes it clear that this is an athlete capable, if he hits it right, of defeating all the foregoing.
Belgium's two-time Olympic heptathlon champion Nafissatou Thiam will take part in the women's high jump, which her best of 2.02m makes her entely capable of winning as she prepares to earn a second world title this summer.
But she has formidable opposition in the form of the respective Olympic silver and bronze medallists Nicola Olyslagers - nee McDermott - and Ukraine's 20-year-old Yaroslava Mahuchikh, who won the world indoor title in Belgrade in March and is the only jumper to have reached 2.00m this season.
The men's pole vault will see France's former world record-holder Renaud Lavillenie, fifth in Oslo on 5.60m, and his younger brother Valentin in action along with Brazil's Rio 2016 champion Thiago Braz and, assuming he can resume normal working after pulling out of the Oslo competition, two-time world champion Sam Kendricks of the United States.
Bahrain's Winfred Yavi is the favourite in the women's 3000m steeplechase having run 8:58.71 this year, putting her second on the season's list. This could be a steep learning curve for France's 31-year-old European indoor 3000m silver medallist Alice Finot as she continues her late breakthrough to the highest levels of competition.
Valarie Allman of the United States, the Olympic women's discus champion who has set a North American record of 71.46m this season, suffered a surprise defeat to Croatia's London 2012 and Rio 2016 gold medallist Sandra Perkovic in Oslo, and the two rivals will resume competition in Paris.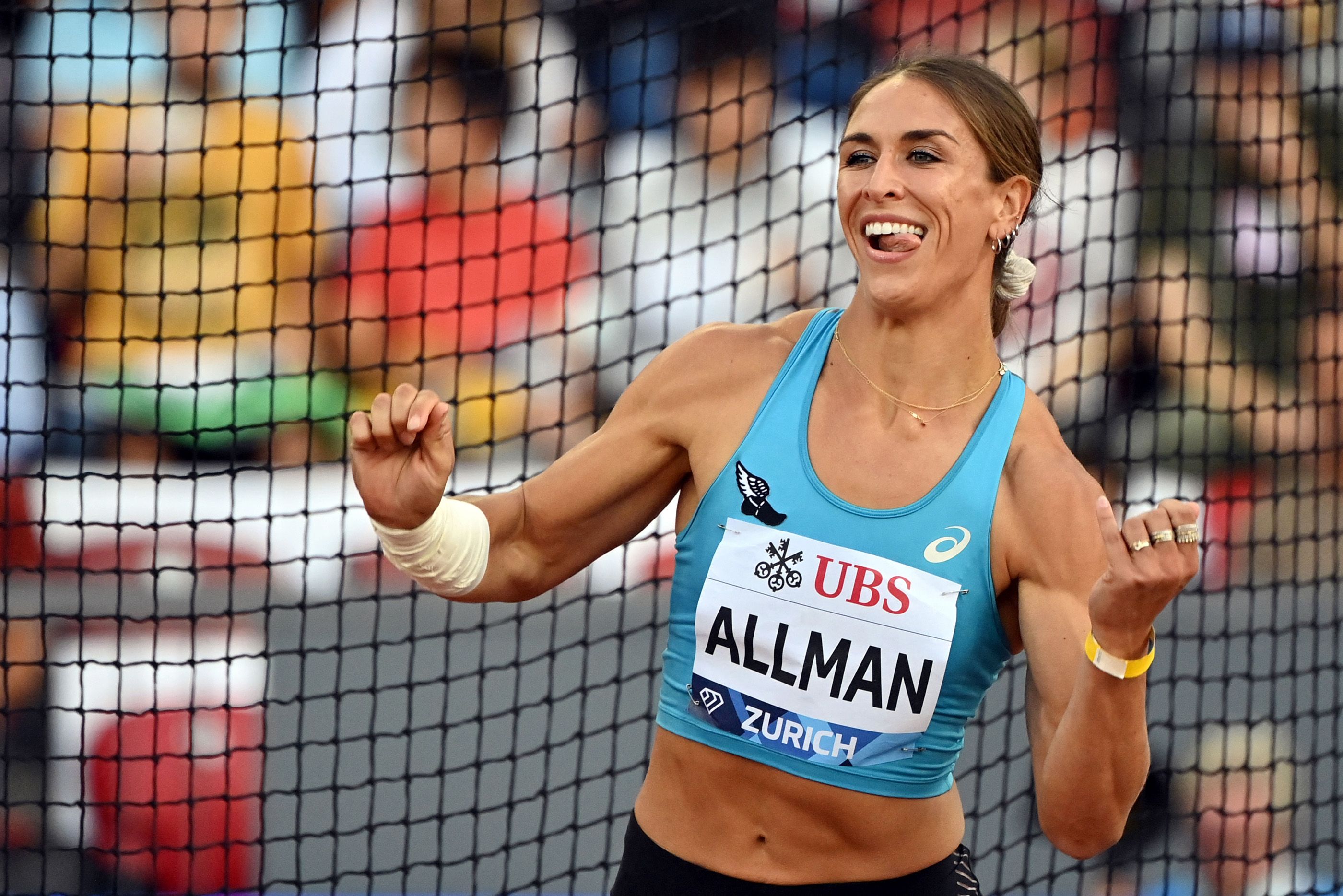 Discus winner Valarie Allman at the Wanda Diamond League final in Zurich (© AFP / Getty Images)
Home thrower Melina Robert-Michon, the Rio 2016 silver medallist, will be seeking to make a significant impact in front of French fans.
Japan's Haruka Kitaguchi, fifth in this year's women's world javelin list with 63.93m, has the best 2022 record of those assembled, but while Australia's Kelsey-Lee Barber has only reached 61.00m this season, she is world champion and has a personal best of 67.70m.
Also in the field are Barber's compatriot Mackenzie Little, who has thrown a personal best of 63.18m this season, and Nikola Ogrodnikova of the Czech Republic, who has thrown 62.80m this season and has a best of 67.40m. And last but not least, Ogrodnikova's compatriot Barbora Spotakova, double Olympic and three-time world champion, as well as being world record-holder with 72.28m. At 40, she is still a hugely competitive athlete.
Botswana's Nijel Amos, whose PB of 1:41.73 puts him third on the world all-time list, is always a winning possibility in any men's 800m race. But he faces Morocco's Moad Zahafi, who is bang on form and currently tops the 2022 world lists with 1:43.69, while Amos has run 1:44.92 this year.
Poland's Tokyo bronze medallist Patryk Dobek, who has run 1:44.49 this season, will also fancy his chances.
Meanwhile, home trio Benjamin Robert, Gabriel Tual and 2017 world champion and Tokyo finalist Pierre-Ambroise Bosse will be in the mix, with the latter two still requiring a World Championships qualifying time.
Nigeria's Commonwealth Games 100m hurdles champion Tobi Amusan, more recently African champion, won in a season's best of 12.57 at Tuesday's World Athletics Continental Tour Gold meeting in Turku and will be favourite here.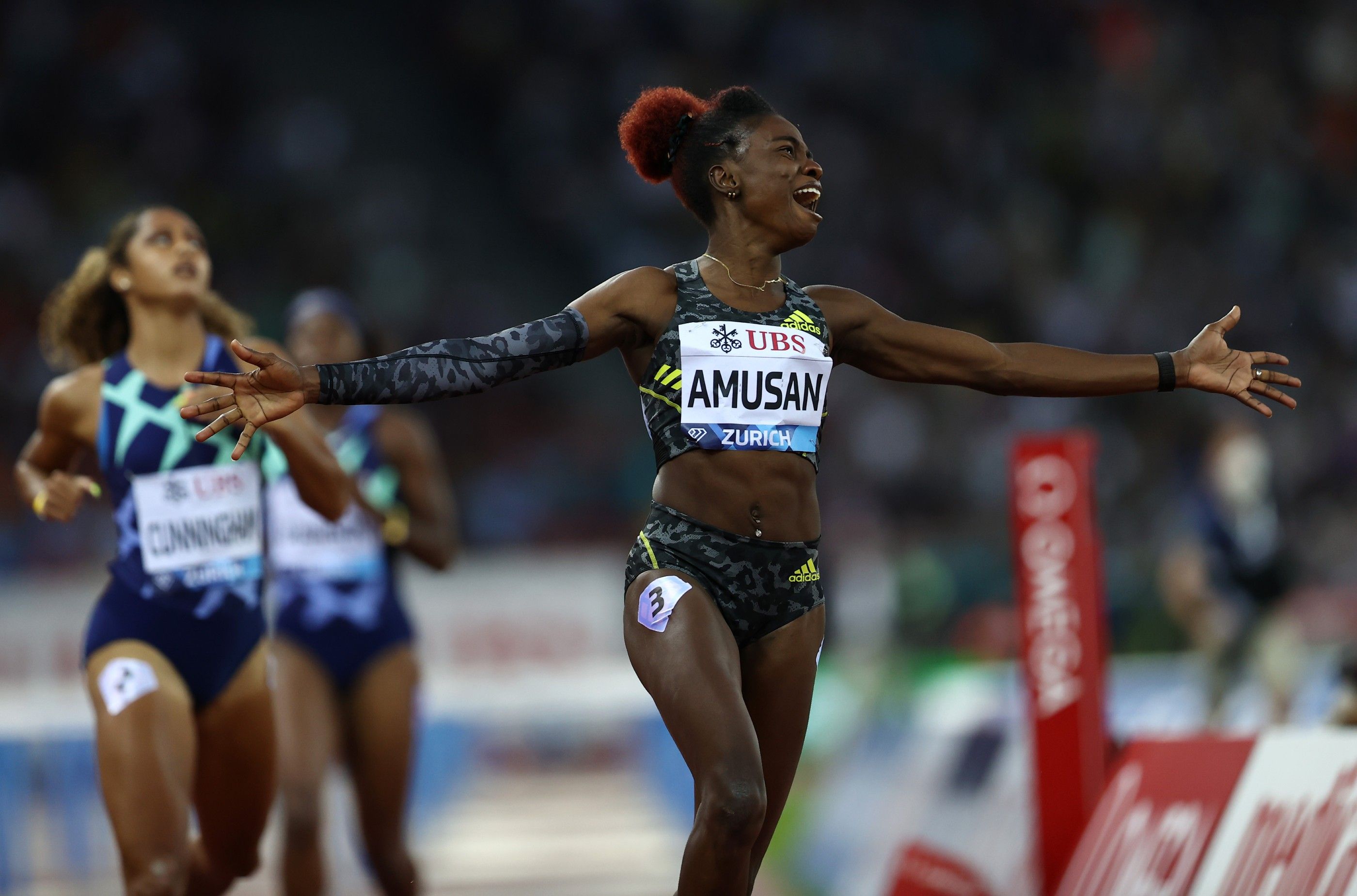 Tobi Amusan celebrates her 100m hurdles win at the Wanda Diamond League final in Zurich (© Getty Images)
But there are a clutch of challengers who won't be far away, including Poland's Pia Skrzyszowska, who has run 12.62 this year, Britain's Cindy Sember, who has gone one hundredth of a second slower, and Nadine Visser of the Netherlands, double European indoor champion, who has recorded a 2022 best of 12.72.
Sadly Poland's three-time Olympic gold medallist Anita Wlodarczyk will not be taking part in the evening's non-Diamond League hammer throw fest as she now has her entire left leg in plaster after injuring her thigh while chasing someone who was trying to steal her car.
That gives a big opportunity for Poland's Tokyo bronze medallist Malwina Kopron to shine, along with home talent Alexandra Tavernier, world bronze medallist in 2015.
The men's event features Poland's Tokyo champion Wojciech Nowicki and four-time world champion Pawel Fajdek along with France's world silver medallist Quentin Bigot, who recently threw a personal best of 80.14m in Forbach.
Meanwhile, France's world decathlon record-holder Kevin Mayer, who took a second Olympic silver at the Tokyo Games despite injury problems, is preparing for a second world title with his customary cluster of key events at this meeting.
In company with other top home decathletes he will compete in the shot put, long jump and 110m hurdles.
His last "triathlon" at Stade Charlety in 2019 saw him lower his personal bests in the 110m hurdles to 13.55 – it has since come down by 0.01 – and the shot put to 17.08m.
Mike Rowbottom for World Athletics