Serbian javelin thrower Adriana Vilagos (© Philippe Fitte)
Despite already making her mark at senior level, U20 competition remains incredibly important to Adriana Vilagos.
Remarkably, even with two world U20 titles to her name, the Serbian javelin talent remains eligible for the age group in 2023 and could make even more history before she fully switches to the senior ranks.
The 18-year-old learned her craft by watching videos of the sport's greats and 2022 was the year that Vilagos went up against – and beat – some of those athletes on the major stage. Her main goal might have been the World Athletics U20 Championships Cali 22, but she says it was the European Championships that provided the biggest surprise – and her standout moment – in a year that has been capped by her receiving the Rising Star honour at the World Athletics Awards 2022.
"I am very happy and honoured that they think I deserve this year's award. It's huge recognition," said Vilagos, who travelled to Monaco to receive her award at the Prince's Palace of Monaco on Monday (5). "Defending my world U20 title in Colombia was my main goal, but winning a medal at the European Championships was the biggest surprise. It was a good year, and this award crowns it."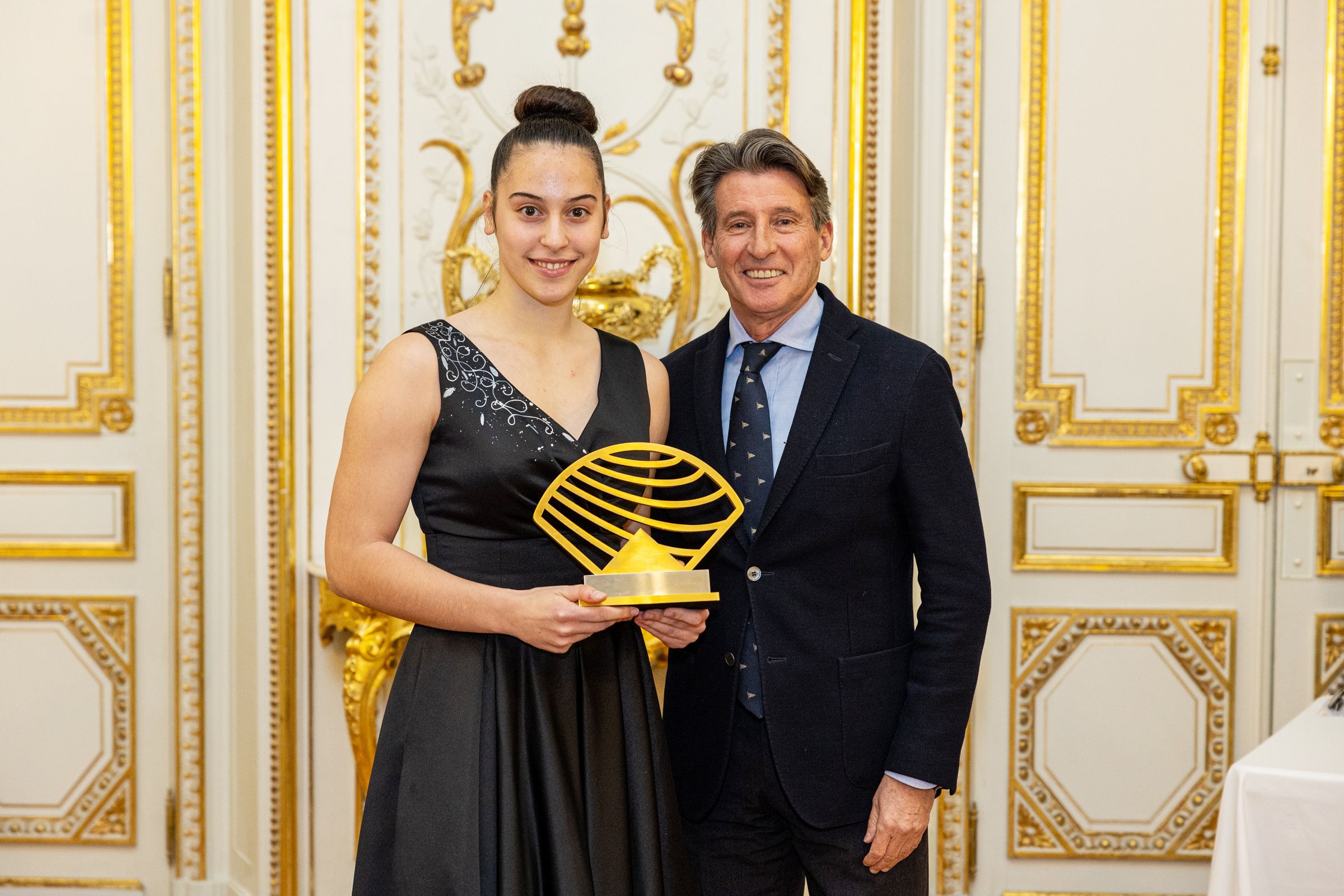 2022 Rising Star Adriana Vilagos and World Athletics President Sebastian Coe
From March to September, Vilagos lined up in 16 competitions and finished in the top three in 15 of them. She added more than a metre to her PB, breaking the European U20 record with a 63.52m throw, and consistently surpassed 60 metres.
The first half of her season included wins at the Balkan Championships, Serbian Championships and Mediterranean Games, as she worked towards the defence of her world U20 title in Cali. Once there, a year on from her gold medal win as a 17-year-old in Nairobi in 2021, she dominated. Surpassing 60 metres with four of her five valid attempts in the final, she saved her best for last and achieved a championship record of 63.52m – also a European U20 record that moved her to third on the world U20 all-time list. The performance saw Vilagos become the first woman since former world record-holder Osleidys Menendez to win back-to-back world U20 javelin titles.



Vilagos returned to competition just two weeks later, this time making her senior major championships debut at the European Championships in Munich. Using what she had learned in competition and from watching videos of stars in the sport, she kept her composure to secure silver behind champion Elina Tzengko, whom Vilagos had beaten to the world U20 title in 2021, and finish one place ahead of world record-holder and multiple global gold medallist Barbora Spotakova.
"I was four years old when Spotakova threw the world record and I watched her on television, so it was an honour to compete with her and to beat her was unbelievable," said Vilagos.
"It was a very hard competition and I started badly," she reflected. "In the first round I threw 51 metres, and I hadn't thrown 51 for a while! After I threw 55 metres (in the next round), I thought that I would be out after the third round because I was not mentally there, I was not focused enough, and I was too nervous."
But she achieved a 59.64m throw from her next attempt, allowing her to "relax and enjoy the competition". She was in fourth place, but moved into the medals in the fifth round with 60.32m – a single centimetre farther than Spotakova.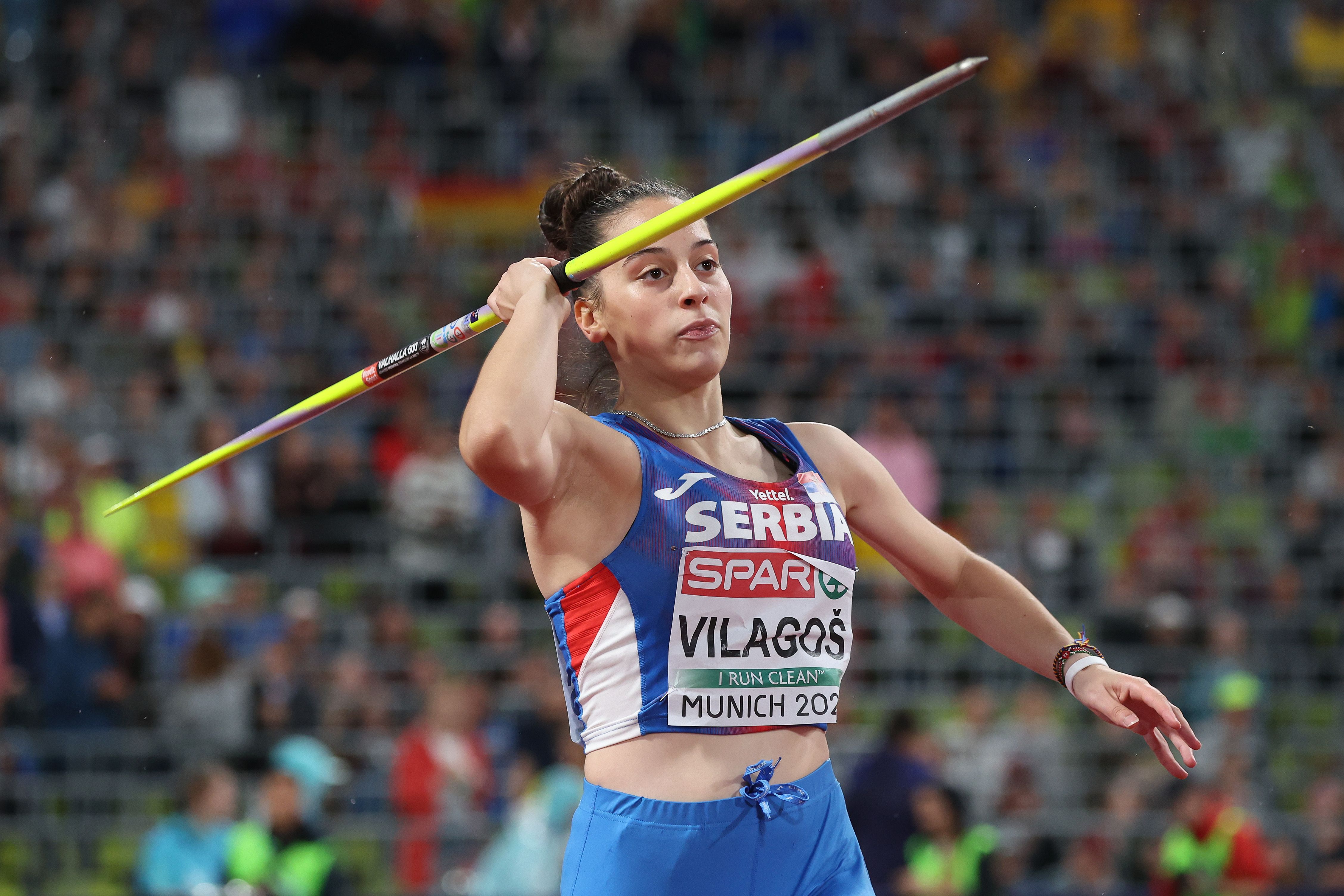 Adriana Vilagos at the European Championships (© Getty Images)
"I was then in third place for a moment, but I was prepared that in the last round Spotakova was going to throw more. I had watched her competitions before. She is a very good and experienced thrower, so I was prepared that she was going to keep me off the podium."
And while Spotakova did throw further in the last round (60.68m), so did Vilagos, as she launched her spear 62.01m.
"In the last round, I gave it everything," she said. "When I turned and watched on the screen, and I saw that it flew over the silver line and the bronze line, I was extremely happy.
"At first, I didn't even believe that it was happening because a year before Tzengko and I were first and second at the European U20 Championships and then we got the same result in the senior European Championships. It was like a dream."
After Munich, Vilagos made her debut in the Wanda Diamond League, finishing third in Brussels thanks to a throw of 63.00m. "I met a lot of throwers that before I had only seen on the TV," she said. "Next year maybe, with more experience, it will be easier and I hope to compete with them."


View this post on Instagram

Vilagos grew up in Mali Idos in the north of Serbia, where she played handball. A teacher noticed her talent for throwing and entered her into a vortex competition, where the implement is a small rocket-shaped missile. She won.
Guided by her mother Derdi, a handball coach and former player, Vilagos continued to win.
"We started to learn on the internet how real vortex throwers were throwing," explained Derdi, who works as a public prosecutor. "She did 79 metres with the vortex but competitions only go up to the age of 13 years. Then we really started to think that she could learn to be a javelin thrower in future."
They returned to YouTube as an education tool.
"We would sit in front of a laptop or the TV and watch mostly Jan Zelezny's throws and training videos, to study technique," said Vilagos. "We spent hours and hours watching, and then we would go out to the field and would try it. If it was good, we left, and if it wasn't, then we would change something, watch other videos and try another technique."
"It paid off," added Derdi. "We learned and learned, and here we are."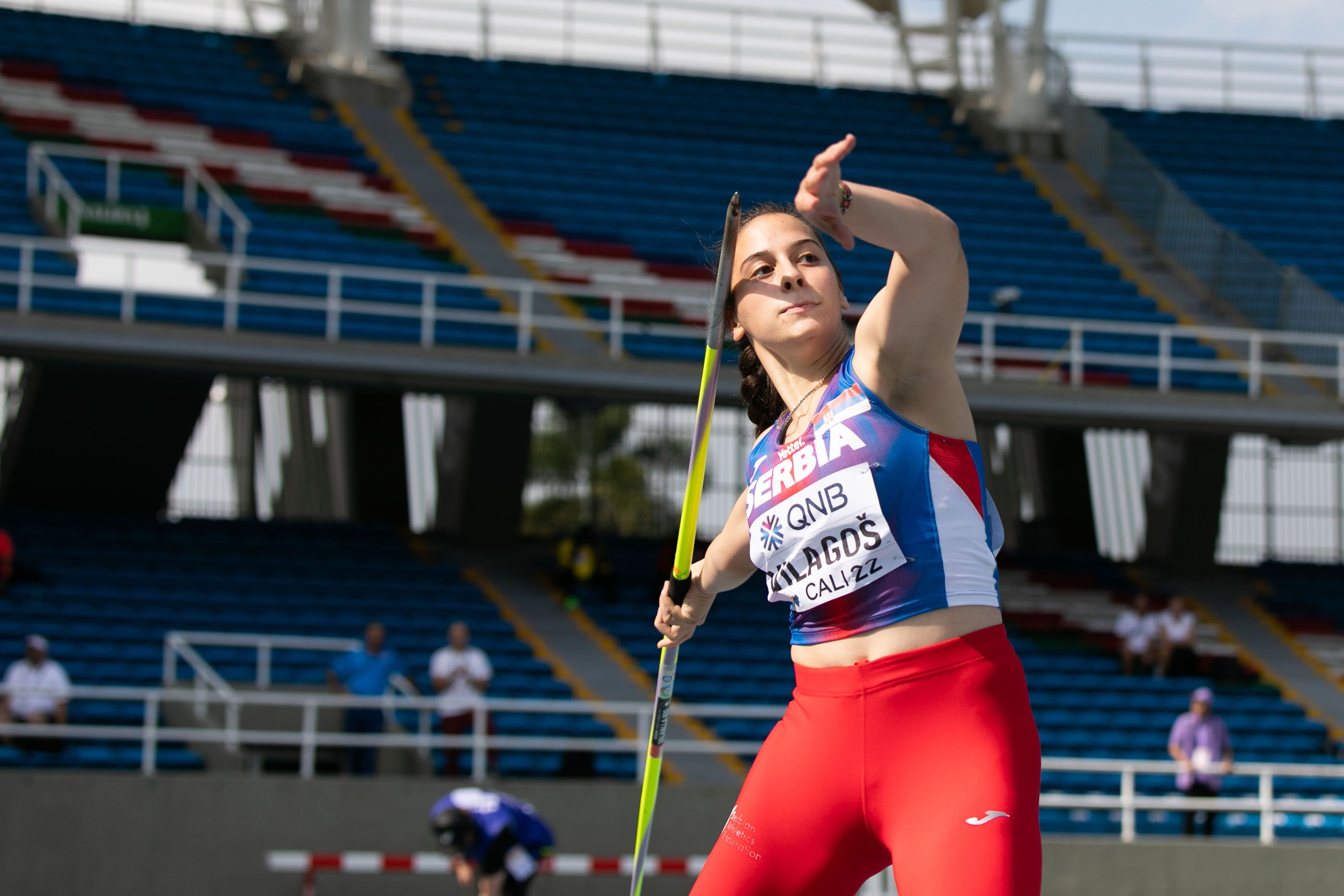 Serbia's two-time world U20 javelin champion Adriana Vilagos at the World Athletics U20 Championships Cali 22 (© Marta Gorczynska)
Still learning, Vilagos feels she has much more to give. "I think in every aspect we have a lot of potential for improving in training," she said. "We are doing weight lifting with just the 10kg bar and the technique it is not perfect, so we have room for improvement."
Next year, she will hope to demonstrate that improvement at the European U20 Championships in Jerusalem, and potentially the World Athletics Championships Budapest 23.
"My main goal will be the European U20 Championships," said Vilagos, who speaks Hungarian and lives close to the border. "But I am preparing for Budapest too. It would be my first senior World Championships, so we will see."
One thing is for sure: she won't stop dreaming.
"What in the beginning seems impossible, in the end, it's maybe not," she said, offering her advice to the next generation of aspiring athletes. "Don't be afraid to dream big, because if you work hard, it may come true."
Jess Whittington for World Athletics