Mondo Duplantis (© Philippe Fitte)
Mission accomplished. Mondo Duplantis started 2022 with some clear aims: to win world titles both indoors and outdoors, and improve his own world record. The pole vault prodigy achieved it all and getting those world records while gaining his global gold medals is something he describes as "the cherry on top".
It's those achievements – together with his 22 six-metre-plus clearances, Wanda Diamond Trophy win and European Championships victory – that led to him being named World Athlete of the Year for the second time at the World Athletics Awards 2022 on Monday (5).
"Going into the year, not only was it very important for me to try to get some really high bars in there and try to break the world record a few more times, but we also had the World Indoor Championships and the outdoor World Championships, and they were the two titles that I was missing," says Duplantis. "To be able to go into both of those and break the world record at the meets that were the most important to me, I can't complain."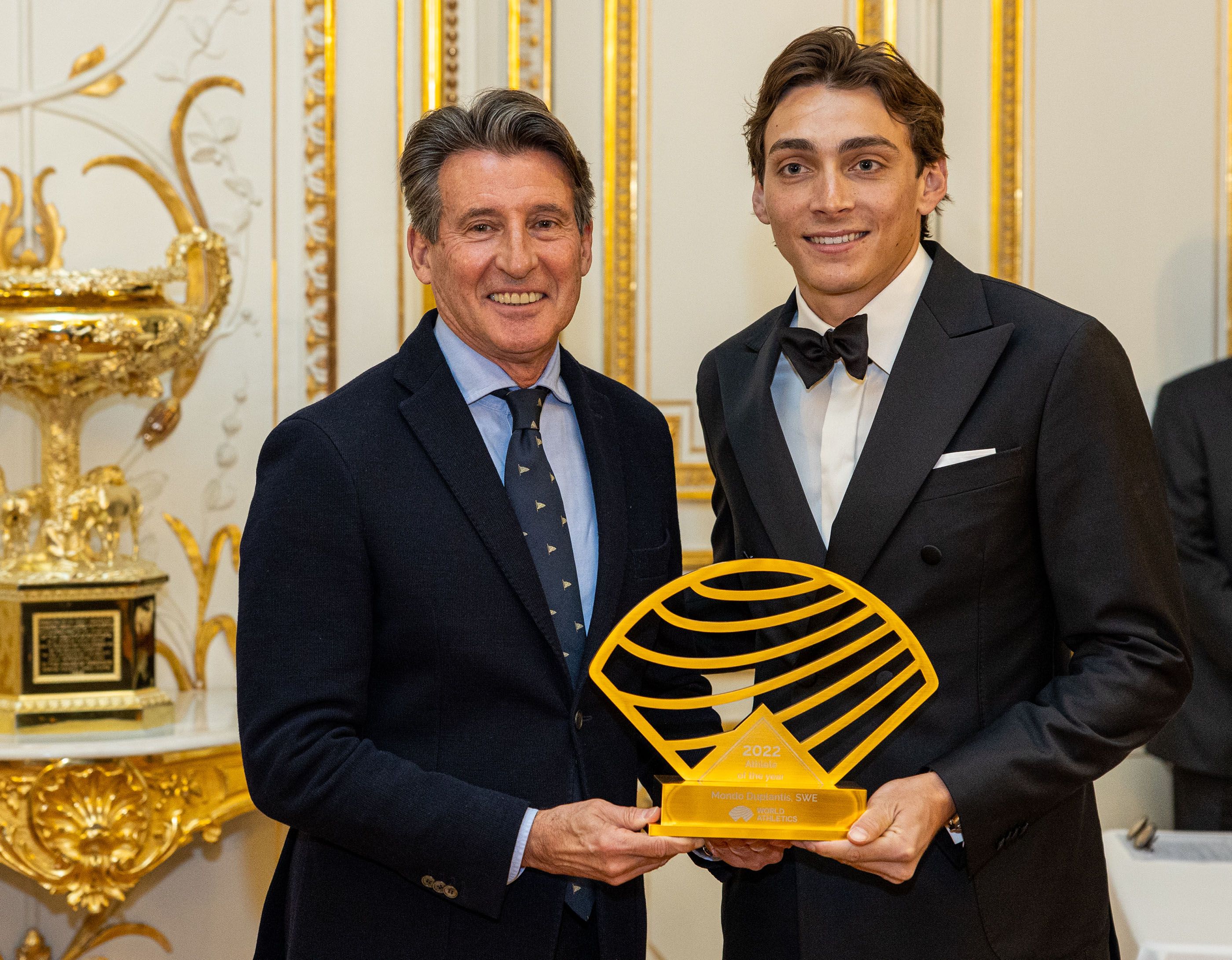 Mondo Duplantis receives his Athlete of the Year award from World Athletics President Sebastian Coe (© Philippe Fitte)
While being named World Athlete of the Year isn't new to Duplantis – the 23-year-old also claimed the honour in 2020 and won the Rising Star award in 2018 – you get the sense that he doesn't take the recognition for granted. Much like his attitude when it comes to his success on the field of play.
Take Oregon as an example. Despite already having four world records, an Olympic title, a world indoor gold and numerous other major medals to his name, the Swedish star remained acutely aware that there were no guarantees. If he wanted his first world outdoor title, he was going to have to earn it.
After improving the world record to 6.19m and 6.20m indoors – the latter height achieved at the World Indoor Championships Belgrade 22 – and given his great consistency in the lead up, Duplantis went into the World Athletics Championships Oregon22 as one of the biggest favourites in any event. But it was his memories from watching past editions of the global showpiece that helped to keep him on track.
A big Renaud Lavillenie fan, Duplantis remembered following the action in 2013 and 2015, as well as in person in 2017 when he made his senior international debut, as France's former world record-holder targeted an elusive world outdoor gold.
"I was always rooting for him to try to complete his set (of major gold medals)," Duplantis says of Lavillenie, who has claimed five world outdoor medals to go with his 2012 Olympic title, 2016 Olympic silver and three world indoor titles. "I always thought that he was capable of it, and he really deserved it. But that's just how sport is sometimes.
"So that was in the back of my mind going into Oregon, because I know that just because you're the favourite and just because you're the one that has jumped the highest this year or yesterday, it doesn't really matter, it only matters what happens today. Anything can happen in sport, that's why it's such a beautiful thing.
"Watching those past World Championships made me stay focused for the competition in Oregon."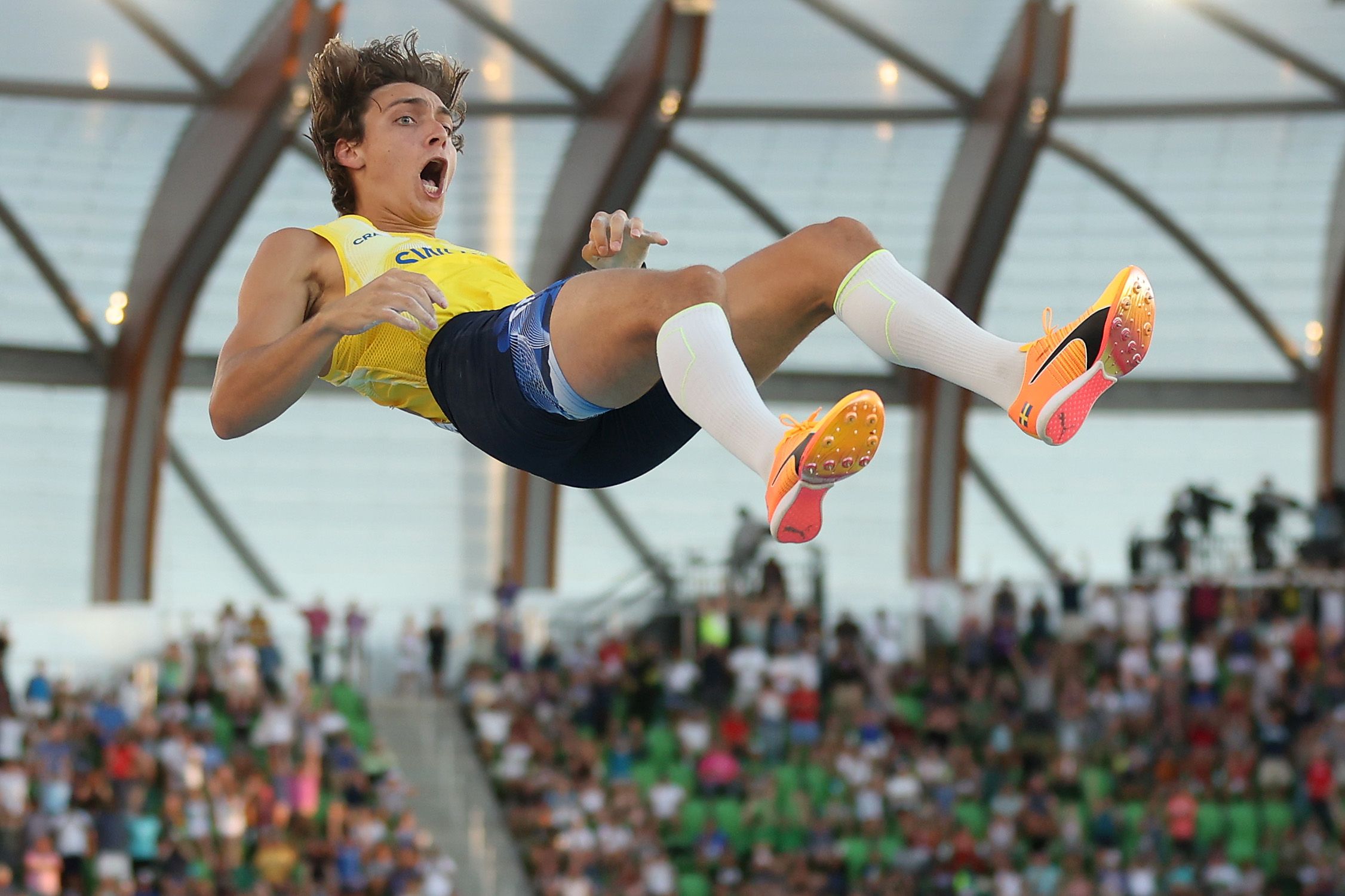 Mondo Duplantis reacts after breaking the world pole vault record at the World Athletics Championships Oregon22 (© Getty Images)
After achieving numerous world age bests, Duplantis set the first of his world records in Torun in February 2020, when he cleared 6.17m to improve on Lavillenie's previous world record of 6.16m that had stood since 2014. Lavillenie himself won World Athlete of the Year eight years ago, as a result.
Duplantis then took the world record to 6.18m in Glasgow just a week after his triumph in Torun. At the end of that year, he won World Athlete of the Year for the first time and received his trophy remotely. This time, being presented with his award in person during a celebration at the Prince's Palace of Monaco, made it extra special.
"You don't really do it for the prizes, you do it because you love what you do so much, but this is quite nice," he says.
"To be able to receive the Athlete of the Year Award here, in the Palace in Monaco, and get the award from Prince Albert, it's a very special thing. It's one of those moments where you have to pinch yourself."


Duplantis' pole vault progression
Age 6: 1.67m
Age 7: 2.33m*
Age 8: 2.89m*
Age 9: 3.20m*
Age 10: 3.86m*
Age 11: 3.91m*
Age 12: 3.97m(i)*
Age 13: 4.15m
Age 14: 4.75m(i)
Age 15: 5.30m
Age 16: 5.51m
Age 17: 5.90m*
Age 18: 6.05m*
Age 19: 6.00m
Age 20: 6.18m(i)* WR
Age 21: 6.10m
Age 22: 6.21m* WR
*world age best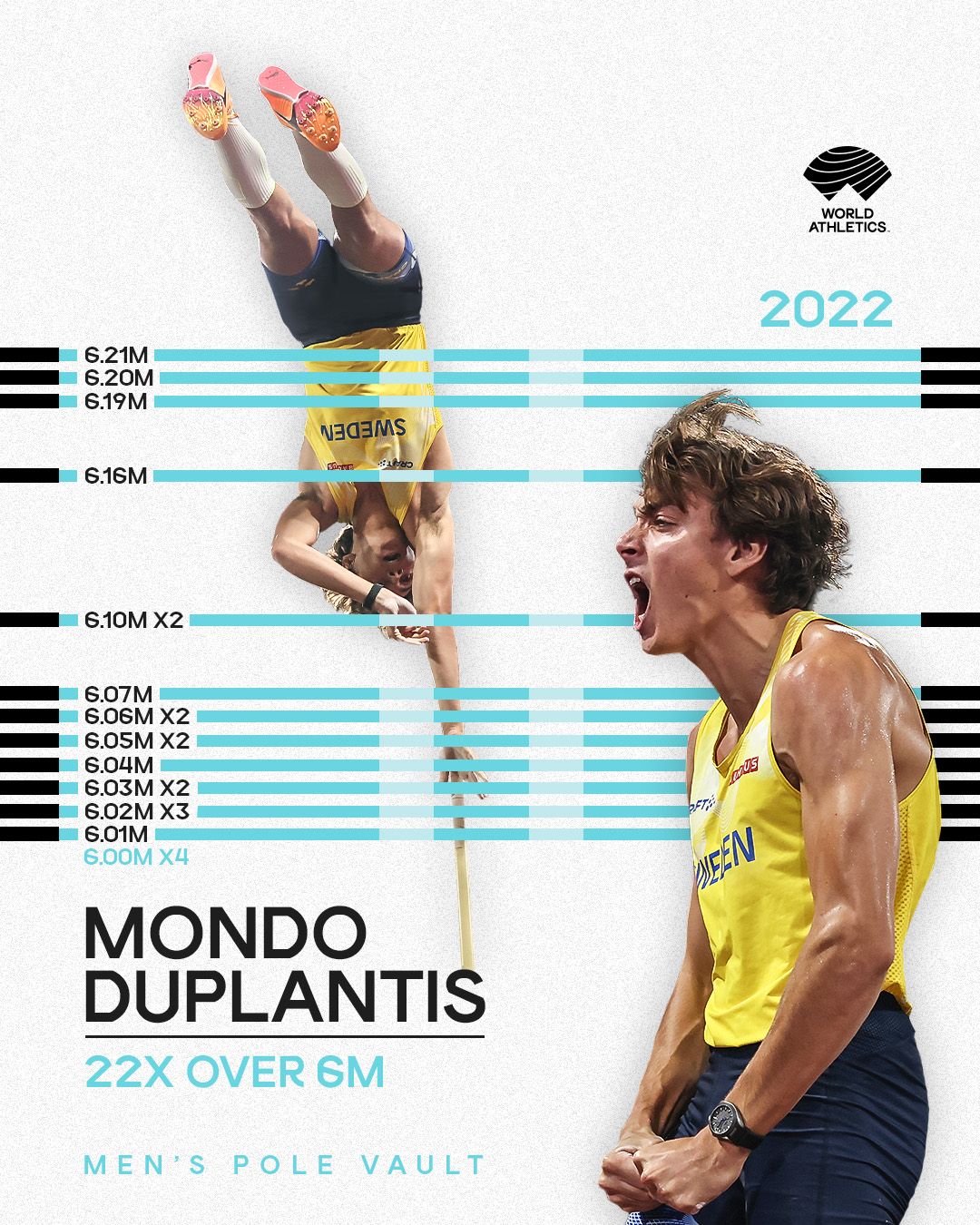 There have been quite a few of those 'pinch me' moments this year. Duplantis started 2022 with a 6.02m clearance in Karlsruhe and improved with every indoor competition after that. During an unbeaten season, he crowned the lot with his 6.20m clearance in Belgrade.
"Sometimes there are just things that you can't explain," said Duplantis after that performance, which came less than two weeks after he improved the world record to 6.19m in the same city. "They are just feelings, and it seems like when I'm in Belgrade I have this feeling that I'm going to go high and do something really special."
He opened his outdoor season with a 6.02m win in Doha before a series of victories in the lead-up to Oregon that culminated with a 6.16m clearance – at that time the highest ever outdoor vault – on home soil in Stockholm.
Then came the World Championships. On the final day of competition, Duplantis had the gold medal secured when he cleared 6.00m and he then broke the championship record by soaring over 6.06m, but he wasn't done. He aborted his first attempt at the world record height of 6.21m and sat chatting with Lavillenie as he waited for his second go. As the end of the championships neared, with all the other action having concluded, he achieved a fitting finale.
"You picture the moment when you're a kid," he smiles. "You're on the biggest stage, which would be a World Championships, you're going for the world record, and you end up breaking the world record and doing something that nobody has ever done. It's one of these moments where it's really a dream come true situation."



He intends to create even more of those in the coming years.
As a result of the pandemic, athletes have five consecutive years of global outdoor senior competition – from the Olympics in Tokyo in 2021, though to the World Championships in the same city in 2025. Duplantis plans to capitalise.
"I guess if there would be a time that I would want everything to be jam-packed and to be really intense, it would be right now," says Duplantis, with the World Athletics Championships Budapest 23 his next big aim. "I am young, and I am jumping really well, so why would I not want all the championships to come right now? I feel like this is my best chance to win them all."
Despite his brilliance in 2022, Duplantis wasn't unbeaten and that adds to the thrill of the event. As he knows, nothing is guaranteed, and there have been some exciting clashes in the event again this year.
Ultimately, though, Duplantis' biggest challenger is himself. And that's an exciting prospect for the future.
"From the beginning, when I started pole vaulting, I was never really competing against anybody other than myself," he says. "I set goals based on what I think I am capable of.
"I'm grateful for what I've done, and it has been a really great few years for me, but I still feel that hunger and I still feel like there is more to do. I still feel like I can jump higher."
Jess Whittington for World Athletics