Sydney McLaughlin-Levrone (© Philippe Fitte)
She may have just been named the World Athlete of the Year, but back home in the US Sydney McLaughlin-Levrone enjoys a relatively anonymous lifestyle.
"Oh, I live in LA so I'm at the bottom of the pile there," says the world 400m hurdles champion, her laugh taking nothing away from the truth of her statement. "No one is looking at me, which is honestly how I like it."
If fame were based solely on achievement, then McLaughlin-Levrone would be an A-list celebrity. Having been one of the most prodigious talents in the sport for several years, the 400m hurdler made a smooth transition into the senior ranks and earned her first individual global medal just weeks after turning 20.
Fast forward three years and the 23-year-old is now world and Olympic champion and has broken the world record on four occasions. Her most recent revision of the mark – the 50.68 she ran to win at the World Athletics Championships Oregon22 – is, statistically speaking, one of the greatest track world records on the books.
How good is 50.68?
There's no single perfect way to measure the quality of a world record. But one quick method to ascertain the dominance of a performer is to measure the difference between the world record and the next best performer on the world all-time list. By that metric, Sydney McLaughlin-Levrone's 50.68 is the leading world record in an individual track event.
| | | |
| --- | --- | --- |
| 1.78% | women's 400m hurdles | Sydney McLaughlin (USA) 50.68 |
| 1.59% | women's 3000m steeplechase | Beatrice Chepkoech (KEN) 8:44.32 |
| 1.24% | women's 3000m | Wang Junxia (CHN) 8:06.11 |
| 1.14% | men's 100m | Usain Bolt (JAM) 9.58 |
| 0.82% | women's 400m | Marita Koch (GDR) 47.60 |
| 0.66% | women's 100m hurdles | Tobi Amusan (NGR) 12.12 |
| 0.53% | women's 5000m | Letesenbet Gidey (ETH) 14:06.62 |
| 0.51% | women's 200m | Florence Griffith-Joyner (USA) 21.34 |
| 0.50% | men's 400m hurdles | Karsten Warholm (NOR) 45.94 |
| 0.47% | women's 100m | Florence Griffith-Joyner (USA) 10.49 |
Her achievements this year led to McLaughlin-Levrone being named the women's World Athlete of the Year.
"It means absolutely everything," she said after receiving the award in Monaco on Monday (5). "I'm so grateful for the opportunity. It has been an unreal season and I'm really grateful that it has culminated in this to cap it all off."
The highlight of her season was, of course, winning the world title in world record time on soil – the kind of moment every athlete dreams of. And as great as her Olympic triumph was, being able to win a global title in the presence of her nearest and dearest made it an extra special moment for McLaughlin-Levrone,
"It meant so much, especially after Tokyo and not being able to have family and friends there," she said. "Being able to have that moment on home soil and have all of them there – that was the icing on the cake for me. That was the most special part of the moment for sure."
When McLaughlin-Levrone crossed the line at Hayward Field and the figures 50.68 flashed up on the clock, spectators in the stadium and watching on TV back at home let out a collective gasp. Just 13 months prior, no woman had ever broken 52 seconds for the 400m hurdles. But here was McLaughlin-Levrone venturing well inside the 51-second barrier with a performance that would be highly competitive in most 400m flat races.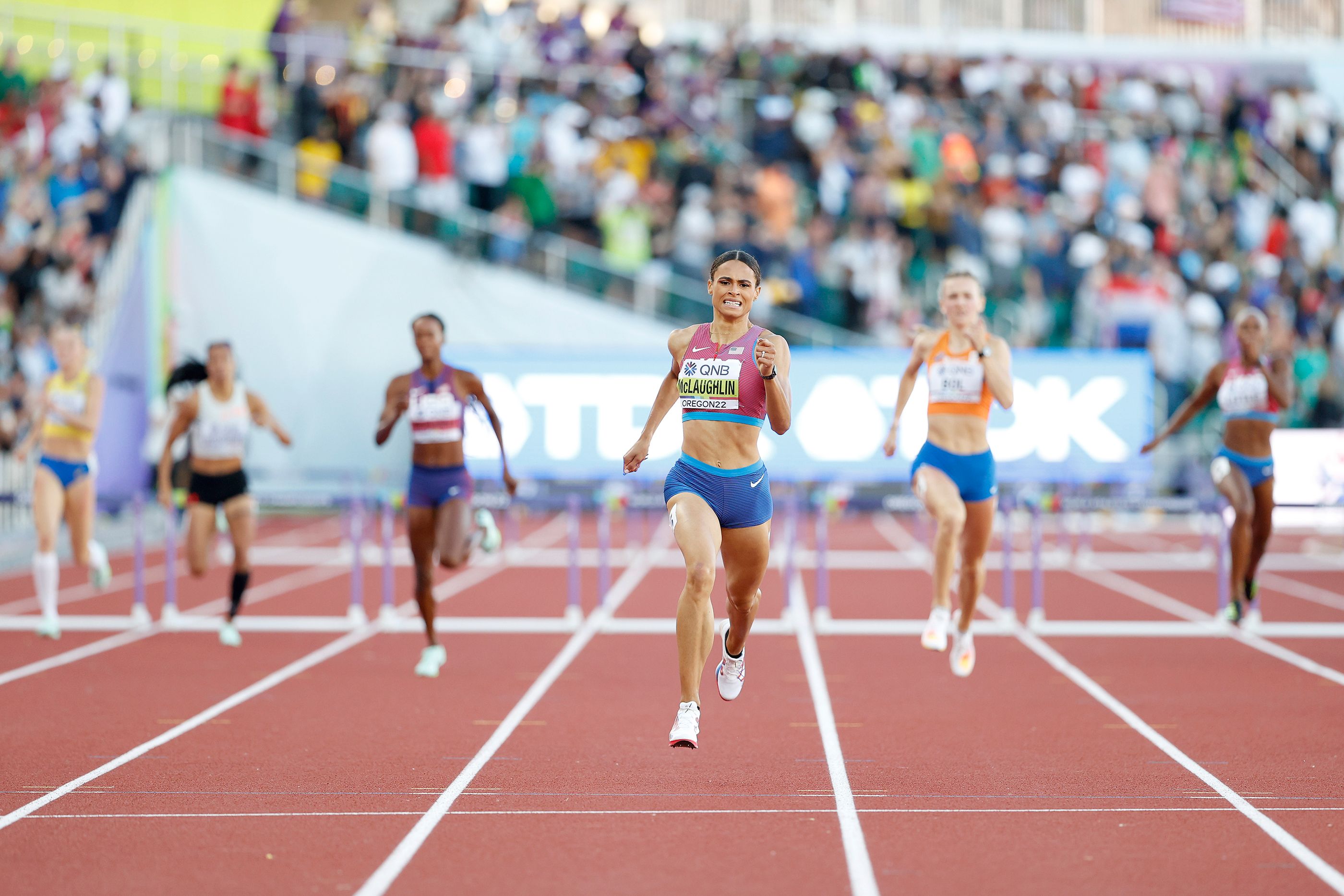 Sydney McLaughlin on her way to a world 400m hurdles record at the World Athletics Championships Oregon22 (© Getty Images)
In the moments immediately after the race, some onlookers mistook McLaughlin-Levrones muted reaction for indifference. But she says that she was completely spent, and her brief wave to the crowd was all she had energy for.
"It was the worst pain of my life," she says with no uncertainty. "I have never felt pain like it. So that sitting down wasn't that I didn't want to celebrate, I just couldn't. A little wave was all I had. Had I done the 100m or 200m, then maybe I'd have been able to move a bit, but after the 10 hurdles that was everything I had.
"I stumbled a little bit coming off hurdle nine, so I tried to clean it up a bit for hurdle ten," she recalls. "Once I got to a point where I couldn't see anybody, I was just running for dear life and trying to hold my form as best as possible. I just remember coming down the home stretch and my body was starting to shut down. I was really nervous I wasn't going to clear the tenth hurdle. I was like, 'please just get over it clean and give it everything you have til the finish line'."
While the performance came as a surprise to many – and rightly so – McLaughlin-Levrone and her coach Bobby Kersee had an inkling that she was on track to produce a sub-51-second clocking.
"Based upon my training, I think we knew that that kind of time was possible," she says. "I don't think I was super shocked or surprised. I was more just thankful that we were able to put that kind of a race together because there are a lot of moving parts that have to be in the right spot to be able to do that."


The Kersees' positive influence
For most of the past decade, McLaughlin-Levrone's career progression has been on an upward trajectory.
Such is her talent, she most likely would have excelled regardless of which coach she settled with. But since becoming part of Bobby Kersee's group in 2020, McLaughlin-Levrone has gone from a promising young hurdler to a truly dominance force within the sport.
"Bobby is an established coach with 40-plus years in the sport," says McLaughlin-Levrone. "He is an amazing talent all the way through and he knows the sport inside and out in a way that not many people fully understand. He has taught me not just about my event but me as an athlete, and that's what's so beautiful about his coaching – he looks at the athlete and what their strengths are and works with that through their event."
McLaughlin-Levrone's strength, she says, is her natural stride pattern. "I used to think that I had to conform to what the stride pattern normally is for other athletes but we learned that it's actually a strength to use it the way that I was made," she explains.
Her weakness, meanwhile, was her hurdling. "For a long time it was very sloppy and needed work, so we worked on it and we did sprint hurdles," said McLaughlin-Levrone, who last year reduced her 100m hurdles PB to 12.65 – a time that would have been good enough for fifth in the Olympic final. "That was a journey in and of itself too, but we just started slowly chipping away at the things we had to improve and put it all together.
"For me, he (Bobby) has helped me mentally grow, not just as an athlete but as a woman – with my confidence, my strengths, my weaknesses. It translates through our training into competitions and has shown itself in the performances we've had."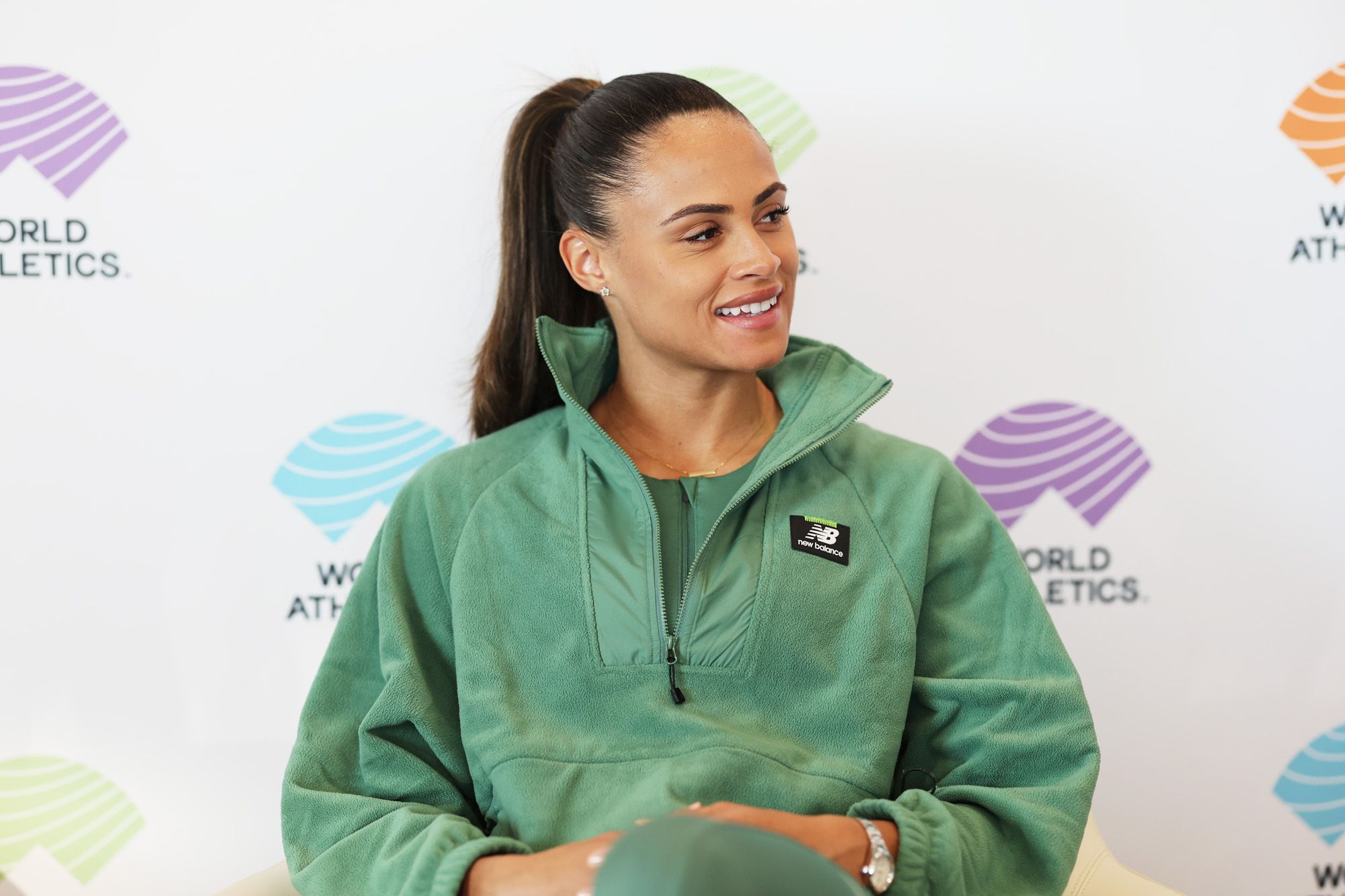 Sydney McLaughlin-Levrone (© Philippe Fitte)
She has also benefitted from having Jackie Joyner-Kersee as a mentor.
"Bobby compares me to Jackie all the time," McLaughlin-Levrone says of the heptathlon world record-holder and multiple world and Olympic champion. "She has truly spoken into my life over the past two years while I've been working with Bobby. The influence she has had on me, and the encouragement and lessons she has taught me, I'm truly so grateful for what she has done in the sport and for being a mentor."
One of the similarities between McLaughlin-Levrone and Joyner-Kersee is their all-round ability. Not only does McLaughlin-Levrone excel in hurdling events, but she is highly competitive in flat sprints too. In 2018, at the age of 18, she set PBs of 50.07 for 400m, 22.39 for 200m and clocked a wind-assisted 11.08 for 100m. During the indoor season that year, she also ran 22.68 for 200m and 50.36 for 400m.
She also happens to be one of the best relay runners in the world. At the World Championships earlier this year, she clocked a 47.91 split to anchor the USA to gold in the 4x400m. Even factoring in the usual 0.7-1.0 benefit for a rolling start, McLaughlin-Levrone's flat speed suggests she could contend for major titles in the 400m flat.
It's something she is considering, but not yet committed to.
"Both the 400m flat and 400m hurdles are amazing options," she says. "There's still so much to be done in the 400m hurdles, but I also haven't run the 400m truly competitively since college, so there's room for improvement there. I think a lot of it comes down to my coach and his decision, and he's still figuring out what to do. I think we're looking at the schedule and what makes sense and what this year's goals are. When we come to a decision, we'll go for it all the way.
Even if she sticks to her specialist event, she won't be lacking in motivation.
"There's always more that can be done," she says. "I look at that race (where she ran 50.68) and as wonderful as it was, there are still about three or four mistakes that I made. Bobby has told me multiple times that I could have done better. So there's room to grow in all things.
"I'm just really never satisfied," adds McLaughlin-Levrone, who will soon start training alongside Athing Mu as the world and Olympic 800m champion will be joining Kersee's group. "As this generation of athletes is showing, there's so much more we can do, and it's really cool to be a part of that. I want to continue contributing to that for sure.
"I just want to be healthy and happy and leave whatever I have on the track. As long as I do that, I'll be grateful."


From Rising Star to Athlete of the Year
Along with fellow Athlete of the Year winner Mondo Duplantis, McLaughlin-Levrone won the Rising Star accolade at the 2018 World Athletics Awards. In fact, their careers have followed a similar path in recent years.
They both struck gold at the 2015 World U18 Championships in Cali, set world U18 bests and world U20 records, competed at senior major championships while still teenagers, earned silver at the 2019 World Championships before going on to win Olympic gold in 2021 and world gold in 2022, and have set numerous world records in their respective disciplines.
Another similarity between the two is their strong support system.
"It's easy as an athlete to be very critical of yourself and reach a point where you're not very confident," says McLaughlin-Levrone. "But that's why the community and support of a team is so important because sometimes you need those reminders. You're not going to have a great race every day or a great practice every day, but it's what's being spoken over you that helps you get your frame of mind back to where it needs to be to move forward.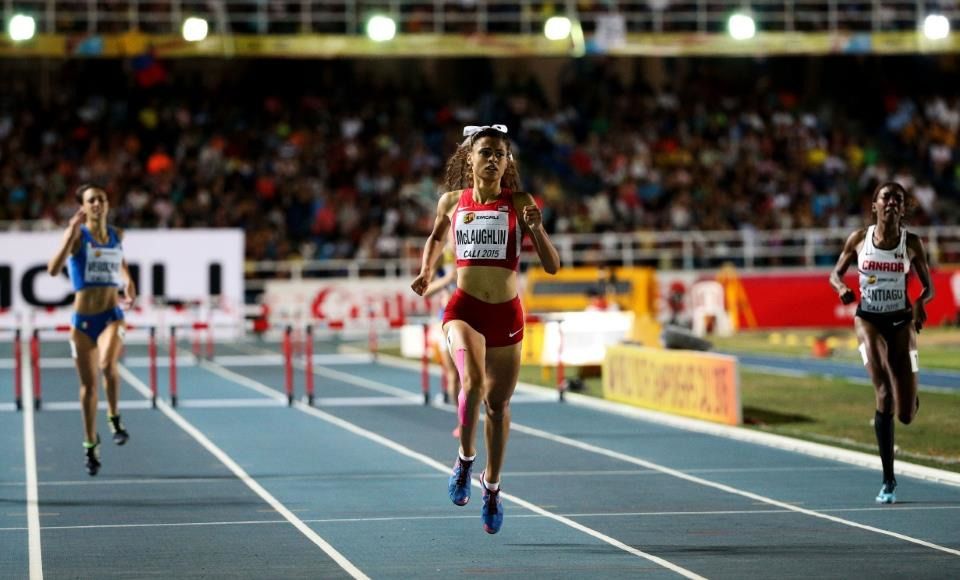 Sydney McLaughlin winning the girls' 400m hurdles title at the IAAF World Youth Championships, Cali 2015 (© Getty Images)
"You have to trust your timeline and your process. It's not always easy to figure out which situations are best for you, whether that's coaching or training style or whatever else. It's not always a straight line. In 2019 I fell short and that was really rough for me but it's part of the process. You can look at other people's journeys and try to replicate it, but it's going to be special to you. You have to figure out what works for you. Once I did that, it helped me reach where I am now."
Key to McLaughlin-Levrone's success is her ability to separate her professional career and her private life. When she's not training or competing, she tries to detach herself and her thoughts from athletics as much as she can.
"In my free time when I'm not running, I love writing poetry," she says. "I don't write about track at all. If I'm not at the track, I don't want to think about track at all. You've got to be able to separate the two. So my poetry is mostly about my personal life and stuff."
She also reveals that she is trying to improve her cooking skills. "I never used to cook; I was an Uber Eats girl all the way," she says. "But I've started cooking more and I recently did Thanksgiving dinner, so I'm getting better. We'll be honest, it was like a four out of 10. I'm getting better though."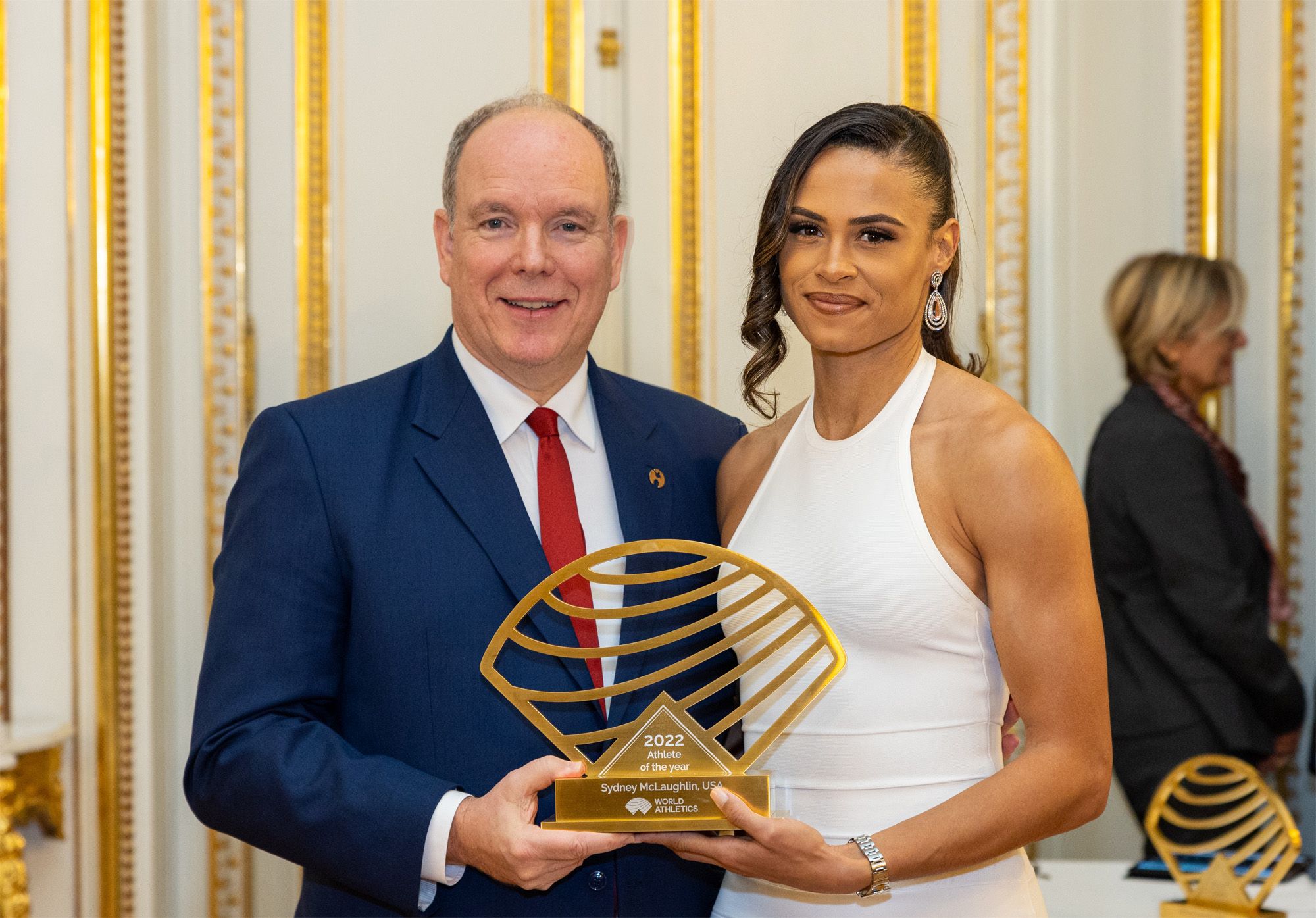 Sydney McLaughlin-Levrone received her World Athlete of the Year award from HRH Prince Albert of Monaco
Since marrying husband Andre Levrone Jr (pronounced 'Lev-roe-nee') earlier this year, the couple have spoken about starting a family of their own at some point in future.
"I'd love to be a mother one day," she says. "And if we were to have a kid in the next few years, I'd love to come back to track and field. It's an amazing thing that Allyson (Felix) and Shelly-Ann (Fraser-Pryce) and other women have been able to do. It teaches your child the resiliency of continuing to pursue what it is you're doing."
But for now, McLaughlin-Levrone is focused on her more immediate goals in the 2023 season, which includes defending her title at the World Athletics Championships Budapest 23.
Indeed, less than 24 hours after receiving her award at the Prince's Palace of Monaco, McLaughlin-Levrone was on a flight back home where she will resume training in the anonymity she enjoys in LA. It reminds her that, despite everything she has achieved in athletics, she is just another person.
"We're all people," she says. "We all have our gifts and talents and specialties. I love being able to connect with people and hear their passions, their goals, their dreams. And keep it humble, because at the end of the day we're all the same."
Jon Mulkeen for World Athletics