Greatest World Championships moments - 10 to 1
To mark the 40th anniversary of the World Athletics Championships, fans from all around the world were asked to vote for the greatest moments from the past four decades of championship action.
Thousands of fans took part, and the votes have been counted. Following the first instalment on 30 June, the second on 6 July and the third on 13 July, here we reveal the top 10 greatest World Championships moments – as decided by followers of the sport.
Twenty different countries from all six continental areas are represented in the top 40. Moments from all 18 past editions of the World Championships feature in the countdown.


10 – Hassan mixes it up again to win two world golds and a bronze (2019, Doha)
If there's one thing one can expect with Sifan Hassan, it's the unexpected. This, after all, is the athlete who entered her first marathon this year – the London Marathon – and won it.
A world bronze medallist over 1500m in 2015, and again at 5000m in 2017, Hassan decided to go all in at the 2019 World Championships in Doha by seeking the 1500m and 10,000m titles. She won both.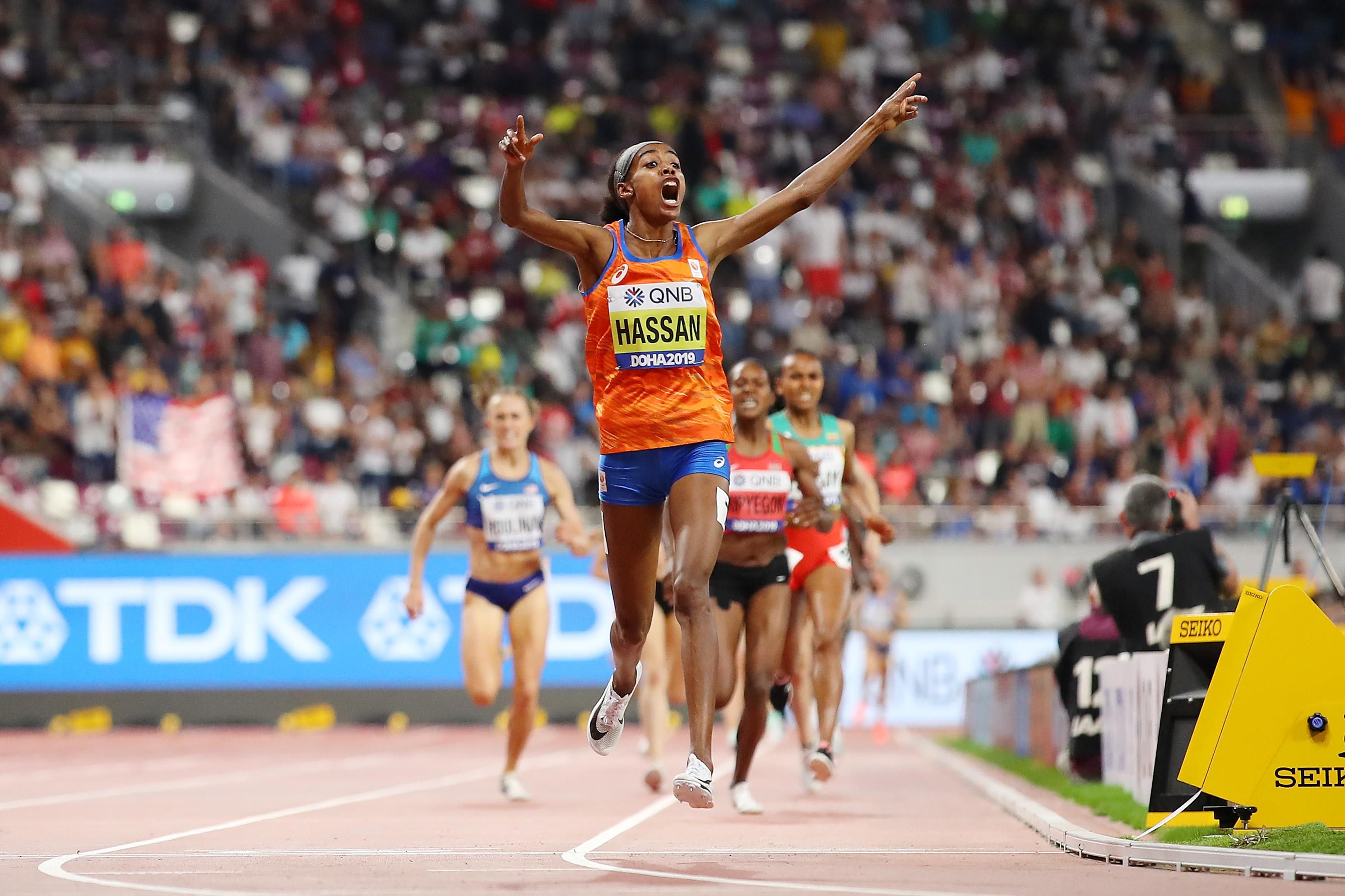 Sifan Hassan takes the world 1500m title in Doha (© Getty Images)
Her confidence had been emboldened by her achievements earlier in 2019, when she had set a 5km road race world record and then taken down Svetlana Masterkova's almost 23-year-old world record for the mile in clocking 4:12.33.
It was therefore no huge surprise that she should go for the metric mile in Doha – but first she decided to have a crack at winning the 10,000m. That worked out well, as she took gold in a personal best time of 30:17.62 after seeing off the potent emerging threat of Letesenbet Gidey of Ethiopia, who earned silver in a personal best of 30:21.23.
The 1500m proved to be an equally tough struggle as she contested the title with a time of 3:51.95 – putting her into sixth place on the world all-time list – ahead of the redoubtable Olympic champion, Faith Kipyegon, who clocked a Kenyan record of 3:54.22, with Gudaf Tsegay of Ethiopia third.
Hassan thus became the first man or woman to win such a double at the World Championships.
Two years on, at the Tokyo Olympics, she threw the dice over 1500m, 5000m and 10,000m – and completed an unprecedented treble by claiming bronze in the shortest distance and winning the two longer races. It's what she does, after all.
9 – Johnson's World Championships swansong, a world 400m record lasting 17 years (1999, Seville)
Michael Johnson won his first world title in 1991 in the steamy heat of Tokyo, over 200m.
Seven more world gold medals – at 200m, 400m and 4x400m – lay in the future. But the eighth and last had a special resonance for the man from Dallas, Texas, then a month away from his 32nd birthday, as he produced a world record of 43.18.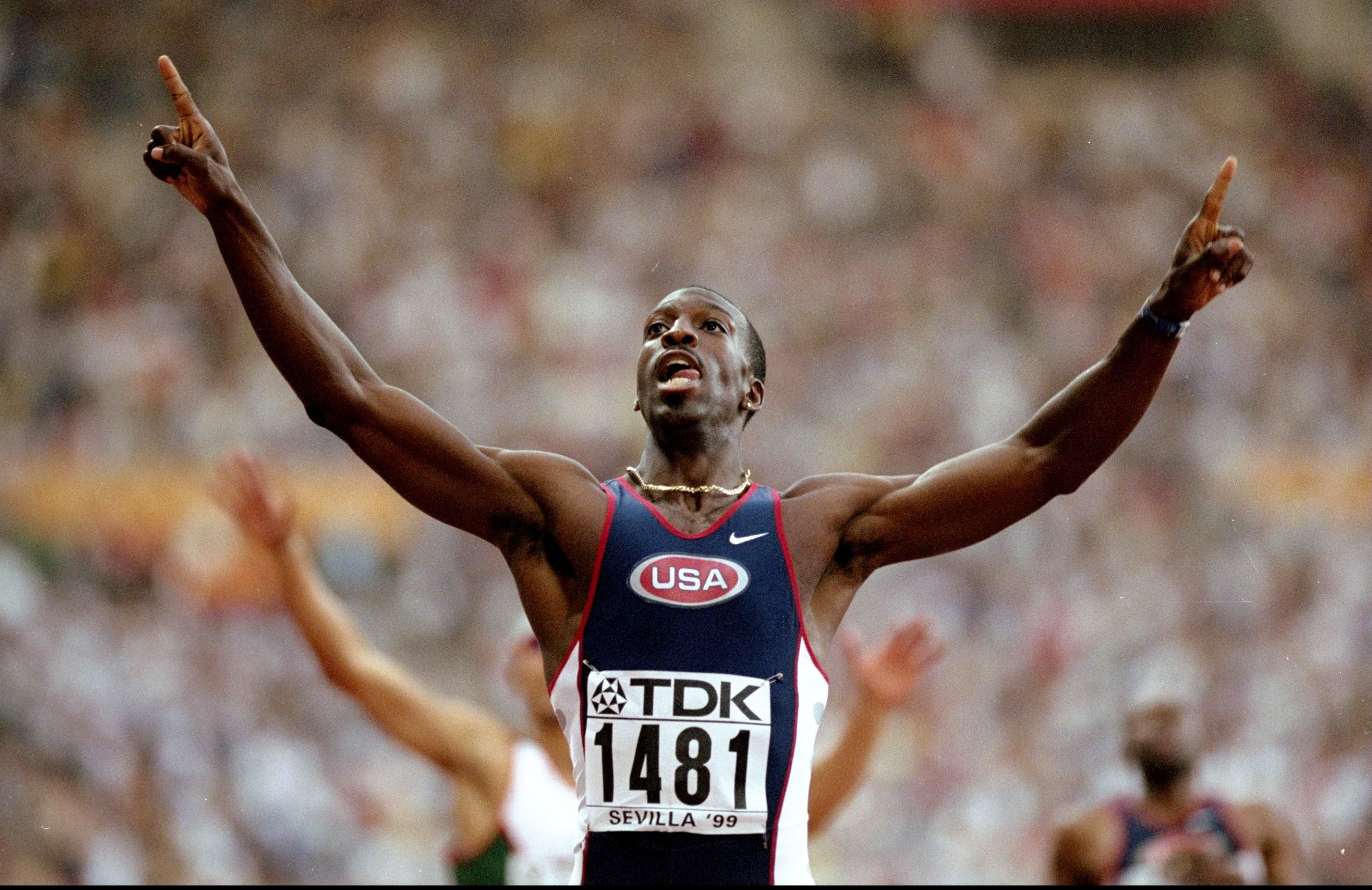 Michael Johnson after setting his 43.18 world record at the 1999 World Championships in Seville (© Getty Images)
It took more than a tenth of a second off the mark of 43.29 set by his US compatriot Butch Reynolds 11 years earlier.
And it was even more remarkable for the fact that Johnson had been plagued with injuries throughout the season, limiting him to just four 400m races before the championships began.
This was to be his World Championship finale, and he marked it with another record to sit alongside the 200m mark of 19.32 he had run in winning the Olympic title at the 1996 Atlanta Games.
The 400m record would stand for 17 years until Wayde van Niekerk ran 43.03 from lane eight to win the Rio 2016 Olympics.
8 – Lewis collects three world golds in the first edition (1983, Helsinki)
The United States boycott of the 1980 Olympics prevented Carl Lewis from taking part in a global championship until the inaugural World Championships in Helsinki. Having waited so long, he made the most of it, winning three titles to make perhaps the strongest individual contribution to the new event.
Lewis first won the men's 100m, finishing well clear of his teammates Calvin Smith – who had set a world record of 9.93 at altitude earlier in the season – and Emmit King in 10.07.
Allan Wells, Britain's champion from the 1980 Moscow Olympics in which Lewis and his compatriots had been unable to take part, finished fourth.
The failure of his US rival Larry Myricks to qualify for the championships meant that the task Lewis faced in the long jump was significantly simplified. He duly secured a second gold with a best effort of 8.55m that was 26 centimetres clear of his nearest challenger, fellow US athlete Jason Grimes.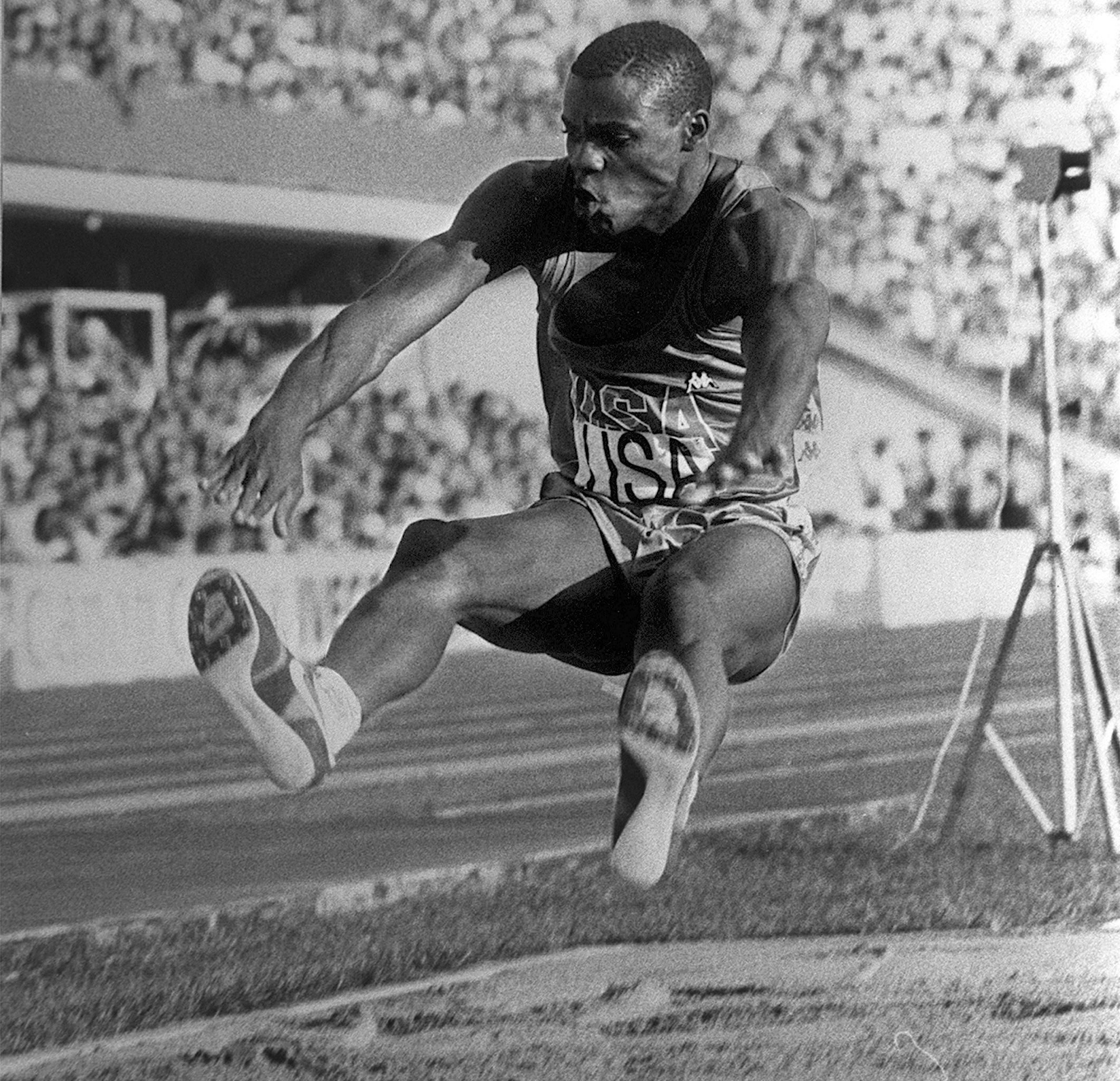 USA's Carl Lewis contests the long jump at the inaugural World Championships in Helsinki (© AFP / Getty Images)
Lewis only took two jumps – his 8.55m opener and a second of 8.42m, also enough to win – as he had other commitments later that day.
He duly left his strongest contribution to last as he ran the anchor leg in the semifinals and final of the men's 4x100m, bringing the baton home in a world record of 37.86.
A year later this phenomenal sprinting and jumping talent, who would go on to win eight world gold medals, went one better at the Los Angeles Olympics as he emulated the feat achieved by his compatriot Jesse Owens at the Berlin 1936 Olympics by winning the 100m, 200m, long jump and 4x100m.
7 – Rojas earns the triple jump hat-trick that evaded Ibarguen (2022, Oregon)
By a measure of just two centimetres, Yulimar Rojas had prevented Colombia's Caterine Ibarguen from completing a hat-trick of world triple jump titles at the 2017 World Championships in London, and effectively announced the changing of the guard in that event.
The Venezuelan phenomenon arrived in Oregon with a CV that was virtually perfect. She was the Olympic champion and the world record-holder – having improved her Tokyo mark of 15.67m with an indoor 15.74m earlier in 2022 at the World Indoor Championships in Belgrade.
She was also the defending champion, and seeking to do what Ibarguen had not managed in taking a third consecutive title.
Her outdoor form had not been ideal coming into the event – she had spent some time on the long jump, improving her personal best to 6.93m, but had not bettered 15 metres in her speciality.
Inevitably, that changed in Oregon.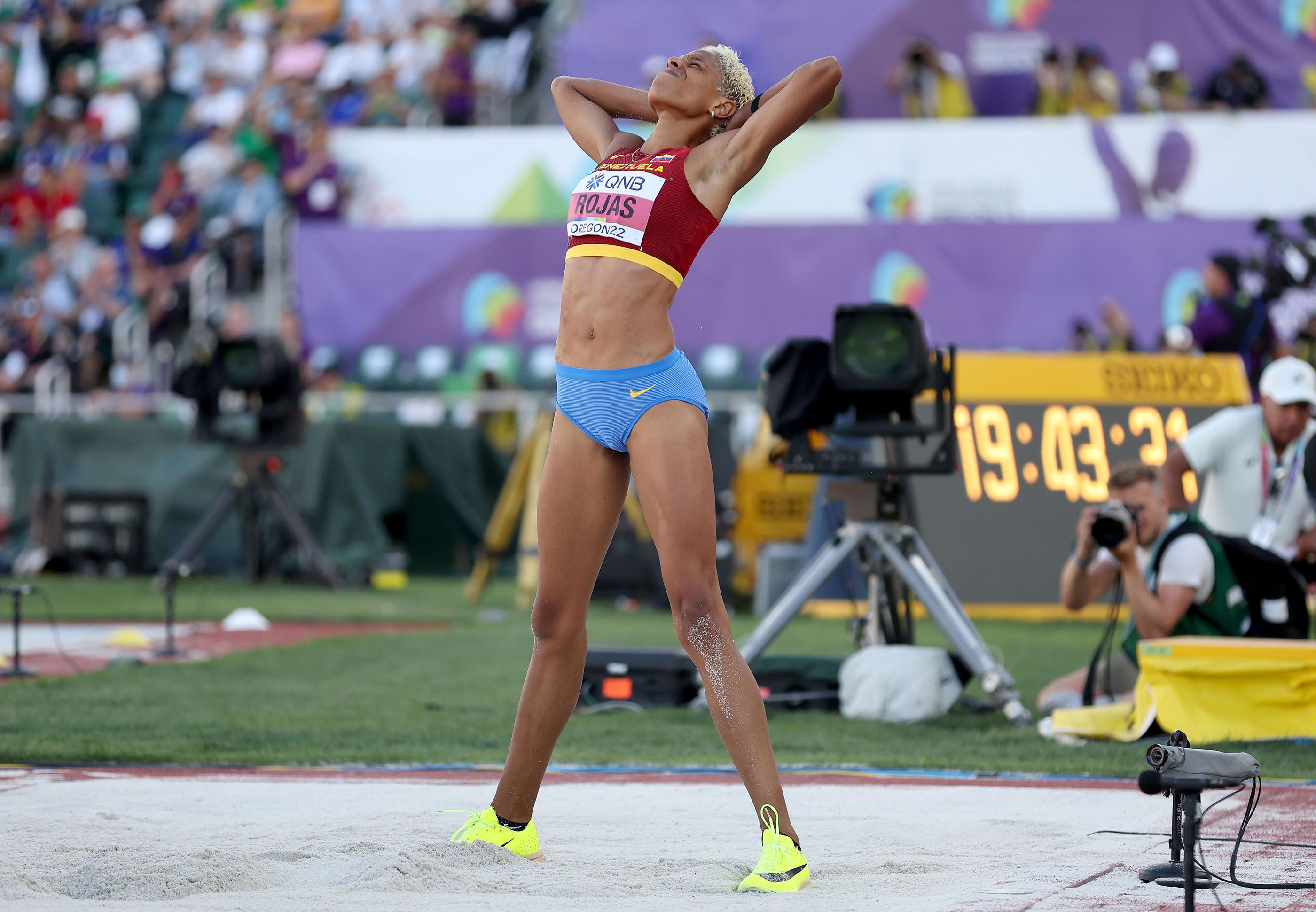 Yulimar Rojas celebrates her triple jump win at the World Athletics Championships Oregon22 (© Getty Images)
Second behind the first-round effort of 14.89m by Jamaica's Shanieka Ricketts, Rojas effectively settled the competition in the next round with a huge effort of 15.47m. Game over. And just in case anyone needed further evidence of her pre-eminence, she finished with 15.39m. At 26, she had three world golds. How many more can she win?
6 – Farah achieves his first World Championship double (2013, Moscow)
Mo Farah's big-time breakthrough came at the 2011 World Championships in Daegu, when, after taking silver in the 10,000m behind Ethiopia's faster-finishing Ibrahim Jeilan, he narrowly defeated USA's Bernard Lagat to win the 5000m title.
A year before the 2013 World Championships in Moscow, Farah had ticked all the boxes at the home Olympics in London by winning both the 5000m and 10,000m. Now he was ready to put the same mark on the World Championships.
His first world 10,000m title was earned on a night of sweltering heat as temperatures remained at more than 27C. Again, he took the lead on the last lap, and again Jeilan wound up to overtake him, but this time the Briton was ready for him and he kicked again to finish first in 27:21.71 before celebrating with his now familiar 'Mobot' pose.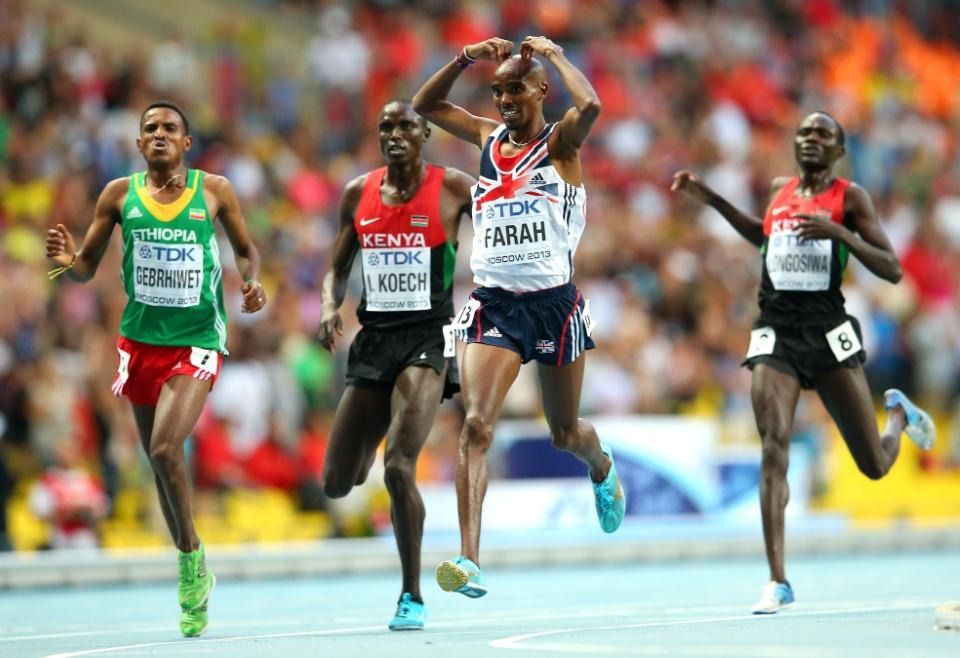 Mo Farah in the 5000m final at the World Athletics Championships in Moscow (© Getty Images)
His defence of the 5000m title saw him going for broke with 650 metres to go. Behind him, great runners lined up to try to pass – but no one could. The Briton crossed the line in 13:26.98, with Hagos Gebrhiwet of Ethiopia second in 13:27.26.
That brought Farah's total of world gold medals to three, and he would go on to add another three.
5 – Felix the history maker earns three titles at the same championships (2007, Osaka)
Having become the youngest 200m world champion at the 2005 World Championships in Helsinki, Allyson Felix made a successful defence of her title in Osaka after overcoming the mighty challenge of Jamaica's Olympic champion Veronica Brown.
Felix drew level with her rival on the bend and moved inexorably ahead in the finishing straight to beat 22.00 for the first time with a clocking of 21.81, with the Jamaican well back in 22.34.
"I have been waiting for so long to run such a time, to run under 22 seconds," said Felix. "It has not been an easy road, but finally, I managed."
She was just 21.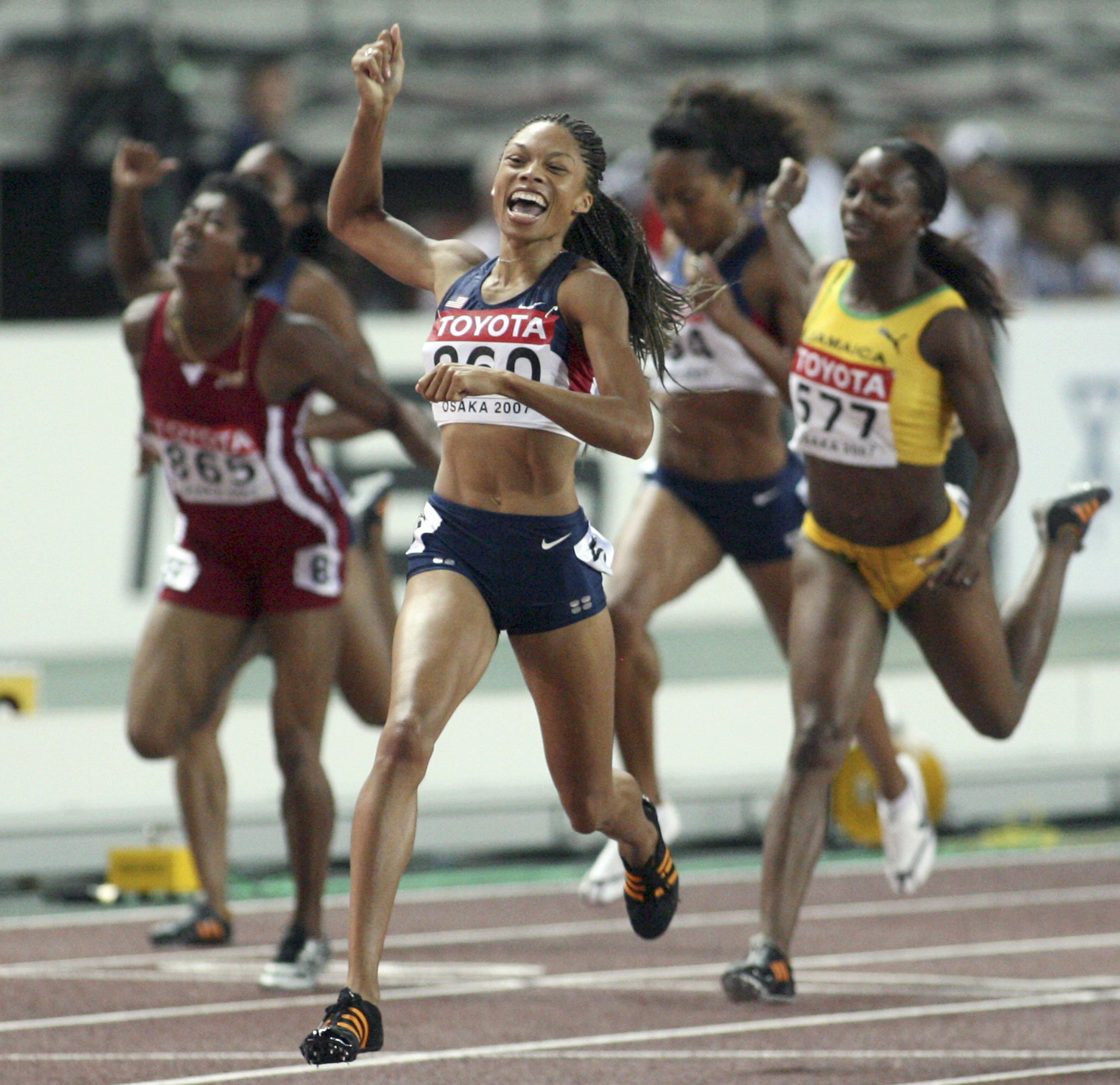 Allyson Felix celebrates her 200m win at the 2007 World Championships in Osaka (© AFP / Getty Images)
The road would stretch on for her all the way to the Tokyo Olympics, where a bronze medal in the 400m and gold in the mixed 4x400m would make her the most decorated US track and field athlete in Olympic history.
But in Osaka she was also a history maker as she became only the second woman after Marita Koch to win three gold medals at the same World Championships.
Her second gold arrived as part of the victorious US 4x100m team in 41.98. The next day she was lining up again for her country in the 4x400m and contributed an unofficial second leg split of 48.01 to a victory in 3:18.55. On both occasions, as in the 200m, Jamaica had to make do with silver.
That brought Felix's collection of world gold medals to four. At 21.
At 37, she has 14, and a medal total of 20 – a record no other man or woman has matched at the World Championships.
4 – Fraser-Pryce gets the sprint double (2013, Moscow)
With the 2008 and 2012 Olympic 100m titles in her possession, Shelly-Ann Fraser-Pryce was ready to branch out at the 2013 World Championships in Moscow.
Having doubled up with the 200m at the London 2012 Games, she had run a personal best of 22.09 in the final but had had to settle for silver behind Allyson Felix of the United States.
A year later she was back – just a tad reluctantly – to try again. This time round the stars were aligned as she became the first woman to win the 100m, 200m and 4x100m at a single World Championships, matching the feat achieved in Moscow by her teammate Usain Bolt. Between them, they gave Jamaica a clean sweep of the world sprinting titles.
Fraser-Pryce first reclaimed the world 100m title she had won for the first time in 2009, banishing memories of the 2011 World Championships in Daegu when she had finished one place outside the medals.
She claimed gold in a time of 10.71. Her 0.22 margin of victory over silver medallist Murielle Ahoure of the Ivory Coast was the largest in that event in World Championship history.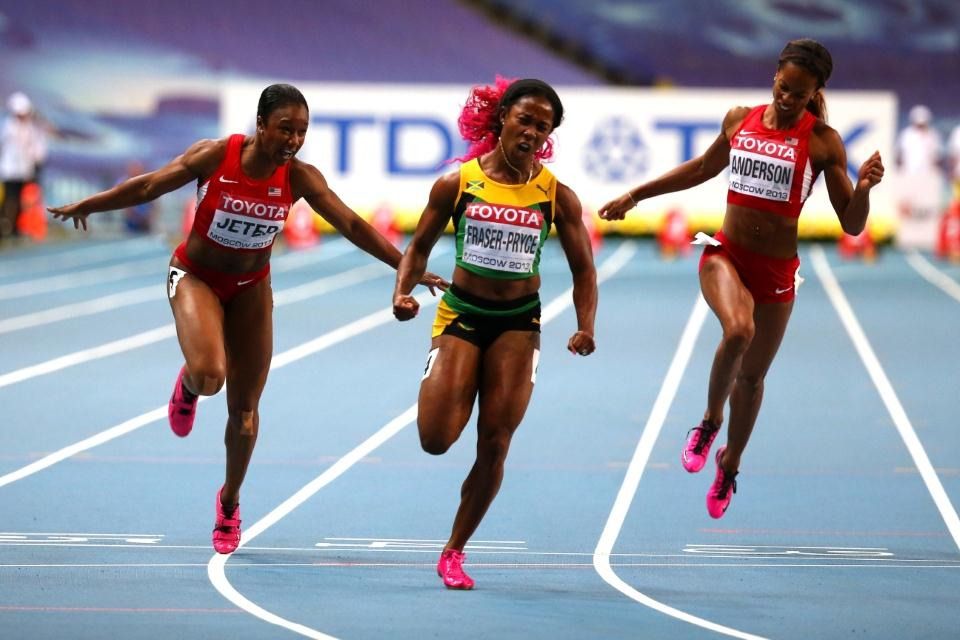 Shelly-Ann Fraser-Pryce in the women's 100m at the World Athletics Championships in Moscow (© Getty Images)
By claiming a second world title, Fraser-Pryce became the first woman to win the 100m twice at the Olympics – in 2008 and 2012 – and the World Championships.
Fraser-Pryce's task in the 200m became significantly simpler when the Olympic champion, Felix, fell to the track early in the final with a hamstring injury.
The Jamaican went on to win her first – and so far only – global 200m title in 22.17.
Her contribution in Moscow was complete after she anchored the Jamaican women's 4x100m team to victory in 41.29 – a championship record.
3 – McLaughlin-Levrone takes the 400m hurdles into another world (2022, Oregon)
When Dalilah Muhammad won the women's 400m hurdles title for the United States at the 2019 World Championships in Doha, she was pushed into beating her own world record by the challenge of her younger compatriot, Sydney McLaughlin.
An Olympian in Rio aged 16 – when Muhammad had won gold – and a world U20 400m record-breaker with 50.36 in 2018, the rising star from New Jersey had begun delivering on all that potential in serious fashion.
By the time she lined up for the Tokyo Olympics she was the favourite, having beaten Muhammad's Doha mark and become the first woman to run the event in under 52 seconds, clocking 51.90 at the US Olympic Trials.
Tokyo turned out as a triumph for McLaughlin as she won gold when setting her second world record, 51.46.
So by the time the World Athletics Championships in Oregon came around the following year, she was the clear favourite – especially as she had set a third world record of 51.41 at the US Championships.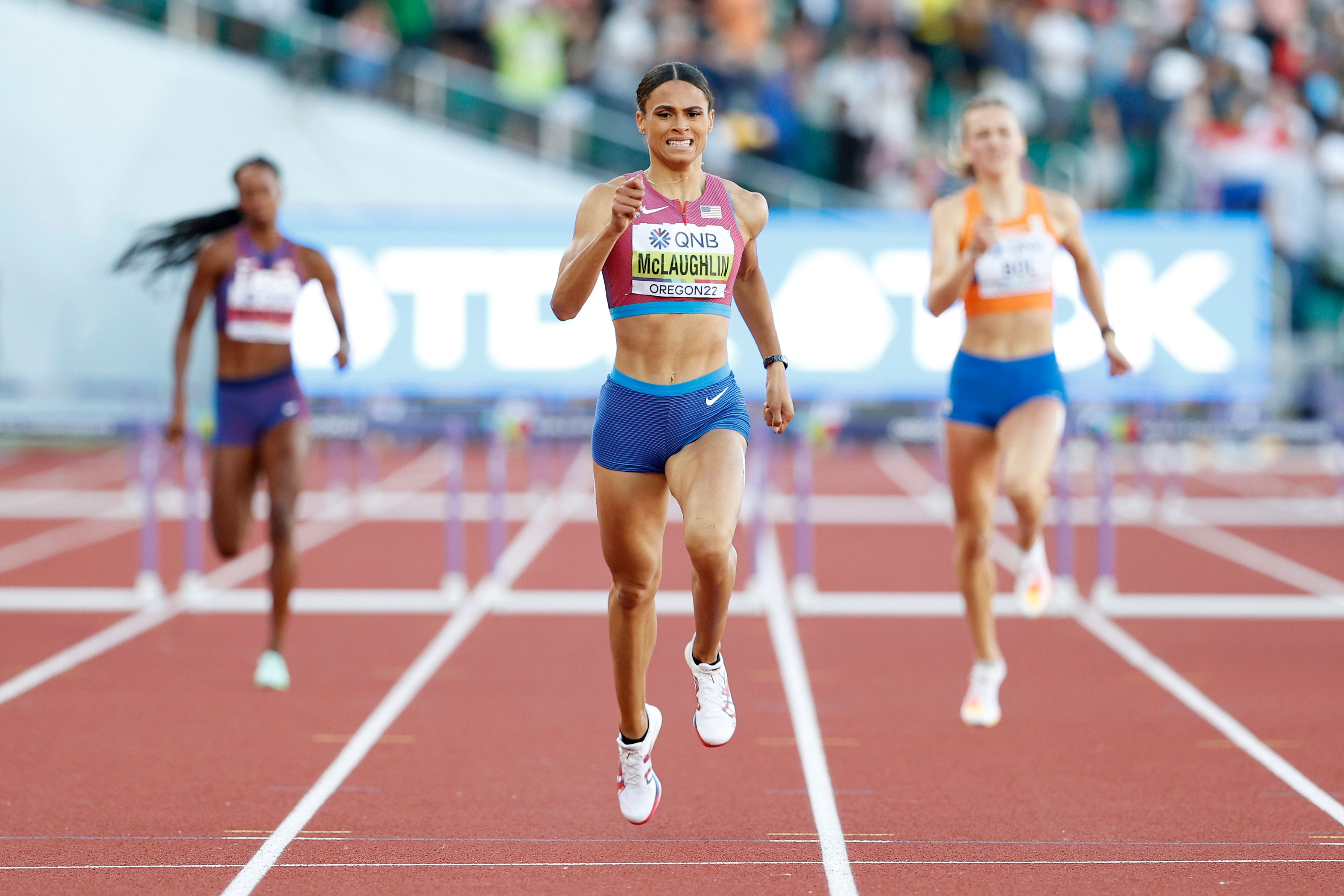 Sydney McLaughlin wins the 400m hurdles at the World Athletics Championships Oregon22 (© Getty Images)
Muhammad was present to mount a powerful defence of her title, but her position as the main challenger to her compatriot – by now running under her married name of McLaughlin-Levrone – was Dutch athlete Femke Bol, six months younger.
Bol had dominated the event on the Diamond League circuit. So perhaps the best measure of McLaughlin-Levrone's stupendous victory was the distance between her and her European rival as she crossed the line more than a second and a half clear.
The clock was also a pretty good marker. She had become the first woman to run a sub-51-second time in the event, reducing her world record to an eye-watering 50.68 – a time that would be highly competitive in the 400m flat.
"She was so far in front at the end, so I was always doubting if I really had a good race because it felt very good," said Bol. "And then I saw the time and I was like: 'Wow'."
2 – Mondo on top of the Worlds at last, with another world record (2022, Oregon)
Since he first broke the men's pole vault world record in 2020, surpassing Renaud Lavillenie's 2014 mark of 6.16m by one centimetre, competition has tended to fall into two parts for Mondo Duplantis. The first involves others; the second, himself.
When he arrived in Oregon, still only 22, this soaring product of a Swedish mother and US father had established himself as The Man. During the indoor season, both times in Belgrade, he had set his third and fourth world records – 6.19m followed, at the World Indoor Championships, by 6.20m. How high could he go at the high point of the outdoor season?
While Duplantis was Olympic champion, he only had a silver medal from the World Championships after losing on countback to Sam Kendricks in Doha three years earlier. He needed to complete his golden collection.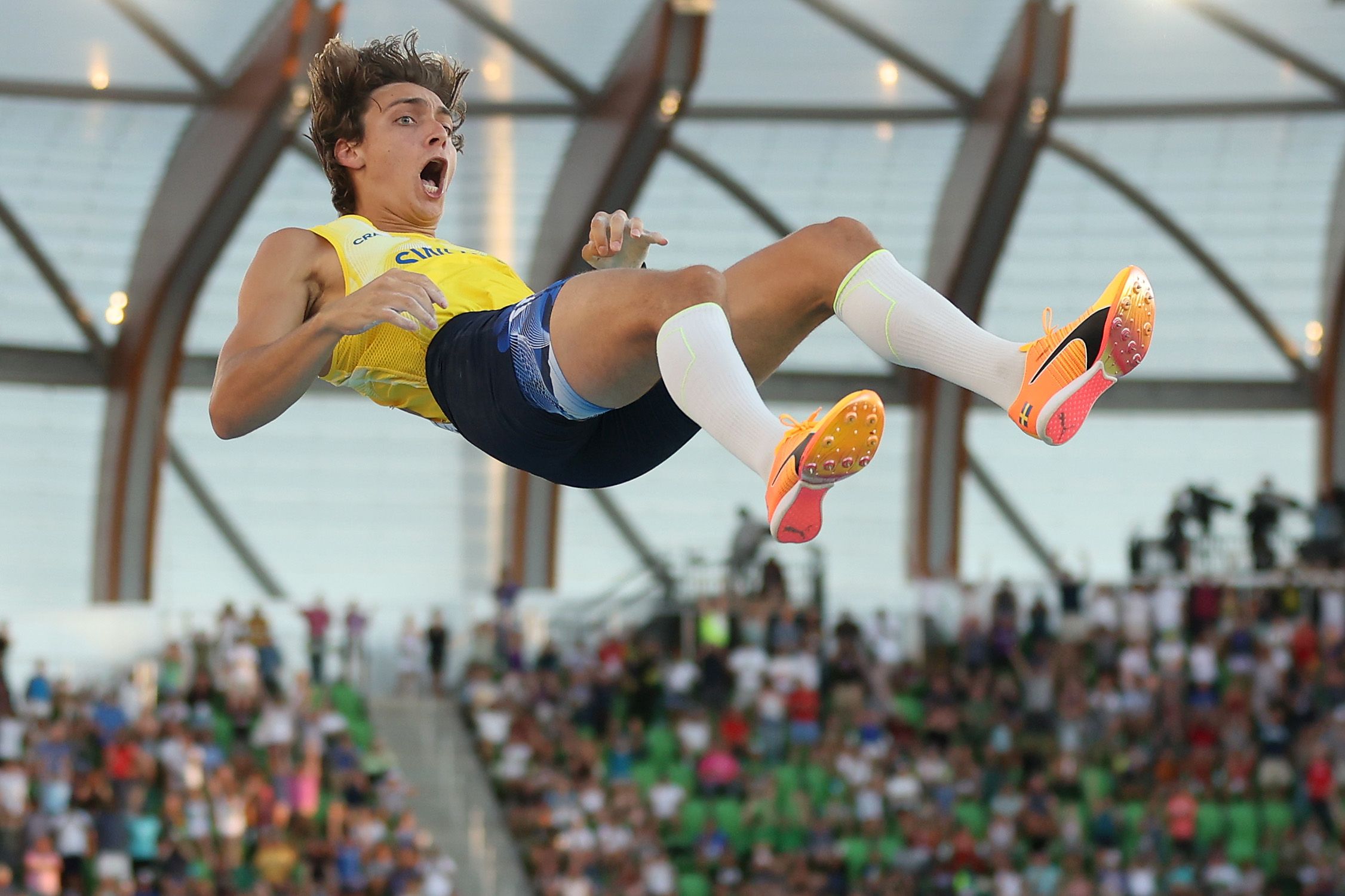 Mondo Duplantis reacts after breaking the world pole vault record at the World Athletics Championships Oregon22 (© Getty Images)
A first-time clearance of 6.00m proved enough for him to do that, with Olympic silver medallist Chris Nilsen of the United States finishing second again on 5.94m ahead of Ernest Obiena of Philippines, who also cleared 5.94m for an area record.
And so began Part Two. Setting the bar at 6.06m, one centimetre above the championship record achieved in 2001 by Dmitri Markov, Duplantis went over first time.
There was only one height the bar was going to next – 6.21m. After a first attempt, which he abandoned on the runway, he soared over. Job done. For now.
1 – Bolt's world record double takes sprinting into the stratosphere (2009, Berlin)
Think of Usain Bolt and you probably think of Berlin. That is where his glorious, fabled career reached top speed.
Defending champion Tyson Gay had arrived as the fastest man over 100m in 2009 with a timing of 9.77, a US record. On the big day he bettered that with 9.71, the third-fastest time ever. But after Bolt had moved marginally clear by 20 metres the US sprinter was destined to become a distant silver medallist as his rival floated ever further out of range to clock – gasp! – 9.58.
Bolt's third successive 100m world record took more than a tenth of a second off the mark he had set in electrifying the Beijing 2008 Olympics with victory in 9.69. That win was marked by a little celebratory chest-beating before the line, leaving many to question how much faster Bolt could go if he concentrated all the way. Now they knew.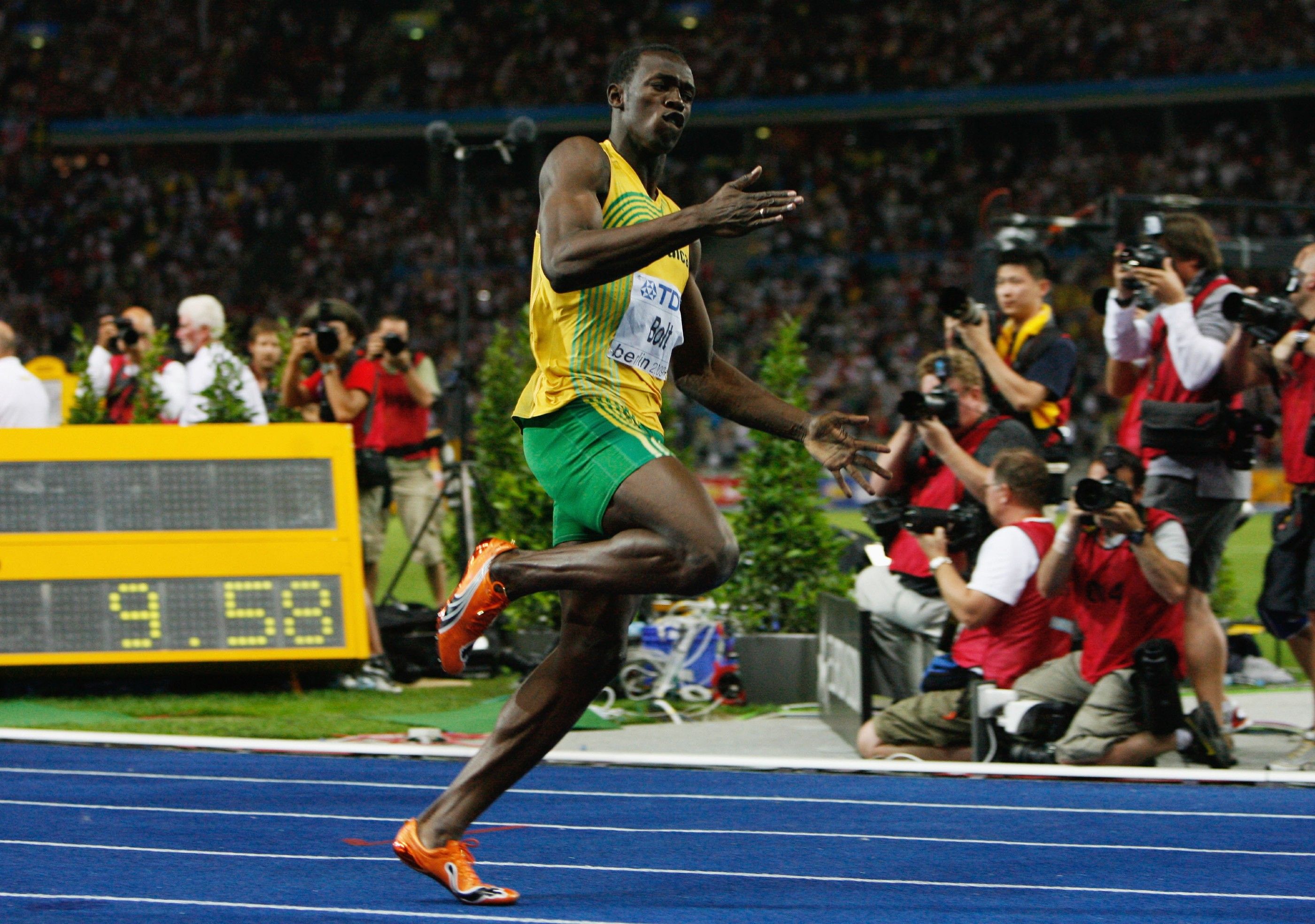 Usain Bolt breaks the world 100m record with 9.58 in Berlin (© Getty Images)
The statisticians claimed that, according to the normal rate of progression, his time was 20 years ahead of schedule. Fourteen years on, nobody has got significantly close to it.
Four days later, Bolt lined up for the final of what he always said was his preferred distance – the 200m. Gay, who had clocked the world's best time of the year, 19.58, was unable to defend his second title from Osaka after hurting his groin during the 100m final.
While there would be no second part to the hyped rivalry, it meant, perhaps, that Bolt was more free to concentrate on his own performance. Which turned out to be stupendous.
Never can this natural showman have been more serious about a race. From gun to tape he was intent, concentrated, driven. When he crossed the line there was a genuine sense of shock at what he had achieved. He might even have felt a little of it himself.
19.19.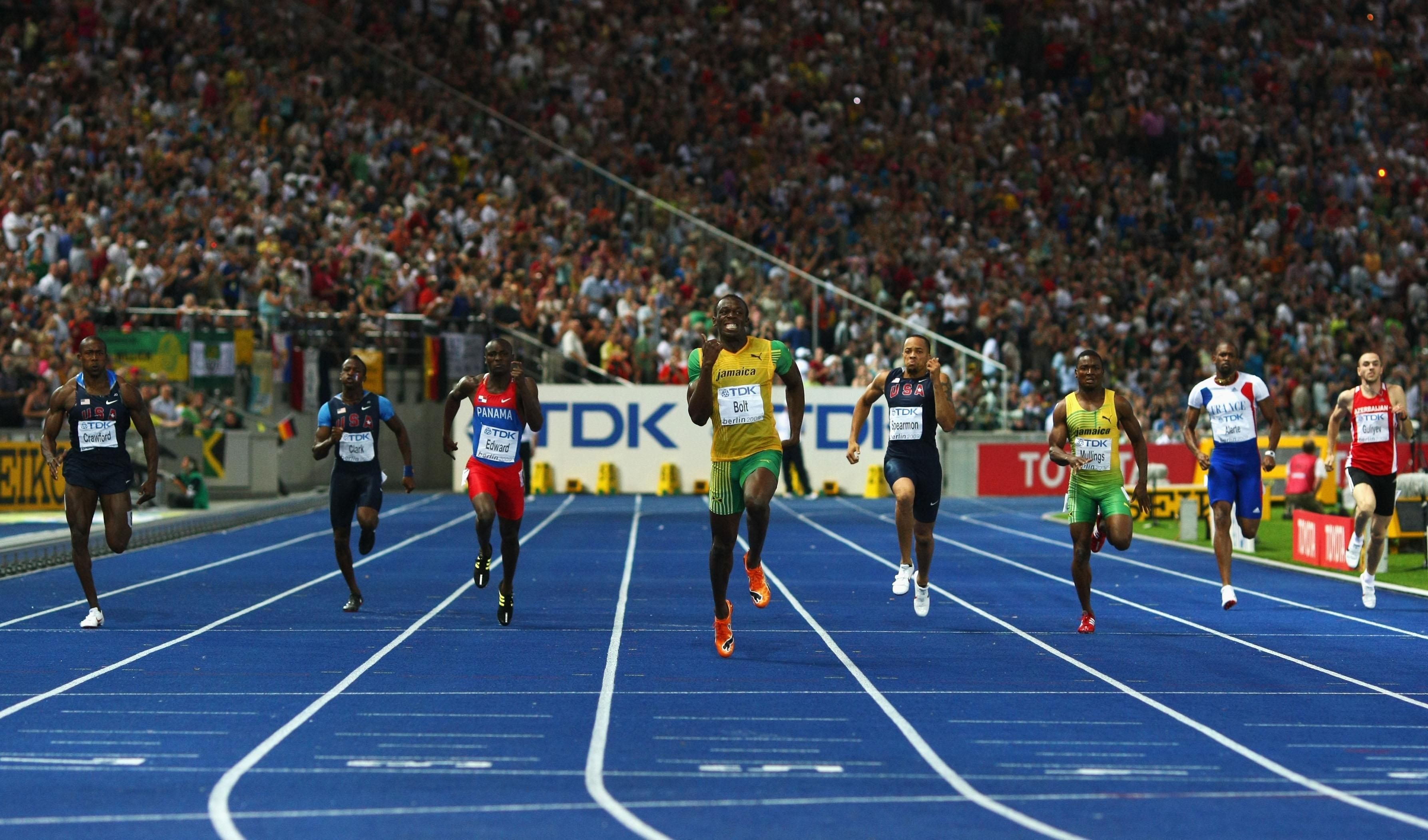 Usain Bolt on his way to setting the quickest 200m time in history during the World Championships in 2009 (© Getty Images)
This was serious business for a man who has always loved the challenge of running the bend.
Thirteen years earlier, Michael Johnson had run a huge world record of 19.32 to earn Olympic gold in the 1996 Atlanta Games – a record they said would stand for the ages.
It had lasted until 2008, when Bolt won the Olympic title in Beijing in 19.30.
Now he had taken another massive chunk out of that mark. How long will it last?