Greatest World Championships moments - 20 to 11
To mark the 40th anniversary of the World Athletics Championships, fans from all around the world were asked to vote for the greatest moments from the past four decades of championship action.
Thousands of fans took part, and the votes have been counted. Following the first instalment on 30 June, and the second on 6 July, here we continue the countdown of the 40 greatest World Championships moments – as decided by followers of the sport.
Twenty different countries from all six continental areas are represented in the top 40. Moments from all 18 past editions of the World Championships feature in the countdown.
The final top 10 moments will be announced on 19 July. But now, without further ado, the countdown continues with moments 20 to 11.
20 – Miller-Uibo gains gold at last (2022, Oregon)
When it came to 400m running, Shaunae Miller-Uibo had won it all. Well, almost.
A world U18 and U20 champion in her teens, the Bahamian sprinter soon established herself as one of the world's best all-round sprinters. She finished fourth over 200m at the 2013 World Championships while still an U20, then took silver at her specialist distance, the 400m, in 2015.
After winning Olympic 400m gold in 2016, she attempted an ambitious 200m/400m double at the 2017 World Championships, but it didn't quite pay off as she placed third in the 200m and fourth at the longer event.
Another world 400m silver followed in 2019, and it started to look as though she was cursed when it came to the World Championships.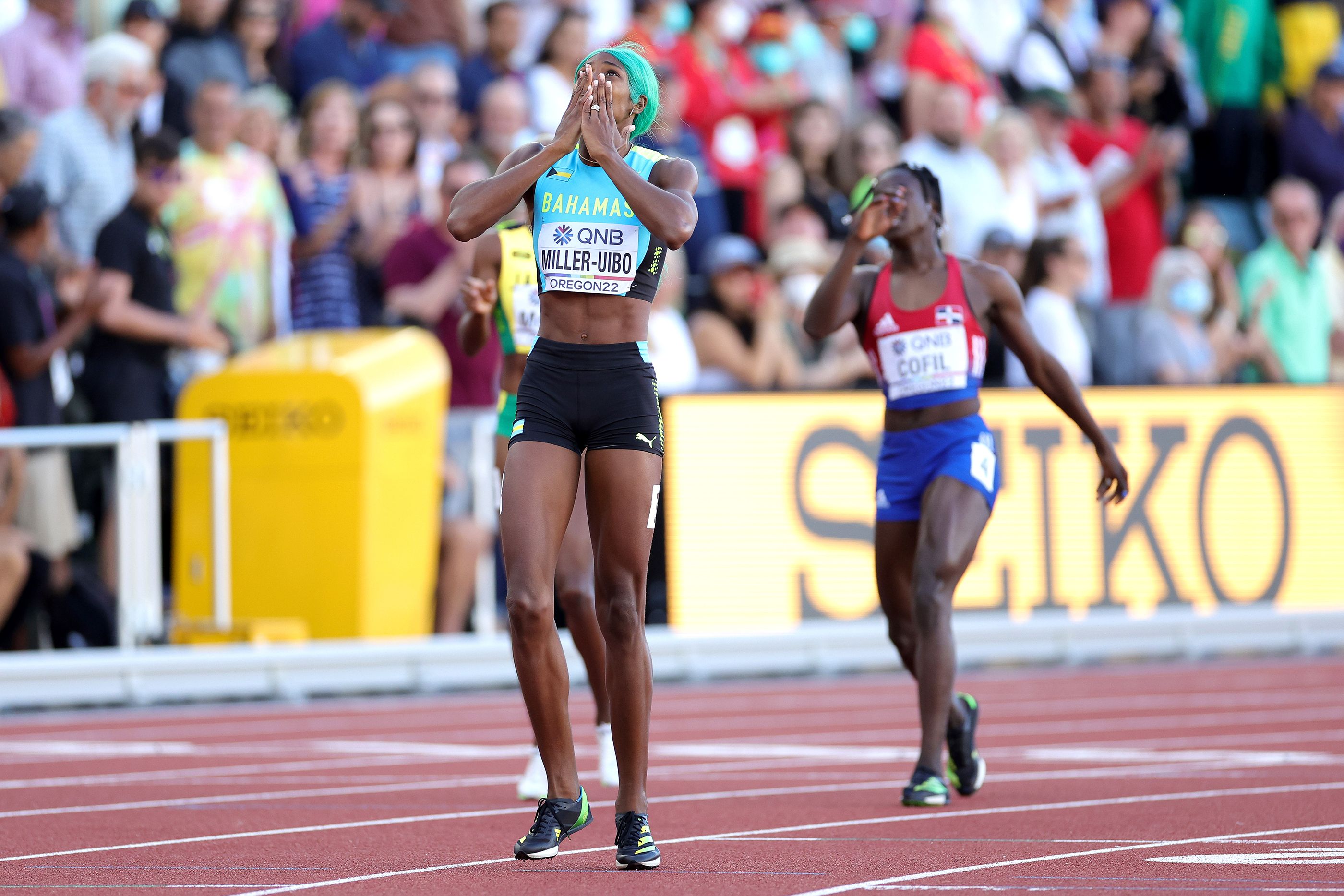 Shaunae Miller-Uibo reacts to her world 400m win in Oregon (© Getty Images)
She successfully defended her Olympic title in 2021, reassuring Miller-Uibo that she was still the best one-lap sprinter in the world. A world indoor title at 400m at the start of 2022 underlined it.
So when she crossed the line victorious at the 2022 World Championships in Oregon, Miller-Uibo breathed a huge sigh of relief.
It may have been her 10th global medal, but it was her first outdoor world title at her main event.
19 – Dibaba does the distance double (2005, Helsinki)
Not only was Tirunesh Dibaba still a teenager when she headed to the Finnish capital for the 2005 World Championships, but she also went there as the defending champion over 5000m.
The young Ethiopian was a surprise winner in Paris two years prior. Two years on from then, and with a few more global medals in her collection – including the long and short course double gold from the World Cross Country Championships earlier that year – all eyes were on Dibaba in Helsinki.
Not just in the 5000m, but over 10,000m.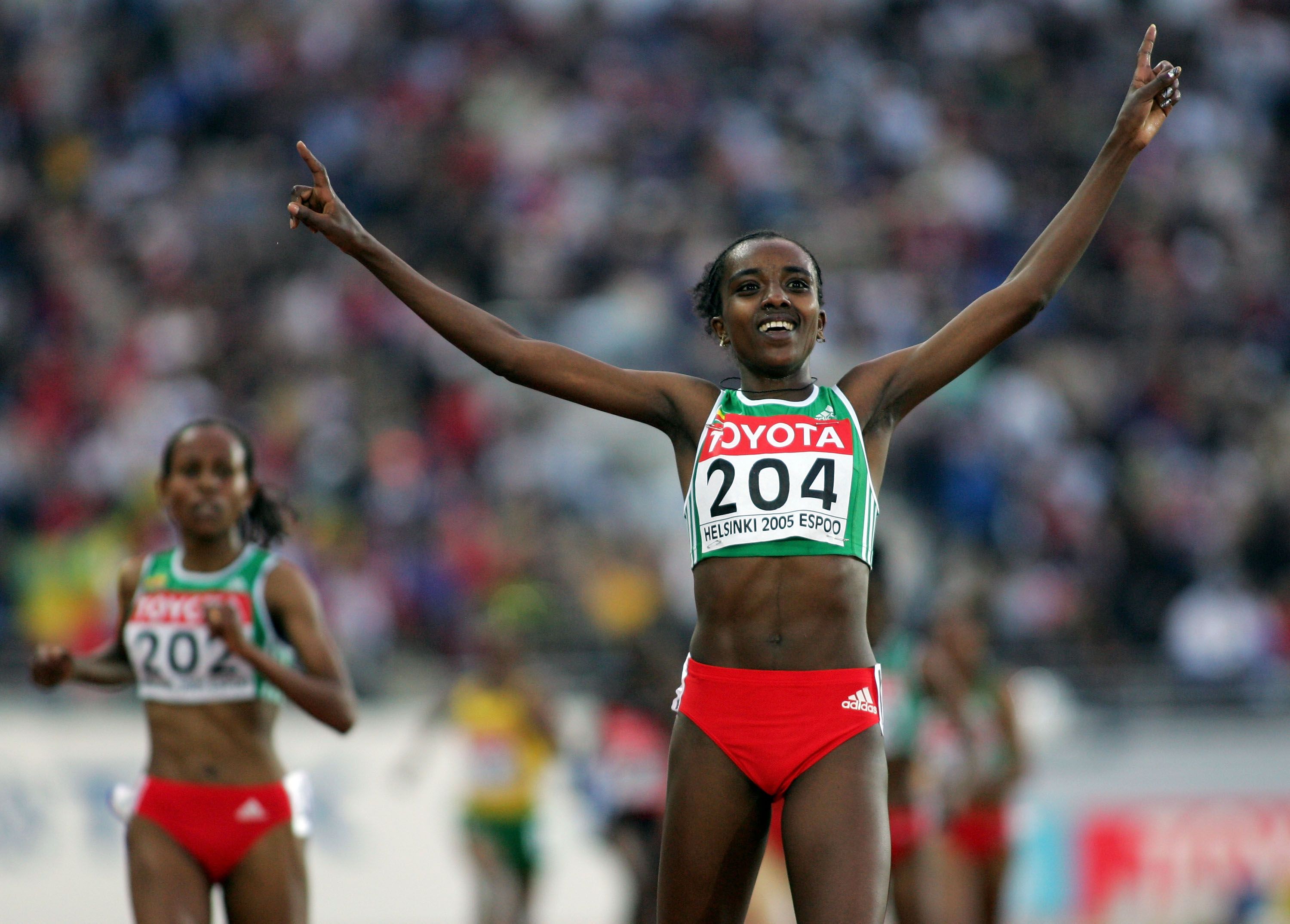 Tirunesh Dibaba wins the 5000m at the World Championships in Helsinki (© Getty Images)
She had made her debut at the longer distance just five weeks before the World Championships. But her target in Helsinki was still an ambitious one as she was up against the best in the world.
As it transpired, her toughest opposition came from her own compatriots – including her older sister Ejegayehu.
Dibaba's finishing speed proved too strong for them all, though, and she beat defending champion Berhane Adere to the 10,000m title, then several days later got the better of Olympic champion Meseret Defar to take the 5000m crown.
It would be another 11 years until Dibaba was beaten over 10,000m; she went on to win the 2007 and 2013 world titles at that distance, as well as the 2008 and 2012 Olympic crowns.
18 – Bekele bags 5000m and 10,000m titles in Berlin (2009, Berlin)
Four years after fellow Ethiopian Tirunesh Dibaba achieved the feat, Kenenisa Bekele completed the 5000m and 10,000m double at the World Championships in Berlin.
He had attempted both events at the 2003 World Championships and 2004 Olympic Games, but both times came up slightly short of double gold, having to settle for bronze and silver respectively in the 5000m at those two championships.
He focused on just the longer event at the 2005 and 2007 World Championships, adding more global gold medals to the ones he won in 2003 and 2004. He then re-attempted the distance double at the 2008 Olympics and was successful at last, so he did the same for the 2009 World Championships in Berlin.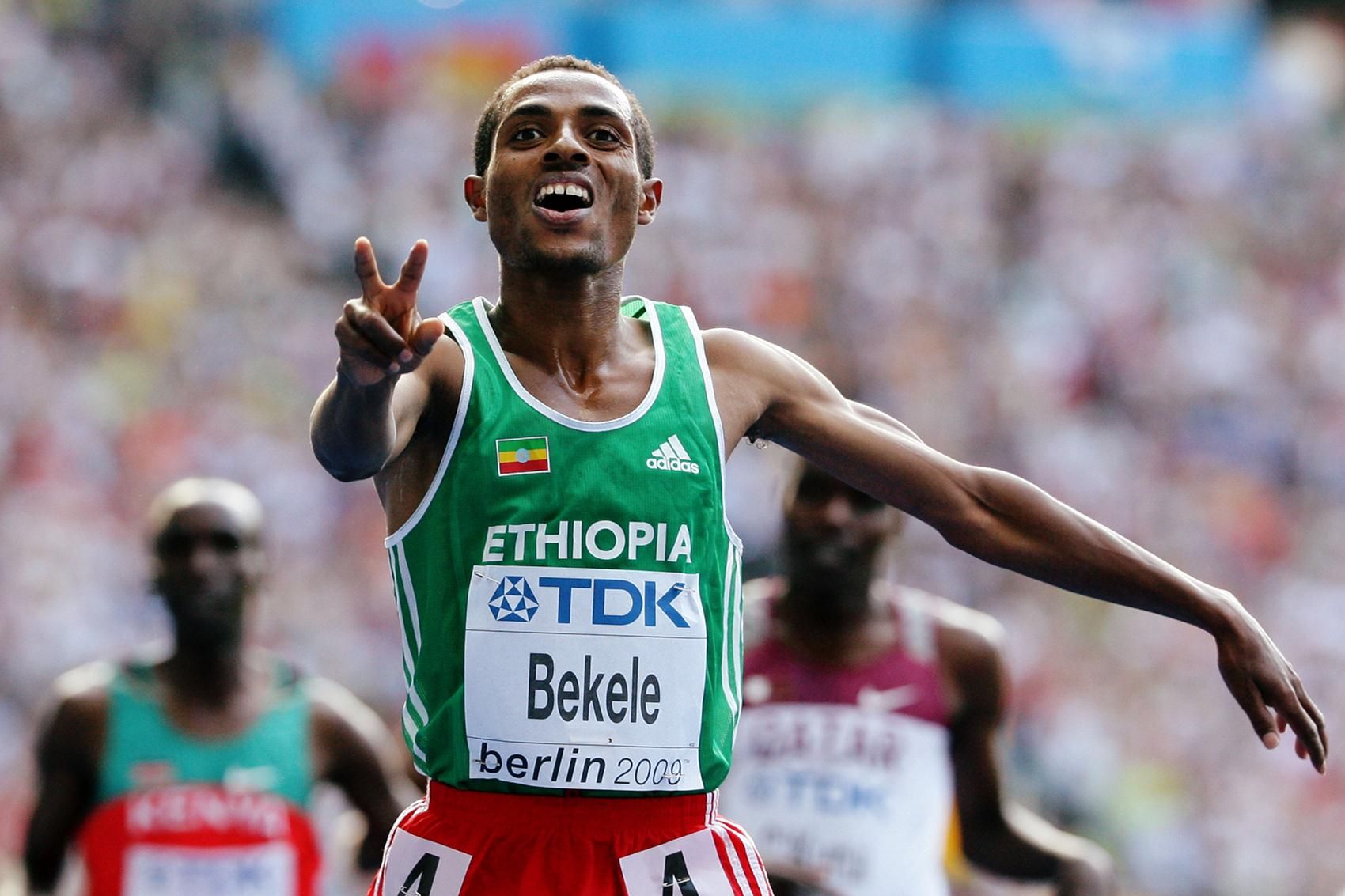 Another world 5000m gold for Kenenisa Bekele (© Getty Images)
Bekele had won all of his races on the circuit leading into Berlin – but winning pace-made races is one thing; beating the world's best in a tactical race is another.
Eritrea's Zersenay Tadese, one of Bekele's toughest rivals across all distances, tried his best to break Bekele in the 10,000m but had no response to the Ethiopian's finishing kick.
The 5000m was much closer, this time USA's Bernard Lagat doing his best to match Bekele in a sprint finish down the home straight, but once again Bekele had the edge as he finally completed a World Championships distance double.
17 – Kipchoge marks arrival by taking down the greats (2003, Paris)
It had been billed as the perfect meet-in-the-middle clash between two great champions.
Kenenisa Bekele had won the 10,000m on the second day of the World Championships in Paris, then Hicham El Guerrouj had taken the 1500m crown a few days later.
Both had qualified for the 5000m final, which was the last individual event on the last day of the championships. One of these men was in line to win a second gold medal and complete a distance double in what looked set to be a mouth-watering showdown.
But no one had told Eliud Kipchoge.
Back then – long before he became the much-loved marathon legend he is today – Kipchoge was a relatively unknown Kenyan teenager. He had won the world U20 cross-country title earlier that year, and ran some speedy 5000m times on the circuit, but suffered more losses than victories. An exciting prospect for the future, sure, but it seemed as though Paris had come too soon for Kipchoge.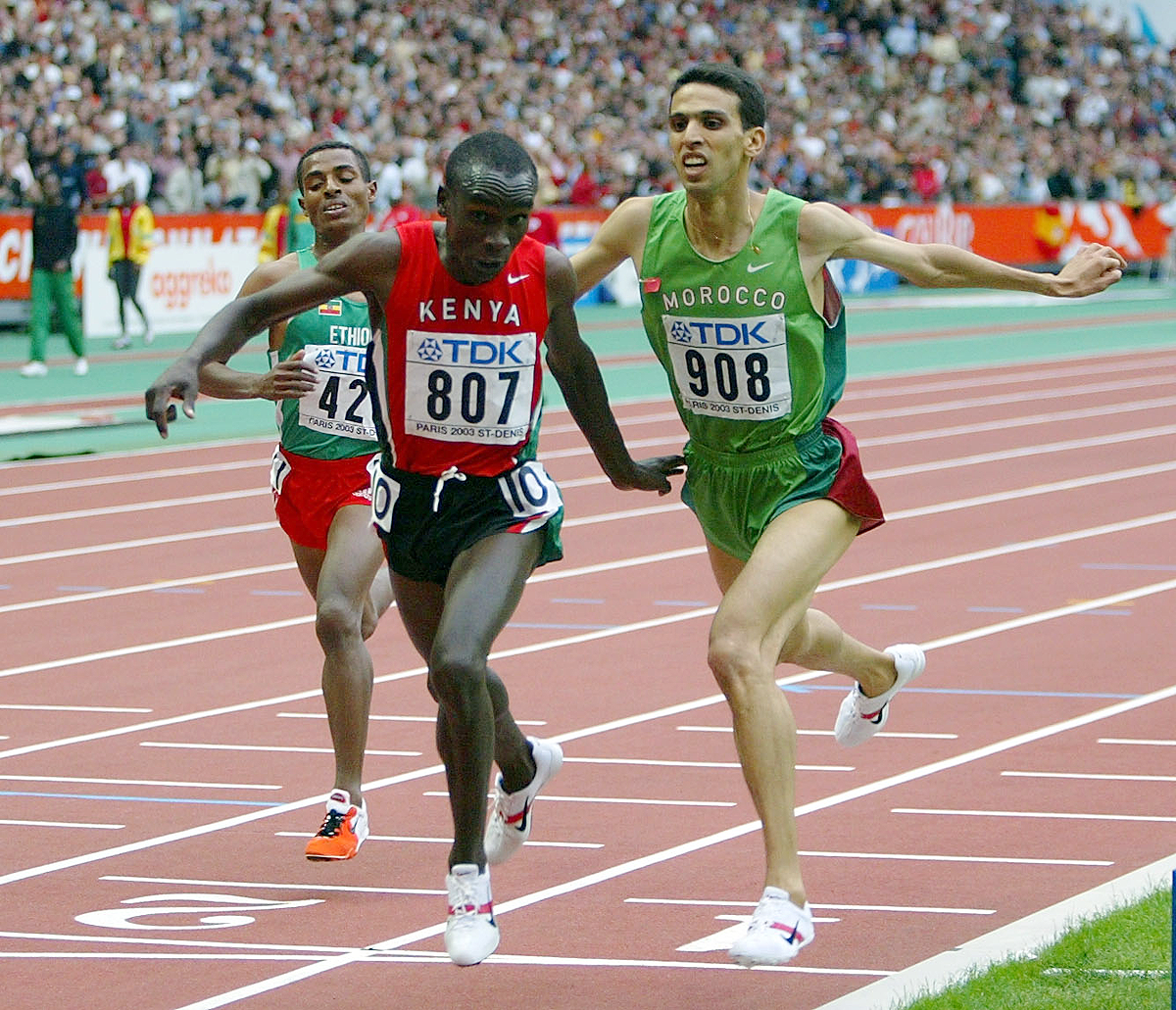 Eliud Kipchoge outdips Hicham El Guerrouj in the 5000m at the 2003 World Championships (© Getty Images)
Bekele took the race out hard in an attempt to burn off his rivals. El Guerrouj stayed close to him, though, as did Bekele's teammates and a Kenyan quartet that included Kipchoge and defending champion Richard Limo.
El Guerrouj moved to the front with two laps to go and it helped whittle down the lead pack even further. But Kipchoge was going nowhere, and on the final lap he was sandwiched between the two world champions, Bekele now in third.
The trio entered the home straight pretty much level, and even then it seemed as though El Guerrouj or Bekele – both renowned for possessing a lethal finishing kick – would pull clear. But as the finish line came closer, it was Kipchoge who managed to edge ahead.
Bekele was the first to fade, then El Guerrouj's form dipped in the closing stages while Kipchoge lunged for the line, taking gold in a championship record of 12:52.79. El Guerrouj took silver and Bekele the bronze.
It was to be the only global title that Kipchoge won on the track, but less than a decade later he turned his attention to the marathon and never looked back.
16 – Schippers speeds to 200m championship record (2015, Beijing)
Before the 2015 edition in Beijing, Dafne Schippers' previous World Championships appearance came in 2013 when she took the bronze medal in the heptathlon.
During that time between championships, though, the Dutch all-rounder dropped combined events to focus on the sprints. And it certainly paid off.
The 2014 season marked her transition from heptathlete to sprinter. She contested her last ever heptathlon, scoring a PB of 6545, but then started chipping away at her sprint PBs, clocking 11.03 for 100m and 22.03 for 200m. Her double sprint gold at the European Championships sealed the deal. Schippers was now a sprinter.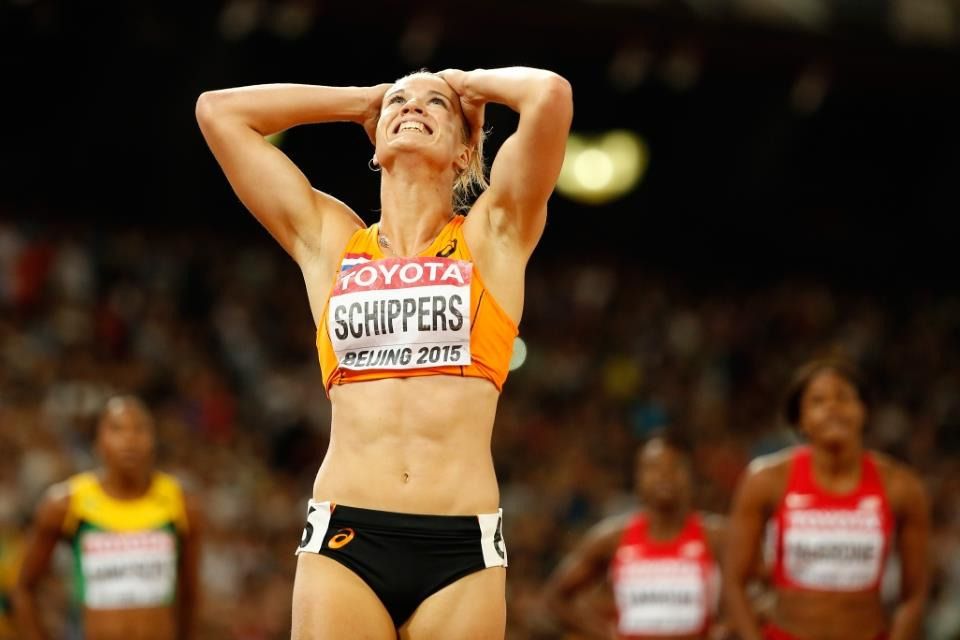 Dafne Schippers wins the 200m at the World Championships Beijing 2015 (© Getty Images)
Having trained exclusively as a sprinter for a year, Schippers emerged in 2015 in her best ever shape. She took silver in the 100m at the World Championships in a Dutch record of 10.81, but she still had the 200m – her better event – to come.
Pushed by Jamaica's Elaine Thompson-Herah, Schippers sped to glory in the longer sprint in a sensational 21.63, breaking the championship record as well as the European record. In a close finish, Thompson was just 0.03 behind – also inside the previous championship record.
15 – Edwards sails out to world triple jump record (1995, Gothenburg)
The stars aligned for British triple jumper Jonathan Edwards during the 1995 season.
He set a PB in his first competition of the year, then in his third outing he flew out to a wind-assisted 18.43m at the European Cup, followed one week later by another wind-assisted 18-metre jump in Gateshead.
In Salamanca in mid-July the weather gods were on his side as he jumped a world record of 17.98m. Just five days later, he landed beyond 18 metres once more, but again with the wind over the allowable limit.
Given his consistency, he knew that he was capable of landing a wind-legal 18-metre jump sooner or later. Thankfully for the Briton, that came in the opening round of the World Championships final.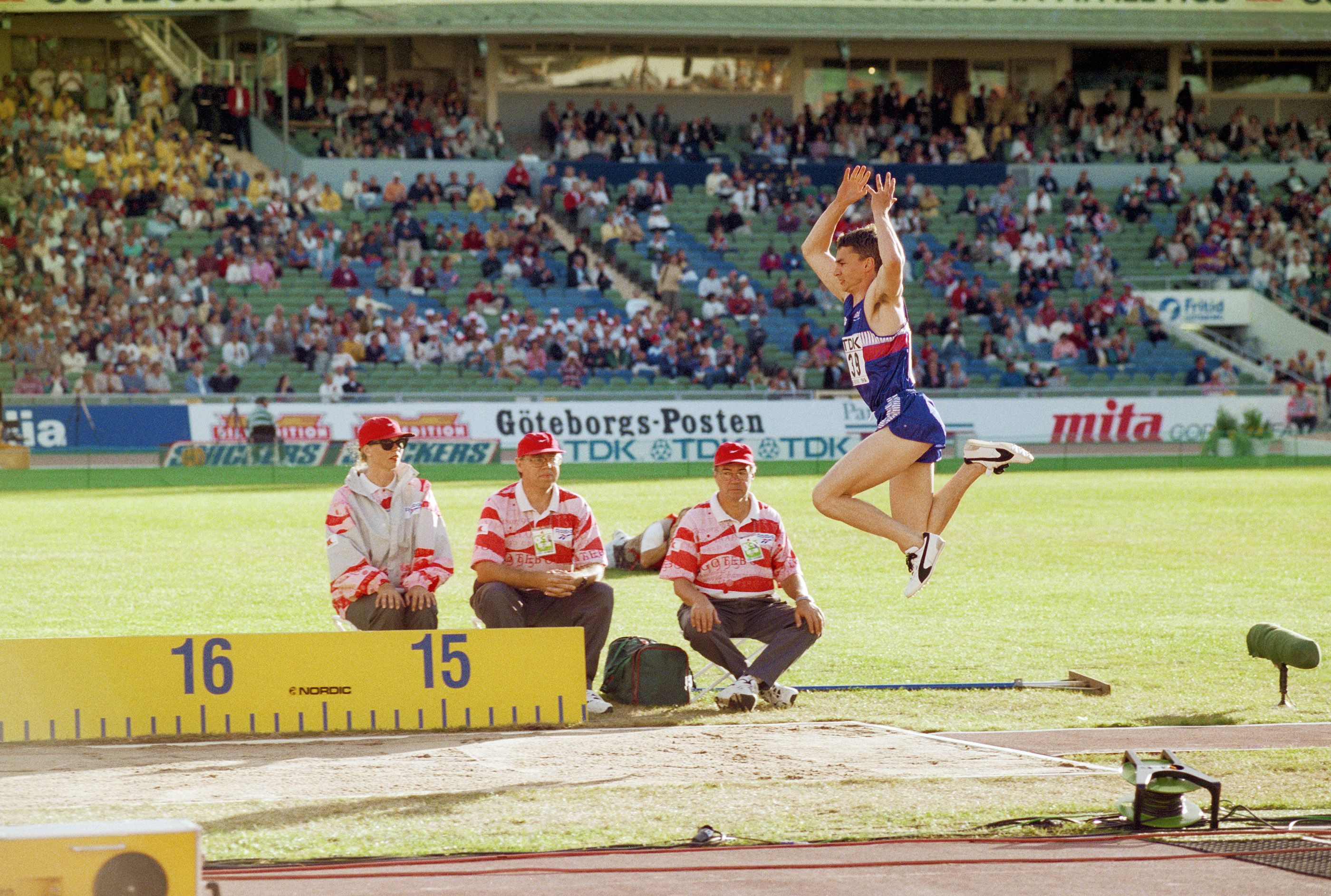 Jonathan Edwards in action at the 1995 World Championships (© Getty Images)
From the moment he landed in the pit on that opening jump, he knew he'd gone beyond 18 metres. The wind reading was legal (1.3m/s) and moments later the distance flashed up on the board: 18.16m. History's first legal jump beyond that barrier.
But there was more to come in round two, and with an almost identical reaction to his first-round leap, Edwards once again shook his head in disbelief at the fact he had made even more history. The measurement was confirmed at 18.29m (1.3m/s) – a world record that still stands to this day.
Edwards passed the next two rounds, then registered a 17.49m jump in round five before passing the final round, safe in the knowledge he had done enough to secure gold.
14 – Eaton dominates decathlon with world record (2015, Beijing)
Ten disciplines, some with numerous attempts, others with barriers in the way – there's a lot that can go wrong in the decathlon.
But sometimes – like for Ashton Eaton at the 2015 World Championships – a lot of things can go right.
The US all-rounder was already the Olympic champion, world record-holder and defending world champion heading into Beijing for the World Championships. But going all-out in every discipline is a risky strategy at a major championships, because the margins between success and failure are often so narrow.
Nevertheless, Eaton gave it his all in every discipline and led from start to finish. He opened his campaign with a 10.23 clocking in the 100m and followed it with a 7.88m leap in the long jump. A 14.52m throw in the shot put and 2.01m clearance in the high jump kept him in the lead. But the best was yet to come.
In the final discipline of the first day – having already contested four events and racing on tired legs – Eaton blazed to a 45.00 world decathlon best in the 400m. That boost of points helped put him on course for a 9000-point score, but he still had five more events to come on day two.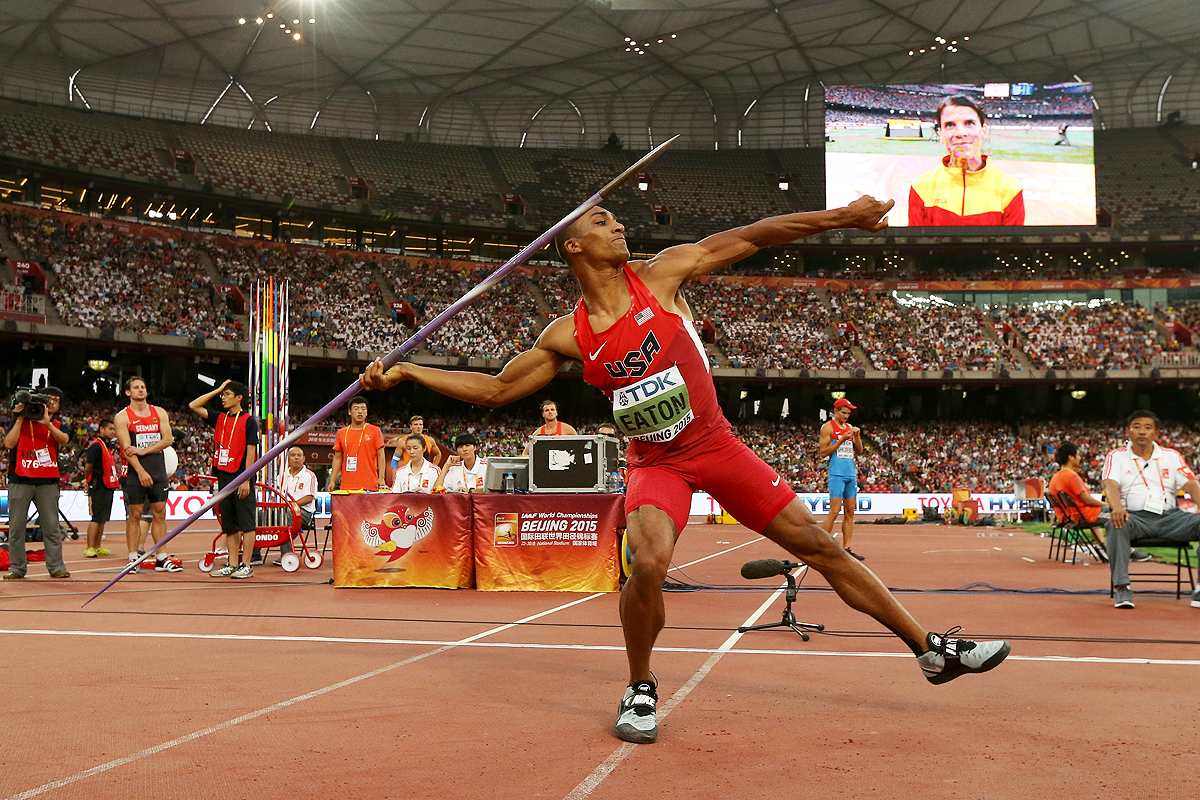 Ashton Eaton in the decathlon javelin at the IAAF World Championships Beijing 2015 (© Getty Images)
He continued to produce strong performances throughout the second day, running 13.69 in the 100m hurdles, throwing 43.34m in the discus, clearing 5.20m in the pole vault and throwing 63.63m in the javelin. With one event to go, he had amassed 8216 points – a score that just 10 other men in the field bettered by the conclusion of the decathlon.
Knowing he had to run one of his best ever 1500s to break his own world record (9039), Eaton dragged and willed his body round the three-and-three-quarter laps of the track in 4:17.52. It brought his tally to a world record of 9045.
13 – Amusan amazes with world 100m hurdles record (2022, Oregon)
For quite some time after the race, many people wondered if there had been some sort of timing malfunction.
Tobi Amusan's world record of 12.12 – in the semifinals, no less – seemed to come from nowhere. And many other athletes in her heat set lifetime bests or season's bests.
But the next semifinal at the World Championships in Oregon was also fast, the top four finishers setting PBs.
It was simply a great day for hurdling.
Tobi Amusan celebrates after crossing the line in Oregon
Less than two hours later, the sprint hurdlers were back on track for the final. Once again, Amusan produced a stunning race to cross the finish line first. This time, she went even faster, clocking 12.06. The wind speed of 2.5m/s was over the allowable limit for record purposes, but it backed up her world record mark from the semifinals.
The other medallists clocked their best ever times, too, with Britany Anderson and Jasmine Camacho-Quinn both running 12.23 to take silver and bronze respectively.
Amusan went on to back up her stunning form later in the season, winning the Commonwealth title in 12.30 and the Diamond League crown in 12.29.
12 – Powell defeats Lewis in long jump duel for the ages (1991, Tokyo)
It surprisingly may not have made it into the top 10 moments in this particular fan vote, but the long jump duel between Mike Powell and Carl Lewis at the 1991 World Championships in Tokyo is widely regarded by experts of the sport as one of the greatest clashes in athletics history.
Going into the event, it hadn't particularly been billed as one of the big clashes of the championships as Carl Lewis was such a heavy favourite. The US superstar had been undefeated for 10 years in the long jump and had won the past two world titles and Olympic gold medals in the event. He also went into the final in the form of his life, having set a world record to win the 100m title just five days prior.
But Powell was quietly confident that he could end Lewis's winning streak.
"I had been chasing Carl for eight years," Powell recalls. "In our last competition before the World Championships, he only beat me by one centimetre on his last jump. I knew I was closing the gap."
When the final got underway, the first round went in Lewis's favour. The defending champion sailed out to 8.68m to add one centimetre to his own championship record. Powell, meanwhile, managed just 7.85m. But in the second round he landed an 8.54m jump to put pressure on Lewis, who had fouled his second attempt.
Just as Powell was getting started, Lewis extended his lead in the third round, bounding out to a wind-assisted 8.83m. Lewis landed another big leap in the fourth round. The wind reading came up first – 2.9m/s, over the allowable limit – followed by the distance, 8.91m. It wouldn't be accepted for record purposes, of course, but the fact it was farther than the world record – set by Bob Beamon back in 1968 – was significant.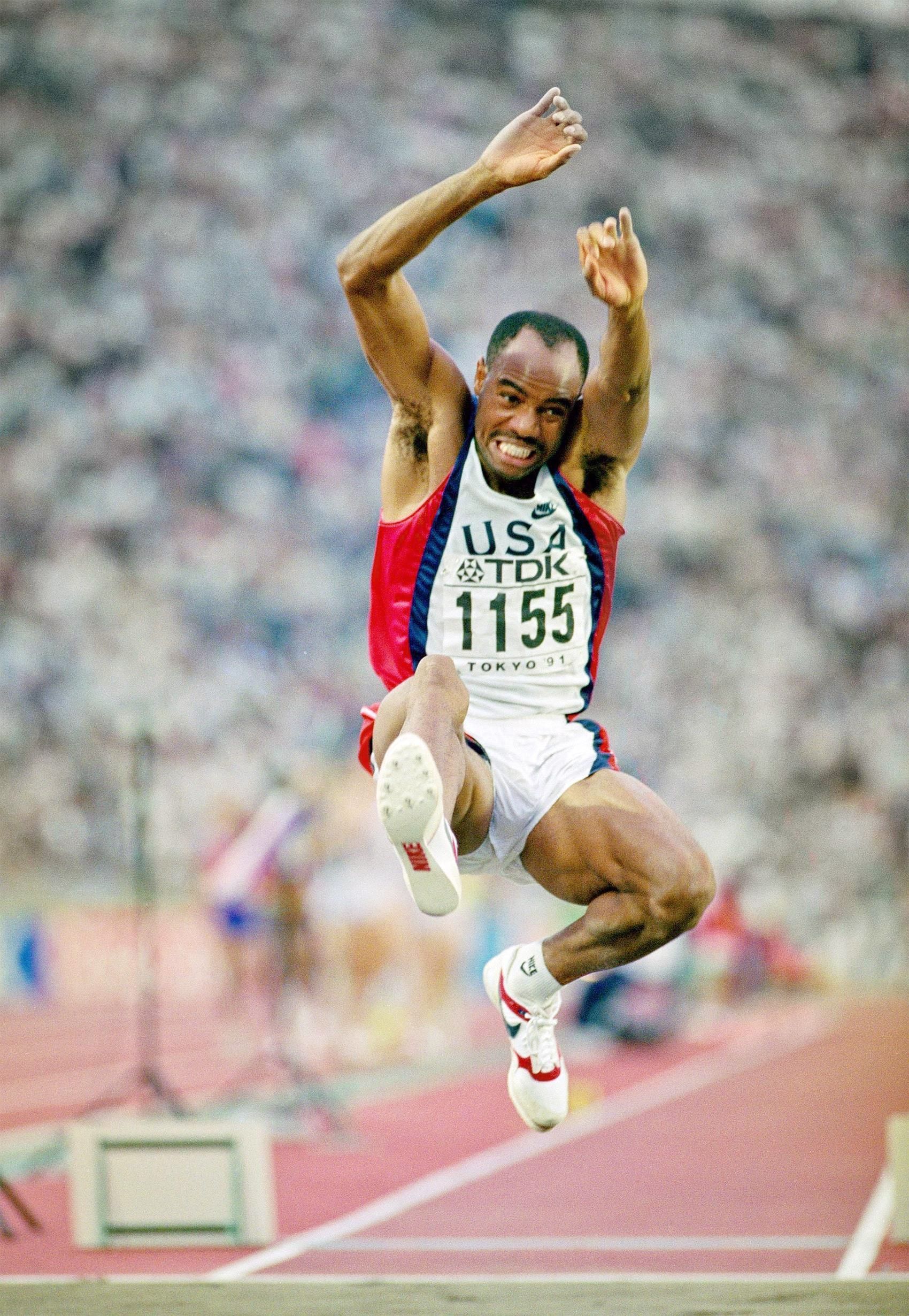 Mike Powell sails to his 8.95m world record leap at the 1991 World Championships in Tokyo (© Getty Images)
In round five, Powell produced the jump of his life.
"It just felt good, I hit it with a really good jump," Powell recalls. "My approach wasn't perfect but I got a chance to get a lot of good height. I just knew that I had jumped past him."
The distance eventually appeared on the scoreboard: 8.95m. And wind legal. Powell had broken Beamon's remarkable world record.
Lewis still had two jumps remaining, though. He came close with both, leaping 8.87m – a mark that remained his official lifetime best – and 8.84m, but it wasn't enough to displace Powell as the winner and world record-holder.
Both men had surpassed Beamon's long-standing record distance – one with legal wind, one without – and Powell had ended Lewis's decade-long winning streak to win the world title.
11 – Barshim returns with gold in front of home crowd (2019, Doha)
An attempt at a would-be world high jump record of 2.46m in 2018 proved costly for Mutaz Barshim.
On his third and final try at that height, he tore ligaments in his ankle, which not only ruled him out for the rest of the season, it also put in jeopardy his 2019 campaign.
After rehabbing through the off-season, the Qatari high jumper eventually returned to competition in late June, clearing 2.27m in Sopot and again in London four weeks later. A 10th-place finish in Zurich with 2.20m was hardly the confidence-boosting pre-World Championships outing Barshim had hoped for.
But then, there's nothing quite like a home World Championships to bring out the best in someone.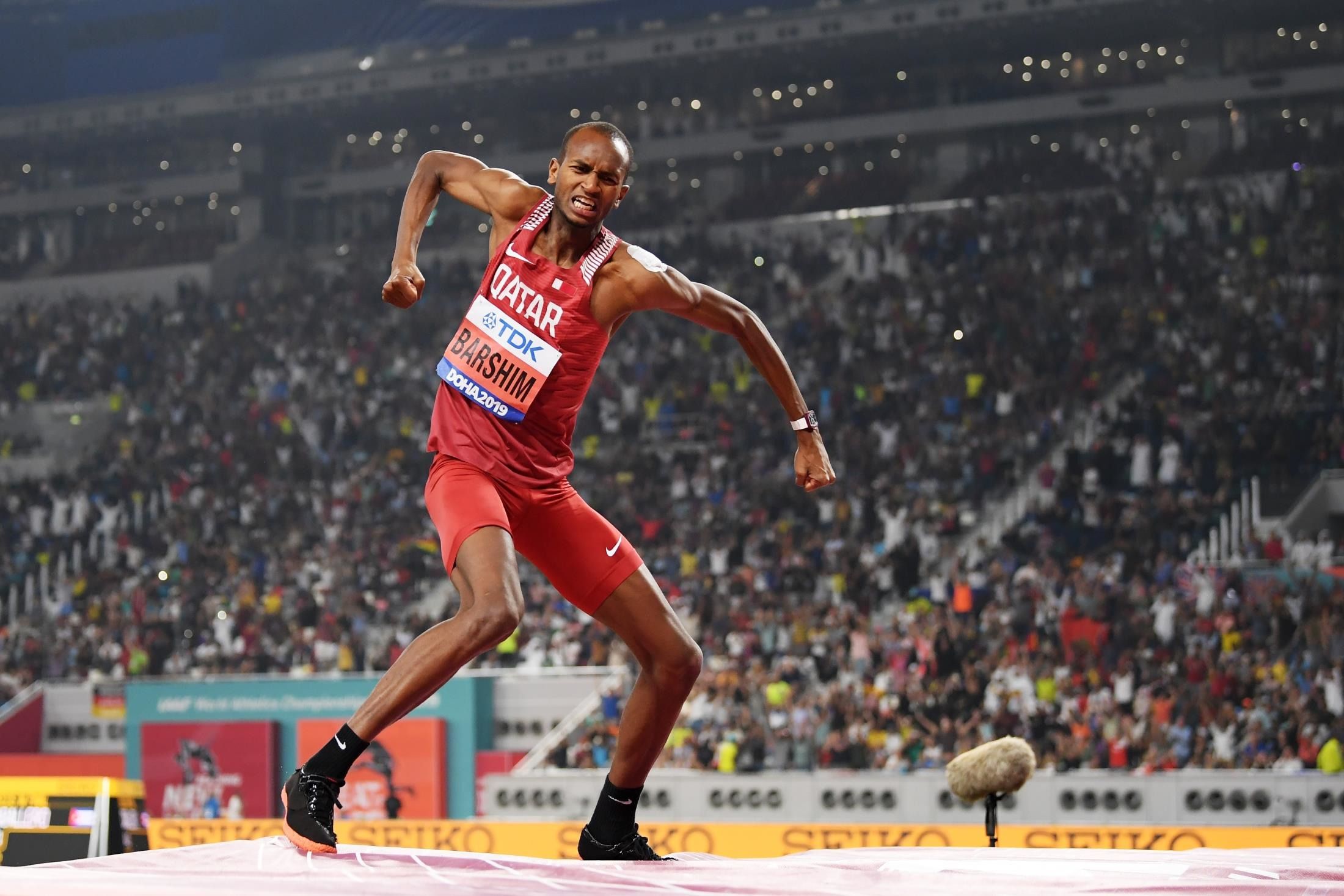 Mutaz Barshim charging up the crowd at the IAAF World Athletics Championships Doha 2019 (© Getty Images)
Competing in front of his adoring and vocal Qatari crowd, Barshim looked every bit back to his best in the high jump final at the 2019 World Championships in Doha. He enjoyed first-time clearances up to and including 2.30m, but then needed three tries to get over 2.33m. He remained in the contest but was now in a tie for second place behind Mikhail Akimenko.
Barshim, Akimenko and Ilya Ivanyuk all got over 2.35m on their first try, so their positions remained the same. The final pecking order was only decided with the bar at 2.37m.
Barshim sailed over with impeccable form, giving him the lead. The two authorised neutral athletes, meanwhile, were unsuccessful on all three tries, as was Maksim Nedasekau, who'd had one previous miss at 2.35m.
Barshim had successfully defended his high jump title, little more than a year after suffering a career-threatening injury.