German javelin thrower Johannes Vetter (© Getty Images)
All eyes were on the javelin on the first day of the European Athletics Team Championships Super League in Silesia on Saturday (29) and Johannes Vetter again ensured that the attention was more than justified as he launched the spear 96.29m.
Back in the stadium where he threw 97.76m at the Kamila Skolimowska Memorial last September, Germany's 2017 world champion achieved another incredible mark – the third best ever in history behind his own PB and the world record of 98.48m set by Jan Zelezny 25 years ago.
Vetter's opening throw was also impressive as he started with 94.24m to add four centimetres to his own world lead and break the championship record. He added another two metres on to that in the second round before retiring from the competition due to some discomfort in his adductor.
He won the competition by more than 11 metres, with Poland's Marcin Krukowski throwing 85.12m to finish second and Odei Jainaga breaking the Spanish record with 84.80m in third.
Performance of the day. 🙌 Performance of the season as well?@jojo_javelin produces the third longest throw in history with 96.29m in Silesia! 🤯🤯🤯#ETCH2021 pic.twitter.com/rC9cSBFgJ1

— European Athletics (@EuroAthletics) May 29, 2021

Another championship record was set in the men's 5000m as Italy's Yemaneberhan Crippa won in 13:17.23, holding off France's Hugo Hay (13:17.95) and Spain's Carlos Mayo (13:18.15).
European champion Michal Haratyk was among the host nation's winners as he threw 21.34m for full points in the shot put.
His compatriot Pia Skrzyszowska, the European U20 100m hurdles silver medallist, won a close 100m flat contest in 11.25 (1.3m/s) and will return to race over the barriers on Sunday, with Germany's Lisa Mayer pipping Britain's Imani Lansiquot for the runner up spot as both athletes recorded 11.27. Mouhamadou Fall ran 10.28 (-0.5m/s) to win the men's race for France.
Lansiquot was back on the track for the 4x100m and formed part of the winning British team, combining with Beth Dobbin, Bianca Williams and Desiree Henry to run 43.36 ahead of Poland with 43.83. Germany won the men's 4x100m in 38.73.
Poland's European U23 champion Natalia Kaczmarek ran 51.36 to win the 400m, while victory in the men's race went to France's Thomas Jordier with 45.65. Another athlete gaining top marks for France was 2015 world hammer bronze medallist Alexandra Tavernier who threw 75.06m.
Fajdek breaks competition record
Four-time world champion Pawel Fajdek produced the highlight on the second day of action in Silesia, breaking the long-standing competition record in the hammer.
The Pole took the lead in the first round with 76.90 and then improved in the next two rounds, throwing 79.64m and 82.98m. His winning mark added eight centimetres to the competition record set by Juri Tamm back in 1985 when the competition was known as the European Cup. Spain's Javier Cienfuegos was a distant runner-up with 77.11m.
The big throws continued in the women's javelin as European champion Christin Hussong dominated the competition. The German thrower opened with 65.37m then followed it with a lifetime best of 69.19m – a mark that moves her to eighth on the world all-time list. She ended her series with 64.73m in a competition in which no other woman threw beyond 60 metres.
Elsewhere in the field events, Britain's Lawrence Okoye won the men's discus with 64.22m and 2016 European champion Max Hess won the triple jump with 17.13m, beating Pedro Pablo Pichardo by 12 centimetres.
Ese Desalu and Beth Dobbin were the 200m winners, clocking 20.48 and 22.78 respectively.
The event ended on a high for the host nation as Poland won the women's 4x400m in 3:26.37. Italy won the men's 4x400m in 3:02.64 with Poland finishing third, earning enough points to give them the overall victory in the team standings.
Mu improves North American U20 record
Two weeks after running 49.84 to break Sanya Richards-Ross' North American U20 400m record, the USA's Athing Mu improved it again, clocking 49.68 at the NCAA West Preliminary in Texas on Saturday (29).
That mark moves the 18-year-old to fourth on the world all-time list.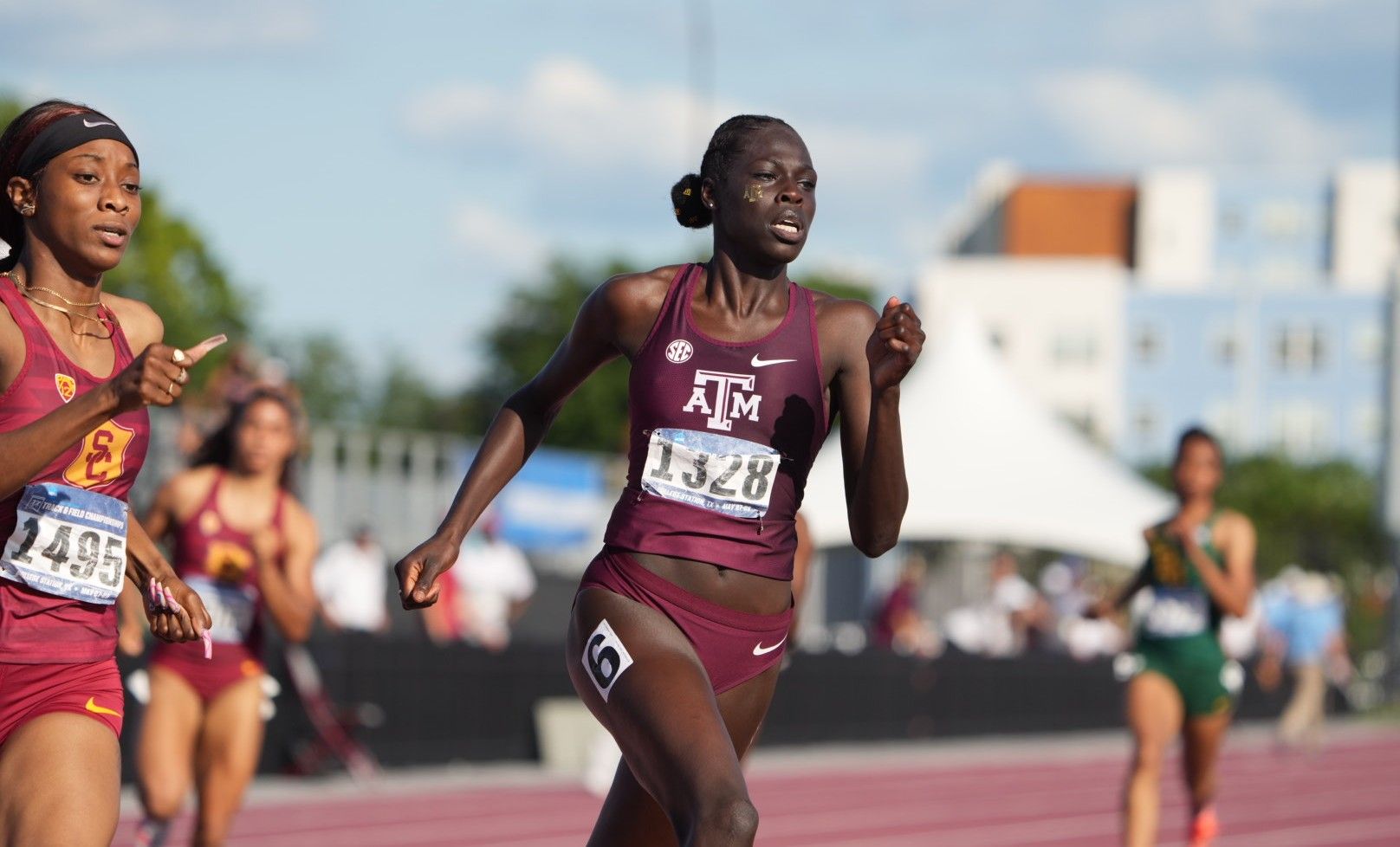 Athing Mu breaks the North American U20 400m record in Texas (© Kirby Lee)

Over in Belgium on the same day, European indoor champion Femke Bol broke the Dutch 400m record, clocking 50.56. That improves on the 50.77 run by Lisanne de Witte when claiming European bronze in 2018.
Pettersson pips Stahl
Sweden's European fourth-placer Simon Pettersson handed world champion Daniel Stahl a rare domestic discus defeat after adding almost two metres to his PB in Vaxjo on Saturday (29).
The 27-year-old threw 69.48m in the fourth round of the competition to which Stahl responded with 69.11m in the fifth round, but having fouled on all his other attempts Stahl had to settle for second.
Stahl's final foul looked to be a big mark, however. After the competition it was measured at 73.83m, just 25cm shy of the 35-year-old world record, but Stahl was unable to remain in the circle.
Fanny Roos threw 19.30m to improve her Swedish shot put record.
Kessler breaks Ryun's record in Portland
He may not have won his race, but 18-year-old Hobbs Kessler stole the spotlight at the Portland Track Festival on Saturday (29), breaking Alan Webb's US high school record and Jim Ryun's long-standing North American U20 record in the 1500m.
Craig Engels won the race in 3:33.64 with British duo Charlie Grice (3:33.81) and Jake Heyward (3:33.99) finishing close behind. USA's Henry Wynne was fourth (3:34.08) and Kessler crossed the line in fifth, stopping the clock at 3:34.36. Kessler's previous PB was 3:40.46, set one month ago, and he now ranks 27th on the world U20 all-time list.
World champion Donavan Brazier won the men's 800m by a narrow margin from Mexico's Jesus Lopez, 1:45.09 to 1:45.14.
The women's 800m was similarly close with Canada's Gabriela DeBues-Stafford winning in a PB of 1:58.70 from USA's Sabrina Southerland (1:58.82). USA's Kate Grace, Chanelle Price, Cory McGee and Raevyn Rogers all finished inside two minutes.
USA's 2017 world silver medallist Courtney Frerichs claimed a clear 3000m steeplechase victory in Portland, running 9:21.13. Behind her, Valerie Constien, Lizzie Bird, and Mel Lawrence all ran PBs and finished inside the Olympic qualifying standard of 9:30.00.
Mason Ferlic won the men's steeplechase in 8:18.79 as Benard Keter was also under the Tokyo standard with 8:20.40.
Japanese 5000m record-holder Suguru Osako, who ran 2:05 for the marathon in Tokyo last year, won the 10,000m in 27:56.44. Caroline Kipkirui won the women's race in 31:44.06.
Ngeny runs 800m world lead in Nairobi
Despite Nairobi's 1800m above sea level altitude, Elias Ngeny ran a world-leading PB of 1:43.84 to win the Athletics Kenya Olympic Games pre-trials on Saturday (29). Hillary Biwott was second in 1:44.80 and Noah Kibet third in 1:45.11.
Congratulations  Elias Ngeno from Kaptagat timed 1:43.84 to clocked Olympics qualifications time in 800m and World Lead

Men's 800m
Elias Ngeno 1:43.84
Hillary Biwot 1:44.80
Noah Kibet 1:45.11
Edwin Melly 1:45.51
Gideon Kiplimo 1:45.53 pic.twitter.com/yF46Uvm1UI

— Athletics Kenya (@athletics_kenya) May 29, 2021

Mary Moraa won the women's 800m in 2:01.12, while Michael Kibet ran 13:21.39 in the men's 5000m final and Naomi Chepngeno 15:34.10 to win the women's race.
Edward Cheserek ran 28:10.41 and Sharon Lodeki clocked 31:43.34 for 10,000m on Friday (28).
Jess Whittington for World Athletics