Sifan Hassan reacts after her 10,000m win at the Tokyo 2020 Olympic Games (© Getty Images)
The sight of Sifan Hassan at the finish line said it all. Having given the Tokyo 2020 Olympic Games absolutely everything she had, the Dutch star was rewarded with an unprecedented medal treble – including two glorious golds – as she completed the distance double with a gritty 10,000m win on Saturday night (7).
After nine days and six races totalling 61 and a quarter laps of the Tokyo Olympic Stadium track, the 28-year-old double world champion added to her legend as she kicked to 10,000m victory in 29:55.32. It came less than 24 hours after she secured bronze in the 1500m, despite a fall in the heats, and five days after she won the 5000m.
It was a 10,000m race that came down to the final 100m, which proved perfect for Hassan. Running with Bahraini record-holder Kalkidan Gezahegne and Ethiopia's Letesenbet Gidey, who had succeeded Hassan as world record-holder in June, the medals looked set. Hassan only had one colour in mind, though, and she took off as the trio approached the final bend, leaving her rivals with no response. Hassan got the gold, with Gezahegne running 29:56.18 for silver and Gidey 30:01.72 for bronze.
"I am so happy and I cried during the medal ceremony," said Hassan. "I actually realised that I am done, the Games are over.
"It's not about how strong I am but how strong are the ladies I challenge. Now I am happy, I am done, it's over."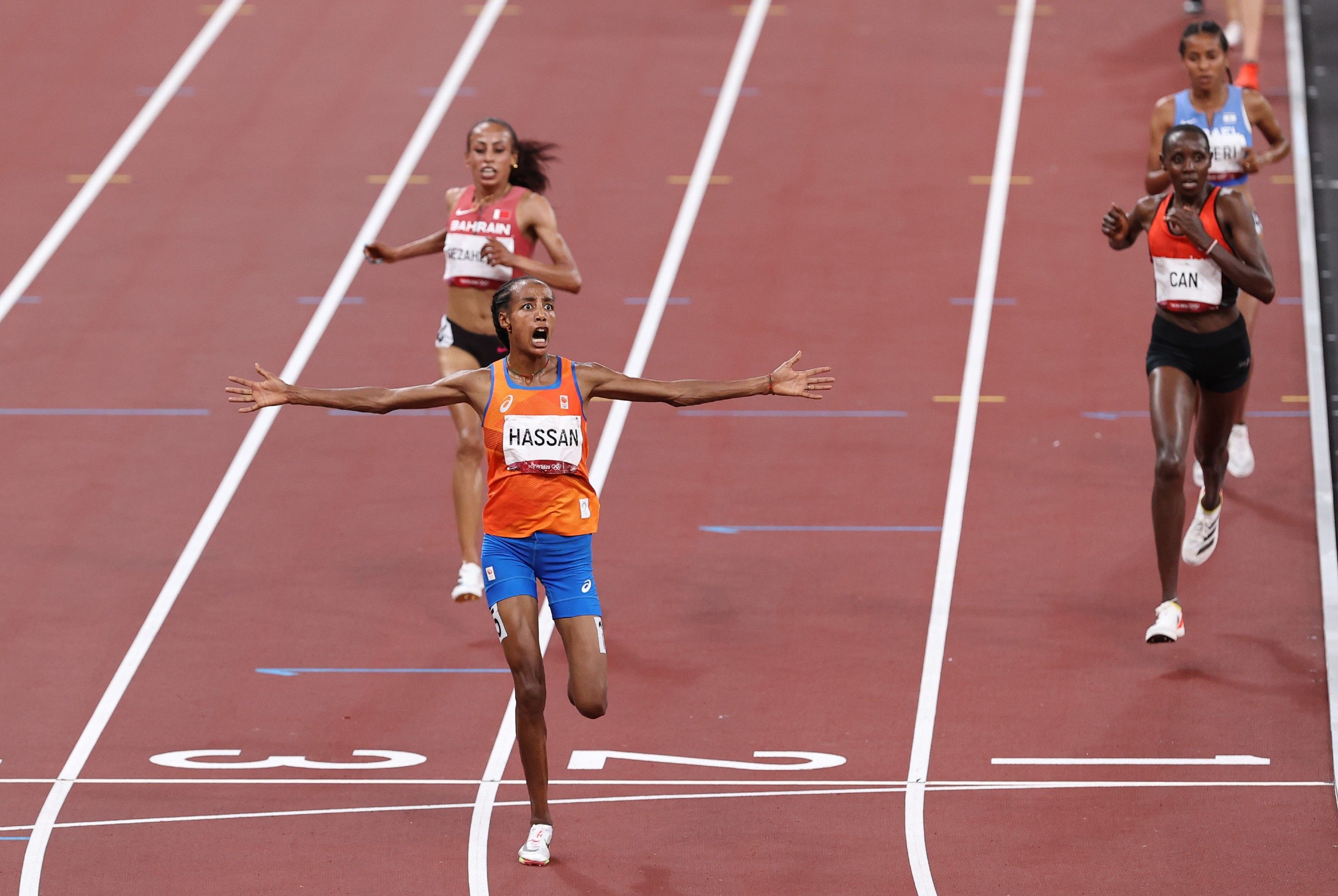 After her world record run in Hengelo, where she ran 29:06.82 just two days before Gidey went even faster with 29:01.03 on the same track, Hassan had talked about the importance of patience. She seemed to employ a similar strategy on Saturday as she tracked Gidey and Gezahegne until unleashing her killer kick.
The host nation's Ririka Hironaka had led the early stages, taking the field through the first kilometre mark in 3:03.0, with 2000m reached in 6:04.4. Kenya's Sheila Chelangat then moved up into second, with Gidey and Kenya's 5000m silver medallist Hellen Obiri side by side just behind them. Hassan was sitting a little further down the field, untroubled.
Gidey and Obiri then moved to the fore as the pace started to pick up and the field began to string out, with the Ethiopian leading the way with 9:10.5 on the clock through 3000m.
A series of 71-second laps had an impact and 14 minutes into the race a group of seven was breaking away.
Running single file through the half-way point, Gidey was still in charge and clocked 15:08.3 just ahead of Obiri, Hassan, Gezahegne and Kenya's Irene Cheptai. Burundi's Francine Niyonsaba and Turkey's Yasemin Can were unable to handle the surge and the lead group was down to five as the pace picked up to 70-second laps.
With eight laps to go there remained four contenders – Gidey from Obiri, Hassan and Gezahegne. Gidey made a move but Hassan covered it instantly and surged into second behind her as Gezahegne also overtook Obiri.
Another burst saw Obiri dropped but then the pace started to ease, with Gidey seemingly either preparing for her own kick or struggling in the challenging hot and humid conditions.
After a 75-second circuit and with three laps to go, the race looked to be playing into Hassan's hands.
As they hit the bell, it was Gidey from Hassan and Gezahegne, with Gidey holding the kerb. Then came that kick, with Hassan finding her extra gear off the final bend and running a remarkable 13.6 for the final 100m to become only the second woman after Ethiopia's Tirunesh Dibaba in 2008 to complete the Olympic 5000m and 10,000m double.
Never before had an athlete claimed medals in the 1500m, 5000m and 10,000m at the same Olympics.
She crossed the finish line with her arms spread wide, on her face a look of relief and elation. She then crumpled to the track in sheer exhaustion.
Hassan adds this win and her two other Olympic medals to the world 1500m and 10,000m titles she claimed in Doha two years ago, plus her 2017 world 5000m bronze, 2015 world 1500m bronze and her three world indoor medals.
Behind the top three in Tokyo was two-time world 5000m champion Obiri, holding on for fourth in a PB of 30:24.27, while Niyonsaba ran a national record of 30:41.93 for fifth and Cheptai was sixth in a PB of 30:44.00. There was also a PB performance by Hironaka in seventh (31:00.71), with Germany's Konstanze Klosterhalfen (31:01.97), Britain's Eilish McColgan (31:04.46) and the USA's Emily Sisson (31:09.58) completing the top 10.
A little later on, silver medallist Gezahegne was among those to hail Hassan's achievement. "It was very difficult, she's a tough girl," she said.
A tough athlete, and now a treble Olympic medallist.
Jess Whittington for World Athletics
WOMEN'S 10,000m MEDALLISTS
🥇
Sifan Hassan 🇳🇱 NED
29:55.32
🥈
Kalkidan Gezahegne 🇧🇭 BRN
29:56.18
🥉
Letesenbet Gidey 🇪🇹 ETH
30:01.72
Full results