Peres Jepchirchir wins the marathon at the Tokyo Olympic Games (© AFP / Getty Images)
Battling both hot conditions and one of the strongest fields ever assembled for an Olympic marathon, Peres Jepchirchir kept the Olympic crown in Kenyan hands with a valiant run in Sapporo on Saturday (7).
The two-time world half marathon champion broke from teammate Brigid Kosgei in the 40th kilometre en route to her 2:27:20 victory, her third win over the distance in five races.
"I pushed on the pace (and when I opened the gap) it was like, 'wow, I'm going to make it, I'm going to win'," said Jepchirchir, who arrived in Sapporo as the third fastest woman in the field and among the favourites.
Kosgei held on to finish second in 2:27:36 to secure a Kenyan 1-2 finish, a first for the women's event in Olympic competition.
Molly Seidel of the US pulled off the biggest surprise of the day, taking bronze in just her third marathon, clocking 2:27:46.
Organisers announced last night that the race start would be moved forward by one hour to 6am to allow for slightly cooler conditions for the 88 women expected at the start line. It was a wise decision. The temperature when the gun sounded was 25.7°C with 78% humidity and rose to 31°C by the time the medallists reached the finish.
That called for a cautious start, which in turn evolved into a conservative, almost sluggish pace for much of the race which began with two laps of Sapporo's central Odori Park before moving to a three-loop route, the first longer one of about 21km followed by two 10km laps on a shorter loop.
Honami Maedi of Japan took it out early, covering the first three kilometres in about 11:30 while building a lead of some 30 metres. But her lead didn't last long. The field caught up at about the four-kilometre point and swallowed her up by the five-kilometre marker, reached in 18:06.
The large lead group included some 30 runners, an impressive field that featured four women with sub-2:18 credentials. Those included Lonah Salpeter of Israel, who was doing a fair share of the early front-running. So were Kenyans Chepchirchir, world champion Ruth Chepngetich, and world record-holder Kosgei.
The large pack went through the 10km mark in 36:16, about 2:32 pace, before finally beginning to spread out a bit in the 13th kilometre, when it was reduced to about 20. But the pace didn't pick up much through 15 kilometres, reached in 54:47, still at a 2:32 finish clip. As a point of comparison: the 15km split at the London 2012 Games, when Tiki Gelana set the current Olympic record of 2:23:07, was 52:10.
The pace didn't pick up much by the midway point (1:15:14), but nonetheless did manage to winnow the lead group to 11: Kenyans Jepchirchir, Kosgei and Chepngetich, Roza Dereje of Ethiopia, Salpeter, Seidel and Sally Kipyego of the US, Melat Kejeta of Germany, Mao Ichiyama of Japan, Eunice Chumba of Bahrain and Helalia Johannes of Namibia.
The first major casualty was Ethiopian Zeineba Yimer, a 2:19:28 runner who was fourth at the World Half Marathon Championships last year, who stepped off the course in the 17th kilometre shaking her left leg.
Kipyego was next to drop back, leaving 10 runners at the front at 25km (1:28:51). Six kilometres later, Chepngetich was dropped, leaving eight runners in contention. Meanwhile, the pace continued to pick up, on target for a 2:29:11 finish at 30km (1:46:04).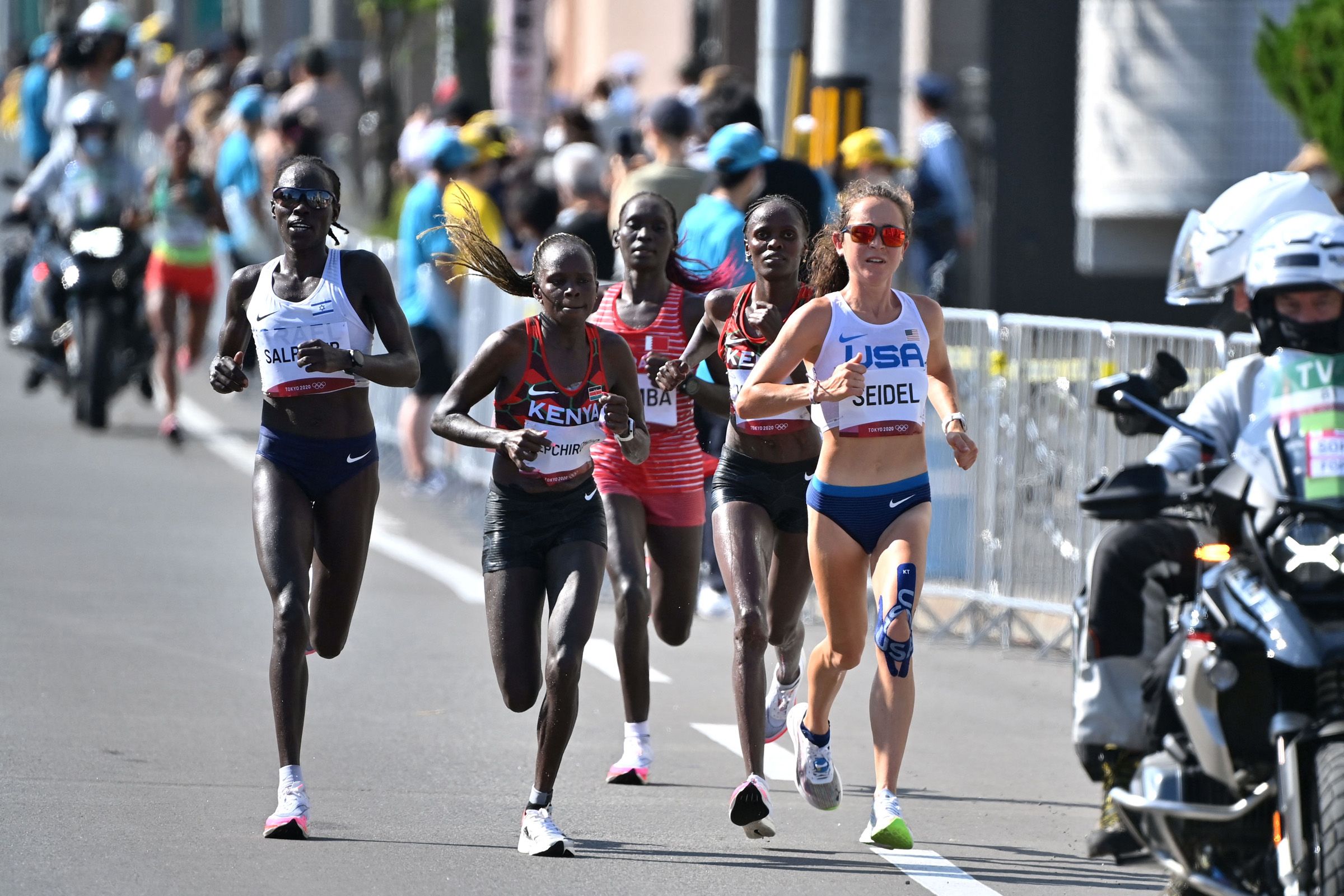 The 33rd kilometre provided the first major turning point, when the field was suddenly reduced to five: Seidel, Salpeter, Kosgei, Chumba and Jepchirchir, with the US athlete running confidently and leading the group.
Chumba was the next to drift back, just as the leaders approached the 36km mark. One kilometre later, Jepchirchir and Kosgei remained the last women standing. First Salpeter, then Seidel dropped back, leaving the Kenyan pair to battle for the gold.
Jepchirchir and Kosgei forged on, building a six-second gap on Seidel at 40km, but neither was looking particularly comfortable, Kosgei the least so. She was the next to drop, leaving Jepchirchir to go for the finish alone from just beyond the 40km sign.
"It was so hot, it was not easy," Jepchirchir said. "I'm just thankful I managed (to cope) with that weather."
"It was very hot but we tried to do our best," Kosgei added.
Seidel, who was second at US Olympic Trials race last year on her marathon debut, didn't arrive carrying the same sort of expectations that weighed heavily on the Kenyan duo. That was certainly to her advantage, she said.
"I try not to have too many expectations," said Seidel. "It is just to go out, stick your nose where it doesn't belong and try and make some people angry. My goal today was just to go in and for people to think, 'who the hell is this girl?'"
The conditions, while hot, were less difficult than she expected, she added, which also played into her hands.
"We didn't go out super-fast and I kept it very controlled at the beginning," added Seidel. "After halfway, rather than follow, I wanted to make moves and be aggressive. These races are tactical, so I wanted to be a little bit of a bulldog and not let people walk all over me."
Roza Dereje was the first Ethiopian across the finish, clocking 2:28:38 for fourth. Olga Mazuronak of Belarus was fifth in 2:29:06 with Kejeta sixth, clocking 2:29:16.
Ichiyama was the top Japanese runner, finishing eighth in 2:30:13.
Fifteen of the 88 who started didn't finish.
Bob Ramsak for World Athletics
WOMEN'S MARATHON MEDALLISTS
🥇
Peres Jepchirchir 🇰🇪 KEN
2:27:20 SB
🥈
Brigid Kosgei 🇰🇪 KEN
2:27:36 SB
🥉
Molly Seidel 🇺🇸 USA
2:27:46 SB
Full results