Lamont Marcell Jacobs wins 100m gold at the Tokyo 2020 Olympic Games (© Getty Images)
No one saw this coming.
Italy's Lamont Marcell Jacobs, a former long jumper appearing in his first Olympics, stunned the field on Sunday (1) to claim the first men's 100m gold medal of the post-Usain Bolt era.
Overlooked as a serious medal contender, the 26-year-old Jacobs clocked a European record of 9.80 to win Italy's first ever Olympic 100m gold and claim the unofficial title of the world's fastest man.
The Italian pulled in front after 60 meters and glanced to his right as he crossed the line in front of the USA's Fred Kerley, who took silver in a personal best 9.84, and Canada's Andre De Grasse, who earned his second consecutive bronze in a PB of 9.89.
Three other runners also ran sub-10 seconds in the final: South Africa's Akani Simbine finished fourth in 9.93, the USA's Ronnie Baker was fifth in 9.95 and China's Su Bingtian was sixth in 9.98.
The pre-Olympic favorite, US champion and world-leader Trayvon Bromell, failed to qualify for the final.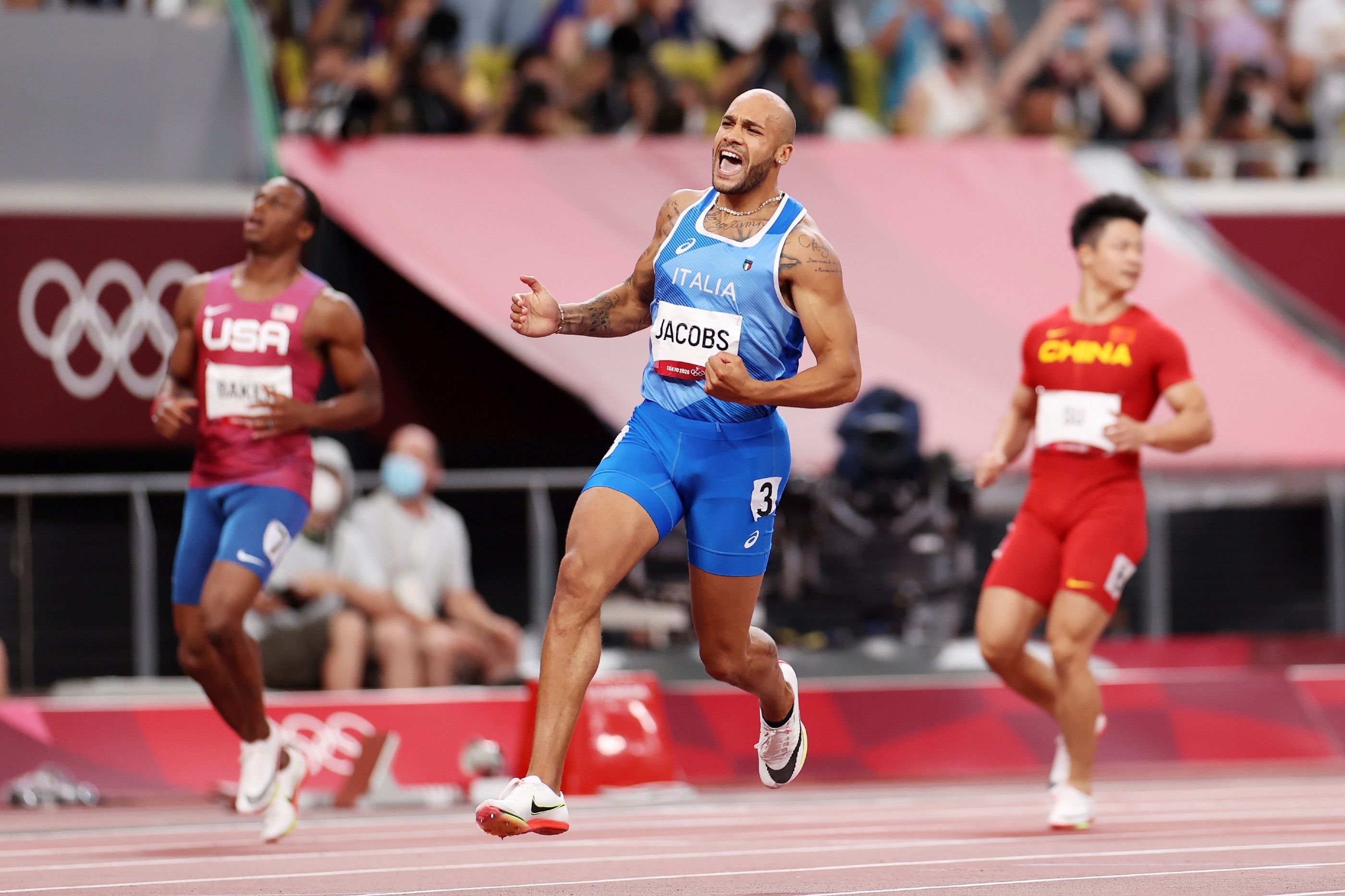 In a race with no obvious favourites, Jacobs was still a major surprise.
The bald-headed, barrel-chested Italian did not come completely out of nowhere. He is the European indoor 60m champion and broke the Italian 100m record in May with a time of 9.95. But he chose the right time and place to announce himself on the world's biggest stage.
"It's a dream, it's fantastic," Jacobs said. "Maybe tomorrow I can imagine what people are saying, but today it is incredible."
It was the first time since 2004 that gold in the marque event was won by someone other than Bolt, the Jamaican great who swept three consecutive 100m titles in Beijing, London and Rio de Janeiro, as well as three straight 200m crowns.
Few would have predicted that the man to succeed Bolt on the top podium would be Jacobs, who became the first European to win the 100m at the Olympics since Britain's Linford Christie in Barcelona in 1992.
Even his race rivals didn't see Jacobs as much of a threat.
"I really didn't know anything about him," Kerley said.
De Grasse added: "I didn't expect that. I thought my main competition would have been the Americans, but definitely he came to play. He executed. He did his thing so congrats to him."
Jacobs is the first Italian to win a sprint event since Pietro Mennea took gold in the men's 200m in 1980. And his time? The fastest in the men's 100m by an athlete not from the US or Jamaica.
Jacobs' victory capped a golden night for Italy, coming minutes after another Italian, Gianmarco Tamberi, shared gold in the men's high jump with Qatar's Mutaz Essa Barshim. The two Italians embraced and celebrated together on the track.
"Being here together is something spectacular," Jacobs said. "I believe in him and I believed in myself."
Jacobs' story may not be known by the general public: He was born in El Paso, Texas, to an American father and Italian mother. He moved to Italy with his mother when he was one-year-old. Jacobs started out as a long jumper but, after a series of injuries, he changed to the sprints.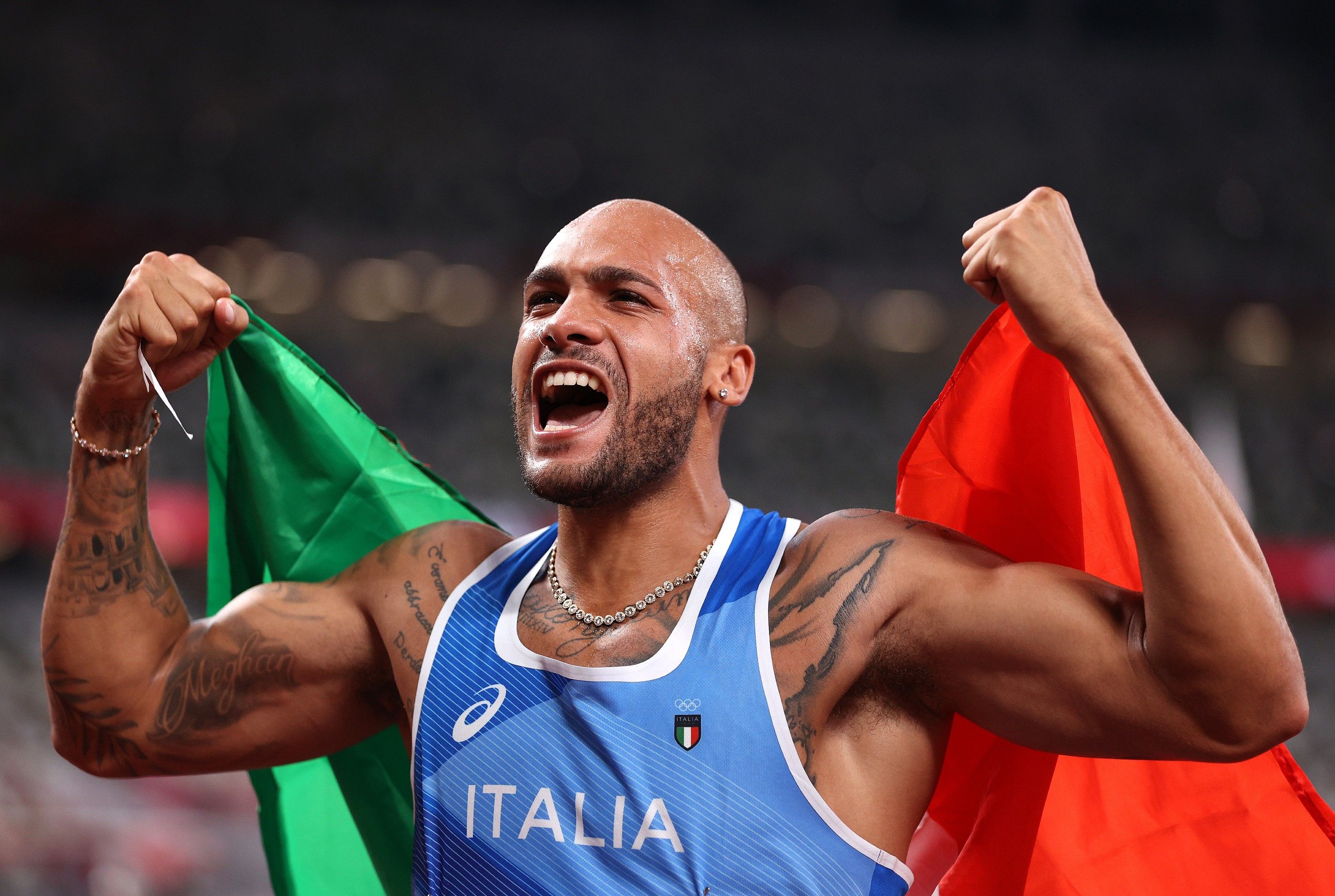 Signs that something special was about to happen in the final came earlier during the semifinals, which produced some stunning results, including a record-breaking heat in which three men ran under 9.85.
Su blazed to victory in the third heat in an Asian record 9.83 to become the first Chinese sprinter to reach an Olympic 100m final. Baker finished second with a personal best 9.83 and Jacobs was third in a European record 9.84. For good measure, Simbine clocked 9.90 to finish fourth in that heat.
Only twice previously had three men gone inside 9.85 in the same 100m race – the Olympic final in 2012 and the 2009 World Championships final in 2009.
Kerley (9.96) and Britain's Zharnel Hughes (9.98) won the other two semifinals. Hughes was disqualified from the final after a false start.
Bromell missed out after finishing third in his heat in 10 seconds flat. He got off to a quick start and took the early lead but never found a second gear and was passed in the final metres by Nigeria's Enoch Adegoke and Hughes.
There were signs that Bromell was not in medal-winning form a day earlier when he finished only fourth in his first-round heat in 10.05.
It was a stunning fall for Bromell, who had made a remarkable comeback to the top of the sport after tearing his achilles during the 4x100m relay at the 2016 Rio Games and being carried off the track in a wheelchair.
After two years out of the sport, Bromell worked his way back and established himself as the world's top 100m sprinter. He clocked a world-leading 9.77 in June, the seventh-fastest time in history, then sealed his spot in Tokyo by winning the 100m at the US Olympic Trials in 9.80.
But since then he has not been his dominant self. Bromell's 14-race winning streak was snapped when he finished fifth in Monaco in June in 10.01, his first race in Europe since 2016. He bounced back four days later with a victory in Gateshead, England, in 9.98 but still looked far from his best.
"I want to say thank you to everyone who's been with me on this journey," Bromell said on Twitter on Sunday after failing to reach the Olympic final. "Lord knows how much I wanted to be in that final. BUT I walk away with a smile because I know I showed many that after four years out, you can still fight and make dreams come true."
The day also marked the end of the Olympic career of Jamaica's 31-year-old Yohan Blake, the 2011 world 100m champion who won silver at the 2012 Olympics and is a two-time Olympic relay gold medallist. Blake finished sixth in his semi-final in 10.14.
"Definitely my last Olympics," Blake said. "You know track is not easy. I won't be ungrateful. I've gained a lot. I'm still the second fastest man in history, no one can take that away from me."
Steve Wilson for World Athletics
MEN'S 100m MEDALLISTS
🥇
Lamont Marcell Jacobs 🇮🇹 ITA
9.80 AR
🥈
Fred Kerley 🇺🇸 USA
9.84 PB
🥉
Andre De Grasse 🇨🇦 CAN
9.89 PB
Full results