World shot put record-holder Ryan Crouser (© Getty Images)
USA's Ryan Crouser threw 23.38m* for an outright men's world shot put record at the Simplot Games in Pocatello, Idaho, on Saturday (18).
One week after opening his season with 22.58m at the Millrose Games in New York, the world and Olympic champion added a centimetre to his own outright world record while competing in a shot put exhibition event at the Holt Arena.
Crouser's previous best was the 23.37m he recorded outdoors at the US Olympic Trials in Eugene in June 2021, while his previous best indoors was the 22.82m he threw in Fayetteville in January of that year.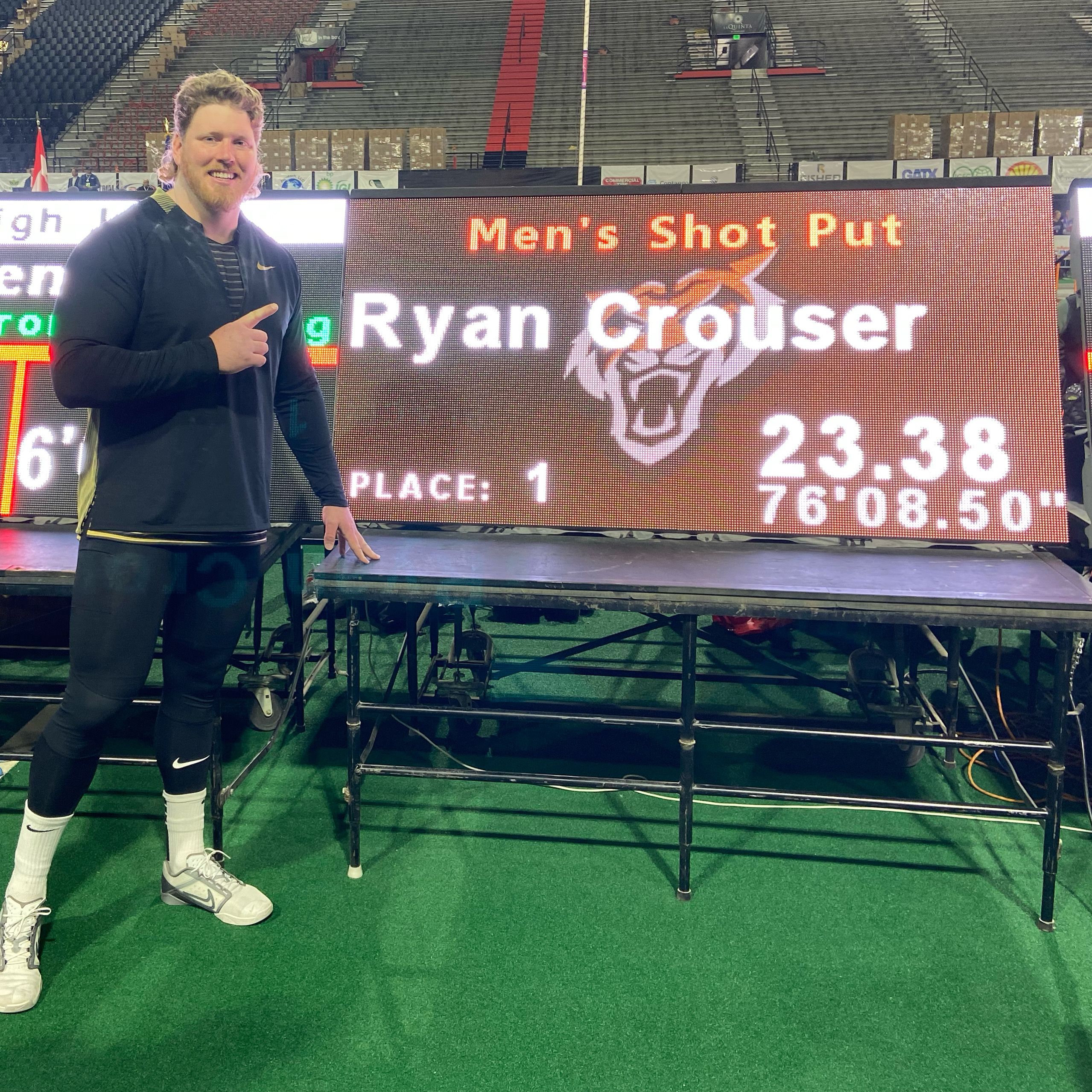 Ryan Crouser with his world record figures at the Simplot Games (© Simplot Games)
"The biggest surprise of my career so far," he later wrote on social media. "Wasn't expecting a 23.38m today. After opening with 22.58m last weekend at Millrose, traveled straight to Pocatello.
"Training this week was a bit frustrating, just struggling with feeling flat and a bit under the weather. Decided to take Thursday and Friday off from training. I'd never taken two rest days in a row before a meet until today, but figured it was better than overtraining.
"All I can say is that if things are rough, try to stay positive and you might surprise yourself!"
The 30-year-old has been trialling a new technique in competition, one that is designed to generate more momentum and increase his radius so he achieves more rotation power. This new technique involves Crouser shifting his starting point to the right and adding an extra step into the spin.
However, his 23.38m performance in Pocatello, which was achieved in the first round of the competition, came from a static start, rather than his new technique, meaning he will hope to go even farther as he perfects his new throwing style.
Crouser has now surpassed 23 metres in a total of seven competitions during his career so far. It is a barrier that only three other athletes in history have ever bettered.
*Subject to the usual ratification procedure