Topi Parviainen celebrates his win at the European U18 Championships in Jerusalem (© Getty Images)
The best performance of the third day of the European Athletics U18 Championships came in the very last event to be completed when Finland's Topi Parviainen launched his javelin out to a European age-group best of 84.52m on Wednesday (6).
The 15-year-old Parviainen – nephew of the 1999 world champion and Finnish record-holder Aki Parviainen – came to the championships only ranked fourth in the European U18 lists but showed that his uncle's renowned competitive mettle is certainly in his genes.
Parviainen was in second place for the first four rounds behind Hungary's Mate Horvath, the pair having thrown 72.53m and 73.72m in the first round, but with his fifth effort the Finn reached a personal best 75.98m to take the lead.
In the final round, with all eyes in the Givat Ram Stadium on him, he then produced a throw that will certainly make javelin-crazy Finland proud as his 700g implement arced across the night sky and landed at 84.52m to improve on Niklas Kaul's former continental best of 83.94m from 2015 by 58cm.
"Early during the competition, I did feel I might not win because I did a reallly bad second throw, but when I was getting ready for my last throw, it felt great to have everyone cheering, including my opponents. There is a very good atmosphere among all of us," acknowledged Parviainen.
Coming from a talented family background was a theme among several of the top performers on Wednesday.
Good genes for Kallabis and Topic
Jolanda Kallabis's father Damian was the 1998 European 3000m steeplechase champion and now his daughter has a continental title to her name after the talented German teenager won the 2000m steeplechase gold medal in the morning with the temperatures in the high 20s.
Despite the less-than-optimal conditions for quick times, Kallabis hit the front just before the bell and then sped away to put almost eight seconds between herself and the best of the rest of the field before crossing the line in 6:20.22, just missing the European U18 best by less than a second.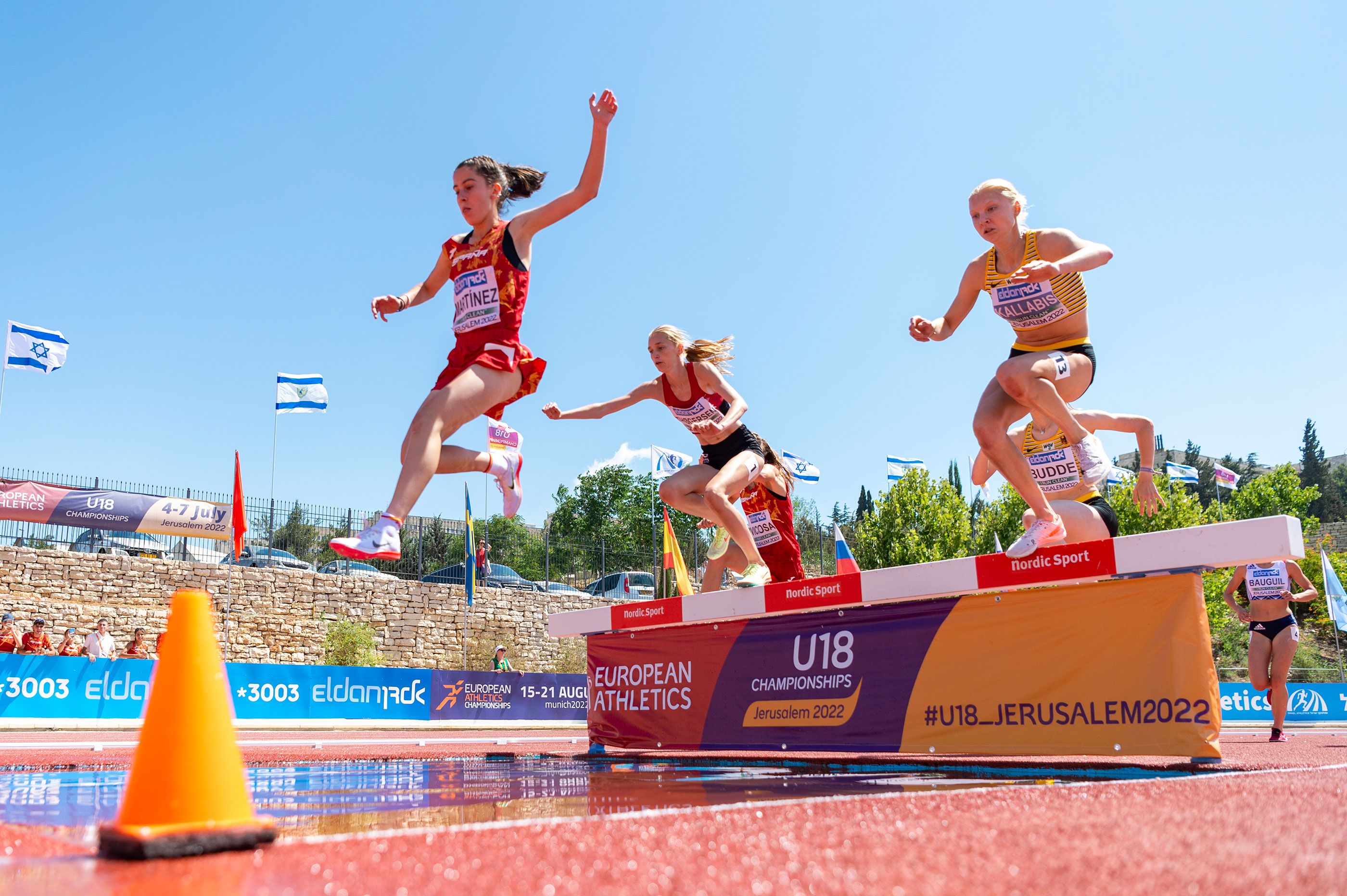 Jolanda Kallabis on her way to the European U18 steeplechase title (© Getty Images)
Like Kallabis, high jumper Angelina Topic's father Dragutin was also European champion in the 1990s, winning the high jump title in 1990.
The precocious Serbian talent has already equalled the world U18 best of 1.96m this summer and, with the competition in Jerusalem won after a first-time clearance at 1.92m and watched by her father, who is also her coach, she had two very good attempts at 1.97m in a bid to make the world best her sole property.
"This means so much to me because I trained so hard for this moment. The competition was great, all the other girls are amazing athletes, amazing people. Actually, I am so glad this is finally over, so I don't have to stay up at night thinking about it," joked a relieved Topic after fulfilling her role as favourite despite some nervous moments during the competition that saw her bring the bar down twice at earlier heights.





Behind Topic, Germany's Johanna Goring took the silver with a flawless record up to and including 1.88m and Belgium's Merel Maes acquired the bronze with a clearance at 1.86m for one of the best ever competitions for depth in this age group.
Laros completes difficult double
Marcel Laros may not quite have the career credentials of Kallabis and Topic, but the two-time World Athletics Championships 3000m steeplechase competitor can be equally proud of his son Niels' phenomenal achievements in Jerusalem.
After setting a 1500m championship record of 3:53.68 in his heat on Monday, Laros won the 3000m on Tuesday and returned to the track on Wednesday night to secure the second half of a very difficult double by going through the gears 250m from home in the 1500m final to win and also reduce his own championship record to 3:49.99.
"Like (Eliud) Kipchoge says, no human is limited, so I am going to try and have some fast races this season and see what happens. I have always loved this sport, my parents brought me into athletics, because I liked running so much," said Laros, who ran a 1500m best of 3:43.49 in Hengelo last month.
Spare a thought for Norway's Andreas Fjeld Halvorsen, an outstanding runner in his own right.
Having battled with Laros until the final stages of the 3000m but having to settle for silver, there was a very similar outcome in the shorter distance as he finished second to the Dutchman in 3:52.14 but was also inside the old championship record.
Garcia finds another gear
In addition to Laros, Kallabis and Parviainen, two other championship records fell on Wednesday.
Spain's David Garcia sped around one lap of the track to win in 46.67, the fastest 400m by an U18 athlete in the world this year, winning by the massive margin of 1.20.
Italy's Eduardo Longobardi ran a 200m championship record of 21.04 in his semifinal, only to be surprised by the fast-finishing Frenchman Dejan Ottou 90 minutes later in the final, the latter finding another gear from 30m out to win in a personal best of 21.10 to Longobardi's 21.22, the former's sheer delight contrasting with the latter's utter disappointment.


What a final! 🥵

A storming finish from Dejan Ottou 🇫🇷 to win 200m gold in #Jerusalem2022! 🔥🔥🔥

(@ffathletisme) pic.twitter.com/xZpofT7O0Y

— European Athletics (@EuroAthletics) July 6, 2022

Great Britain tops the medal table with one day remaining in Jerusalem with six gold medals, twice as many as anyone else, with the Netherlands second with three.
The British team had three further victories, after their trio of triumphs on Tuesday, courtesy of Faith Akinbileje winning the 200m in a wind-assisted 23.36 (2.5m/s), Charlotte Henrich taking the 400m title in a personal best of 53.54 and Annie Mann upsetting the odds in the 1500m and winning in 4:23.41, which was also a personal best.
The first gold medal of the day went to Turkey's Ali Peker in the shot put – which started at the alarmingly early time of 9.05am – with an effort of 21.03m. That was not only a personal best but also the best mark in the world this year in this age group with the 5kg implement.
Phil Minshull for World Athletics